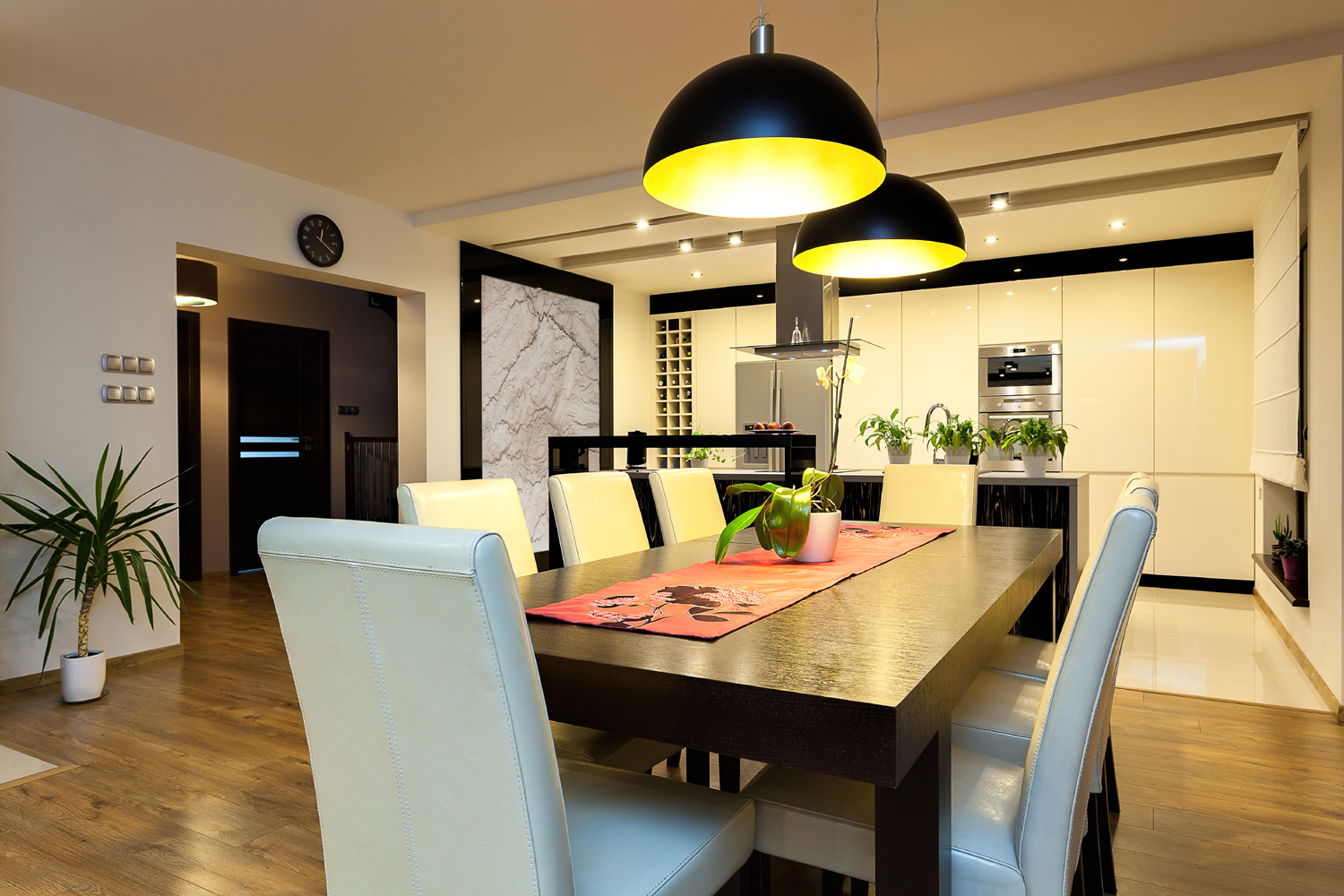 One of the most important aspects in any given room—or the home in general—is the lighting. It sets the mood of a room when the sun goes down and it is important that the light is giving off the exact vibe the homeowner is looking for. Generally, lighting choices are broken into three categories: ambient, task or accent.
House & Home recently caught up with the experts when it comes to lighting our homes to talk about the different types of options available, what fits best in certain rooms, trends in the marketplace and how to tell if there is too little or too much lighting in a room.
Ambient, task or accent?
First thing's first, as a homeowner, you need to decide the purpose of each specific room in your home. Doing so will help knock your lighting choices into one of three categories.
Ambient lighting is generally found in living rooms/family rooms. This is where you want people to feel most relaxed and welcome when they enter.
To accomplish this style of lighting, you will generally need a ceiling light with a dimmer. "In- stalling a dimmer is a great way to have more flexibility with the lighting," says Wes Carver, who works in design and estimating at Wes Carver Electric.
"Ambient lighting is typically coming from an indirect light source," he says. "The ambient lighting should make the room feel well lit, but the source of light should not be noticeable."
Task lighting is specifically meant for exactly what it sounds like: tasks. "Task lighting would be mainly associated with areas like kitchens, home offices, work areas or anywhere lighting is needed in a specific area, and for a specific purpose," says Carver.
When using task lighting, think bright lights to really illuminate the entire room. Bright lights can decrease the chance of a cooking accident and make the kitchen a safer environment when dealing with sharp tools and possible spills.
For accent lighting, Carver sees it as the "icing on the cake" in a room. It is a type of light that really completes an already finished product to make it even better.
"Accent lighting is that extra layer of lighting in the space that draws your attention to the focal points," says Carver. "Paintings, sculptures and architectural features are all great applications for accent lighting."
Too little or too much?
One of the worst things that can happen regarding light is having too little or too much of it when it is detrimental to the specific room it is illuminating. It would decrease productivity by having less light in rooms like kitchens and home offices where it is necessary for a successful outcome.
"While there is a recommended amount of light, measured in foot candles and lumens for each room or task area, it all comes down to personal preference," says Christie Mesiano, lighting specialist at Ace Plumbing, Heating & Electrical Supplies. "Typically, a kitchen or bathroom would require more lumens and less for hallways and bedrooms."
Mesiano gave us the industry recommendation for light output which showed us that specific areas such as the bathroom, kitchen stove and kitchen sink require 70- 80 foot candles. The general kitchen area where your family would sit down to eat would only require 30-40 foot candles just as the dining room would.
Areas such as the living room and bedroom only require 10-20 foot candles, while the hallway only needs a mere 5-10 foot candles since this is an area that is low on tasks.
If your room is in need of that "finishing touch" light but you are concerned with changing the mood of a room, Mesiano says table lamps are a great addition to utilize. "Table lamps and free- standing pedestal lamps, once popular, are making a resurgence to accent home décor," says Mesiano.
What are the current trends and the must-haves?
Lighting styles shift just as any other home design elements.
Scott Fenton, regional showroom manager at Denney Electric Supply, says this year has showed a big style shift from the "old world" look of heavy textures, ornate details, scrolls, etc., to a more soft contemporary focus.
"More manufacturers are showing fixtures with clean, sleek lines and lighter finishes—a look that gives a space an airy, unfussy feel while still being inviting," says Fenton.
While that has certainly been a new trend, Fenton says the biggest is the move to LED. "From chandeliers to under-cabinet lighting and even outdoor wall lanterns, everything is going LED," says Fenton. "New products are now making it possible to maintain the look of an in- candescent bulb while reaping the cost-saving and long-lasting benefits of LED."
Another new trend comes by way of the digital age in which we live. Fenton says there are a lot of options that can be paired with lighting features so homeowners are able to control the lights in their home from any- where in the world via their smartphones.
With every new trend, there are still classic staples that every homeowner should have. Fenton says LED under-cabinet lighting is important task lighting for any kitchen. It illuminates space on the counter to cut vegetables and prepare dishes and by night, it can serve as a nightlight when the main lights are off.
Fenton also recommends occupancy sensors as a must-have for the home. "[These] are especially helpful when you have small children—or adults, for that matter—who forget to turn off the lights," says Fenton. "Using [occupancy sensors] will save money on your energy bill and preserve your bulb life."
Another lighting must-have is to help improve the quality of living in your outdoor spaces with LED landscape lighting. "LEDs do not attract bugs, so whether you're upgrading your landscape lighting or adding it for the first time, you should definitely choose LED," says Fenton. "There are so many fixtures and styles available, and plenty of options for color and beam spread just like you had with incandescent, but the energy savings and the bug-free factor make them the go-to option for every fixture outside the house."
The choices may seem broad but when it comes to lighting your home, it's your decision on how much light you deem necessary in your home. If you have sensitive eyes you may have a preference to less light, but if you are someone who likes to shine bright like a diamond ... we won't be dimming your sparkle.
RESOURCES
Ace Plumbing, Heating, & Electrical Supplies, Inc.
Vineland, N.J.
(856) 692-9374
TeamAce.com
Denney Electric Supply
Multiple locations
(215) 628-8880
DenneyElectricSupply.com
Wes Carver Electric
Lansdale, Pa.
(215) 240-4391
WesCarverElectric.com
Published (and copyrighted) in House & Home, Volume 17, Issue 2 (November/December, 2016).
For more info on House & Home magazine, click here.
To subscribe to House & Home magazine, click here.
To advertise in House & Home magazine, call 610-272-3120.