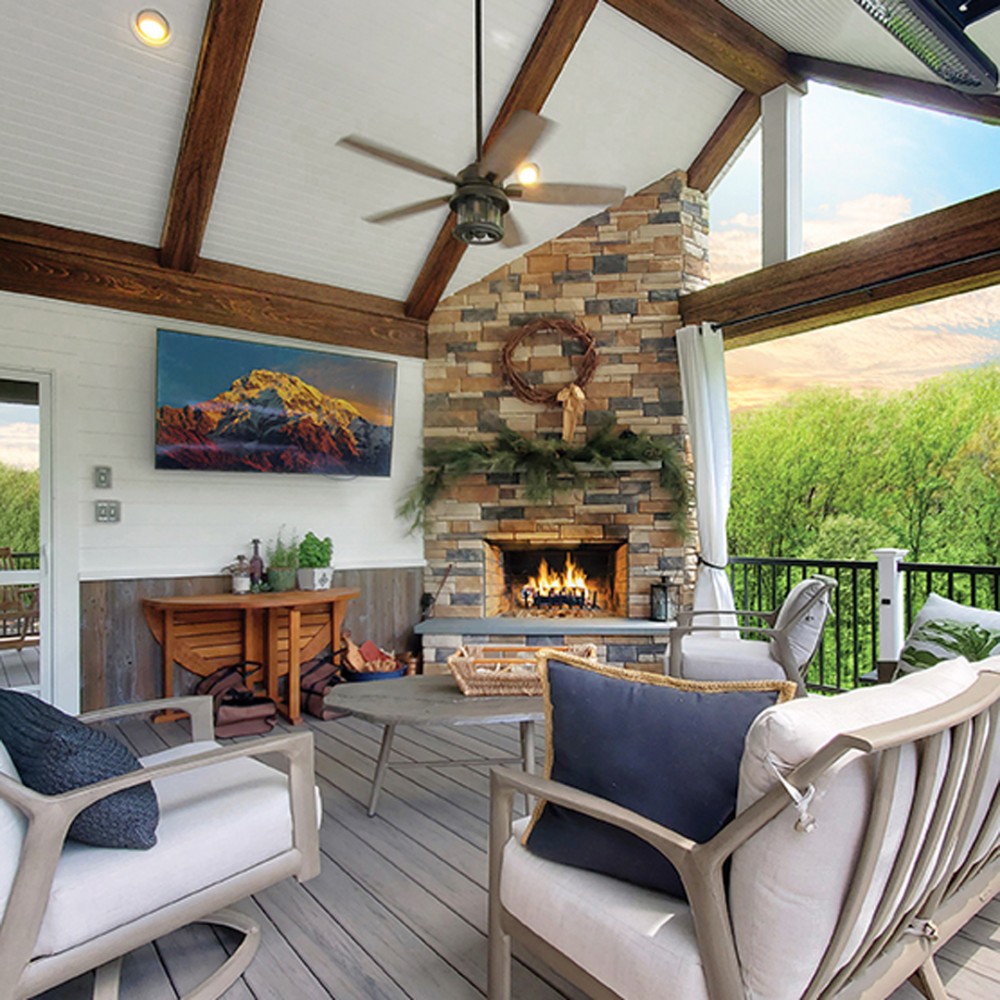 The right furniture, shade option and other amenities can take an outdoor space from ordinary to extraordinary.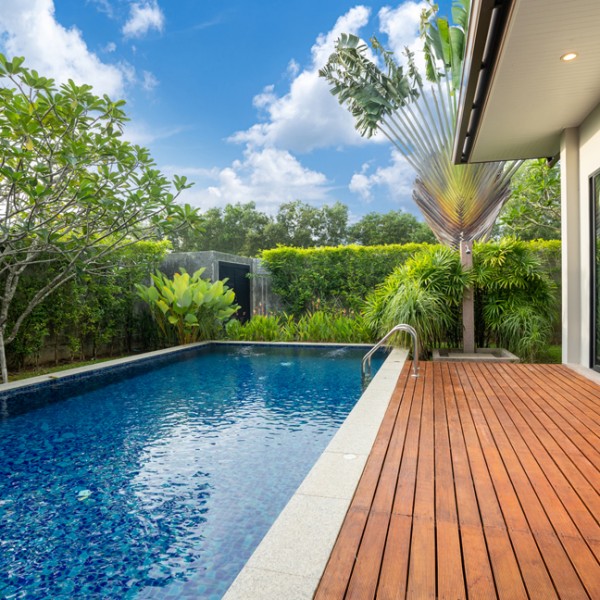 While today's outdoor living spaces are meant to be enjoyed almost throughout the entire year, there is no question that summer remains prime time for get-togethers in the backyard. Whether homeowners are planning a new deck project or adding to an existing one, there is no shortage of ways to enhance the overall appeal and turn it into a coveted gathering place as they prepare to welcome family and friends in the coming months.
Of course, the right amenities for one person might vastly differ from the next, based on everything from lifestyle to budget.
"For us, it's important to dive into what the client is going to use the space for," says Randall Yoder, a designer with Keystone Custom Decks. "If they want just a lounge area or an extended living room, they can put a fireplace in. If they want to use it for parties, we might recommend putting in some lanterns with stone columns and stringing up some lights. A dining area is always a nice addition as well."
From shade features to outdoor kitchens and the right furniture, the possibilities are basically endless. House & Home spoke to several local professionals to learn more about the options homeowners have to dress up their deck.
Made in the shade
Perhaps no added feature is more important for a deck than some type of shade structure. After all, what good is a beautiful outdoor space if the July or August sun is beating down and it's too hot to enjoy it?
"Especially since a lot of decks are made of composite material now, it heats up a lot more than your old-school wood decks," says Josh Eberly of Marygrove Awnings. "So when you try to walk on it, it's too hot, but adding an awning over that space provides shade. Our awnings normally cool down the inside of your house by about 10 to 15 degrees, so you save a lot of money on your energy bills. But with the deck it adds even more, because the deck is out in the sun all day and gets really hot. An awning adds a nice shaded space where you can eat, relax, play card games and just spend time with friends and family."
Marygrove offers retractable awnings in a variety of colors and styles that can be extended out or pulled in with the push of a button. Front and side screens can be included for additional blocking of the sun, and wind sensors will automatically retract the awning when a storm is approaching. An awning will also provide limited protection from the rain.
"Our fabric is not waterproof but it's water-resistant, which means you can have it out in the rain," Eberly says. "We also offer an adjustable pitch, which is a cool feature. If you have your awning out and it's raining hard, water could just run off the end of it and start to pool on the fabric. So we designed this product called the adjustable pitch ... and you can pitch the awning down on one side and direct the rain runoff to where you want it to go."
An awning is probably the most cost-effective way to add shade to a deck, other than an umbrella, but some homeowners prefer the aesthetic appeal of a pergola or roof structure.
"Pergolas are really nice shade structures, but I always say if you're looking for a complete shade structure, a pergola is not the thing for you—you're probably looking for a roof structure," says Karim Mrad of Archadeck of Northwest Philadelphia. "A pergola can give you anywhere from 30 to 75% shade; in some cases if you end up going with an aluminum pergola that has pivot louvers, it can go up to 100%."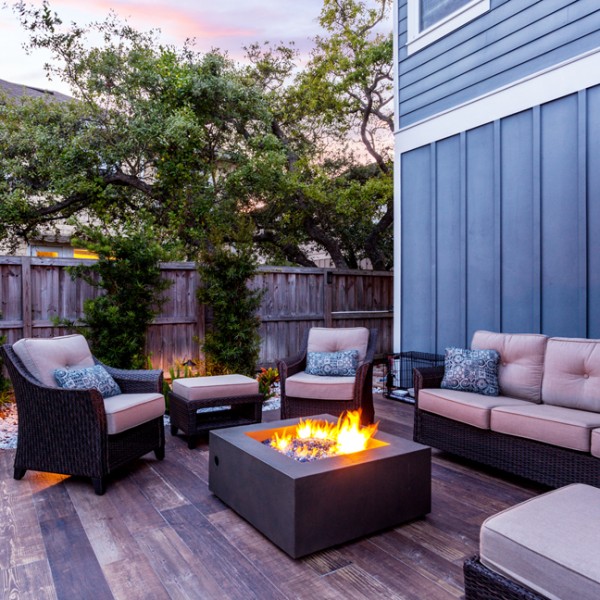 The price of a pergola depends on the choice of materials, Mrad adds. "Let's say we're building a pressure-treated pergola—the price is going to be minimal. But if you want to go with a pergola made out of aluminum that has lights and fans and heaters built into it, where the louvers can pivot up and down and it has rain sensors inside of it, the options are endless."
Marygrove Awnings also offers louvered roof systems made of aluminum, metal, wood or glass. They give the homeowner the option to open and close the slats on top depending on the weather or the occasion.
"It's really nice because you can create an outdoor space without it truly being an enclosed space," Eberly says. "A lot of people will build a nice deck and then put a wood pergola over it, but when it's raining or super hot, you're not going to sit under that pergola. This solves that problem, and it's a premium product with all the bells and whistles: You can add fans, you can add lights and there are different ways for the louvers to operate. If you're going to add it to the deck, it's one of those wow statement pieces you can put on the back of your house."
Now we're cooking
Whether it's being used for a Sunday night dinner with the family or a barbecue with 50 guests, the outdoor kitchen has become a must-have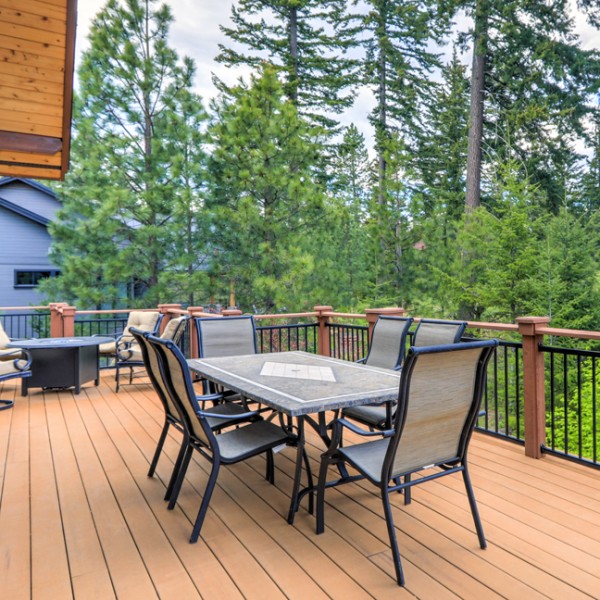 for many deck projects.
"For people who like to entertain and host, that is probably the best feature they can have," Mrad says. "You can do a simple outdoor kitchen with just a grill and a small countertop, or you can build a 20-foot-long outdoor kitchen that has a grill, a smoker, a pizza oven, an integrated fridge and some drawers for storage. As much as you want, you can elaborate on it. People who like the outdoors really like to spend time in their outdoor kitchen."
The outdoor kitchen craze that first started about 10 to 20 years ago has shown no signs of slowing down, despite rising material costs or concerns about the economy.
"We do a lot of projects with kitchens; they're still in pretty high demand," Yoder says. "I would definitely say the simple ones are still very common, where it's 8 feet wide and you have the standard grill, trash and fridge in a standard layout. Then when you get into the higher-end clientele, they want bars, sinks, icemakers, Kegerators and things like that, which add quite a bit [of cost] to the project."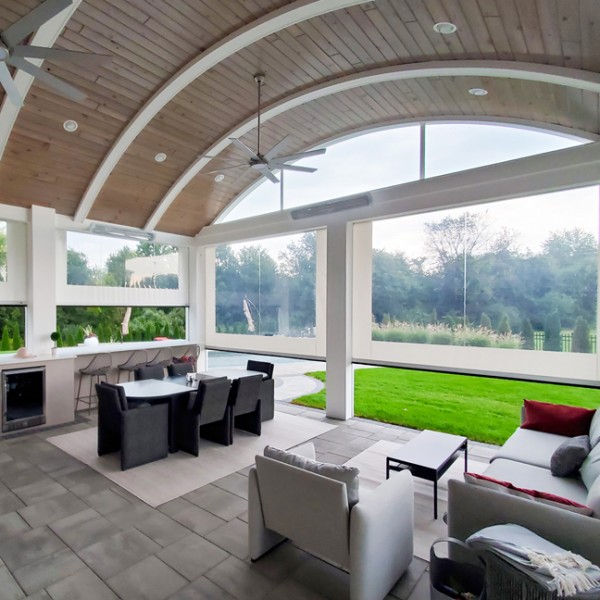 Furniture shopping
A fun part of accessorizing a deck is finding the perfect set of furniture that blends comfort and durability. Barnco Woodworks specializes in poly furniture built with plastic lumber that will not rot or rust and does not require painting. It is made for the harsh weather and can be kept outside all year long, even during the winter.
"It comes with a lifetime warranty and it doesn't blow away, it stays put," says Jake Stoltzfus of Barnco. "We've had a set for 15 years and it still looks like new. It's really the way to go. There's no storage involved—you don't have to take them inside for the winter. It's a done deal, you just put it where you want it; you could have 4 feet of snow, but when spring comes you don't have to get the furniture out."
Poly furniture comes in all styles, from dining sets to rockers, porch swings and Adirondack chairs.
"There's no maintenance," Stoltzfus says. "Every once in a while you might want to pressure wash it. Depending on where you have it, you'll get that green moss, but there's a cleaner for it that you spray and then you hose it off. It's very simple and it's a good deal."
Those in the market for outdoor furniture would also be wise to visit Sequoia Out Back, home to one of the area's largest and most impressive showrooms for outdoor living. They can peruse the many displays featuring high-quality choices from the most renowned names in the industry and get a firsthand account of the look and feel of the pieces to ensure they are making the right selections.
Added amenities
Since summer parties have been known to rage late into the night, an LED lighting package has become an important part of deck design to create a certain mood and also for safety reasons.
"For the past two years, we've seen an uptick in people liking the aspect of lighting," Mrad says. "We always envision an element of lighting at night—not a bright, shiny light but ambient lighting to create coziness in the space. We incorporate lighting in the riser of the steps, the post caps of the railing and some under-rail lights. Especially when you have a change in levels, like stairs or a two- or three-level deck, you definitely need lighting."
Yoder believes that masonry features can really set a deck apart, and Keystone offers stone walls, pillars, entrances and fire features.
"For us it's become pretty seamless," he says. "We have great crews who do the masonry and at the same time, we've done it so much that we've learned all the framing and how to best support the masonry product, because usually it's a lot heavier than other products. We have a good system and teams that work together to beef up the framing and keep it as open as possible underneath when there's a patio."
The stone fire pits and fireplaces are especially popular, allowing an outdoor space to be used in the spring and well into the fall. Yoder explains that some people still prefer to hear the cracking sounds of a wood-burning fire feature, but the majority now prefer the convenience of a gas option. Either way, it's a look that can complete the space.
"You can just have it in the background to make everything feel cozy, or you can at the forefront as the focus of the project," Yoder says. "I think fire features really help pull a project together."
Resources
Archadeck Outdoor Living of NW Philadelphia
Mainline, Pa.
(484) 215-5500
Archadeck.com
Barnco Woodworks
Berlin, N.J.
(856) 767-6887
Swedesboro, N.J.
(856) 241-7660
BarncoAmishBuilders.com
Keystone Custom Decks
East Earl, Pa.
(717) 553-0835
KeystoneCustomDecks.com
Marygrove Awnings
Multiple locations
1 (800) 44-AWNINGS
Marygrove.com
Sequoia Out Back
Hatfield, Pa.
(215) 752-4400
DeckSupplies.com

Published (and copyrighted) in House & Home, Volume 23, Issue 6 (April 2023).
For more info on House & Home magazine, click here.
To subscribe to House & Home magazine, click here.
To advertise in House & Home magazine, call 610-272-3120.