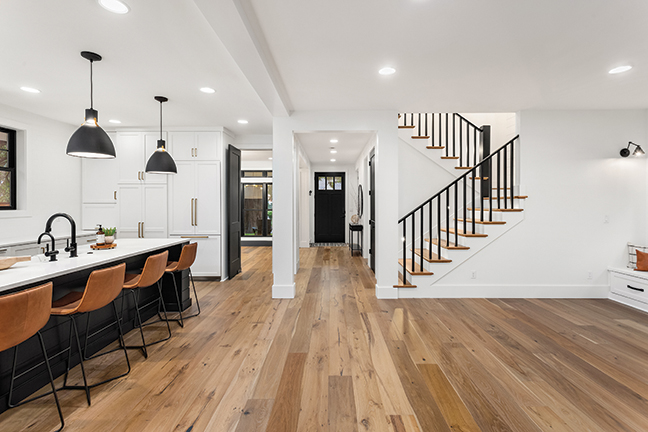 All you have to do is take a look around your neighborhood to notice that home improvement projects continue to be on the rise. Ever since the pandemic forced folks to spend more time inside the four walls of their home, renovation has become top of mind for many as they look to transform their space and make it more functional for today's lifestyle. But no matter if you're having the kitchen of your dreams built, updating an outdated bathroom or perhaps finishing the basement, all of these projects have one thing in common: the need to choose the right flooring.
When it comes to flooring options these days, there is no shortage of styles to choose from, whether you're looking to add fresh carpeting, lay down some hardwood or add luxury vinyl plank to freshen your design.
Choosing the right style largely boils down to a matter of preference, but one should also make an informed choice based on surrounding lifestyle factors. Do you have small children? What about pets? Are you looking to update the floors in a high-traffic area? By discussing these factors with a professional, they can determine which style of floors best suits your home.
"Talking with the customer to find out their needs, asking questions and educating them on the options available is necessary to help them make the best choice for their flooring project," says Jeff Stirling, owner of Creative Floors and More.
"Lifestyle is a huge factor," agrees Mike Junker, manager, Maro's Floor Covering. "Active families with pets are best served with waterproof, easy-to-clean vinyl floors or lower pile, more durable carpet in the most lived-in areas like family rooms and basements."
We spoke with Stirling, Junker and more of the region's leading flooring experts to get a better sense of what homeowners need to consider before making the right choice for their household.

On the Carpet
When it comes to carpeting, Stirling says plush is the most popular style choice, but admits there are patterns in a low pile that sell quite well, too. "It's really a personal preference," he says, before cautioning that a homeowner needs to read between the lines when it comes to the different grades of carpeting available.
"Homeowners should be wary of low pricing in carpet, and really all flooring products," Stirling says. "If the price is low, the quality is low and it will not last."
Junker also offers careful words of advice for those in the market for new carpeting, namely with regard to paying attention to how the carpet is constructed.  
"Homeowners should consider the fiber that different types of carpets are made of. Nylon, wool and polyester can all be good choices, depending on desired appearance, durability and cost," he says.
And because the carpeting in your living area can take more abuse than the rarely walked-on carpet in a guest room, it may be wise to opt for higher-grades in the spaces that are more heavily used.
"Higher-end carpet is a great choice for stairs and hallways, and often family rooms, where durability and visual impact is desired. [Alternatively], bedrooms and basements are often areas where a mid-grade carpet can make sense" says Junker.
Elmer Stoltzfus, owner of Heritage Floors, says homeowners should not only consider quality carpeting when making their selection, but also make sure they are choosing high- quality padding for underneath as well.
"Padding is very important. The thought that a carpet is only as good as the padding underneath it is not entirely accurate, but it's close," he says.
When it comes to color choices, beauty is in the eye of the beholder. While neutral tones remain the primary choice for many who look to seamlessly blend multiple elements of the home, some are opting for multi-toned patterns that offer their own look and appeal.
"Multi-colored textured patterns are extremely popular for all areas of the house, especially in high-traffic areas. … Neutral tones will always be popular, but stripe patterns are also very [in demand] right now," says Junker.
Stoltzfus adds that he's seeing customers continuing to gravitate toward plush carpeting, but acknowledges other styles also have their place.
"The trend I see is customers mostly choosing plush carpets, but more multi-colored options rather than a solid color. We do sell some pattern carpets, but it kind of seems like people either love them or hate them," he says.

Walk the Plank
Of course, carpeting is not desired by everyone. In fact, many prefer the warmth of hardwood floors, or the convenience and aesthetic appeal of luxury vinyl in areas like the living room, kitchen and dining room. Some others may opt for laminate or porcelain tiles in bathroom areas and so on.
Gilmar Marcelino, owner of Victorian Floor Finishing, has been in the business since 2009 and has installed his fair share of hardwood floors over the years. But he's also been a trusted resource when a homeowner is looking to have their existing floors refinished. Not only will it clean and help further protect the floor, but it also gives homeowners the opportunity to change the stain. This is particularly desired when a homeowner recently purchased the residence and is looking to add their own touches to the house or perhaps during the move they ripped up old carpeting to be replaced and happily discovered a hardwood floor underneath.
"The main purpose of sanding [down to the bare wood] is that when we remove all finishing, we can apply any kind of color or stain available," says Marcelino. "A homeowner is always looking to update the color of the floor to match the kitchen cabinets, match with some furniture or with new paint on the walls. That's the majority of the reasons why the customer goes through with sanding and finishing the floor. It brings [the floor] to life and makes it look brand new."
And perhaps the most talked-about flooring these days is luxury vinyl plank. It's being utilized in rooms throughout the house and is attractive because of its color options, durability and affordability.
"Luxury vinyl plank is by far the most popular choice these days," says Stoltzfus. "It has the lead over other types of flooring by a pretty good margin. There are a large amount of different styles and colors available."
"Luxury vinyl tile has grown in popularity with homeowners for many reasons. Recent advances have allowed the patterns and feel of real wood to be replicated on vinyl plank/tile. This has allowed modern [vinyl flooring] to be not only durable, but also beautiful. In addition to this, the ease of installation has made it a rising star in residential flooring," says Anthony Sterl, of Sterl Kitchens Co. Inc.
"It's a great floor that has been on the market for a while and it doesn't look like it's going anywhere because everybody likes it," adds Marcelino.
In addition to attributes like being waterproof and free of scratches, luxury vinyl is designed to last. For instance, the flooring carried at Sterl Kitchens is actually rated for light commercial use. "That means it is much heavier that what is used in residential [properties]," says Sterl. "Our flooring also has at least a 30-year warranty and depending on the product, some may have a lifetime warranty."
Marcelino has seen his clients install luxury vinyl in a wide variety of spaces on the first floor, the second floor, in sunrooms, etc. "Today you can get the oak look, a pine look, a cherrywood look; I see all kinds and it looks like real hardwood," he says. "And the maintenance is much less. Even if you have a pet or small kids, you have nothing to worry about because that floor is meant to last a long time. … I haven't done any replacements for existing homeowners because of issues with [a vinyl] floor."
No matter which floor suits your style and preference, homeowners are best served to find a trusted professional to help guide them in their selection. And as is the case with most things in life, you get what you pay for, and sacrificing quality to save a few dollars could wind up proving more costly in the long run.
"All flooring products are not equal," says Stirling. "There are many different qualities of flooring in each category. This means different price points as well. Low price and quality do not go hand in hand. Homeowners should keep this in mind when shopping for flooring."

RESOURCES
Creative Floors and More
Coatesville, Pa.
(610) 873-6220
CreativeFloorsAndMore.com

Heritage Floors Inc.
Ronks, Pa.
(717) 687-7906
CarpetLancasterPa.com

Maro's Floor Covering
Ambler, Pa.
(215) 646-8178
MarosFloorCovering.com

Sterl Kitchens Co. Inc.
North Bergen, N.J.
(201) 866-7999
SterlKitchens.com

Victorian Floor Finishing
Palmyra, N.J.
(856) 858-6465
VictorianFloorFinishing.com
Published (and copyrighted) in House & Home, Volume 23, Issue 6 (April 2023). 
For more info on House & Home magazine, click here. 
To subscribe to House & Home magazine, click here. 
To advertise in House & Home magazine, call 610-272-3120.