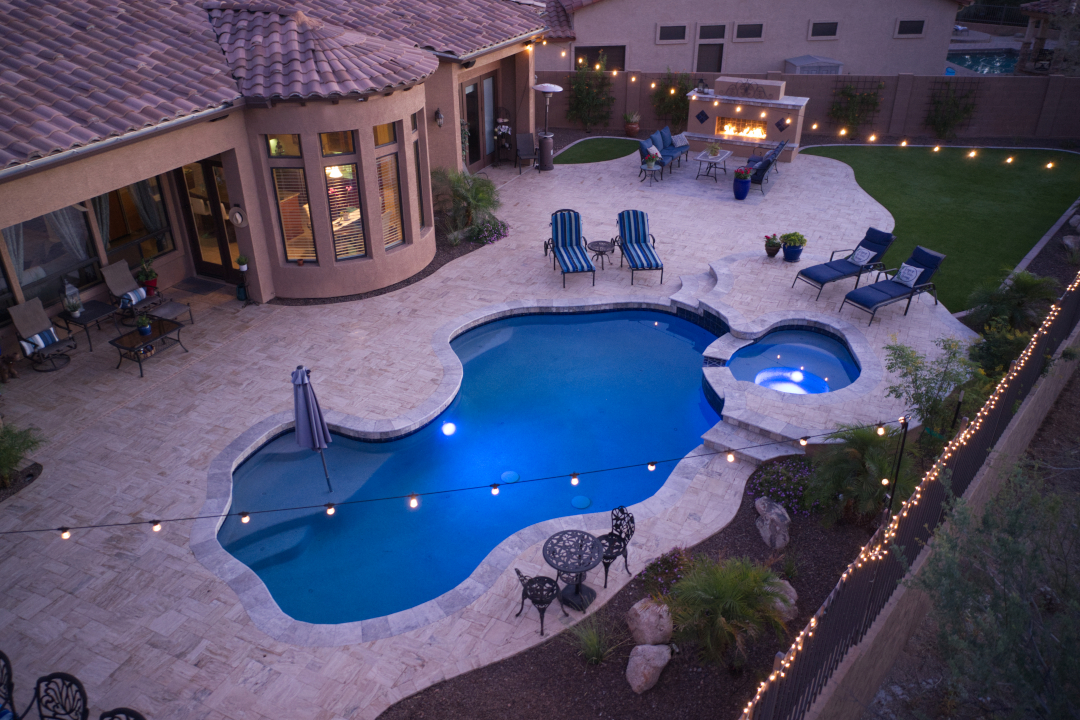 Though it may be hard to recognize after the extremely mild winter we experienced here in the northeast, but spring is in the air. With the flowers in full bloom and the temperatures inching warmer and warmer by the day, we are all looking forward to spending increased time outdoors as we gear ourselves up for the sun-drenched days of summer that won't be far behind.
And while countless folks will enjoy tending to their landscaping or perhaps spend time enjoying a glass of wine on the back deck while watching the sun go down, many others will be eagerly awaiting the return of swim season and the chance to cool off by taking a dip in the pool.
It's no secret that pool ownership skyrocketed during the onset of the pandemic, with homeowners opting to create their own backyard resorts rather than travel on vacation. While the industry has seen that intense demand lessen somewhat, the fact is with each passing year more and more people are looking to turn transform their outdoor living space into a staycation destination, and in many cases it all starts with the pool.
But there's a lot to consider and know about pool ownership and if you're not fully prepared you could find yourself treading water as you desperately search for answers. Luckily, this region is full of skillful pool builders who can guide you through each step of the process, and in turn help make your visions of an outdoor oasis a reality.
We spoke to several of industry experts to get some tips and advice on what you need to know to make a real splash this summer, no matter if you're considering a new pool for your yard or are simply looking for ways to enhance your current swimming experience.
Settling on a Style
When it comes time to picking out a pool, the first place to start is deciding on what style is right for you between vinyl, fiberglass or concrete. Each one has their pros and cons—and price point for that matter—and what may be appealing to some may not necessarily be so for others.
Vinyl liners, which come in a variety of colors and styles, are by far the least expensive option to becoming a pool owner. As a result, vinyl pools remain popular and the advancements made in recent years have only increased their favorability in the marketplace.
But while the cost may be initially lower, depending on several contributing factors, the lifespan of a vinyl liner can vary dramatically and thus may need to be replaced more frequently. That could mean shelling out another $5,000-$6,000 periodically throughout the course of owning the pool.
"The cons of a vinyl pool is the liner is temporary. It could last 15 years or maybe five years" says Scott Payne, dubbed as the chief backyard fun specialist with Scott Payne Custom Pools. "At some point, what happens here in the northeast with the freeze and thaw is that the liner is going to shift a little bit. And it's going to deteriorate [over time]. The sun's UV rays are going to degredate it and at some point you are going to have to replace it."
Meanwhile, fiberglass pools come in pre-formed shells allowing for a quicker installation process than other styles, with many pools being able to be completed in a just a day's time as opposed to the much lengthier process to install a vinyl or concrete pool.
Derek Blasker, president of (Fiberglass) Pool Designs, says the lifetime structural warranties and relatively low upkeep make fiberglass pools an attractive option for many.
"With a vinyl liner pool, you will always have the concern that you tear the liner or the liner rots within 5 to 10 years. With concrete, you need to acid wash, paint, patch and resurface the masonry work. This usually runs at least $15,000 over a 10-year span. With the Latham fiberglass pools we install, you do not touch the surface," he says.
Blasker adds that fiberglass pools are a natural insulator, reducing the energy costs to heat and maintain the pool.
Jon Wilson, director of operations at Ordini's Best Fiberglass Pools also touts the benefits. "Fiberglass pools are installed in one day, while vinyl and concrete pools can take weeks or months to build. The smooth gelcoat finish of our fiberglass pools are much easier to clean than the rough, porous surface of concrete pools."
With regard to concrete or gunite pools, while they are the most expensive choice for pool owners, they also offer the most customizable options in terms of freeform shapes and added amenities.
"With concrete pools, you can really go from mild to wild in terms of shape. And you could add sundecks, spas, loveseats; it's really only limited to your imagination," says Payne.
Speaking of shapes, the rumors of the death of rectangular pools have been greatly exaggerated, according to Andrew McFarlane, president and owner of California Pools Philadelphia.
"I thought [rectangular pools] were kind of a dead thing, but a lot of our higher-end customers are bringing them back," McFarlane says.
Payne has also seen an uptick in rectangular pools making a strong comeback, saying it's a matter of history repeating itself.
"Twenty-five years ago, people were tired of seeing rectangles and you saw the kidney bean and other freeform shapes, but I'd says we are close to 50-50 between installing rectangular and freeform pools now," he says.
Ultimately, the right shape should be dictated by each individual client's desire. Are they looking for a pool to swim in or is it more of a social gathering place? Do they want a diving pool? What will create a more seamless transition with the rest of the backyard?
"If clients want a clean look, they go with rectangles. And if they want more of the natural resort-type feel, then you see the freeform pools with the rock grottos and waterslides and that sort of stuff," says McFarlane.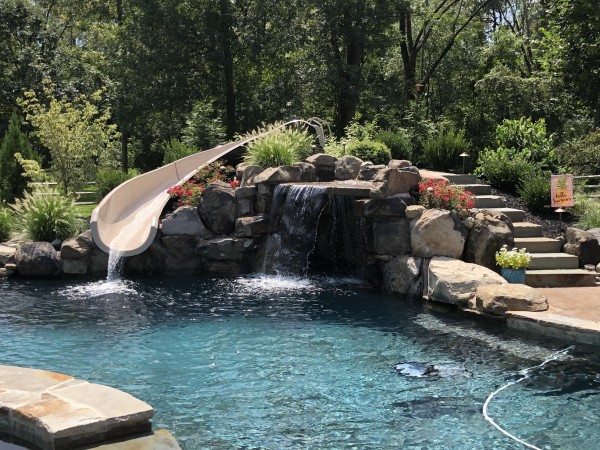 A Touch of Salt
Think back to your childhood days spent at the pool and you're likely to invoke memories of the smell of chlorine on your skin and irritated red eyes. And so it's no wonder that the industry has evolved over the years and in doing so has seen salt-generated chlorinator systems become the prevalent choice for pool owners. With benefits ranging from making the water gentler on the skin to reduced maintenance costs, salt systems have become the standard in the industry today.
"Just about every pool I install is saltwater; I haven't probably put in a chlorination pool in five years," says Beyer. "There's a lot less upkeep and the temperature doesn't affect it. It could be 105 degrees or 65 degrees; it could be sunny or it could be rainy; your pool is always going to have the same level of chlorine. ... As long as the pool is running, it will be crystal clear all the time."
"Salt will also reduce your ownership costs dramatically. Instead of spending $500-$600 a year on chlorine, you might spend $40 a year on salt and achieve the same benefits," says Payne.
But while the salt systems make pools easier to balance and maintain, there can also be some negatives associated. "The upside is that you do not need to play with tablets and powders, the salt will be gentle on your skin, you can open your eyes underwater without the burn, the salt will not bleach anything, and blonde hair will not turn green," says Blasker. "The downside is that the salt will produce an alkaline effect that raises your pH and salt will have an adverse effect on steel railings, ladders, etc."
Also something to take into is that "homeowners like the 'set it and forget it' aspect of a saltwater system, but it is an added expense, and the salt cell requires maintenance and eventually will need to be replaced every handful of years," says Wilson.
And no matter if you have a salt or chlorine pool, maintaining proper water chemistry is crucial. While some DIY-ers may attempt to handle balancing things on their own, it is truly best to get your water tested by a professional to assure you don't cause damage to your pool.
Tracy Bond is the president and owner of Great Valley Pool Service and says at the very least, weekly water testing is recommended. Sometimes even more frequent tests are needed if the pool is heavily used or has been recently build or refinished.
"There are many different things that can impact your water chemistry from the weather to the number of people using the pool to things like pets, pollen, fertilizer drift, grass clippings, etc.," says Bond. "It is important that your water is regularly tested and adjusted to avoid damage that can occur to your pool's finish, to your pool equipment and to ensure that your water is properly sanitized for your bathers to prevent illness. Proper balancing also prevents problems from occurring like algae and cloudy water as well."
And for those who don't have the time to wait in line at the shop, Bond's crew will come to you. "We offer a recurring service where we clean and chemically balance the pool each week. This includes testing and balancing your water; emptying all skimmer and pump baskets; backwashing and cleaning the filter as needed; as well as skimming, brushing and vacuuming the pool," she says.
Enhancing the Experience
While seeing the kids do cannonballs into the deep end or waking up early each day to swim laps may be a welcomed aspect of owning a pool, these days owners are looking to up the ante with plenty of bells and whistles.
"Maybe someone doesn't have kids and they want their backyard to be a place to gather with other adults for happy hour or dinner, and so they want a sitting area. And perhaps they don't want to have giant waterfalls, but would like to hear the sound of water, so we'll add a couple deck jets so they can hear the water trickle," McFarlane says. "And then you have other people who say they want to have a water slide and a jumping rock for the kids."
And technology is playing a big part as well. Robotic cleaners, variable speed pumps and LED lighting have become the norm and growing automation capabilities are allowing folks to control many aspects of their pool's upkeep right in the palm of their hand.
"Automation is probably the most popular added element today. [These] systems allow the homeowner to control pumps, lights, heaters, deck jets and other pool accessories from their smart phone," Wilson says.
Covering the Basics
Another area not to be overlooked is whether a mesh or solid safety cover is the right choice for you. Mesh covers—the less expensive of the two options—are lighter, easier to maneuver, but do allow some light and small debris into the pool, although recent advancements have increased their effectiveness in combatting these issues. On the flipside, solid covers do not allow any water, debris or UV light into the pool. This eliminates all algae growth during the winter, so you need less winterizing chemicals and the spring cleanup is easier.
Ultimately, it comes down the preference of the homeowner on the level of maintenance they wish to take on.
"Solid covers are a little more expensive and there's also a little bit more maintenance involved. You have to manage the water on top of that cover because it's not going to go through it, so you have to maintain a surface pump on there and through the winter you have to make sure the pump is working," says McFarlane.
"The solid covers have a lot of benefits in that the way you close the pool is typically the way you open the pool," says Beyer. "When you have a mesh cover, when the leaves fall off onto the cover and they disintegrate and it rains, that filters through the cover and so the pools don't open up as clear."
Bond cautions that owners of solid covers remain vigilant on keeping an eye on their pumping system to make sure that all of the excess water is being funneled off of the cover.
"Excessive weight will cause the cover to sag," she says. "A saggy safety cover is more likely to fail over time."
No matter what kind of pool you purchase or what extra elements you consider, the key is to do your homework before you put pen to paper on a pricey contract so you feel confident you are hiring the right contractor instead of finding yourself with a money pit in the backyard for years to come.
"No company is perfect, but the difference in contractors is made when an issue arises, and how that contractor handles that issue," says Blasker. "You want a contractor who is going to take your call, present you with a plan and execute upon that plan in a timely manner."
RESOURCES
California Pools Philadelphia
Downingtown, Pa.
(484) 656-7256
CaliforniaPools.com
(Fiberglass) Pool Designs
Yardville, N.J.
(609) 257-2279
PoolDesignsInc.com
Great Valley Pool Service
Frazer, Pa.
(610) 889-0711
GreatValleyPool.com
Ordini's Best Fiberglass Pools
Bristol, Pa.
(215) 602-3485
OrdiniSwim1Day.com
Scott Payne Custom Pools
Montgomeryville, Pa.
(215) 716-7177
ScottPayneCustomPools.com
Stardust Pools
East Brunswick, N.J.
(732) 254-3330
Stardust-Pools.com
Published (and copyrighted) in House & Home, Volume 23, Issue 5 (March 2023). 
For more info on House & Home magazine, click here. 
To subscribe to House & Home magazine, click here. 
To advertise in House & Home magazine, call 610-272-3120.