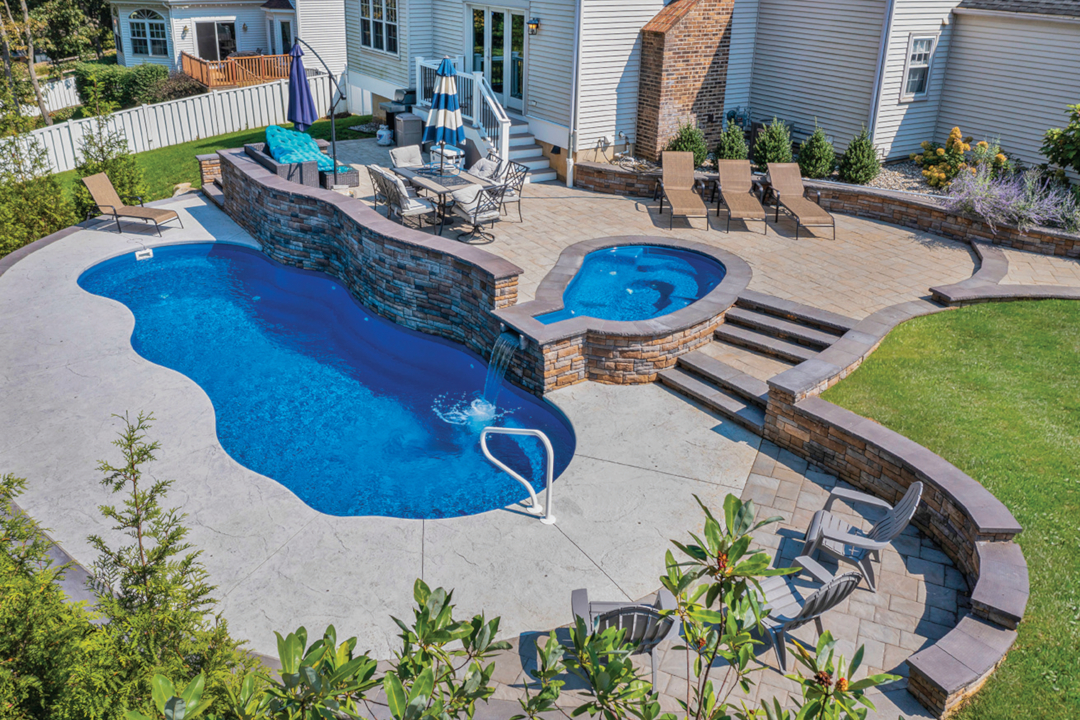 Entertainment season is fast approaching, and before long homeowners will be welcoming in guests for summer barbecues and pool parties. They will surely want a yard to be proud of on these occasions, and even when there is not a special event going on, pulling into the driveway and admiring a lush, green lawn does wonders for mental health. Of course, the extreme heat of July and August can put a tremendous strain on the landscaping, which is why it is crucial for homeowners to take certain steps in the spring to ensure that they and any visitors will have a beautiful property to look at all summer long.
"You have to prepare right now with fertilization, seeding and really getting it ready to be able to take on the heat in the summer," says Michael Tarleton of TLC Landscaping. "The optimal time for growing seed is the fall, but you also have to maintain what you have and keep it where it is."
Adds Michael Pasquarello of Elite Landscaping: "Spring is the ideal time to thicken up the density of a lawn and to establish a deep root system so come summer when evapotranspiration is at its highest, the individual blades of grass can survive on less available moisture."
House & Home spoke to several local professionals to find out some helpful tips about preparing the lawn, flowers and planting beds for the harsh summer months to come.
Get a lay of the land
An important stage in the spring cleanup process is to assess the yard and see what kind of shape it is in heading into summer.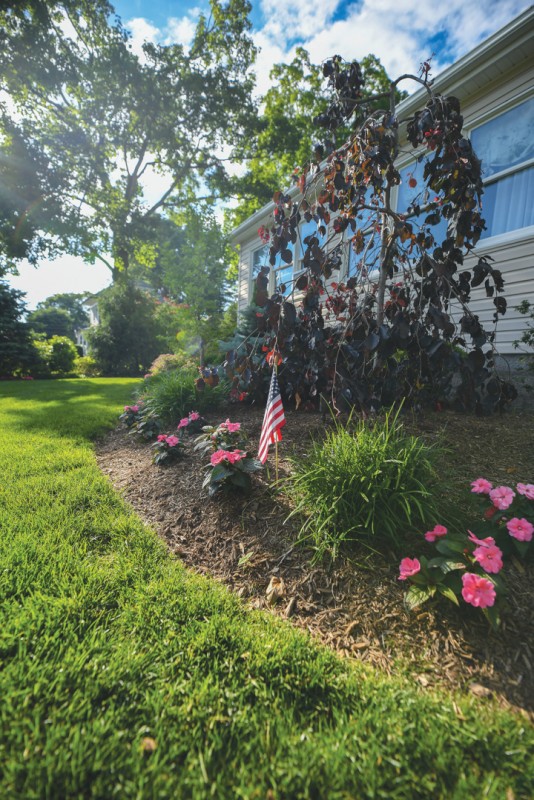 "My first suggestion would be to walk around the property and inspect your plants and your garden for any dead plant material and any dead growth on the plant material," says Chris DeMato of Rock Bottom Landscaping & Fencing. "If you have any other structures or fences or things like that, inspect everything and get a good list of what you need. Of course, you can decide what you can manage or if you need a professional to come in and take care of it.
"The next step, assuming you have dead growth, broken branches and plants that do not look well, is those portions of the plant need to be pruned off and cleaned up. Any ornamental grasses or other plants that were not cut back in the fall should be cut back before the summer season. Obviously, clean out your planting beds of any weed growth and any undesirable grass growth that has spread into the planting bed."
Often, dead leaves that were not removed during the fall have gathered in clumps around the yard and can be a hindrance to the spring awakening.
"It's very important to clean leaves thoroughly," DeMato says. "Allowing leaves to form in a planting bed or your grass can create a covered mat when they harden and settle. They essentially smother whatever they're laying on. If they're on the lawn, they're going to kill the grass, and if they're on the plant, they will smother the plant."
Do's and don'ts heading into summer
After a rough winter, there is an inclination for many homeowners to rush out the first mild weekend of the spring and immediately start thatching, aerating and seeding. But it's not always necessary.
"The fall is a more popular time to perform these tasks, however they can be beneficial to complete in the spring as well if they have not been done in a while," Pasquarello says. "Seeding is the one item I would definitely wait until the fall as you will be competing directly with any pre-emergents applied to the lawn. They will adversely affect the grass seeds in the same way as they do the weed seeds."
DeMato advises to not get carried away with fertilizing. Too much fertilization can actually result in less growth and leave grass and plants vulnerable to pests or disease.
"Homeowners tend to overfertilize a lot," he says. "Overfertilizing your plants and your lawn is not good; it's essentially no different than a human being overeating. You're not allowing those plants and the grass to strengthen on their own from the ground up. They don't have to search for a whole lot because you're overfeeding them."
Mulching planting beds is always a common chore in the spring, and local big-box stores and garden centers will often have sales on mulch at this time of the year. Tarleton warns to be careful about not going overboard.
"Basically, I always say clean it up, weed it and mulch it," he explains. "This way the mulch will help absorb the water and retain the water. But don't overmulch—mulch is there to help your plants, but too much mulch will kill your plants."
DeMato adds that cultivating the soil is also important. "Essentially, you take a heavy, metal garden rake and loosen your soil and mulch," he says. "This allows plant material to get the proper watering when it rains, and it also allows oxygen to get to the root system a little easier—it aerates the soil, which is very important. Cultivating means mixing and turning over your soil with a heavy metal rake and preparing your soil for growth and to allow the watering to seep in properly around the root system."
Addressing the lawn
Cutting the grass in the middle of the scorching summer can be a laborious activity, but many homeowners look forward to it at this time of year when it's not as hot. It's typically best to resume mowing in early spring.
"In our region, historically the second week of April is when lawns are due for their first haircut," Pasquarello says. "First, be sure to remove any leaves, branches and debris from the surface of the lawn in order to give the ability to breathe and cut freely."
"It depends on the lawn," adds Tarleton. "You don't want to let it get too long before you cut, because then it builds up thatch. But at the same time you don't want to cut too much where you're cutting it too short and burning it out. You have to base it on your lawn. Sometimes people cut too often but it's OK to take a week off here and there and let the lawn establish, and not just beat the lawn up by running a machine over it."
Because of the constant April showers that usually carry over to early May, homeowners must monitor their watering of the lawn.
"Overwatering is a big mistake," DeMato says. "It's the same concept as overfertilizing. If you overwater a plant or your grass, it does not allow the root system to really strengthen up and search for the water on its own. So be very careful and be very regimented in your watering—it should be a scheduled watering system. It's a common mistake where a homeowner may miss watering for three or four days when they're newly seeding a lawn, and then they water for three hours and overwater. That's the worst thing you can do, so try to be scheduled with your watering. [Do it] every other day and make sure it's the same amount of time, and the same principle with your plants."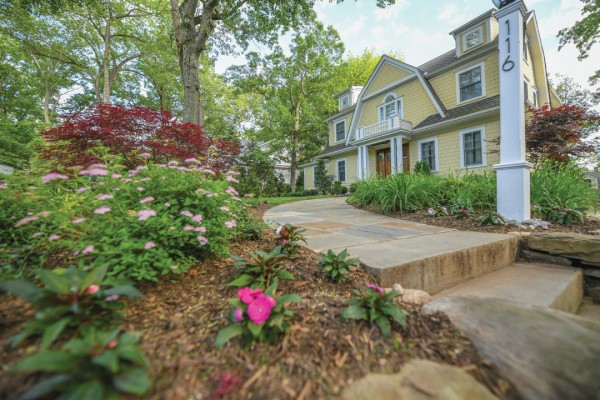 "Most established lawns can flourish in the early to mid spring with just the help of Mother Nature," Pasquarello agrees. "The temperatures on average are still on the cooler side and the lawn is not demanding a tremendous amount of water. [But] there still have been some very dry, hot mid-May years where you will need to crank things up a bit."
DeMato concludes that homeowners know their properties best and can use their judgment about watering, with specific areas needing more water than others.
Final touches
Most homeowners have dealt with unsightly crabgrass in July and August, which can ruin a landscape that was impeccable just a few months before. Weed control is critical in the spring.
"You should be doing preventative measures now to minimize that in the summer months," Tarleton says. "It's hard when the weather gets to be 100 degrees out; it's really tough to spray for weeds then because you can kill the grass too."
DeMato shares his recommendations for perennials and ornamental grasses.
"If you have any overgrown perennials or ornamental grasses, if you feel they're too large you can divide them," he says. "That should be done prior to the summer months. You can simply split an ornamental grass down the middle and divide it and plant the other half somewhere you may have space. You can do this with many of your perennials that will be coming in during May and June.
"Quite often there are perennials that are very flimsy and the growth is wispy," he continues. "You may want to secure them with stakes and other garden rings or plant rings. You simply stake it down over the plant and it gives a little support to those flimsy plants such as peonies, mint and delphiniums. This will encourage a much stronger root system."
Finally, Pasquarello points out that spring is always a great time to add plants or flowers to the landscape.
"Planting earlier helps flowers, shrubs and trees establish a root system and get acclimated to their new area prior to the heat setting in," he says. "They will be able to uptake water more easily when needed."
RESOURCES
Elite Landscaping
Berlin, N.J.
(856) 753-1944
EliteLandscaping.com
Rock Bottom Landscaping & Fencing
Belle Mead, N.J.
(732) 873-6780
RockBottomLandscaping.net
TLC Landscaping
Midland Park, N.J.
(201) 321-2421
Tarleton-Landscaping.com
Published (and copyrighted) in House & Home, Volume 22, Issue 8 (May 2022). 
For more info on House & Home magazine, click here. 
To subscribe to House & Home magazine, click here. 
To advertise in House & Home magazine, call 610-272-3120.