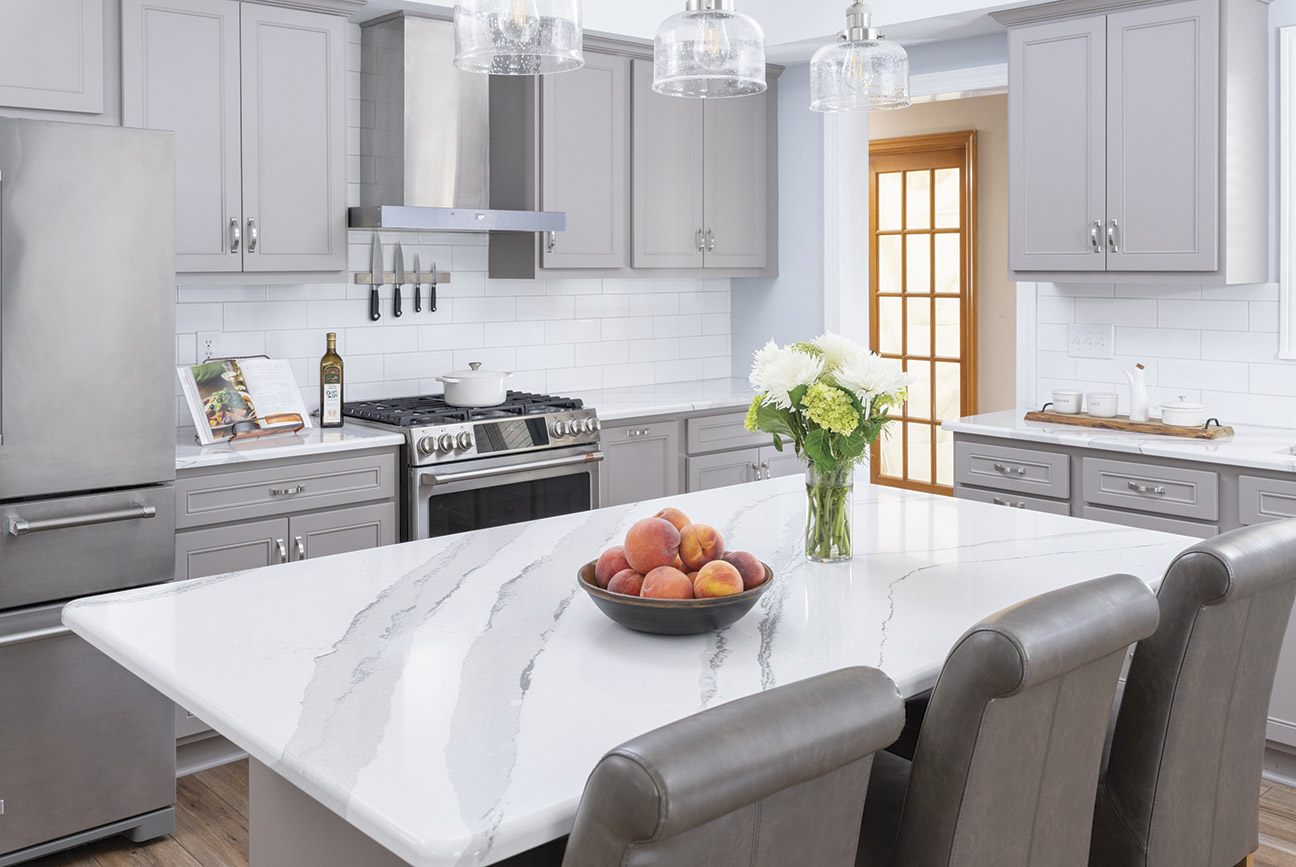 When the ground is frozen and snow is in the forecast every other week, it makes it difficult for contractors to be building an outdoor living space or working on a pool installation. Conversely, the middle of summer isn't an ideal time to be replacing a roof given the extreme temperatures. Certain industries inevitably have their down times throughout the year, but there are two particular home improvement projects that never seem to come to a halt: kitchen and bathroom renovations.
"We dip down a little bit during the holiday season, typically mid-December to mid-January, but this year that dip was just around Christmas—it picked right back up in the new year," says Linda Fennessy of Kitchen Magic. "We've been seeing it continuously. We have a lot of work and our backlog is as big as it's ever been. The orders are there and we're working to get them installed as quickly as possible."
Increased time at home as a result of the pandemic has led to even more remodeling than normal, and kitchens and baths have lived up to their reputation as the most popular rooms to refresh.
"Now more than ever, kitchens and bathrooms … are a large part of our business," says Vic Fiore of Magnolia Home Remodeling Group. "It's a 12-month, steady flow of people looking to get prices, ideas and consultations."
The planning phase remains crucial to the process, and an experienced firm can assist greatly in setting the budget and expectations. House & Home spoke to several local professionals to get their tips and find out what trends to look for in 2022.
Devising a plan
Homeowners taking the leap to renovate a kitchen or bathroom have plenty of options, but finding a company that provides both design and construction services can make life a lot easier. That is especially true when it comes to a complete makeover of the space.
"A major kitchen remodel is not a straight A to B path," says David Cerami of HomeTech Renovations. "You need a plan and someone who can integrate everything into a fluid design and help you personalize it."
Sophia Amiano of Amiano & Son Design-Build believes education is an important part of the initial meeting with a customer. The average homeowner is not aware, for example, of the expenses involved when compiling a wish list for their new kitchen or master bathroom.
"Everybody goes into a project already having an amount in mind," she says. "We show them what we can do for the project and the work scope within that investment amount. We simply inform them on the market, on certain product costs, maybe how we can help keep costs down, just so that they're getting more realistic information. Sometimes Google can be very inaccurate and that will be a homeowner's first go-to when looking for information."
Fiore's first priority when meeting with a client is establishing a framework for pricing, which of course will ultimately be dependent upon their material selections. He also gets to know the customer's vision for the space.
"We always ask people what their needs and wants are, if they have any inspiration, pictures or examples of things they know they want or don't want," he says. "We put together a plan taking into account their feedback but also really what we think will work best. Then we work with the homeowner to fine-tune the plan, make sure it's their own and what they want."
"[The first appointment is] basically a fact-finding meeting," Fennessy adds. "We ask how they use the kitchen, are there multiple cooks, how big is their family, do they find it functional, what are the challenges, do they like the color, how long have they been in the home and how long do they plan on staying. Then we make our solutions based on their budget. We have them picks colors and styles and give them a price quote."
Amiano wonders how any project could get accomplished without detailed planning in place. Her family's company follows long-held procedures for every job, to help prevent hidden costs or anticipate issues that may arise.
"The reason we've built our process to the way we have over the years is for that exact reason, because if you don't properly plan and put a project together from the get-go before jumping into construction, hiccups are bound to happen," she says. "Construction is already a process as it is and it's never 100% perfect, no matter how much upfront legwork you do, especially in today's day and age when you have delays. If we didn't do all that work in the beginning, I don't even know how you would get a project together.
"We pick out all the materials up front, we design the space as close to the measurements as we can get, we even do an onsite visit prior to signing the contract just to verify those measurements and that the layout is going to work properly. … We take pride as a company that we do those steps and we really limit those hidden costs that can happen in construction."
Building the dream kitchen
One of the most important decisions in a kitchen remodel centers on cabinetry. White kitchens have been popular for years and although color has been introduced more lately, Fennessy does not anticipate white going away.
"I opened up a Houzz 2022 report [recently] and it definitely mimicked what we're seeing: People are still choosing our whites—antique white, frosty white and satin white—and those are our most popular colors," she says. "While I hear the woods are coming back, I don't see it yet, only in our older demographics. Flat color is popular; we do sell a lot of colonial blue. Gray is second and we've just added a moss green to our offering, and that is by customer demand. Our in-house designer said we absolutely had to add it to our offering because it's everywhere and it's going to be very popular. But whites are still king."
Amiano saw a great push for colored cabinetry in 2021, particularly in the blue family. But the trend has not lasted long, at least with her clients.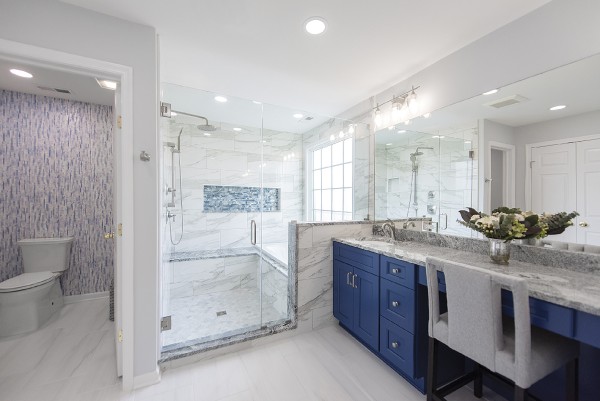 "In this new year with all of the jobs we have coming in, we have a lot of people who want natural elements," she says. "I've done some research on it and that's where they're predicting everything to go. In the last couple of years more people have been working from home and they've been in the house more, so people want that natural and organic feel in their house. I have people who want wood tones and soft gray cabinets, and natural or sage colors for the wall. I see it falling more in that direction than going too bold with color."
Color can be used in a way where it does not dominate the entire room, however.
"We're doing color for islands," Fiore says. "Some people will do the perimeter in one color and the island in another, or they'll do different colors for the upper and lower [cabinets], which is becoming more popular. … We're also doing a lot of open shelving. Is it here to stay? I don't know, but you can incorporate open shelving into a traditional design and it works nicely. It breaks up a wall of all cabinets."
Amiano suggests that stacked cabinetry can have the same effect. "Maybe you have a 36-inch cabinet on the bottom with a 12-inch cabinet on top. It looks super elegant," she says. "A lot of people will make the top cabinet glass for a decorative design feature; I've had quite a few kitchens where we've done that."
For those looking to keep costs down, Cerami and Fennessy agree there are many benefits to cabinet refacing. "We've really seen an uptick in that," Fennessy says. "They'll reface it because they're sick of looking at their outdated kitchen, and refacing offers a cost savings as well as quick transformation in color and style."
Five to 10 years ago, granite was the hot word when it came to kitchen countertops, but quartz has replaced it as the go-to material. "It's mostly all quartz [because of] maintenance and consistency," Fiore says. "If you have veining, it's a consistent look, whereas granite has a lot more variation. You can get the look of a natural stone and it's amazing. The options out there are incredible."
Another kitchen trend is to create a statement with the backsplash, compared to the past when it was used more to complement other elements in the room.
"We used to sell subway tile all day long in the ceramic, but people are asking for more elaborate styles and patterns," Fennessy says. "So we're adding lantern and octagon and geometric shapes. People are getting the lighter quartz countertops, the whites, so they're not as busy and it's the backsplash that is the star of the remodel. … You can introduce color, you can do busy patterns. It's eye-level and people want to make it the showstopper."
A spa-like retreat
For some time now, many homeowners have looked to recreate the feel of a spa or luxury hotel in their master bathroom. For Cerami, that usually starts with removing the large, builder's-grade tub that is rarely utilized and using that space for the shower instead.
"The No. 1 request we get is to increase the size of the shower and the functionality of the shower," he says. "Why wouldn't you want a shower that is more like a spa experience? It can have a rain showerhead, a handheld showerhead, body sprays or room to sit down. People want more of that human car wash experience with beautiful tile surrounds, a space that is well-lit and modern amenities."
Fiore is getting the same request from his customers, along with oversized vanities and heated floors. Cerami adds that those who still want a tub can opt for a freestanding one that is almost like a piece of art and has visual appeal. To that end, Amiano recently designed a master bath that certainly stands out.
"We just did a project where we actually incorporated the tub into the shower, so it's a drop-in tub in the shower," she says. "We did granite at the top to coordinate with the granite on the vanity top, and it looks really neat. I also do a lot of the freestanding tubs. Most people if they can fit it still want a tub, but the idea is to make a bigger shower so it's like a hotel or luxury feel to it."
She adds that no-entry showers are also in demand, especially for older homeowners who want to ensure safety without having to step over a curb. Linen cabinets within the bathroom are popular as well, so that towels can be accessible without walking down the hall.
The final word
Renovating a kitchen or bathroom is a major project and homeowners should know what to expect when beginning one. But with the right plan and team of professionals in their corner, the end result can be life changing.
"Understand that they are probably the two more costly projects to get involved with, especially if you're going to go all in, meaning you're going to strip the room and upgrade the plumbing, electrical, insulation, drywall and then start your finishes," Fiore advises. "But if it's done right, there is a return on your investment, not only in terms of house value but enjoyment and day-to-day use. The mistake that some people make is not setting a sufficient budget and not being 100% satisfied with the finished product. You really need to have a budget that is realistic in terms of the space and what needs to be done.
"You might want to wait until you can properly budget for a whole room renovation. You can minimize your cost and just do a little facelift until your budget allows for the full gut. You don't want to spend too much and you don't want to spend too little. We try to find a good balance of budget and scope, and you also have to take into account how many years you plan on living in the house and what your long-term goals are. Not everybody needs a custom gourmet kitchen with $50,000 appliances. Everyone has to make sure they're comfortable with the entire scope, budget and material selection."
RESOURCES
Amiano & Son Design-Build
Tabernacle, N.J.
(609) 268-5923
AmianoAndSon.com
HomeTech Renovations
Lower Gwynedd, Pa.
(215) 646-7477
HTRenovations.com
Kitchen Magic
Serving N.J., Pa. and Del.
(800) 510-4710
KitchenMagic.com
Magnolia Home Remodeling Group
Union, N.J.
(855) 624-6655
MagnoliaHomeRemodeling.com
Published (and copyrighted) in House & Home, Volume 22, Issue 4 (January/February 2022). 
For more info on House & Home magazine, click here. 
To subscribe to House & Home magazine, click here. 
To advertise in House & Home magazine, call 610-272-3120.