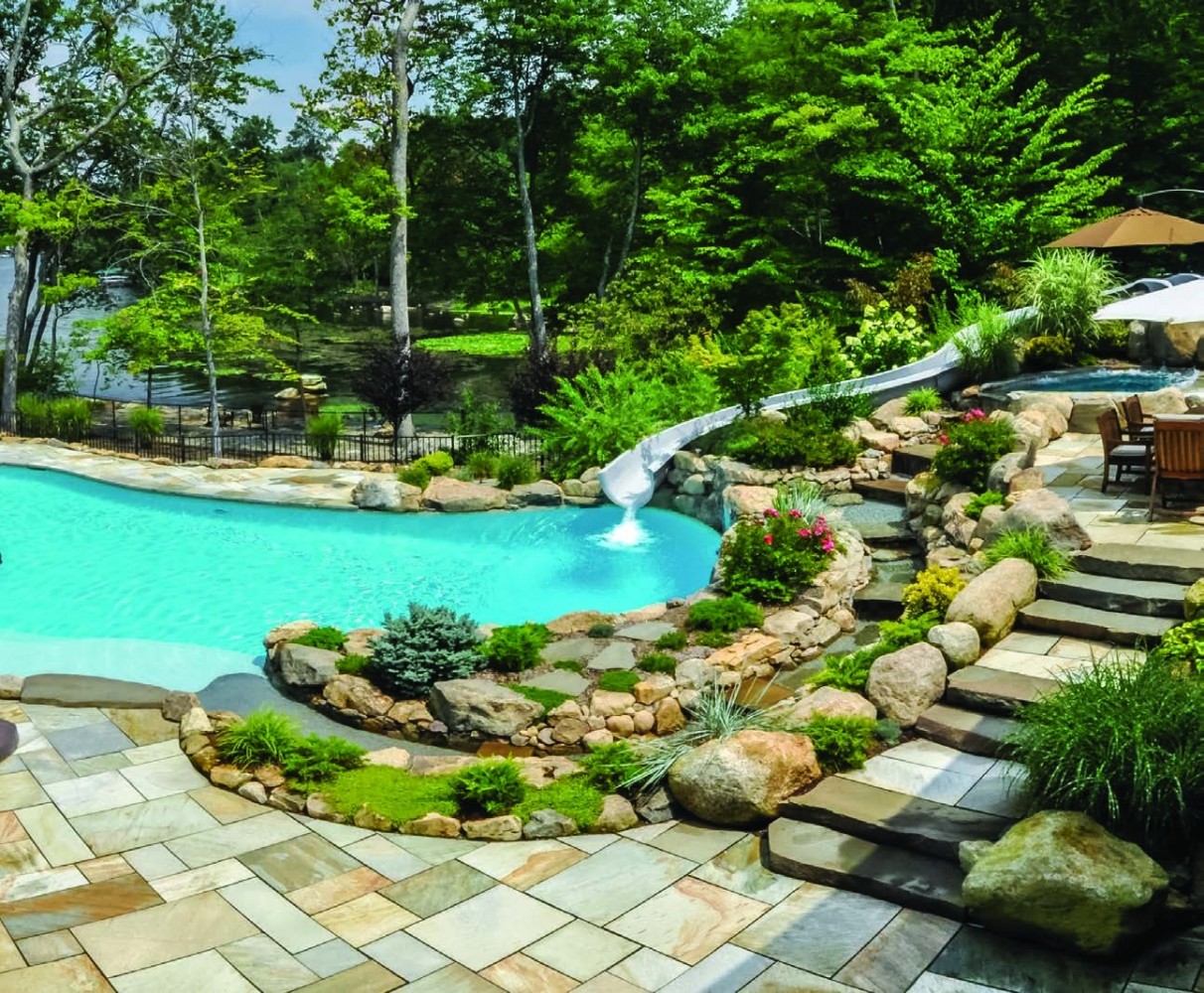 It is quite understandable for homeowners to have envy for neighbors with stunning pools in their backyard, even during normal times. But with the COVID-19 pandemic severely  limiting entertainment options these days, the jealousy factor will surely be multiplied this spring and summer.
Vacations have been put on hold if not completely canceled, certain parks and community pools are off limits for now and walks around the block count as a special treat. Under these circumstances, having a pool to splash around in is even more meaningful than ever.
 "[Some] beaches are closed—who knows when they're going to open up again—and when they do, people might not want to be next to each other," says Dominic DiCesare, general manager at Blue Haven Pools & Spas by Calvitti. "Everybody's life has changed and things are starting to go back to how they were 50 or 60 years ago. People are not running around; they're not doing travel sports [with their kids]. I think people are going to just hang out at their house."
With that being the case, now might be the perfect opportunity for those with an existing pool to do an update and bring it into the modern era. Amenities like water features, sun shelves and spas can all be added to make it even more enticing.
We spoke to several of the experts to learn more about the popular add-ons their customers are looking for and how feasible these projects are.
Making a splash
Homeowners who had pools installed 10 to 15 years ago may not have included the bells and whistles that are common with today's pools. For that reason, many companies have seen an uptick in renovations in which these amenities can bring an extra wow factor to the backyard.
 "The last couple of years that is growing in popularity," says Mike McCool, general manager of Swim-Mor Pools & Spas. "Rather than just doing the straight coping/tile/plaster renovation, people are adding sun shelves, spas and raised wall water features with sheer descents. They're modernizing their pools to incorporate everything the new pools that are being built now have.  All of the stuff that can be done to a new pool can be done to an existing pool."
Along with raised walls with sheer descents, other trendy water features include deck jets, fountains, cascades and waterfalls. These come at different price points to fit most budgets.
 "The biggest add-on that we do is water features," says Rich Cording Sr., the founder of CLC Landscape Design. "People like to add waterfalls to an existing pool to jazz it up. We do all kinds of waterfalls, from very naturalistic to very formal."
McCool adds that while some water features,  like a raised wall, are rather straightforward, others can get pretty complex.
 "Waterfalls can be added, but you still have to get a plumbing line to it, which is usually the trickiest part because the backyards are already finished," he says. "They've built the patios and they've built the walkways and they may already have a fire pit area, and you have to get a pipe from the equipment to wherever the waterfall is. Sometimes it's undoable."
Plumbing also becomes a concern when adding a slide to an existing pool.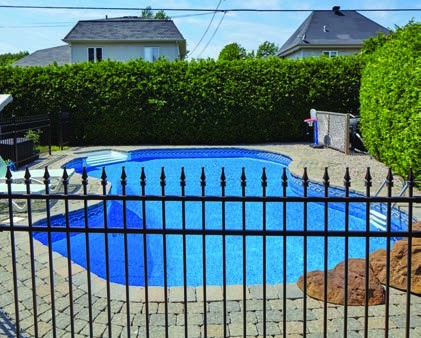 "You have to cut up the concrete walkway where you're going to place the slide. You need about 13 feet in length on the walkway and you have to anchor it down," says Derek Blasker, vice president of operations at Pool Designs Inc. "You also need a water line, because in the middle of the summer when it's boiling hot outside, you don't want to go down a plastic slide without water—it will burn your legs. But a slide is certainly a good option."
 "A sliding board as part of a waterfall package is doable," DiCesare adds. "It's easier on a concrete pool; that structure on a fiberglass pool or a vinyl liner pool is going to compromise those types of pools. In a concrete pool you can add that stuff fairly easily."
Sun shelves—an area to lounge inside the pool or let young children play—have almost become must-haves in recent years. Those renovating an older pool often request sun shelves, although this kind of project does come with challenges.
"A sun shelf can be added after the pool is already in, but it's way pricier to do it after than it is while you're building it," Cording says. "If you're going to add a sun shelf to a concrete pool, you would have to empty the pool and build up layers of concrete to get to that level and epoxy it on, and then you would replaster and everything. To do it in a vinyl pool, you would have to redo the base underneath and then replace the liner."
Spas are also an expensive addition—almost double what they cost during original installation, according to Blasker. But he is currently adding one to an existing pool for a customer, who is excited to have the new feature.
 "If you're going to add a spa, you have two options: you're either going to have a standalone spa or a spill-over spa," he says. "If you're just adding a hot tub that's self-contained, that's easy. You just pour yourself a [concrete] pad, lay it on top and it's all contained inside of itself.
 "If you're going to try to incorporate it into your existing pool by making it a water feature that's going to spill over into it, you have to crack up all of the concrete where you're going to put the spa, and then you have to trail a line all the way back to the pool equipment so you can get a return to fill up the spa. You also have to replumb the area with a new valve and cut all the lines, and sometimes that's not too easy to do."
Simple ways to add pizzazz
If the cost and construction process of sun shelves or spas sound like too much of a stretch, there are other ways for homeowners to update their pools.
 "To give the pool a little more of a wow factor, you can switch out the standard lighting with LED lighting that has built-in light shows. That is a quick, inexpensive addition," DiCesare says. "Obviously,  the saltwater systems are very popular now, but we also do a lot of UV Ozone systems to treat the water. There is no chance of anything growing in the water at that point because that's how bottled water is purified. … These are fairly inexpensive upgrades to most pools."
Blasker also recommends LED lighting and suggests another costeffective element for an aging pool.
 "If you have an old fiberglass pool that is looking a little faded on the top above the water line, you can add a nice, 6-inch tile perimeter all the way around," he says. "That will spice it up a lot by giving it a nice pop of color, and it's an easy, one-day job. You drain a little bit of water, maybe two inches, put silicone on some tile and you have a brand-new looking feature on your pool."
Entertainment options for the kids can be found in today's marketplace as well.
 "Not many people are adding diving boards anymore, but dive rocks are very popular," Cording says. "That's something we get called about often. They're usually about 18 inches high and people can jump off them into the pool."
 "S.R. Smith came out with a slide this year that folds up and comes with its own [dolly]," Blasker adds. "You just wheel it out when you want to use it and hook up a garden hose to it. You don't have to cut up your concrete or run a water line to it. If you have small kids, it's a good slide."
No matter what amenities a homeowner is looking to add, the professionals encourage them to call their pool companies early to get on the schedule. While new construction projects may be up in the air due to the pandemic, renovations are still moving forward at a quick pace.
"We're getting a lot of calls for renovation work, so people are looking to get their pools updated either with coping and tile, adding  new features or adding equipment," DiCesare says. "It should be a fairly busy year for that type of work."  
Choosing the Right Fence to Surround your Pool
When installing a pool, it's always fun to think about design elements like sun shelves or slides. But an important feature that should not be overlooked is the fence that must surround the pool or yard by law. There are several different styles to choose from and certain requirements that must be met.
 "It varies by state and there are a few that are more strict than others," says Kelsey Gilinger of Montco Fence & Superior Structure. "For the most part, it really depends on the style of the fence. A lot of customers think it's just the height that matters, but different styles have different features both horizontally and vertically, so each style has its own code."
Mark Patrick of FenceUSA explains that many local municipalities adopt the national pool codes set forth by Building Officials and Code Administrators, or BOCA.
 "Gates need to swing out away from the pool area; the latch has to be 54 inches above grade, or ground level; and the fence has to be at least 4 feet high," he says. "The interesting thing is, there are rail and picket space requirements too. You can have a 100-foot high fence and it wouldn't necessarily pass pool code if it's climbable. It depends on how far apart the horizontal rails are."
Both Gilinger and Patrick estimate that about half of their customers choose to fence in just the pool area, and the other half put the fence around the entire backyard.
 "It really just depends on the money they want to spend, the layout of the house—if they have enough room to just enclose the pool—and if they have dogs or babies," Gilinger says.  
That decision will also impact the type of fence the client chooses.
 "If you're just doing it around the pool, you're probably going to order an ornamental aluminum fence or a spaced vinyl fence that you can see through. You're not going to want to put up a wall around the pool," Patrick says. "Others who get a pool want to put a fence around the whole yard because they want some privacy from their neighbors. People are going to be walking around in bathing suits and they might not want people watching them. So they would get a privacy vinyl fence or a privacy wood fence."
RESOURCES
Blue Haven Pools & Spas by Calvitti
Six offices serving N.J., Pa. and Del.
(800) 219-2141
BlueHaven.com
CLC Landscape Design
Ringwood, N.J.
(973) 839-6026
CLCDesign.com
FenceUSA
Serving all of Pa., Del. and N.J.
(866) 639-7599
FenceUSA.com
Montco Fence & Superior Structures
Limerick, Pa.
(610) 287-7190
MontcoFence.com
Pool Designs Inc.
Serving N.J. and Pa.
(609) 324-9900
PoolDesignsInc.com
Swim-Mor Pools & Spas
Mount Ephraim, Northfield and Millstone, N.J.
(800) 794-6667
SwimMor.com
Select imagery courtesy of CLC Landscape Design.
Published (and copyrighted) in House & Home, Volume 20, Issue 10 (April/May 2020). 
For more info on House & Home magazine, click here. 
To subscribe to House & Home magazine, click here. 
To advertise in House & Home magazine, call 610-272-3120.