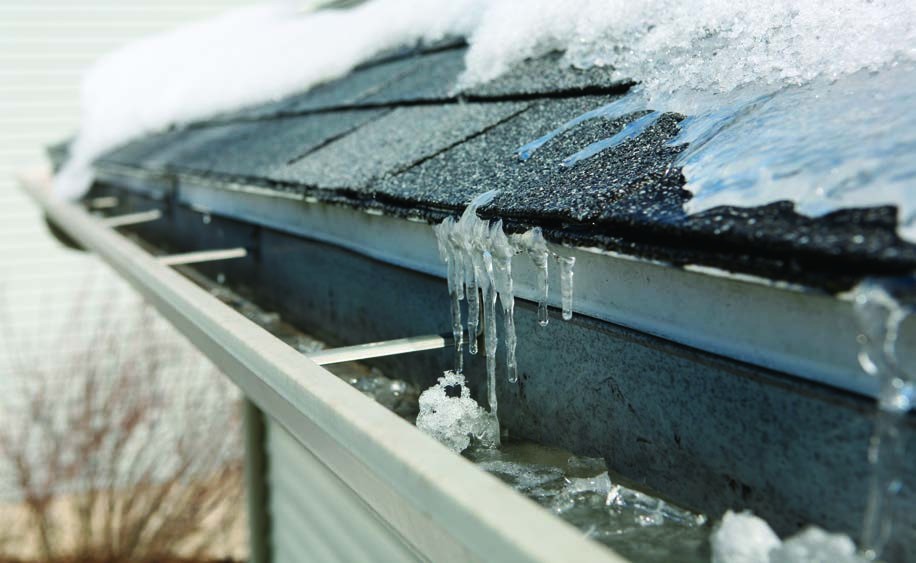 Labor Day weekend has come and gone, the kids are back to school and soon the cool weather will be rolling in. There is no mistaking that fall is here and winter will soon follow, and now is the time for homeowners to make sure their houses are prepared for the harsh conditions. 
Just like annual visits to the family doctor can help people stay on top of their health, a routine checkup on the home can ensure that it is in tip-top shape and functioning properly. "It's important to winterize and secure your home for the colder months because energy efficiency becomes more vulnerable and taking steps to ensure the efficiency of the home will save money, will help the environment and will also provide a more comfortable living space," says James Russo, co-owner of Lawrenceville Home Improvement Center.
House & Home spoke with several area professionals for tips on which areas of the house must be addressed to prevent failure in the winter and avoid potential financial disaster.
STARTING THE PROCESS
One of the first steps homeowners can take is a simple walk around their property to look for issues that need attention.
 "Make sure all of your outside hose bibs are shut off and opened up, so you don't have any cracked pipes or anything," says Pete Afflerbach of Amiano & Son Design-Build. "Check the windows because the seal can go bad in the summertime, leading to condensation in the window. If you see condensation, most likely you have a bad seal."
With caulk being affected by the extreme heat of the summer, it may be wise to reapply it, particularly around windows.
 "Caulking is just a good practice to have so you don't have snow or rain blowing in behind the window and deteriorating the wall," says Jamie Fiel of Renewal by Andersen of Philadelphia and South Jersey. "It's good protection for the home all the way around, because you could get mold behind your siding or something like that. The hot summer months take a toll on the caulk, so that's why I like to double check and make sure it's not cracked anywhere."
Russo suggests waiting for a windy day in the fall to check for a draft around the windows. Adam Parnes of Global Home Improvement agrees and says fall is a good time to replace older or failing windows.
 "We always have people who keep waiting to do their windows, but new windows are not just something where you see a difference in your energy bill; you also see it in the rooms you spend time in," he says. "Don't you want the rooms you spend the most time to be the most comfortable? Waiting an extra year, you might save money but your house is not going to be comfortable."
Both Parnes and Russo recommend fiberglass windows to avoid marked expansion and contraction of the window, which results in a poor fit. Fiel believes the Fibrex material patented by Andersen takes that idea a step further by not moving at all and not being susceptible to changes in climate.
On top of the right material is having an experienced professional overseeing the project. "At the end of the day, the best solution for a draft problem is a well-installed product," Russo says.
As with windows, doors should be checked for any air getting through. A poor fit might be able to be adjusted and weatherstripping can also help.
 "If you're not replacing your doors, check your weatherstripping and make sure it's in good shape," Fiel says. "On most doors the weatherstripping is replaceable, especially entry doors. You can go to Home Depot, get a new weatherstrip and pop it in there. That's always something I take a look at in my home."
CRUCIAL WINTERIZING STEPS
While a failing roof is certainly an issue any time of year, that is especially true during the winter. Homeowners should take stock before it's too late.
 "You can inspect your roof, but if you don't want to get up there you can look at the downspouts and see if you have a lot of shingle granules," says Dave Lyons of DNA Roofing & Siding. "If that's the case, then your roof is getting near end of life.
 "Obviously, the worst thing that can happen is you get a bad storm and you get shingles blown off, and then you get a leak. You want to be preemptive and do something before that happens. September, October and November are probably the best times to install a new roof. It's the best time for the crew, the best time for the materials and the temperature is perfect."
Several of the experts we spoke with warned of the dangers of ice damming on the roof.
 "If you start having more significant leaks in the middle of the roof or ice damming where the roof meets the gutter, then you should really consider a replacement," Parnes says. "We've seen serious damage from ice damming where the ice builds up along the gutter, and when it melts it's almost like a flood inside your house. All of your walls are wet, all of your insulation is wet, and it's just a nightmare to go through insurance, replace all of that stuff and deal with mold and mildew."
Gutters often get overlooked in the winterizing process, but it is important to keep them cleaned.
 "You should really go up in the late fall and make sure the leaves are out of there because the gutters will fill up with water, and the next thing you know you have water freezing under your shingles and you have an ice dam, creating a leak inside your home," Fiel says. "I can't tell you how many times I've seen homeowners have water pouring in their house and it's not even raining, and it's all because of clogged gutters. So that's one of the main things I believe you should do."
Lyons has seen many homeowners dealing with water in their basements this year and recommends painting the basement walls with Drylok and putting a foundation coat on the outside.
Another useful suggestion comes from Afflerbach, who warns homeowners to make sure their chimney caps are closed and to check soffiting so that animals can't get inside and cause damage.
BRINGING THE HEAT     
The last major piece of winterizing centers on the home's heating system, which will obviously be counted on throughout the season. Chris Cavanaugh of R&D Heating and Cooling recommends having an inspection completed to make sure everything is working mechanically, especially if it's an older system that might need to be replaced before the cold temperatures arrive.
There are also important steps homeowners can take on their own.
 "The big thing is using the change of seasons to remind yourself to change your air filter," Cavanaugh says. "Especially as we start entering flu season, you want to make sure that thing is clean. As it gets colder and you shut the windows, you're trapping air inside the house and it's just recirculating, so you want to make sure it's filtered as much as possible."
Cavanaugh also suggests getting the humidifier ready to run by changing the pad, hosing off the outdoor air condenser and looking into a condenser cover, particularly in a wooded area. 
 "[In addition], if your [HVAC] system has a UV light it's a good time to make sure the bulb is still working," he says. "Typically the UV bulbs are good for roughly two years. As we move into the flu season, it's best to make sure your system is doing everything it can to help fight the germs."
With more and more homeowners opting for generators, Cavanaugh also stresses that yearly maintenance and weekly testing are critical to ensure it will operate when called upon.
FINAL THOUGHTS
Some of the measures for winterization can be knocked out in a weekend, while others will be more expensive and require a professional. Either way, it is important to remember that a home needs to be prepared for the rough season ahead.
"All homeowners should definitely do checks around the house," Afflerbach says. "Anytime we're going to have bad weather, you want to prepare so that way it doesn't cost you more in the long run. Your home is your largest investment in your life, so you want to take the steps to make sure everything is doing what it should be."
RESOURCES
Amiano & Son Design-Build LLC
Tabernacle, N.J.
(609) 268-5923
AmianoAndSon.com
DNA Roofing & Siding
Greenville, Del.
(302) 286-9126
DNARoofingSiding.com
Global Home Improvement
Servicing Pa. and N.J.
(866) 735-1121
GlobalHomeInc.com
Lawrenceville Home Improvement Center
Lawrenceville, N.J.
(609) 882-6709
LawrencevilleHomeImp.com
R&D Heating and Cooling
Kennett Square, Pa.
(484) 734-1956
RDHVAC.com
Renewal by Andersen of Philadelphia and South Jersey
Servicing Pa. and N.J.
(877) 779-1393
SmartWindowChoice.com
Published (and copyrighted) in House & Home, Volume 20, Issue 3 (September 2019). 
For more info on House & Home magazine, click here. 
To subscribe to House & Home magazine, click here. 
To advertise in House & Home magazine, call 610-272-3120.