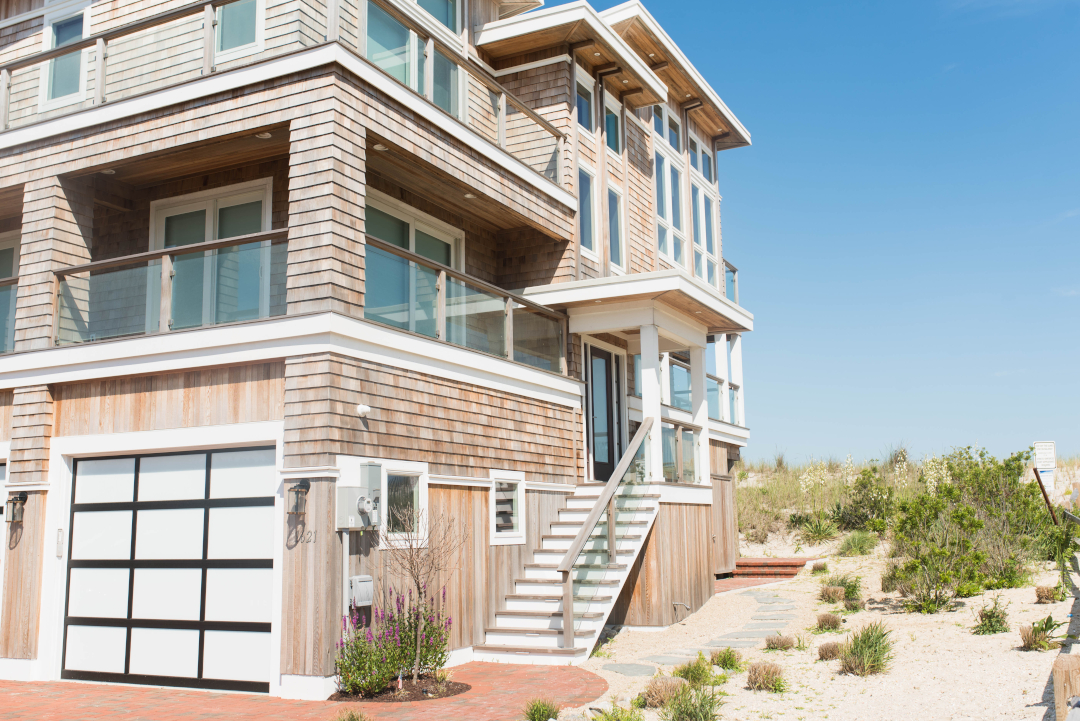 If you're like most of the world, remote work became the norm during the pandemic, and in this area, a lot of people chose to spend some of that time at their Shore house. Without the need to commute into the office, people could enjoy their Shore property even in the offseason, Monday through Friday.
"Since the beginning of the pandemic I've noticed a definite uptick in families utilizing their 'summer/vacation' homes as full-time residences. I can certainly understand why," says Erica Grodeon, principal at Associated Design Studio, an interior design firm. "So much effort goes into creating easy, bright, low-maintenance spaces that are light-hearted, filled with natural sunlight and feature fantastic views. Another benefit people found while relocating to the Shore during the pandemic has been living in close proximity to boardwalks, trails and beaches. In the summer, it's a no-brainer, but when it's chilly outside, it's easy to take advantage of the opportunities for outdoor activities such as running, walking and biking. It's important to have a peaceful space to live and work, but true wellness, if looked at as a whole, includes incorporating nature and spending time outdoors into your daily routine."
If you're thinking of making the Shore more of a full-time arrangement, you'll need some upgrades to make it truly comfortable. House & Home gathered ideas from local experts on how to make a Shore home more functional for long-term living.
A Good Night's Sleep
When thinking of comfort, your mattress is one place not to skimp. "A good night's sleep is crucial to good health and every day well-being," says Pamela Nardone of Hibernate Bedding. "We spend more time on our mattress than anywhere else, and we should treat ourselves to a good quality mattress that will give us a comfortable and cool night's sleep. You will then have a better day, a better mind and better health."
If your Shore home mattress has not been replaced in several years, Nardone says it's worth exploring a new option considering the innovations that have been made in products.
"There are many more natural and organic options today than a decade ago. That is very important to me which is why I have so many of these options in my store. The mattress is the largest piece of furniture in our bedroom, and if it is not an organic or chemical-free one, then you are breathing in those petroleum-based chemicals and fire retardants that are in your mattress all night," she says.
"When you sleep on foam mattresses made from petroleum-based chemicals, not only are they not healthy, but they tend to be hot, which is the last thing we want when we are sleeping," she says. "Sleeping on a natural or organic mattress is also cooler, and they last longer since petroleum-based foam breaks down relatively quickly. The warranties on natural and organic mattresses are longer because of that."
Nardone says mattress shopping isn't everyone's favorite activity, but she can make specific suggestions based on side-, back-, or stomach-sleepers. "We're very low-key and invite our customers to spend as much time as they want on the mattress." To improve the night's sleep, there are also choices for adjustable bases to go under the mattress or they can even create a mattress that combines the preferences of two sleepers.
Bathroom Facelift
An outdated bathroom is probably something you're willing to put up with when you only spend weekends at the Shore, but once it's being used daily, the minor inconveniences can add up.
The good news is, small changes can make a big difference, without disrupting your work-from-home lifestyle. Paul Echavarria, owner of One Day Bath, says a simple grout cleanup and caulking can make a world of difference.
However, if it's time for tub replacement or you're in need of a walk-in due to accessibility, these can be done in less than two days, he says.
"An economical update that can be done in one day is a tub replacement with tile repair. A more noticeable change would be to replace the entire wet area (tv and three walls) with new fixtures, and that can be done in one-to-two days," Echavarria says.
If you or a family member needs easier access to the tub without climbing over the side, there is a modification available. "If you love your bathroom but are possibly having trouble getting in and out of the tub or it makes you feel uneasy, you can have a TubcuT to turn the tub into a walk-in shower," he says. This modification requires no plumbing or construction disruption. "It looks as if you purchased a tub that was meant to walk through, not over, and all of that work is custom to your tub, unlike other cap systems or plastic step-ins," he continues.
Function and Finishing Touches
Outside of the bathroom and bedroom, other features can be enhanced throughout your Shore home to make it as functional and beautiful as your primary home.
Gordon says, "Our design and building process automatically lends itself to accommodate spaces featuring multiple uses with hidden tricks and features for working, playing and entertaining."
Home cooks may want to consider useful design features such as double islands, custom pullouts and multi-use furniture for entertaining groups large and small with ease, she says.
Long-term Shore living also comes with all the "things" you need daily. "Storage is hugely important. Whether it's the garage or the primary bedroom's walk-in closet, we lean on our custom closet designers to wisely utilize every square inch of valuable Shore real estate," Gordon continues.
Custom solutions can give you the organization you need anywhere in the home. The best part is that this type of calm and organization does not need to be reserved for one part of the home, says Eugene Koval, manager of Home Trimwork. It can be extended to the home's entertainment unit, the pantry, the home office—anywhere organization is necessary but may be a little lacking.
"We do a lot of entertainment systems," he says. "People want more usable space so they do built-ins on the sides of their TV where they can store their equipment and make it look cleaner.
"Or they do bookshelves, which offer a place to display," Koval continues. "On the bottom, they can use base cabinets for storage."
A home can go from hum-drum to wow with trimwork. "Most houses don't come with any type of molding. Crown molding around a room can bring a finishing touch as well as value and beauty to the house," he says.
Resources
Associated Design Studio
Ocean City, N.J.
(609) 384-4653
AssociatedDesignStudio.com
Hibernate Bedding
Bernardsville, N.J.
(908) 766-5450
HibernateBedding.com
Home Trimwork
Huntingdon Valley, Pa.
(610) 287-1100
HomeTrimwork.com
One Day Bath
(570) 402-2337
RenewYourBath.com
Published (and copyrighted) in House & Home, Volume 22, Issue 3 (Spring 2022). 
For more info on House & Home magazine, click here. 
To subscribe to House & Home magazine, click here. 
To advertise in House & Home magazine, call 610-272-3120.