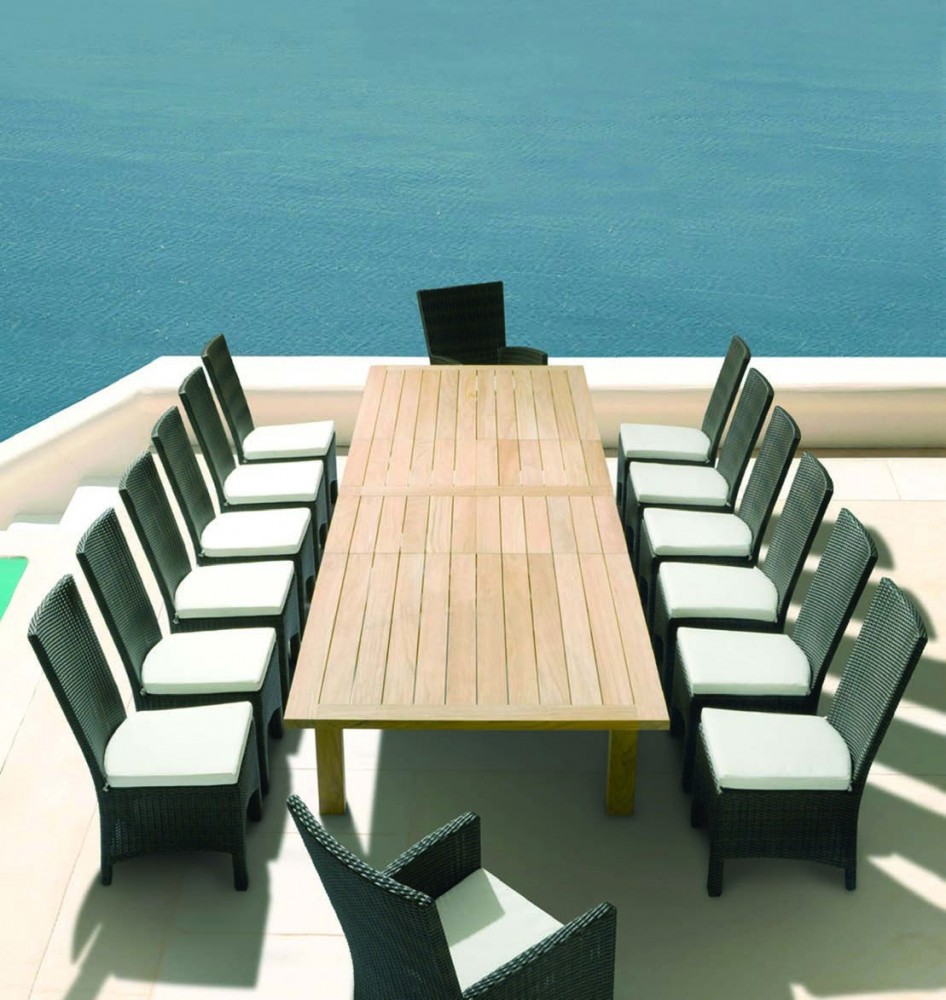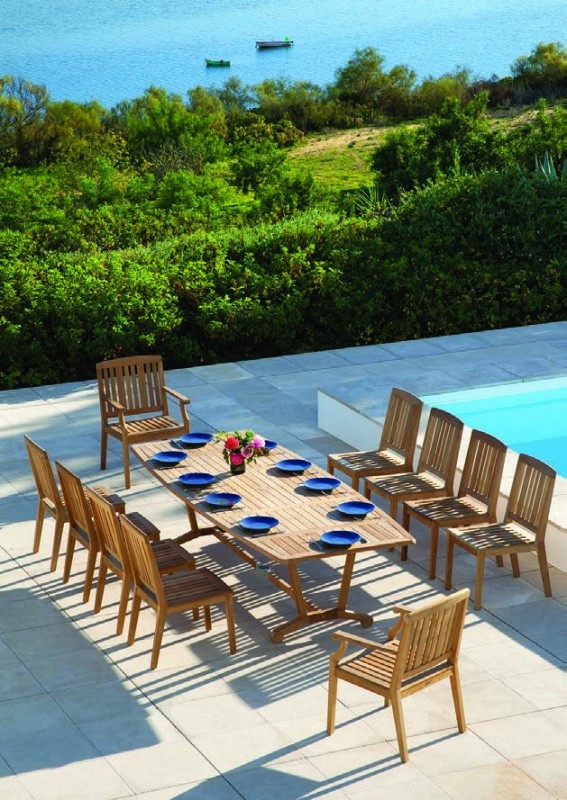 If you're looking to spruce up your Shore home with a sophisticated beachy finish, we asked design experts about the newest styles for a refreshed and updated seaside look. Shore homes are the one place we can go to unwind and enjoy the ocean breeze. We by no means want a feeble arrangement to take away from the relaxed atmosphere. Whether it's a recently bought home or a  or a Shore house that's been in the family for years, a clean design can breathe new life into the space. Redecorating can be a tricky job, and let's be honest, beach décor can be done tastefully with the right de sign team. For those wanting the subtle coastal design or wishing for a bold statement without coming off as kitschy, House & Home spoke to the professionals about the biggest trends and newest ways to modernize your current home design.
Q: There are several options when it comes to choosing outdoor furniture material. What type of outdoor furniture do you suggest for Shore homes that will last in the salty air?
Quality teak wood outdoor furniture made by an experienced manufacturer should last decades with minimal maintenance beyond a good cleanup once a season. Think boats. What does the marine industry use that stands up extremely well? Teak wood, teak swim platforms, decking, railings and more. If it can stand up to that environment, it will do just fine at your Shore home.
Q: Do people buy different types of furniture when renting versus buying a Shore home?
For your personal use Shore house versus your rental property, what you buy may well be different products. For a rental you may be buying inexpensive furniture and replacing it every couple of years. For your own [personal] use, something of higher quality; more comfortable, better made, better materials that will last a long time—an investment in your own leisure time, if you will.
Charles Hessler, vice president
BARLOW TYRIE
(800) 451-7467
MOORESTOWN, N.J.
BTUSAStore.com 
Q: What are the furniture styles you're noticing some of your clients want in their beach homes?
We recognize that at the Shore it's different than the city. So it's generally lighter colors but still contemporary because if you look at the architecture, pretty much any new homes down there, they're leaning toward a contemporary side and that's what we specialize in. We do many homes at the beach and generally, it is lighter tones [in one] color. It's generally—it's the blues, the greens, something that would be considered conducive to the ocean.  I think many people realize the value of leather down there because people, certainly children, tend to come in the house and sit on the sofas with wet bathing suits and the right leathers can handle all that without any wear and tear.
Q: How can people keep a cohesive beach-style home design using the furniture?
It starts off with the correct layout of the room. Some people, they want motion furniture in their sofas or  sectionals. We have to find the right tables that can move a bit so that you can open the recliner without hitting the table. We have to find solutions for all kinds of issues. It always comes down to how much space and how many people—what are  appropriate amounts of seating? And then find the right accessories, whether it be tables or lamps to go with that layout.
Bob Deniken, owner
UNIQUE INTERIORS | CHERRY HILL, N.J.
(856) 665-1911|UniqueInteriors.com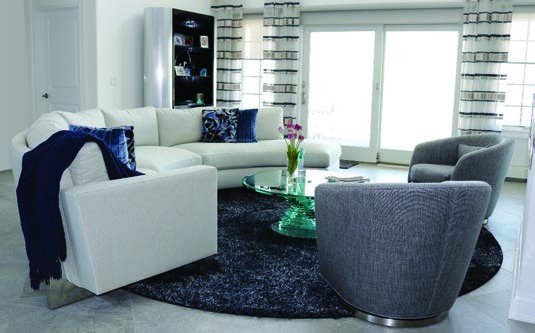 Q: Do Shore homeowners have to stay with the typical light blues and crisp whites to get that oceanside feel?   
When it comes to coastal interiors, there are several mainstays of design that have continued to be relevant for many years. Weathered woods, durable fabrics and natural materials remain at the heart of coastal style. Color palettes often pull from sand, shells, sea and sky with a myriad of cool blues and greens. Drawing from the simplicity of the ocean, white is often the key to a beach palette; it's the colors when the ocean waves crash and the white foam erupts. But there may be different color palettes to explore. Coastal interiors are about evoking a feeling of carefree relaxation, comfort and, most importantly, having fun. So why not have fun while decorating your seaside home? There is plenty of room to venture outside the traditional coastal color palette.
Q:  What are some ways to keep within beachy elements without coming off as kitschy?  
I think this depends on the client's personality and how they want their house to feel. Decorating can be a daunting task; making sure the rooms flow from space to space, the colors are coordinated and the design elements throughout the space all work in harmony. I would recommend mixing and matching different materials in bright colors with neutral backdrops, or paint your wall a bold color and choose beach décor that is more neutral. Conversely, if your walls are more neutral, selecting more vibrant artwork and area rugs with lots of color can bring in the beach feeling without becoming overpowering. Mixing white wood and driftwood furniture pieces with a sofa or sectional that is upholstered in a coastal blue or a bold color stripe is another good way to keep it looking beachy without coming off as kitschy.  Sophisticated accent pieces in driftwood or natural materials along with graphic punches of color will suggest a coastal vibe without using a literal beach theme or reference.
Bob Huber, sales manager and buyer
OSKAR HUBER FINE FURNITURE
SOUTHAMPTON, PA | (215) 355-4800 
SHIPBOTTOM, N.J. | (609) 494-8127 
OskarHuber.com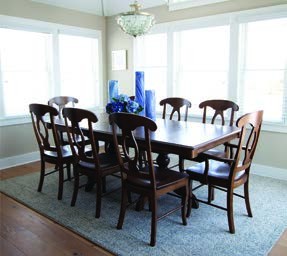 Q:  Do windows/lighting play a part when decorating a Shore home?
Lighting plays the biggest role in selecting paint colors, especially in a home where the foyer opens into the living room and then into the kitchen, etc. A color can look very different from one end of the house to the other. I usually like to set the tone in the foyer and either carry the main, lighter color into the rest of the house or transition into a deeper tone as you get into some of the more intimate areas like the family room or dining room. Paint is one of the easiest ways to transform a space (after all, it's one of the least expensive as well), so people who are renting or who are in a temporary living situation can easily lighten up the space by changing the paint. I always suggest putting a sample on the wall first before committing to it throughout. 
Q: No two Shore homes look the same, and we certainly don't want a mirrored look of someone else's space, so what would you suggest to clients not only wanting a coastal decorating style in the Shore home, but to also make a bold statement?
When people say "coastal décor," I try to emphasize that that doesn't have to mean the typical beach motif like sea shells and oceanscapes. Achieving a beautiful coastal décor to me means using light colored tones and bringing in a lot of natural elements, for instance, sisal area rugs or grasscloth wallpaper. In case goods, using some whiter wood finishes or driftwood colors or a  combination is always nice. There are also a lot of bold colors in a seascape—like blue, turquoise, green, purple, etc.—that clients can use as accents. However, you can achieve a bold statement just by using a gorgeous chandelier; we have a few companies that have such innovative lighting [fixtures] made with milk beads and hemp or  natural clam shells. These can really distinguish a space  and make it pop. 
Micaela Malkmus, designer
ZAKSONS FINE FURNITURE
BRICK, N.J.
(732) 477-8400  | Zaksons.com  
 Q: What are you seeing as far as flooring in Shore homes and what are your clients more drawn to?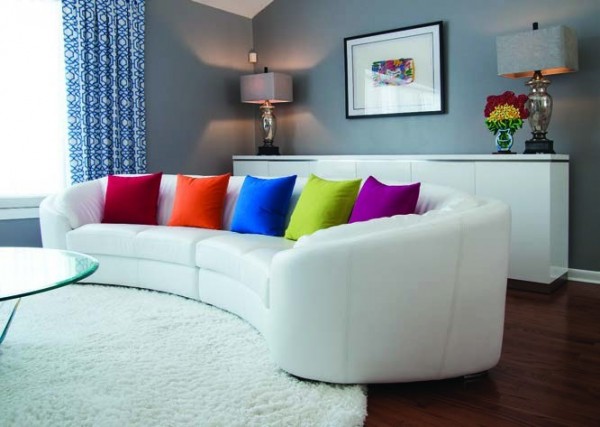 The flooring that they're putting on down the Shore now is more of the faux laminate wood floors, the tiles that look like wood, that simulate wood so they have more of a practical and maintenance-free feeling versus real wood. They're wonderful now in the width of the planks and the textures and the rough feeling.  
With all of the flooding we've had at the Shore ... [homeowners are] not worrying about replacing wood floors with warping and twisting and shrinking and all of the features that you'd have for a wood floor. They're more structurally sound. I mean, gosh with all of the faux finishes today on materials unless you actually touch it, sometimes it's difficult to see the difference.
Q: What are some bedroom color schemes and designs you see becoming more popular?
Monochromatic—just very peaceful and inviting. Fully upholstered headboards, wood tones again, there's a lot of grays and driftwood finishes as far as furniture goes. [Homeowners are] still getting involved in the picket fence style headboards as like the sand fences so there's some nice themes going on there. And as far as colors, just like the soft greens, the grays are still very popular, just depending if it's a guest bedroom suite, real smoky blues. It seems like more textures. Everyone is so different like if it's a child's bedroom, if it's a secondary guest bedroom with a suite, the beautiful ocean blue tones are really pretty. 
Q: What should homeowners stay away from when it comes to Shore décor?
When you have a Shore property everyone's buying you something that has something on the Shore and then you become overwhelmed with how many shells. Sometimes less is more when it comes to a theme of something you can pull a soft color through, you can [get] the feeling of the ocean, you can pull the feeling of the beach and if you just look at all the tones outside and bring the outside in, you're going to feel like you're at the Shore. You're going to feel those colors. ... You look up and you see the sky, the color of the tones of the sand, the texture of the sand on the beach as driftwood and the color of the boardwalk and the different tones in the ocean and shells, those are just the colors that are natural for the Shore.
Lynn Garvey, interior designer
AFFINITY FURNITURE | CLARKSBORO, N.J.
 (856) 423-0004  |  AffinityFurniture.com  
Published (and copyrighted) in House & Home, Volume 19, Issue 6 (December 2018). 
For more info on House & Home magazine, click here. 
To subscribe to House & Home magazine, click here. 
To advertise in House & Home magazine, call 610-272-3120.