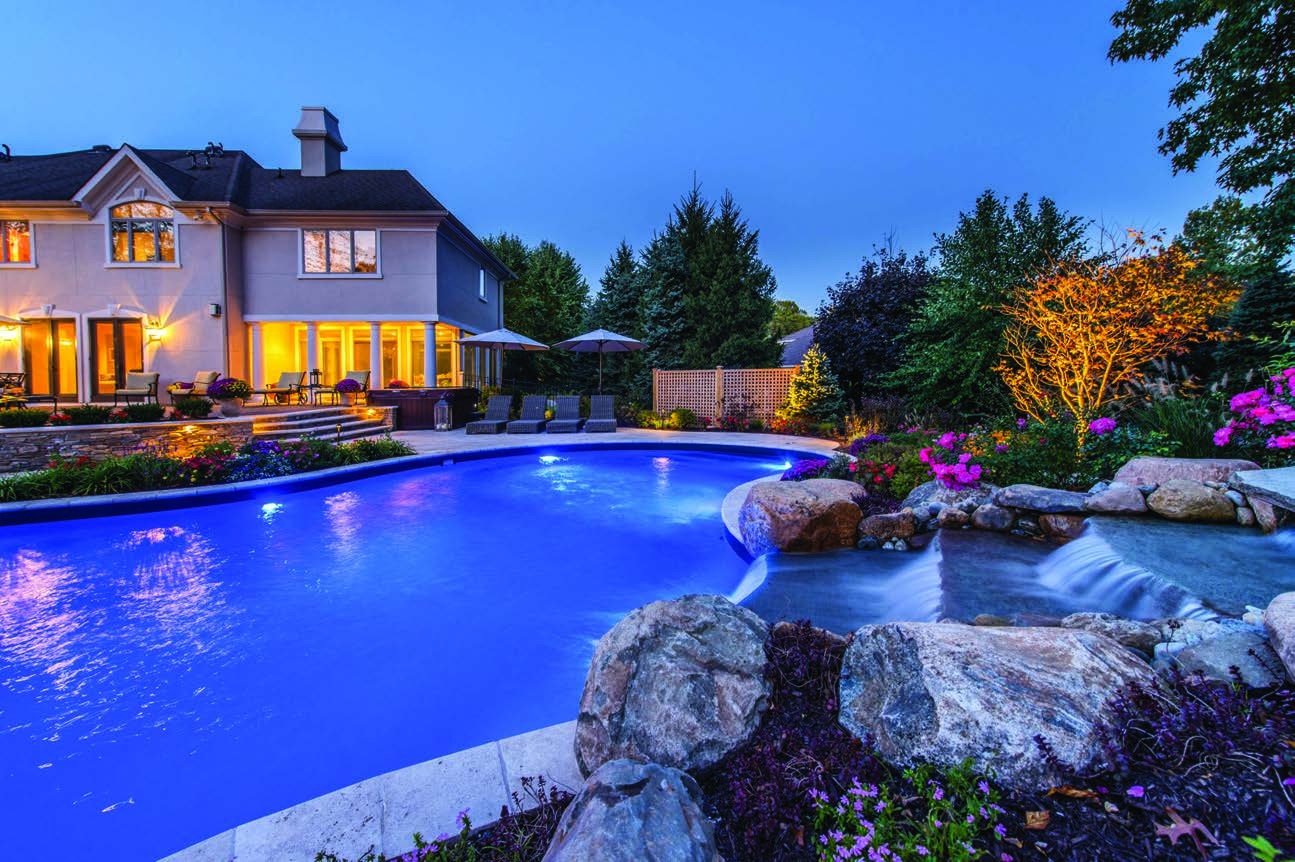 Like it or not, the days are going to be getting shorter soon enough. But you don't have to be in the dark. With outdoor lighting, you can extend the time—and enjoyment— in your yard. Lighting can be installed in a covered deck or pergola, within fence posts, along steps or even in areas that accent your home and its features. Outdoor lighting can be an incredibly valuable addition to your property.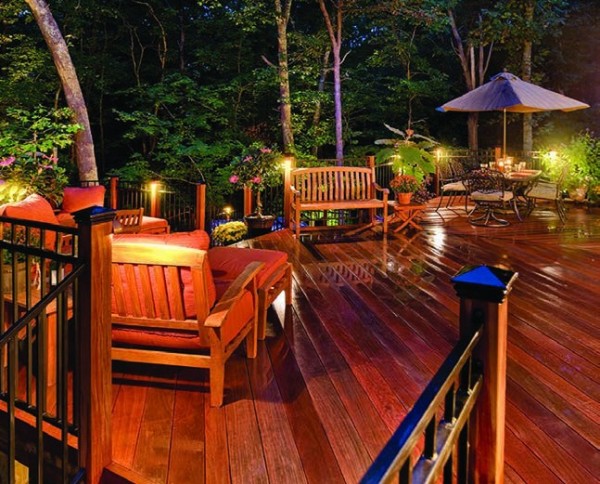 THE BENEFITS OF OUTDOOR LIGHTING
There are many reasons to consider adding outdoor lighting to your property.
 "Aside from being aesthetically pleasing, outdoor lighting adds value to your home," says Scott Mallon, owner of Creative Landscape Lighting.
 "It extends the amount of time you can spend outdoors enjoying your outdoor living space, it adds safety by illuminating dark areas and it could also deter would-be intruders."
Safety and security are two really big factors that a lot of homeowners value.
 "The most significant benefit of adding outdoor lighting to any yard is safety. It allows you to enjoy your space at night and can illuminate potential hazards that guests don't run into or fall," says Tanner Panetta, design and light installation expert for D. Panetta Contracting. "Another would be security, allowing the homeowner to see if there is an inherent danger in the yard, no matter the weather. It also helps the home stand out if there is lighting in the front yard, making the house seem inviting to those driving by."
Of course, ensuring it's "done right" is the key. Like anything else, you can almost always tell the difference between a DIY job and one that was done by a professional. With outdoor lighting, the difference is night and day—no pun intended.
 "We get most of our calls after someone drives by a home that was professionally lit by us," says Steve Compton, general manager of CKC Landscaping. "There's just something about a professionally designed and installed system that makes people say, 'I want that!' There's a serious wow factor when it's done well."
 "A professional knows, particularly with the design and its installation, exactly how to make the lighting look and perform its best," adds Bob McCusker of Outdoor Lighting Perspectives of the Delaware Valley. "The final design should be well-balanced and subtle. There are a lot of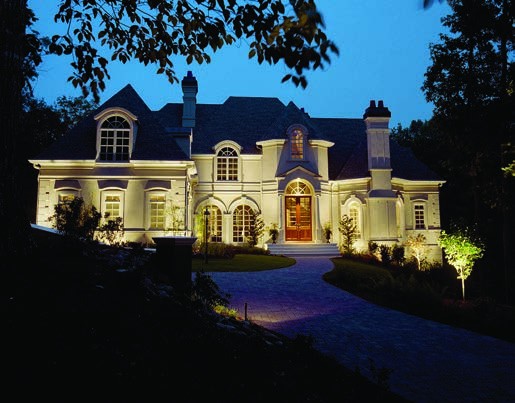 intricate details in our designs that give it a really professional look."
THE PERFECT DESIGN
When it comes to getting started, the process begins after meeting with an outdoor lighting professional who will survey the landscape—and so much more.
 "Surveying the landscape is only the start of deciding on where the lights should be placed," says Panetta. "Choosing where the lights would be the most beneficial depends on where the key features of the space lie. Lighting can help things like walkways, porches, chimneys and greenery stand out in the yard and become the focal point of the landscape."
There is absolutely an artistic element to having the layout designed by a professional.
 "A designer's intention is to always accentuate the native charms of your environment in the natural light of a moonlit evening," says Diane Marrazzo of Marrazzo's North River Landscape & Hardscape. "Think about how it feels to be outside under the moonlight; the effect of evening ambient lighting can be most captivating! Of course, moonlighting is difficult to achieve, because the light fixtures need to be placed in the uppermost branches of a larger tree to achieve the optimal effect of natural down light, thus simulating natural moonlight. But a thoughtfully designed lighting installation will transform an evening space into a gathering place, where memories will be made to last a lifetime."
 "Of course, we want to look at illuminating a tricky path, outdoor steps or other areas that need to be navigated safely," adds Compton, regarding the design process. "But we also will look at the architecture and find details of the house that we want to highlight. We might look at various aspects of the hardscaping—stone pillars, a fireplace or maybe a porch roof with columns that we can highlight. Then, we'll also look at softscaping—highlighting the landscaping, that is. Maybe there are some nice trees or shrubs that we want to illuminate so that they can be appreciated in the evening hours. There are some beautiful ways to cast light and shadows in a way that makes a home and its landscaping very visually appealing."
 "Accent lighting is what really makes a home and its landscape stand out," adds Rich Cording Sr., owner and founder of CLC Landscape Design. "Maybe the homeowners want to highlight stonework on their house or accent a water feature. We can do uplighting or downlighting and really create a unique look."
Ron Hoffman, owner of Outdoor Lighting Perspectives of Central New Jersey, says that you can easily give your home a "resort-like feel."
 "There are so many different things that you can do with the right lighting and the right emphasis—not overdoing it, but doing it subtly," Hoffman says. "You can emphasize the strengths of the property and create a beautiful space." Hoffman points to the popularity of string lights which have exploded as far as trends go. But he says that even having these installed by a professional can make a difference—they can be put on dimmers and cut to an exact length so it really looks spectacular when finished.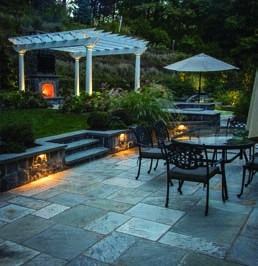 CHOOSING LED
Most of the experts that we spoke with expressed that LED is their preferred choice—many say it's all they'll install. LED, which stands for "light emitting diode," is a directional light source. That means it emits light in a specific direction, unlike incandescent and compact fluorescent bulbs, which emit light and heat in all directions. This makes it superior in terms of energy efficiency.
 "LED has revolutionized the industry," says Cording. "The light fixtures are not light bulbs but light emitting diodes which come with a 10-year warranty and last up to 15 years. Up until LED took over the market, you'd be sold a maintenance contract for replacing lightbulbs—you no longer have that with LED and that's a savings. They also use 85 percent less electricity. They're safer and it's a nicer quality light. There are so many benefits."
 "The technology has improved dramatically over the years and it's to the point where if you're doing anything but LED, you're doing a disservice," adds McCusker. "Now, they're even dimmable and have color-changing capabilities."
Mallon agrees.
 "With the phaseout of in- candescent lamps, LED has im- proved significantly," he says. "Whether using integrated LED fixtures or installing an incandescent fixture with an LED replacement lamp, the consumer benefits by experiencing less energy consumption and therefore reducing energy costs. Also, better color, also known as Kelvin temperature, is now available, along with a wide array of beam spreads and the ability to produce more lumens for brightness and intensity."
NEW OPTIONS
With technology continually advancing, homeowners have a lot of options these days.
 "Adjustable spotlights are becoming more common which is a great product for people with a lot of greenery," says Emma L. Dinnocenti, marketing director and salesperson with Denney Electric Supply. "For example, as a tree grows we can adjust the beam spread as well as light level to best complement the tree. Dusk to dawn and motion sensors are still popular with outdoor lighting as well."
But Dinnocenti says it's the increasing popularity of Amazon Alexa and Google Assistant that is the biggest advance.
 "Smart home integration has made leaps and bounds in the last few years," she says. "Products such as Lutron Caseta can sync with your Sonos speakers, wall switches, dimmers, shades, alarm system and of course landscape lighting. Home automation has really taken a jump to the future, however, some are more hesitant than others. Luckily there are products from a simple plug-in module to control a table lamp, to a fully connected home that includes setting up multiple lighting scenes, connecting appliances, incorporating outdoor lighting that follows daylight savings to the minute or having a garage door that senses when you are in the driveway."
 "As technology advances, so does the outdoor lighting business," says Panetta. "Many lights can be linked up to automatic timers, allowing the homeowner to choose the time the lights go on and off and never having to worry after that. Also, many lighting options can be controlled via smartphone or tablet. Some lighting brands have their own apps that make it even easier to link multiple rooms/spaces."
No matter what you choose to do, consulting with a pro will make a big difference.
 "As soon as you see it, you know the difference between a DIY job and one by a professional," says Hoffman. "And it will be designed in a way that works best for you. Not everyone thinks the same things are beautiful. The work should be customized for you."
RESOURCES
CKC Landscaping
West Chester, Pa.
(610) 436-1810
CKCLandscapingInc.com
CLC Landscape Design
Ringwood, N.J.
(973) 839-6026
CLCDesign.com
Creative Landscape Lighting
(908) 722-6866
DesignWithLights.com
D. Panetta Contracting, LLC
Randolph, N.J.
(973) 659-9374
DPanettaContracting.com
Denney Electric Supply
(215) 628-8880
DenneyElectricSupply.com
Marrazzo's North River
Wycombe, Pa.
(215) 598-1412
MarrazzosNorthRiver.com
Outdoor Lighting Perspectives of Central New Jersey
(732) 554-1968
CentralNJ.OutdoorLights.com
Outdoor Lighting Perspectives of the Delaware Valley
(610) 632-8173
ProfessionalLandscapeLighting.com
Select images courtesy of Outdoor Lighting Perspectives of Central New Jersey, CLC Landscape Design, Outdoor Lighting Perspectives of the Delaware Valley.
Published (and copyrighted) in House & Home, Volume 20, Issue 1 (July/August 2019). 
For more info on House & Home magazine, click here. 
To subscribe to House & Home magazine, click here. 
To advertise in House & Home magazine, call 610-272-3120.