The 2019 Bucks County Designer House & Gardens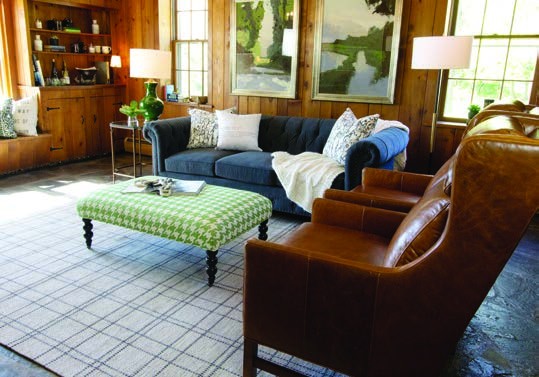 NAMED FOR THE MAIN CROP GROWN ON THE PROPERTY, this 30-acre farmstead includes a six-bedroom farmhouse built in 1860 that features exposed beams, random width wood floors, stone floors and deep curved window sills. Local designers once again took part in creating modern spaces that honored the home's heritage throughout the house and gardens for visitors to tour as part of the Village Improvement Authority of Doylestown's fundraiser during the month of May. Here we feature a snapshot of the designed areas you may have missed.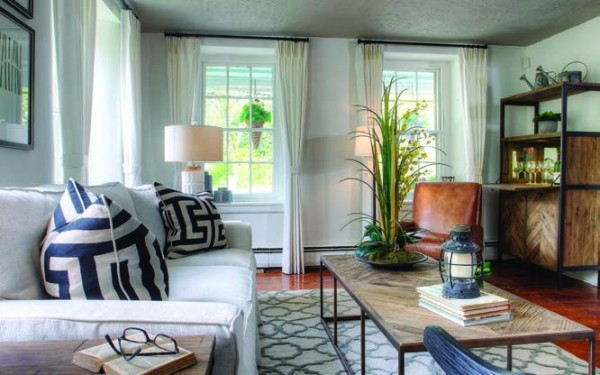 THE LIVING ROOM
Design Home Interiors | DesignHI.org
"Our inspiration was farmhouse chic—a fresh take on an American classic. The inspiration of the materials used in this room was based off an antique, hand-forged, iron sign hanging outside of the farmhouse. With the mix of black metals, rustic wood textures and soft white hues, this room encompasses the farmhouse atmosphere. The slipcover sofa and white linen drapes bring in a light and airy feeling, while the black metals and leather recliner add definition." – Mark Little
HYGGE LODGE
Oskar Huber Furniture & Design | OskarHuber.com
"A room inspired from the beauty of the natural stone floors and the gorgeous lush views out the windows—the design of the space puts our twist on the famous Danish 'Hygge' lifestyle. The pieces we've chosen feel time-worn and collected for a design that carries casual appeal, but leaves a worldly impression. Our design is made up of classic forms, vintage finishes, luxurious leathers and inspired fabrics that create a calming space to unwind. The room is meant to evoke feelings of happiness, comfort, a place to be shared by loved ones savoring the present moment and enjoying the 'good life.'" – Bobby Huber Jr.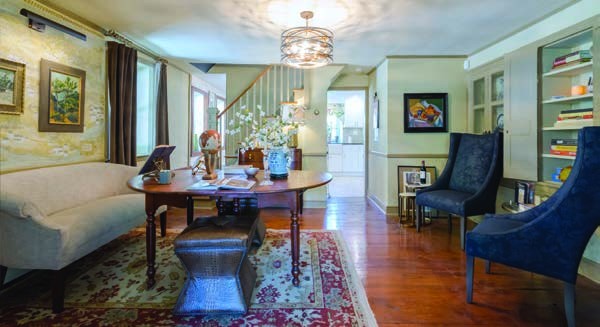 THE LIBRARY DINING ROOM
Linda Daly, ASID | InteriorOutlook.net
"I designed the dining room to be multifunctional. It can be a library, sitting room or home office. The antique table can be opened to seat 12 or folded down to different lengths or folded and put against a wall. The dining room is [from] the original house built in 1860. The Simon family lived in Bucks County from 1956 to the present. The maps, painted by Carol Nagel, represent what you'd see walking along the Delaware in 1860. My space planning, color palette and mix of styles made this dining room comfortable, traditional in feeling, but up to date. Just ask Alexa." – Linda Daly
 MODERN FARMHOUSE KITCHEN
J. Bradwell's Home Kitchen and Design | JBradwells.com
"The original kitchen was more than 50 years old and was in great need of new everything. The room was quite dark and very small feeling. In order to change all of that we put in new recessed lighting, added a chandelier over the breakfast table and installed a new tile-look flooring. The original kitchen had a lot of dark pumpkin pine … so we maintained some of that around the moldings in windows and around a piece of framed art. … I used vintage-looking newspaper print wallpaper with an off-white background to soften all the white I needed to make the room feel larger. … Of course we needed a traditional farmhouse sink so that made the sink area the focal point. We decided to take everything up a notch by adding the marble backsplash mosaic made from Carrera and Ming marble." – Jere Bradwell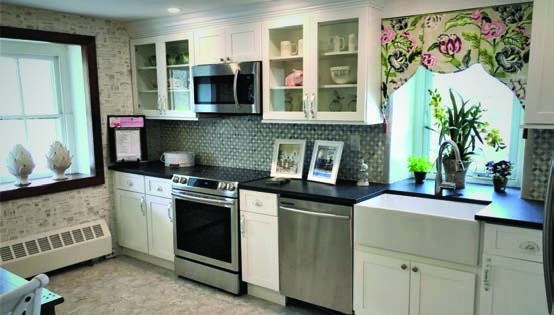 Living room photography by John Armich; Hygge Lodge photography by Oskar Huber Furniture & Design; The Library Dining Room photography by the Bucks County Designer House & Gardens; Modern Farmhouse Kitchen photography by Jere Bradwell (sink) and Bucks County Designer House & Gardens (table and chairs).
Published (and copyrighted) in House & Home, Volume 20, Issue 1 (July/August 2019). 
For more info on House & Home magazine, click here. 
To subscribe to House & Home magazine, click here. 
To advertise in House & Home magazine, call 610-272-3120.