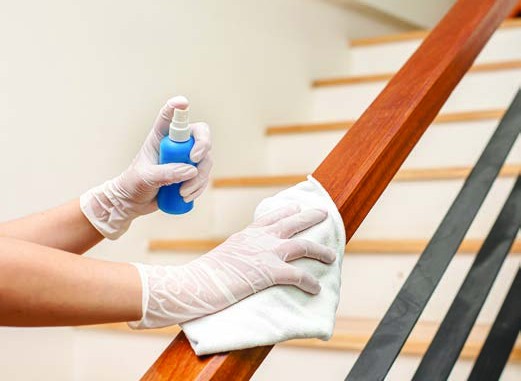 IN 2020, CLEANING, DISINFECTING AND SANITIZING BECAME PART OF JUST ABOUT EVERYONE'S EVERYDAY VOCABULARY. Thanks to the coronavirus,  homeowners are now more vigilant and taking the necessary measures to disinfect and sanitize their home to get rid of airborne particles and viruses such as COVID-19.
The coronavirus has also changed the way homeowners think about how they clean their homes, especially when it comes to getting Shore homes ready for the season, as well as preparing week after week between rentals—forcing stricter cleaning protocols at the Shore's rental properties. But what exactly  should you do to keep your home clean and safe?
House & Home spoke with experts who discussed what you should consider installing in your home, what areas to pay attention to the most, and why you should hire a cleaning service.
 "Cleaning, sanitizing and disinfecting—those  are all words that have become common topics of conversation amongst family friends and coworkers," says Thomas DiNunzio, managing partner of Germ-Nix LLC. "Our homes are where we should feel shielded and protected  from the outside world, but with the pandemic the threat has been brought into  our homes. Keeping our homes clean and disinfected, and our families safe, has become a tougher job than routine cleaning and assigning chores."
Because of this, it's no surprise cleaning and disinfecting companies in our area have received several calls from homeowners inquiring about cleaning services.
 "Inquiries for disinfection services have grown substantially since the start of the pandemic," says DiNunzio. "Our clients have gained an education about disinfection, some have had limited access to appropriate cleaning and  disinfection tools at times, and many clients just need help keeping up."
Germ-Nix LLC is a health care-based disinfecting company that helps to kill bacteria, viruses and germs, and has transitioned to disinfecting homes as well.
 "When it comes to disinfecting  homes, we utilize the same approach used to disinfect health care facilities, whether it be an operating room, doctor's office or medical facility," DiNunzio says. "As a disinfecting company,  we have not had to change what we do, we are just called upon much more often since the pandemic  started in 2020."
DiNunzio says he finds homeowners are "most concerned  about keeping a clean and disinfected home on a continual basis."
 "It is hard to keep up at times and if you have a sick person at home, it is recommended by the Centers for Disease Control  and Prevention (CDC) to take extra precautions to clean and disinfect. It can be overwhelming without help," he says.
Rich Lorenzo, owner of A Shore Maid, says years of experience and using the most effective products available are a few reasons why hiring a cleaning company  for your home is in your best interest.
 "In my 26 years of house cleaning, I developed a lot of programs based on what I read and learned," he says. "We have the right products, and it's not the peroxide you buy at the drugstore.  I buy peroxide from a chemical manufacturer and it's highly effective. When you spray peroxide on any surface, in 2030 seconds it will lift and all you have to do is wipe. It's extremely effective and quick."
 "When it comes to COVID19,  it is time for the pros to disinfect your home and/or business," says Lori Topiel, co-owner, COIT Cleaning & Restoration. "We have been disinfecting homes and businesses for over 50  years. Our technicians are trained and certified, and proper disinfectants are required to kill the COVID-19 virus."
Topiel says there are quite a few things homeowners can do at home that are similar to what COIT does  at its office.
 "We have adopted a wipe in and wipe out policy in our office that homeowners can use," she says. "The first one in the office wipes down all high-touch points such as door knobs, door handles and light switches, and the opposite  when we are leaving the office. An air purifier runs all night and weekly fogging is done on Fridays. HVAC air filters should be changed monthly using a high-filtering filter. If weather permits, open windows and restrict who is coming in.
 "Some other tips you can follow at home are wash your hands, get  your air ducts cleaned and change filters monthly and don't share personal items like towels, dishes or bedding. Open windows,  throw out clutter, frequently  wipe down high-touch points, restrict who you are letting into your home."
 "Using the appropriate products for cleaning and disinfecting is  of utmost importance," says DiNunzio. "Change air filters on a regular basis. Increased hygiene practices of washing your hands frequently as well as disinfecting  high-touch areas are not only important, but now necessary in an effort to keep your home safe from bacteria, germs and viruses."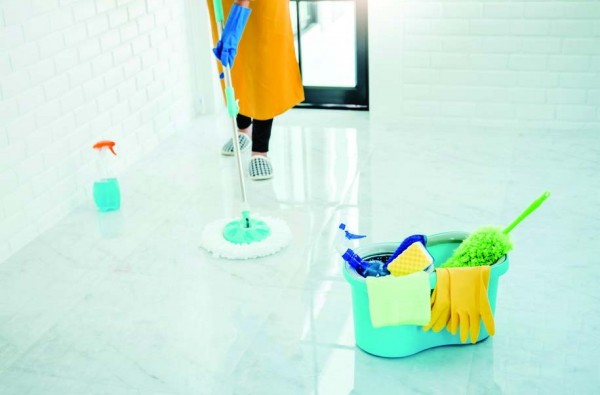 Some of those high-touch points include door knobs, counters and table tops, light switches, shelves and racks, and bathroom fixtures  and toilets. Companies have come up with unique ways to eliminate some of these high-touch points, such as door knobs. Alderfer  Glass installs special door handles on existing and new doors.
 "These handles are designed to be operated with a forearm or elbow to allow the opening of a door without use of the hands. This allows for the possibility  of lower transmission through hand contact," says Ben Weaver, president of Alderfer Glass. "We have gotten good feedback on those that were installed. The urgency has abated somewhat  as the timeframe of the pandemic has extended over the past year, but they seem to be popular throughout and will likely persist as habits change."
Lorenzo says when he cleans rental properties at the Shore, they take an extra step when it comes to cleaning these high-touch points.
 "What we would do in addition to cleaning, after we would clean  the rental homes on Saturday in between renters according  to the Cape May County protocol, we did more than what we were required to do," he says. "We'd go around and respray  all those surfaces—light switches, door knobs, door handles, cabinet handles, even the flush handle on toilet bowls," he says. "The idea is to let the peroxide dry on whatever we were spraying."
Protecting yourself, your family and your home from germs, bacteria  and viruses has never been more important, and with the help of a cleaning and disinfecting  company, you can rest assured knowing they will listen to your needs and take care of your home.
 "Germs, bacteria, viruses and pathogens thrive in dirty environments,"  says DiNunzio. "Homeowners are hiring companies with the tools and chemicals to disinfect their homes as a way to protect themselves and their  families from the deadly infection. We consult with all potential clients to understand their needs, review their processes and make recommendations before and after we visit the home. The  days of routine cleaning, dusting, wiping and vacuuming the house are long gone."
RESOURCES
A Shore Maid
Ventnor City, N.J.
(609) 804-1900
AShoreMaid.com
Alderfer Glass
Allentown, Lansdale, Limerick,
Quakertown, and Telford, Pa.
(215) 723-1192
AlderferGlass.com
COIT Cleaning & Restoration
Somerdale, N.J.
(856) 566-0700
COIT.com/SouthJersey
Germ-Nix LLC
Marlton, N.J.
(833) GERMNIX (437-6649)
GermNixLLC.com
Published (and copyrighted) in House & Home, Volume 21, Issue 5 (Spring 2021). 
For more info on House & Home magazine, click here. 
To subscribe to House & Home magazine, click here. 
To advertise in House & Home magazine, call 610-272-3120.