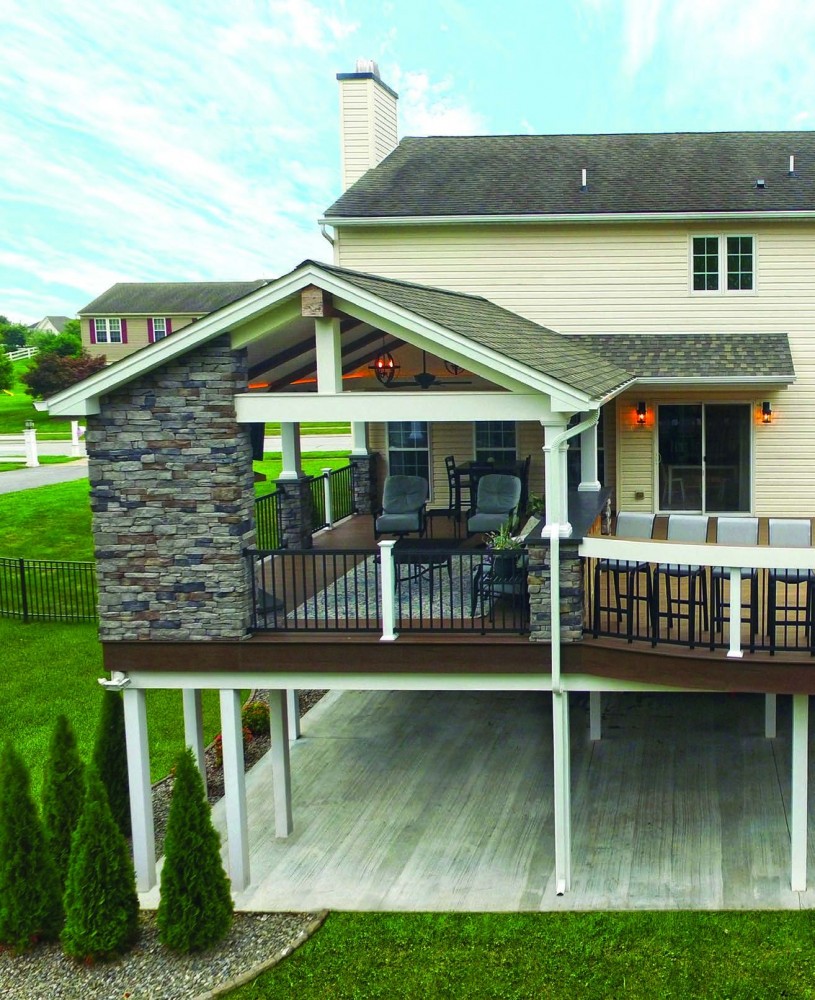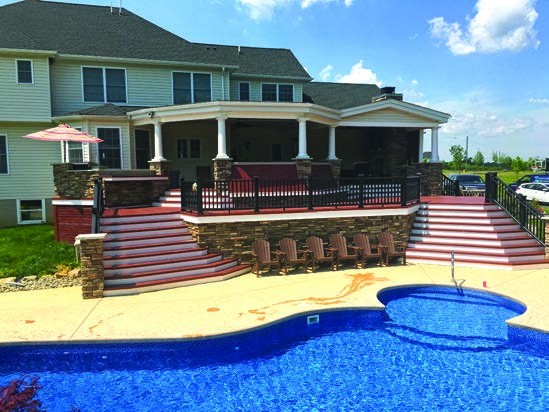 A BEAUTIFUL DECK HAS LONG BEEN A STAPLE OF SUMMERTIME LIVING. It gives homeowners the perfect place to take in some fresh air, bask in the sun and gather with family and friends for burgers and dogs on the grill or perhaps a strawberry daiquiri or two.
While that remains a popular visual, the fact is that decks are no longer just for summer. As the outdoor industry has exploded in recent years, so too have the possibilities for extended enjoyment.  It is now more important to add certain elements to the space that will make it usable well into the cooler months—and maybe even year-round.
"Especially if you're spending the kind of money that our clients do, you want to get the most out of it," says Bradley Sensenich of Keystone Custom Decks. "Bringing in features and ideas that can extend the usable season of that space is a big priority."
Keith Frederick of Environmental Landscape Associates adds that designers have had to adapt to customers' wants and needs and approach every job with the mission of providing a space that can be enjoyed at all times.
"It's not just a simple deck project anymore; it's more like a porch or three-season room," he says. "It's all based on the  outdoor living lifestyle of utilizing the space 365 days a year, even if you're not hanging out there for a long period of time. If you're having a holiday party in the wintertime, people can still congregate  out there and smoke cigars without freezing. We see a lot of our projects encompass those elements and a lot of folks are using them on a year-round  basis. It gives you much more value for the dollar spent because you get a lot more."
House & Home spoke with several area professionals to learn more about the options available for utilizing outdoor living spaces no matter what the calendar says.
TAKE COVER
Bill Lecorchick Jr. followed his father into the deck-building industry and now works side by side with him at Legends Home Improvements. One of the many tips he learned from his dad is that nothing adds as much value to a deck as a roof.
 "The longer I do this, the more I believe it," Lecorchick says. "In most backyards there's no shade, so when you go outside the sun is beating down. You get an umbrella but that acts like a sun dial; you're just following the shade. It's a losing battle because you can't put up enough umbrellas to make it usable.  
"When you put up a roof and attach it to the house, it gives you automatic shade and you have the option of putting some blinds up for when sun is coming in through the side. If you set them up strategically and you know where the sun is going to be, you can enjoy dinner outside without getting blasted by the sun."
Juan Cardona of Archadeck of Chester County agrees and estimates  that at least half of the projects his company completes include some type of shade structure.  
"If you're looking for shade, I would say go with a roof," he says. "A pergola is only going to offer you minimal shade unless you put a retractable awning underneath it or another method of solid shade. By the time you get done with that, the cost approaches that of a roof anyway. The roof is much more preferable because it keeps you dry in addition to giving you shade. If it's a rainy day or a somewhat iffy day, you can always be under it, whereas with a pergola you really can't."
Both Lecorchick and Cardona add that pergolas can add a nice focal point to a deck or other area of a backyard. The same holds true of a gazebo—just don't expect the same advantages of a roof.
"A gazebo is mostly for people who cannot attach a roof to the house," Cardona says. "They're looking for solid shade, they're looking for someplace to stay dry, but for whatever reason they cannot attach a roof to the house, perhaps because of how the house is configured. Or maybe they just prefer a gazebo; some people like the distinct, octagonal shape of a gazebo. It can be a matter of aesthetics."
Sean McAleer, owner of Deck Remodelers, says louvered roofs have become quite popular because they allow the best of both worlds. When the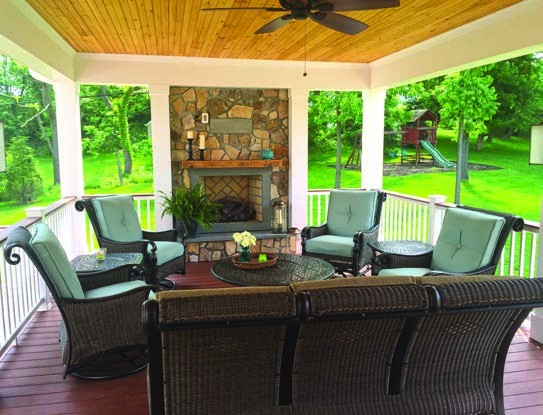 weather is favorable, you can open up the roof to let the sunshine in, and with one click of a button, you can close the roof to the elements while still being able to enjoy the outdoors. 
The Equinox system that Deck Remodelers installs is "built to last," according to McAleer. "The system we use is built for snow load and is rated to withstand 160 mph winds."
As the fall season approaches and with coronavirus still a lingering concern, McAleer says the covered roof allows you the ability to still host family and friends while remaining outdoors.
 "People want to do social distancing. If you can do it under your louvered roof with heaters on, you can have people over and you are outside with a feeling of safety," he says.
AN OUTDOOR ROOM
The roof is the necessary first step, but it doesn't have to end there. "You can also throw some screens on so there's no sun and no mosquitoes," Lecorchick says. "If you do glass windows instead of the screens and put in some heaters, you can be out there just about all year. You can just keep upgrading."
There are several routes a homeowner can take depending on budget and lifestyle.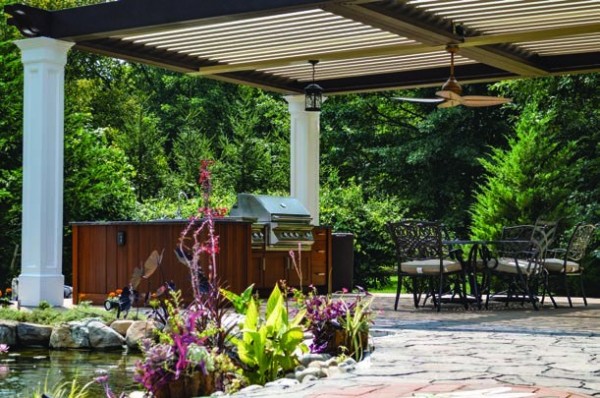 "Screen rooms and covered structures are extremely popular today," says Joe Kalnas of My Deck. "We can install drop screens for an instant screen room under a roof structure or build a permanent  screened-in area. We also offer a 4-track system that opens for 75 percent ventilation and still can close to keep out the rain, snow and pollen in the spring."
Both Sensenich and Frederick have done home projects with retractable screens or windows like the ones common in outdoor seating areas at restaurants. Although a bit on the pricey side, these can be motorized or manual and allow the homeowner to easily adapt to the current weather conditions.
As for keeping the space warm in the fall and spring, there are a number of different heating sources.
 "It depends on what the goal of the client is and how extensively they're looking to heat the space," Sensenich says. "If they're just looking to spend time in the early fall, a fireplace is a great way to heat the space. If they're looking to really extend the usability of their deck, a lot of times we'll open the conversation up to installing actual heaters into the space. We do a lot of infrared heaters and that tends to heat up the room well."
Infrared heaters can be mounted on the ceiling or the walls and Frederick offers a key suggestion.
 "We typically use electric for residential applications," he says. "Most commercial and restaurant applications use gas just because they're usually burning for extended periods of time, whereas in residential applications you're usually out there for an hour or two. It's not like you need that space heated for an entire night or an entire day. It's more economical to run the electric if you're running it for short periods of time. It's less expensive to install in the beginning and it's less maintenance over the long haul."
TIME FOR ACTION
Although the COVID-19 pandemic  has been crippling for many industries, construction is not one of them, particularly when it comes to outdoor living spaces. Just about every professional contacted for this article reported an uptick in business this summer, with Sensenich calling it "our busiest year by far."
"Everyone is spending much more time at home," Kalnas says, "so it makes sense that people are investing in their home."
Lecorchick points to people using their tax refunds and money saved from not eating out to update  their spaces. Vacations have also been replaced by staycations.  "If your new office is your kitchen table and you're staring out the door all day, you're paying a lot of attention to your yard. That's why we've been working the whole time and still have appointments scheduled for [fall]."
"That's very much true this year," Cardona concludes. "Since people can't go on their regular vacation to the Caribbean or wherever they normally go, they have decided to upgrade their outdoor space and vacation there. The way the market has reacted after COVID, that seems to be the case. People are home, they're looking at their outdoor spaces and they're looking to fix them up."
McAleer concurs, saying a lot of the demand his company is seeing is pandemic driven. "People are home, looking out the windows and they want a destination in their backyard to feel like they are getting out of the house and also to be able to entertain."
RESOURCES
Archadeck of Chester County
West Chester, Pa.
(610) 696-3340
Chester-County.Archadeck.com
Deck Remodelers
Sparta, N.J.
(973) 729-2125
DeckRemodelers.com
Environmental Landscape Associates
Doylestown, Pa.
(215) 794-2400
ELAOutdoorLiving.com
Keystone Custom Decks
East Earl, Pa.
(717) 355-0592
KeystoneCustomDecks.com
Legends Home Improvements
East Brunswick, N.J.
(732) 955-6321
LegendsBuilt.com
My Deck
Flemington, N.J.
(908) 713-1000
MyDeck.com
Select imagery courtesy of Keystone Custom Decks; Legends Home Improvements; Archadeck of Chester County; and Deck Remodelers.
Published (and copyrighted) in House & Home, Volume 21, Issue 1 (Fall 2020). 
For more info on House & Home magazine, click here. 
To subscribe to House & Home magazine, click here. 
To advertise in House & Home magazine, call 610-272-3120.