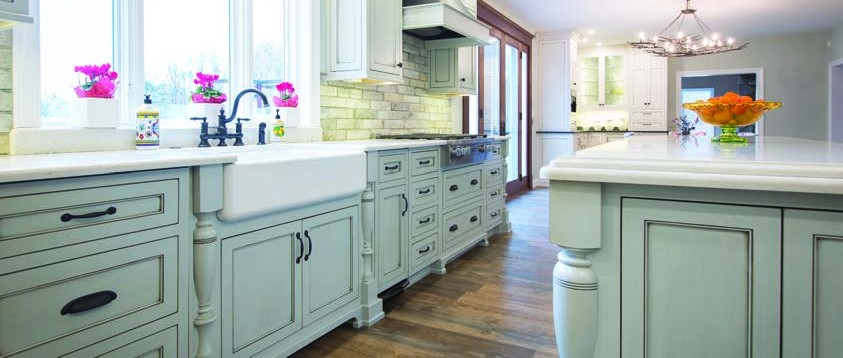 Sometimes it can be difficult for certain members of the staff at Dilworth's Custom Design to fully grasp the kind of impact their work is having on their satisfied and grateful customers.
So once a year, shop foreman Ben Dilworth takes his team on a field trip to witness firsthand a beautiful kitchen or bathroom they helped create.
 "It's a great experience for us to see the completed project," Dilworth says. "It boosts morale and helps the guys understand what their individual part in the shop looks like in the finished room. It's exciting to see what we contributed and how it all came together."
For nearly 30 years, Dilworth's has been transforming area homes with full-service kitchen and bath remodels, handling every aspect of the project in-house. The family-owned company is run by Ben's brother, founder Dan Dilworth, and their brother Dave is the director of sales and design.
Since there is never a need for subcontractors, Dilworth's consistently completes its renovations as scheduled and on budget.
 "We're able to stay in the house and finish up any details until the day we leave, allowing the customer to move back into their kitchen or bathroom a whole lot quicker because we're controlling the entire project," Ben Dilworth says. "We handle the custom cabinetry, the countertop fabrication, the plumbing, the electric and every detail in between. We take care of the whole thing."
The process usually starts with Dave Dilworth visiting the customer's home, taking measurements and getting a sense of their needs and wants. He then creates a design for the remodel  using a CAD (computer-aided design) program and provides a 3D rendering for the homeowners so they can envision the project.
 "Once Dave and the customer finalize the design, the drawing will come to me," says Ben Dilworth, who has been the shop foreman since 1995. "I go through each individual cabinet, preparing for the software to send the information directly to our CNC (computer numeric control) machines to cut those exact parts. So it works almost seamlessly between design and fabrication."
Dilworth's is committed to using state-ofthe-art equipment to not only produce the best results  for its clientele, but also to ensure the safety of its dedicated staff in the shop. Some of those workers have been with the company for decades and are treasured for their craftsmanship as well.
"Dan has always prided himself on growing the business in a way that it has an old-world feel, but at the same time uses precise and modern equipment," Ben says. "Our newest equipment includes the CNC machine to fabricate the granite and quartz products we use for countertops. After cabinets are installed we talk to our client about the exact shape for the countertops. We make a laser perfect template, then we can immediately begin the fabrication process; again with state-of-the-art equipment the granite or quartz countertops take shape to fit perfectly and without delay.
 "We also just added a CNC machine for cutting wood, enabling Dave's drawings to go directly from design to the machine so we can begin cutting those parts, exactly as drawn."
The wide range of custom cabinetry that Dilworth's offers for the kitchen, bathroom or any other area of the home has many benefits compared to something mass produced in a factory. Cabinets can be made to precisely fit any space, including unique measurements, and can be any color or style that the client prefers.
 "We're able to customize every little detail of the cabinetry, from the edges to the width and height of every piece throughout the project," Ben says. "We can also utilize any custom color the homeowner may dream up. We can do it exactly the way they want it."
Dilworth adds that most customers are seeking painted cabinets nowadays as opposed to the traditional stained look. Grays were all the rage for a while but have recently given way to lighter blues, greens and off-whites.
 "We're constantly trying to keep up with all of the latest trends," he says. "There are different  types of cabinetry that people desire, from contemporary to transitional to the oldworld  look. Trendy colors are really popular right now and so is transitional cabinetry. It used to be mostly the Shaker traditional cabinet, but now we're getting into more of a transitional cabinet that will pretty much work with any décor."
In addition to building lasting relationships with its customers, Dilworth's is also making an impact in the community. Several years ago the company formed a partnership with a local vocational high school in which it hires and trains students in its shop.
 "We're trying to steer the next generation into this kind of craftsmanship," Ben says. "The first student we had, now in college finishing up his degree, works here in the summer and on breaks. Now we have a new student working in the shop; he's a great asset for us and he continues to grow."
Dilworth's Custom Design
Phoenixville, Pa. | (610) 917-9119
DilworthsCustomDesign.com
Published (and copyrighted) in House & Home, Volume 19, Issue 4 (October 2018). 
For more info on House & Home magazine, click here. 
To subscribe to House & Home magazine, click here. 
To advertise in House & Home magazine, call 610-272-3120.