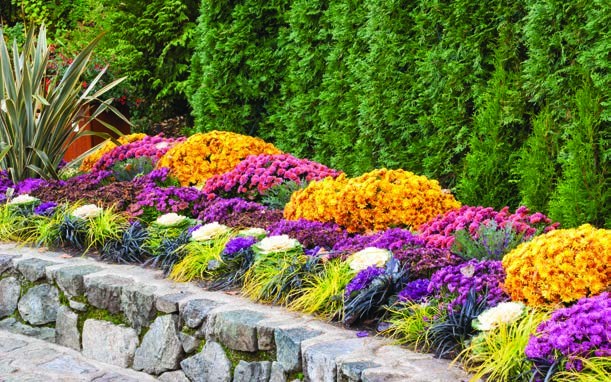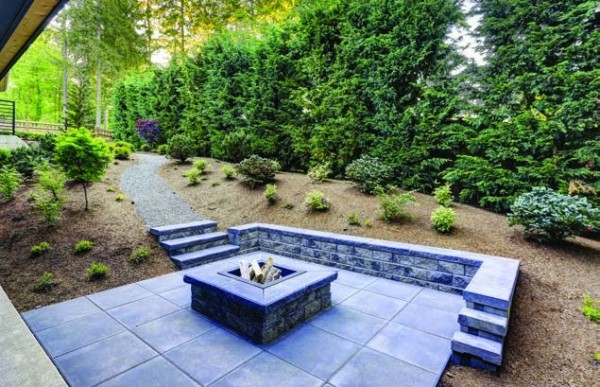 The air is getting crisper and the leaves are starting to change—and it's a beautiful time to be outdoors. It's also a great time to think about ways in which you can enhance your landscape. Although spring is traditionally thought of in terms of landscaping, the fall is actually an ideal time to perform a number of important tasks.
Plants and Flowers
One of those tasks is planting. The fall can be a wonderful time to install new flowers and plant material around your property.
"Studies have shown that fall is actually the best time for planting—better than the spring," says Richard Cording Sr., president and licensed landscape architect with CLC Landscape Design. "That's because the weather conditions are ideal. It's still sunny but the air is cooler. Roots grow deeper and stronger. Plus, with plants going into dormancy, they have a better chance of survival during the cold winter months than newly installed plants needing to survive the stress of summer heat."
The fall is also the time to plant spring flowering bulbs such as tulips, daffodils and hyacinths, says Sam Waddell, president of SLS Landscaping. To ensure you have beautiful early spring color, you don't want to miss that window. "The avid gardener will also start planting chrysanthemum and aster that will offer that splash of color for the fall," adds Waddell. "A little bit later into the fall, winter pansies will make an appearance and provide color late in the season and another big push in the early spring."
Chris DeMato, owner of Rock Bottom Landscaping & Fencing, says watering needs are also less intense in the fall (as opposed to spring and summer), so that's appealing to busy homeowners. He notes that there are a number of tasks that are best-performed at this time of year—including seasonal color.
 "Removal of any annual flowers can also be done in the fall and then replaced with fall blooms like mums, pansies or kale, to name a few," DeMato says.
"Fall is most known for mums, but it doesn't have to stop there," agrees Michael Pasquarello, landscape architect with Elite Landscaping. "Many varieties of fall annuals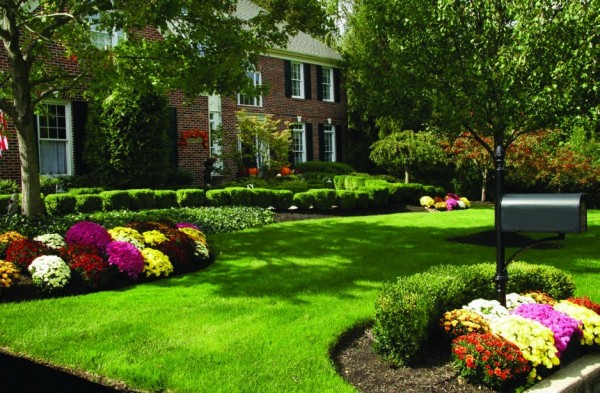 are available such as celosia, aster, kale/cabbage and purple fountain grass. Even ornamental peppers offer an array of autumn hues to add a splash of color to container gardens."
Selective pruning can also be completed in the fall, adds Pasquarello. 
 "Once certain varieties of shrubs and trees have lost their leaves it makes an easier determination of what should be pruned and shaped," he explains. "It is very important not to prune any set buds on flowering plants for the upcoming spring."
Michael Carmack, owner of A & M Landscape Management, agrees that fall can be a great time to shape and prepare many varieties of trees and shrubs for the winter and the next growing season, but adds that pruning can definitely be more complex than a lot of homeowners realize.
 "Many common varieties of deciduous shrubs such as spirea, burning bush and barberry can be cut back hard in the early winter for the reduction of the plant size and shape," he says. "But early blooming varieties of shrubs such as rhododendrons, lilac and forsythia have already started producing buds for the spring and should not be pruned in the fall. Pruning these varieties in the fall and or winter will remove flower buds and reduce the number of flowers the plant produces for the spring. Late-blooming flowering shrubs such as crape myrtle and butterfly bushes can be pruned in the late fall or early spring as they produce flowers on new growth."
When in doubt, leave the pruning to the pros who will know exactly what needs to be pruned and when. This will help ensure that you achieve optimal results and don't negatively impact bloom time.
A Beautiful Lawn, Too
Your lawn is also a vital aspect of your overall landscape and the autumn months are the ideal time to pay attention to your lawn's overall health. The weather conditions make it the perfect time for services such as aeration and over-seeding.
 "Fall is a great time to address any lawn issues you may have with weeds or other problems," says DeMato. "The cooler mornings really help to speed up seed germination."
 "Lawns can be much better established in the fall for a couple of key reasons," adds Cording. "For one, they don't have to compete with crabgrass and other spring weeds. But also, the cooler temperatures help stimulate root growth and prevent heat stress. Fall is the perfect time for aeration, seeding, lawn fertilization and even sodding."
Fall is definitely the time to strengthen turf roots to help the root system survive the winter, agrees Carmack. "This will help set the turfgrass up for success," he says. "Getting weed problems under control now [and eliminating growth] will help reduce the amount of weed germination in the early spring … and allow room for top dressing and overseeding to fill in voids created in the lawn as the fall provides the best opportunity for new turf seed growth."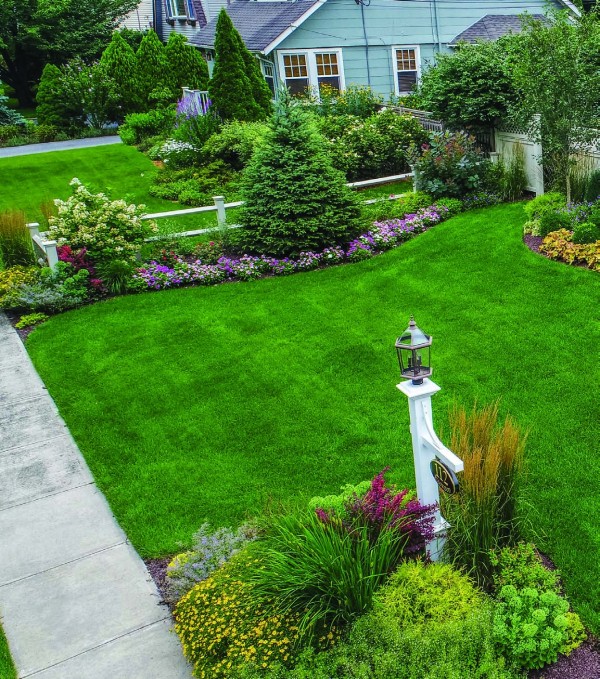 A Focus on Maintenance
There are a number of important property maintenance tasks that can also be taken care of in the fall. Many professional landscape companies offer "fall cleanup," which usually includes services such as leaf and debris pickup and removal. Allowing leaves to sit on your property for too long can actually kill your grass.
 "Be sure to not allow fallen leaves to sit on lawns for an extended amount of time," warns Pasquarello. "It is best, at minimal, to do two leaf cleanups in the fall. The first when about 50 percent of the leaves have fallen and a final when they are all down."
Don't forget to also pay attention to cleaning and maintaining your hardscaped surfaces, as well.
 "Fall is also a great time for cleaning up and taking care of your patio surface," adds Jarrod Nyce, vice president of Nyce Crete and Landis Block & Concrete. "Cleaners and sealers can be applied this time of year because of good temperatures and low humidity. Many people cover up furniture or clean up ponds and water features. Winter preparations are needed for any water features because of freezing."
Fall Hardscaping
Of course, if you want to get started with a hardscaping project in the fall, there's really no reason not to pursue it, adds Nyce. Most landscape companies work until the ground freezes so it's quite possible you could have a hardscaping project—such as adding a fire pit or a patio— completed at this time.
 "A lot of homeowners think they have to wait until the spring but that's not the case at all," says Cording. "Fall is a great time to have work completed on your property and most landscape contractors don't begin their off-season until December."
It's also a great time to start planning ahead for large projects, such as a pool, that you may want completed in the spring, adds Cording.
 "Many large-scale projects, like pools, require three to six months of planning prior to be shovel-ready and we have a lot of homeowners who start those projects in the fall and winter," he says.
With the cooler weather and beautiful days, now's the time to get outside and enjoy it while you can.
As Nyce sums it up: "Winter is just around the corner, so take advantage of the fact that fall is a great time to get outside and enjoy your landscape."
Resources
A & M Landscaping Management
Voorhees, N.J.
(856) 264-1663
AandMLandscaping.com
CLC Landscape Design
Ringwood, N.J.
(973) 839-6026
CLCDesign.com
Elite Landscaping
Berlin, N.J.
(800) 582-6598
EliteLandscaping.com
Nyce Crete and Landis Block & Concrete
Souderton, Pa.
(215) 723-5506
LandisBC.com
Rock Bottom Landscaping & Fencing
(732) 873-6780
RockBottomLandscaping.net
SLS Landscaping
Lumberton, N.J.
(609) 518-5263
SLSLandscape.com
Published (and copyrighted) in House & Home, Volume 20, Issue 3 (September 2019). 
For more info on House & Home magazine, click here. 
To subscribe to House & Home magazine, click here. 
To advertise in House & Home magazine, call 610-272-3120.