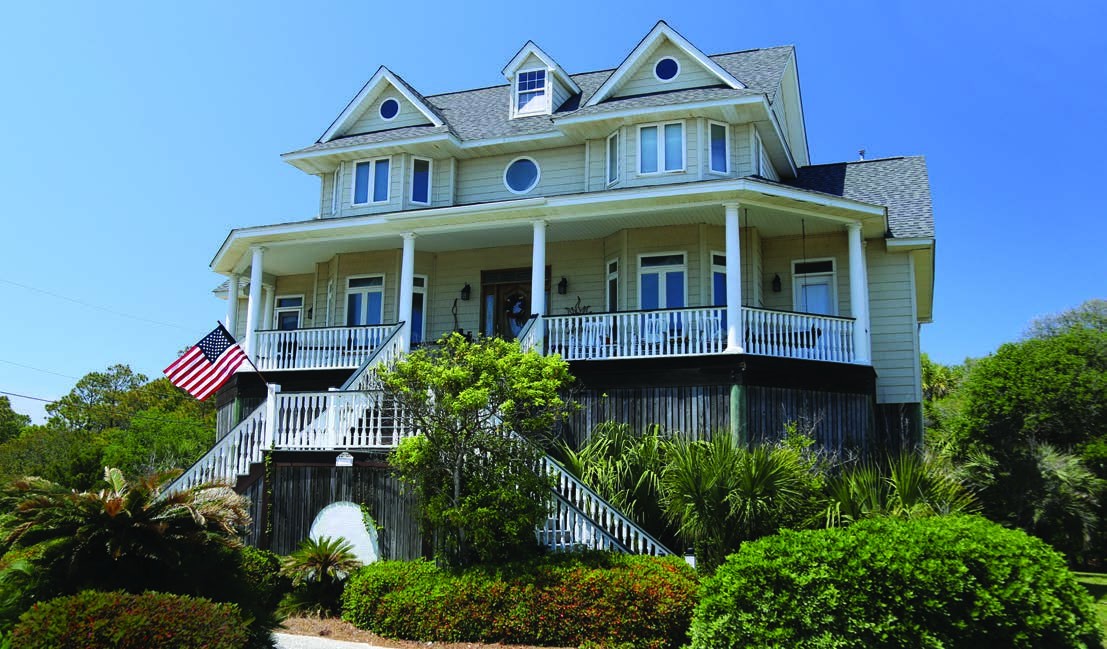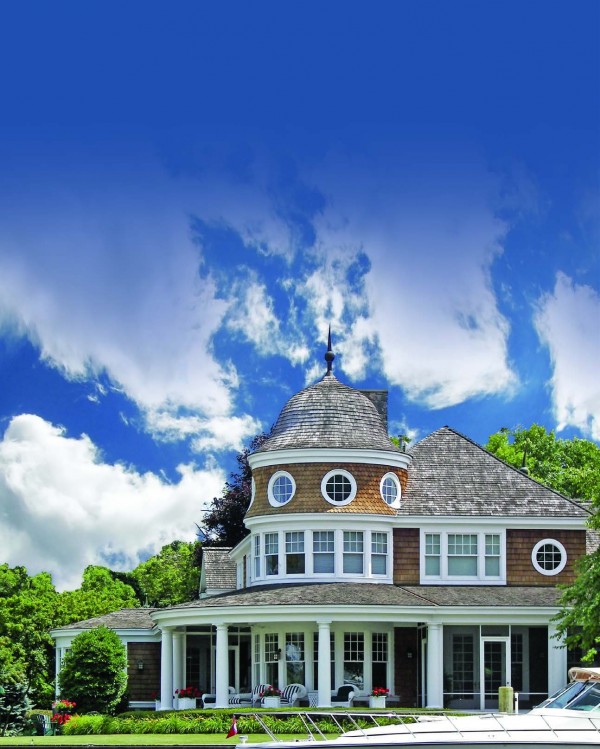 This coming summer is going to feel well-deserved after a challenging year that impacted vacation plans. With that in mind, your Shore home should be in its best shape ever to weather not only the elements, but the entertaining you're hoping to do. We spoke to some local professionals about the best exterior products for homes along the shoreline and how they will help extend your enjoyment this coming season. 
A Unique Environment
Shore homes put up with a lot more weather than a primary home, especially in the offseason when homeowners aren't there to immediately spot any damage.
 "The blustery winter winds coupled with the strong storms that we experienced in the summer and fall keep us busy year round," says Scott Brock of Seashore Construction. "Shore homes are frequently exposed to harsh elements such as saltwater corrosion, moisture-fraught air and strong winds. Through the years we continue to see clients rely on exterior products known for withstanding the elements."
Brock highlights cement board siding, or fiber cement siding, as one such investment. This product can stand up against rain, high winds, harsh humidity and temperature changes—all common occurrences down the Shore. And because it's moisture resistant, there is little worry over warping or rotting.
Artur Wyrzykowski of Quality One Roofing recommends James Hardie siding. "Not only does it hold up to wind and rain, but it keeps the value and charm of the house," he says. "When you use higher-end products you will also increase its value and efficiency." Products such as James Hardie plank siding maintain that quintessential Shore home look without sacrificing protection.
In fact, low-maintenance products are trending across the board, says Adam Parnes of Global Home Improvement. "We have seen an increase [in requests] including James Hardie siding, Infinity Fiberglass Windows from Marvin and metal roofing. More and more homeowners are looking for low-maintenance products so they can spend less time fixing and more time enjoying their property."
Parnes says metal roofs are ideal for Shore homes since the interlocking panels make it nearly impossible for wind and water to get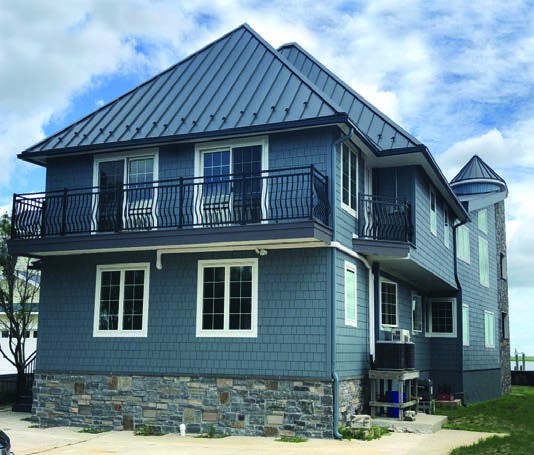 underneath like typical shingles.  
However, Wyrzykowski says not to overlook cedar shake and synthetic slate products. Synthetic slate contains  UV light inhibitors, meaning it holds up to the sun, and can last for up to 100 years, making it unlikely  homeowners will have to worry about replacing it during their lifetime. 
For windows and doors, Infinity Fiberglass Windows and Doors has been a huge trend down the Shore, Parnes says. "The fiberglass frame is durable  and long lasting and doesn't bend or buckle under the summer heat. Since fiberglass is eight times stronger than vinyl, it allows Infinity from Marvin to produce larger windows and sliding patio doors to capture more sunlight and natural views," he says.
 "We suggest avoiding vinyl windows due to the expansion/contraction of the plastic window frames in the hot summer months," Parnes continues.
With the demand for home improvement projects on the rise due to the pandemic, professionals say planning ahead is important.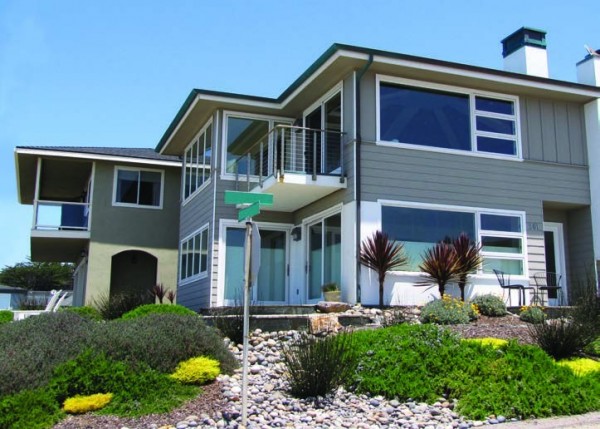 "Fortunately, our industry continues to remain strong even during the pandemic," says Brock. "With more people spending time at home this past year, we have stayed busy helping our clients fall in love with their home again. Contractors have seen disruption in supply chains, but our stable  relationships with vendors enable us to be nimble and adapt to change. We consistently find solutions to complete jobs in a timely manner with high-quality materials and workmanship."
All-Weather Entertaining
Protection from the elements should also extend to your outdoor living space. All Weather Pergola offers the Sundance louvered roof.
CEO Michael Lloyd is the fourth generation of offering patio protection, which has evolved from fabric awnings to this innovative and contemporary technology. Made of extruded tempered aluminum and a maintenance-free powder-coated finish, the All Weather Pergola louvered roofs are made to withstand up to 100 mph winds.
Lloyd says this product has been popular in Europe and is now  finding a niche in the U.S. "The homeowner has complete control of their environment at the touch of a button without the maintenance and upkeep of a fabric awning," he says. "With a fixed awning you only have shade  but no protection from rain; and a retractable shade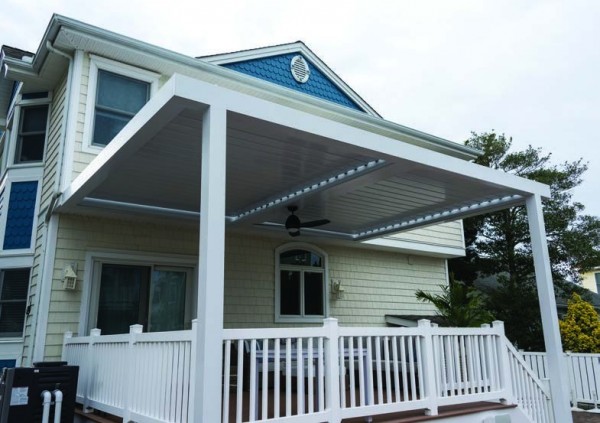 can't really be used in high winds. This smart pergola system gives you the option to completely close it for full shade or halfway for some sun protection or open it all the way. Any position is at the push of a button."
White is the most popular choice for Shore homes, says Lloyd, but the product is also available in black, adobe/gray and bronze. It can also be customized with more than one color. "Homeowners can customize their color,   shape and size, and we can always add onto a system," he says, adding that they recently  completed a 1,600-square-foot installation at Avalon Yacht Club.
Since the product is manufactured in South Jersey, Lloyd says  homeowners can order now and have their pergola ready well before the summer season begins.  
With the help of these professionals, your summer at the Shore is shaping up to be better than ever.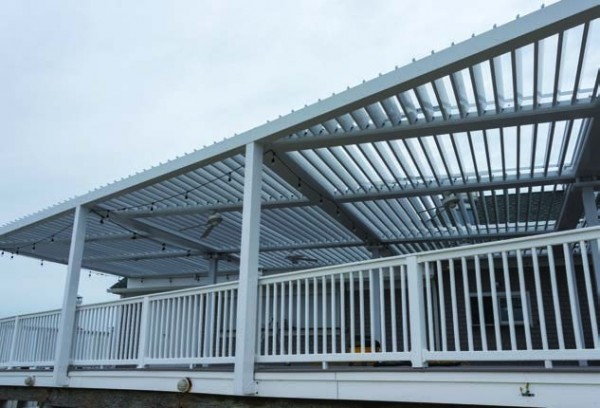 RESOURCES
All Weather Pergola
Multiple locations
(833) 5-PERGOLA (573-7465)|
AWPergola.com
Global Home Improvement
Locations in Pa./N.J.
(866) 735-1121
GlobalHomeInc.com
Seashore Construction
Egg Harbor Township, N.J.
(609) 645-2192
SeashoreConstruction.net
Quality One Roofing
(609) 921-8868
(610) 489-3057
Quality1Roofing.com
Select imagery courtesy of All Weather Pergola and Global Home Improvement.
Published (and copyrighted) in House & Home, Volume 21, Issue 5 (Spring 2021). 
For more info on House & Home magazine, click here. 
To subscribe to House & Home magazine, click here. 
To advertise in House & Home magazine, call 610-272-3120.