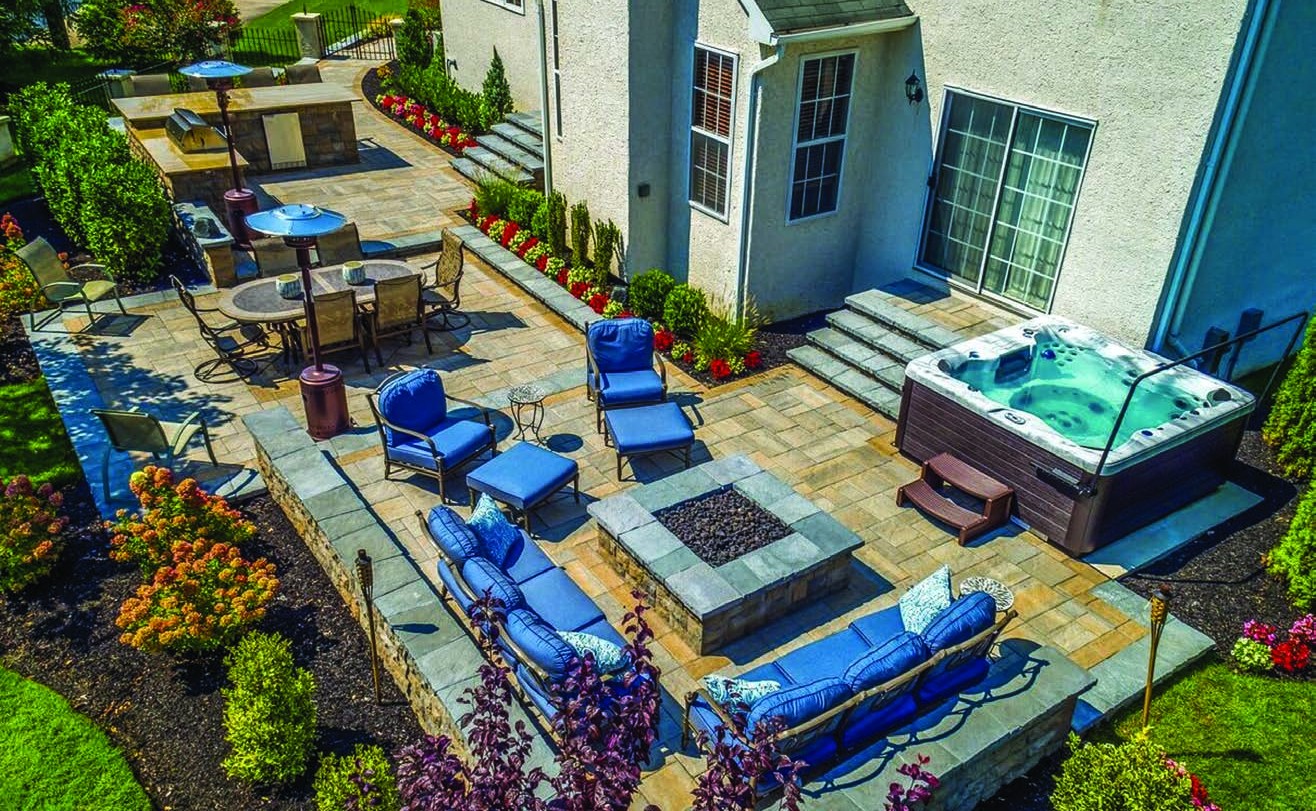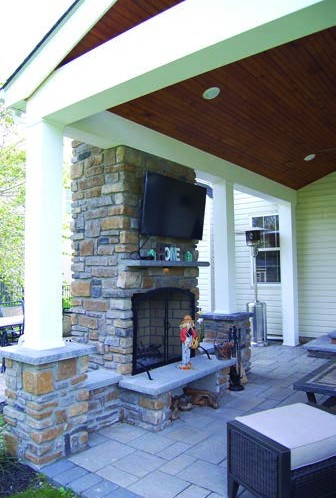 LAST SPRING AND SUMMER PRO- VIDED A BIT OF A RESPITE from the onslaught of the COVID-19 pandemic as the warmer weather allowed people to get out of the house to enjoy the outdoors. From walks in the park to days spent on the sand at the beach, it was a welcomed chance to break the monotony of being in a quarantine lockdown.
But with most other normal social activities put on hold, the pandemic also put a renewed focus on spending quality time at home. For many, finding a way to utilize their outdoor living space to its fullest became a high priority. With staycations becoming so commonplace,  homeowners were eager to find ways to make their yards more functional and aesthetically pleasing and one of the best ways to achieve that goal is with a landscaping or hardscaping project. 
It's no secret that the pandemic caused a massive spike in home improvement interest both inside and outside the house. And though recent vaccine news has inspired confidence that we are turning the corner, the appeal of having your own outdoor oasis likely won't subside anytime soon. Whether you want to lounge by the pool during the day or have dinner on the deck in the evening—or both—it would seem the possibilities for maximizing your space's full potential are endless with the help of a skilled professional.
 "I truly believe a silver lining of the pandemic  is that it has brought people back outdoors, even if just at their own property," says Mike Pasquarello, landscape architect with Elite Landscaping. "The ability to keep your family home and safe and still be able to enjoy outdoor entertainment has proven priceless."
Pasquarello says clients with pools are adding other features such as fire pits, outdoor kitchens and pavilion roof structures to their yards to create a cohesive outdoor experience. "I call it striving for straight Fs—food, fire and fluidity. If you can achieve these three basic elements in a space, then let the party begin," he says.  
Steve Compton, owner of CKC Landscaping,  has seen similar interest and says that while outdoor kitchens and fireplaces have always been popular, the demand has only increased and a high percentage of the jobs he's completed during the pandemic have included these elements.  
 "We've seen significant and exponential growth in the amount of true outdoor living spaces that we are designing and building. In the past, we may have been doing some pretty standard decks or patios, but now things are getting much more intricate and involved," Compton says.   
 "The creativity really has come out to make something different and inviting," echoes Randell Spackman, president of Thornbury Services.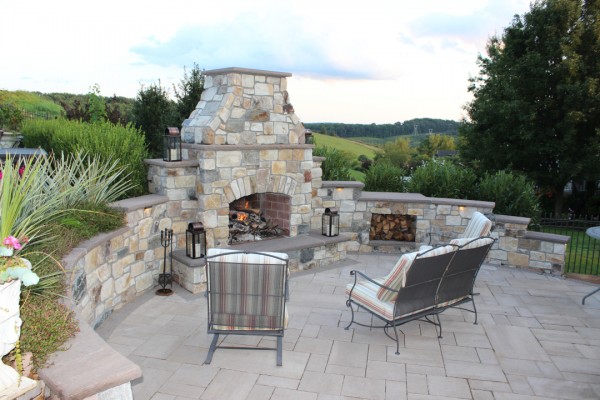 "One of the things people have been asking us to do is to design more in-home getaways," he says. "For instance, we recently completed a Mediterranean pool landscape and have done outside railroads around people's landscape to entertain the family."
Despite the desire to create a unique space, the experts we spoke with caution that looks aren't everything, and that homeowners need to also consider how the space would best be used. 
 "It's important that projects are designed with functionality in mind, not just aesthetics," says Compton.  
 "Functionality is the absolute key," agrees Spackman. "It has to be practical with the ability to adapt. You have to be able to include space for expansion and future family needs."
A fringe benefit of improving your outdoor space is that by extending the comforts of  the inside of the home you are also boosting curb appeal and property value. While that certainly bodes well for the long haul, it's also an asset during the current red-hot real estate market, whether you are looking to buy or sell a home. With record-low interest rates and limited inventory, it's a factor that could make all the difference in getting to the finish line.
 "It does result in boosting the property value and with the way the real estate market is now, with the shortage of inventory, it helps," says Compton. "If you have two homes on the same street, finished the same way inside, you are certainly going to move  your home more quickly and gain more value if you have that outdoor living space."
 "Fully finished basements have historically been a feature boosting a home's value and resale appeal. [But] outdoor spaces have surpassed them for what homeowners are interested  in having installed and home buyers to purchase," adds Pasquarello. 
Spackman has done some jobs for realtors in recent months to help transform a listing, and says that improved landscapes don't necessarily need to break the budget to be effective. "They just need to be thought out well. You can be creative with how you spend the money and the materials you use."
But like any big project, proper planning goes a long way to a successful result. Spackman says his company dedicates lots of time to making  sure everything is well thought out while also leaving room for spur-of-the-moment ideas that may arise along the way.  
 "We spend a lot of time planning because by the time we get to the build phase, we want to get it right the first time with as few changes as possible," he says. "But it's also good to be flexible because when that artistic license arises,  you want to be able to bring in those fun attributes that really set a project off."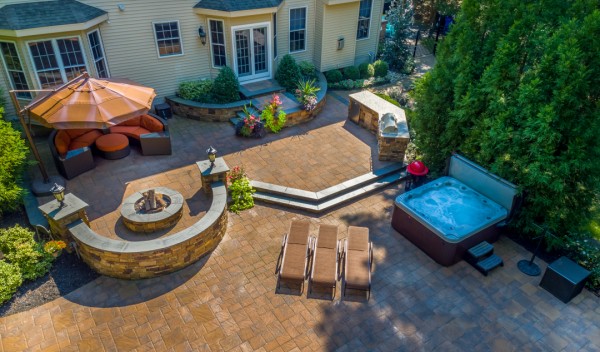 In normal times, one might expect to have a few weeks to hire the right contractor, conceptualize a plan and  enjoy their space in a relatively quick fashion. But because the pandemic has caused such high demand and with the backlog of jobs caused by the initial shutdown—not  to mention a shortage of materials—anyone hoping to have work done in time for when this spring and summer arrive needs to act quickly or they may be forced to look at 2022 as a more realistic option. 
Pasquarello, like other area contractors, says his early spring calendar is nearly full and that anyone who may be interested would be well-served not to wait too much longer.
 "Since the pandemic, demand for outdoor entertainment  spaces has definitely increased to levels we have never experienced before," Pasquarello says. "Planning should be started immediately to ensure completion by summer."
Compton says it's the biggest thing he stresses to clients and potential new customers.  "Now versus this time in any other year; if someone wants a project done that they want to enjoy in late spring and through the summer, they needed to start yesterday.
 "Get on the internet, get on the phone, find contractors and vet them. You have to move now. Between materials being available, permitting, planning and the backlog of work that design-build firms have, you'd be lucky to get started with a good, reputable company prior to April or May. It's really time to get started," says Compton.
RESOURCES
CKC Landscaping
West Chester, Pa.
(610) 436-1810
CKCLandscapingInc.com
Elite Landscaping
Berlin, N.J.
(856) 753-1944
EliteLandscaping.com
Thornbury Services
West Chester, Pa.
(610) 793-2933
ThornburyServices.com
Select imagery courtesy of Image CKC Landscaping and Elite Landscaping.
Published (and copyrighted) in House & Home, Volume 21, Issue 5 (Spring 2021). 
For more info on House & Home magazine, click here. 
To subscribe to House & Home magazine, click here. 
To advertise in House & Home magazine, call 610-272-3120.