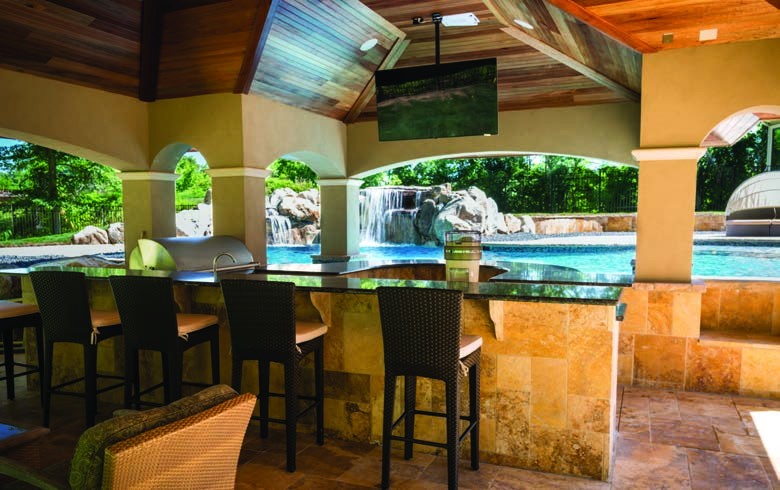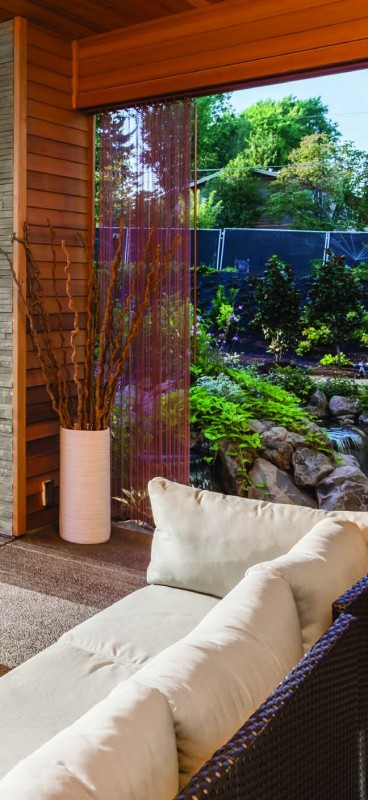 While we may be in the thick of winter, the professionals who design and install outdoor living environments are already getting a jump on their busy season. In fact, many of them already have jobs lined up for the spring and have begun the important process of planning for and designing these projects. If you're looking to have an outdoor living space added to your home, then it's time to start planning.  
TAKE ACTION NOW
The experts all agree that planning for a large outdoor living project is best done in the "offseason," when there is time to devote to developing and perfecting the design. Chris Bianciella, co-owner of K & C Land Design and Construction, says that the project's design is one of three key reasons to start planning as   soon as possible. Budget and permitting are the other two reasons to plan ahead.
 "By putting time into the design, you can figure out exactly what you want to do," he stresses. "Good design can take some time—and sometimes involves back and forth with the homeowner—so it's best to perfect the design in the offseason. The second reason to start in the winter is to plan for your budget needs. And finally, the third reason it's important to start early is the fact that permitting can take time— sometimes a couple of months. It's better to start that process now instead of using up time that your project could already be underway."  
 "Honestly, early planning is proper planning," adds Dean Stafford, owner of Dean's Landscaping. "Without exception, every successful  project begins with proper planning. A projected timeline  for the duration of the project and an anticipated start date are both must-haves. All homeowners should be aware that delays due to weather, scheduling and unforeseen hidden problems on the job site can and do happen—and it's wise to allow for these possibilities."  
Andy Sykes, CLP, PCH, president of Garrett Churchill, says that the goal in any outdoor living project is to "create a space that will be utilized to the fullest."
He agrees with Stafford that achieving this goal all starts with planning.
 "One of the first questions that we ask is, 'How will you use the space?'" Sykes says. "It's so important that the space is functional. As we determine how the space will be used, we start the design process, which involves working out all of the  details and lots of back and forth. You have to expect that a process like this is going to take time."
Mike McCool, general manager of Swim-Mor Pools & Spas, says that the same principles apply to adding a pool to your outdoor space. It takes time to put together a design and go through the permitting process for a project like this. At Swim-Mor, designs are rendered in 3D which takes a lot more time than a quick sketch on a piece of paper.
 "If you want to be swimming by Memorial Day weekend, this is not something you can put off," McCool urges. "If you wait until March, you're looking at July 4th—at the earliest. The more complex your pool is, the more time-consuming the design is. It makes sense to use the winter to work on it and get your permit approved. Then we can break ground as soon as the weather breaks."
NEW YEAR, SAME TRENDS
In terms of what's on homeowners' wish lists for 2019, the experts we spoke to say that the same trends which have been gaining popularity for several years now continue to build steam. Generally speaking, the trend is toward complete outdoor living areas with lots of amenities. Homeowners are looking for more than just a patio but want all the bells and whistles to go with it.
 "It's hard to nail down a trend toward one or two things because it's the whole package," says Bianciella. "Homeowners want the fire feature, the outdoor kitchen and maybe even something to provide permanent shade   like a pavilion. They want an outdoor living room where they can spend lots of time with their family and friends."
For many, this really does come down to the amenities and features of the space. Without these add-ons, you might have a great patio, but not get as much use out of it as you'd like.
 "The newest trends are building on existing  outdoor environments with shade coverings such as pergolas, cabanas and colorful sun-sails," says Diane Marrazzo, coowner of Marrazzo's North River Landscape. "Outdoor showers, outdoor media centers and sound systems are also hot this year."  Stafford adds that it's about "personalized space," which is something that Dean's Landscaping has built a niche in.
 "I've not met anyone who doesn't appreciate being listened to and having their  hopes and desires brought to life through intelligent design," says Stafford. "Obviously, each homeowner's tastes vary somewhat, and each project is its own story. We built quite a few projects last season that offered permeable pavements, fireplaces, kitchen areas, lighting options and water features of all sizes."
But Stafford says his favorite finishing touch is the plantings in and around the newly created living spaces.  
 "Plants create an inviting environment to the space," he says. "They can really be tailored to every taste, both metaphorically and literally speaking. Kids are always amazed to have healthy and beneficial insects and birds in their backyards. Butterflies, hummingbirds, songbirds and even cool-looking  praying mantises are all welcome inhabitants."
In terms of pool trends, McCool says there have been two key pool trends he's seen for quite some time.  
 "There have been two drastically different types of people when it comes to homeowners that  want pools," he says. "They either want the rectangular,  very modern pool or they want a freeform, very natural pool. By far, those are the two most popular styles and they are polar opposites. Most of our clients tend to fall into one or the other category."  
OLD BECOMES NEW
Of course, not every outdoor living project is a brand-new endeavor. It's important to   note that many projects are also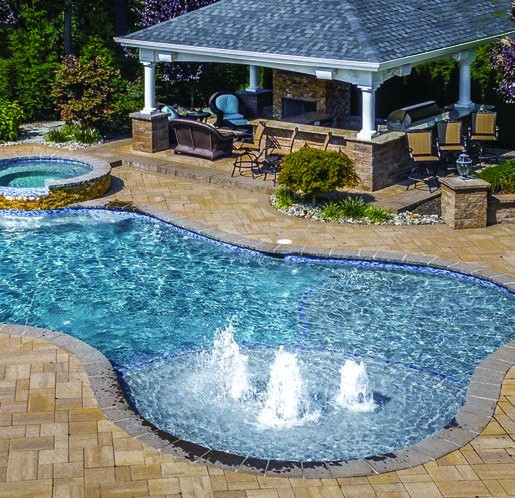 renovations of existing spaces.
Sykes says that the company does a lot of repair work.
 "Unfortunately, this is often due to the fact that the original contractor didn't do their job properly in the first place and pavers are failing," Sykes says. "If a patio was built improperly, we can come in and fix that. We also get renovation work to switch  out materials, such as upgrading a paver patio to natural stone. And we've even extended some patios, giving the homeowners a bigger outdoor living space."   
Marrazzo says that oftentimes  a good cleaning is all it takes to correct a dingy patio that has an outdated appearance.
 "Simply power-washing and reapplying polymeric sand over weather-worn pavers or natural stone in patios,  walkways  or front entryways is enough to clean-up old surfaces and make them look and feel like new again," Marrazzo says. "The process is recommended by the Interlocking Concrete Paving Institute (ICPI) every three to five years or as deemed necessary by the homeowner in order to maintain the integrity of the installation."  
McCool says that SwimMor has also done some pool renovation  work, updating pools that are 10 or 20 years old with newer materials.
If you're feeling like your outdoor living space could use some revamping, it's definitely worth exploring your options. After all, you ought to be able to enjoy your outdoor space to the fullest.
 "When you spend a lot of time outside, it's easy to start seeing  ways that you could make your space better,"  Bianciella says. "We definitely get calls from homeowners who are tired of having a small or awkward patio and really want a space they can use to the fullest."
RESOURCES
Dean's Landscaping
West Chester, Pa. | (610) 793-2386
Deans-Landscaping.com
Garrett Churchill
Willow Grove, Pa. | (215) 657-9160
GarrettChurchill.com
K&C Land Design & Construction
Serving all of New Jersey
(908) 769-7283
KAndCLandDesign.com
Marrazzo's North River
Bucks County, Pa. | (215) 598-1412
MarrazzosNorthRiver.com
Swim-Mor Pools & Spas
Mount Ephraim, N.J. | (856) 270-6571
Northfield, N.J. | (609) 755-3046
Millstone Township, N.J. | (732) 422-5314
SwimMor.com
Published (and copyrighted) in House & Home, Volume 19, Issue 7 (January 2019). 
For more info on House & Home magazine, click here. 
To subscribe to House & Home magazine, click here. 
To advertise in House & Home magazine, call 610-272-3120.