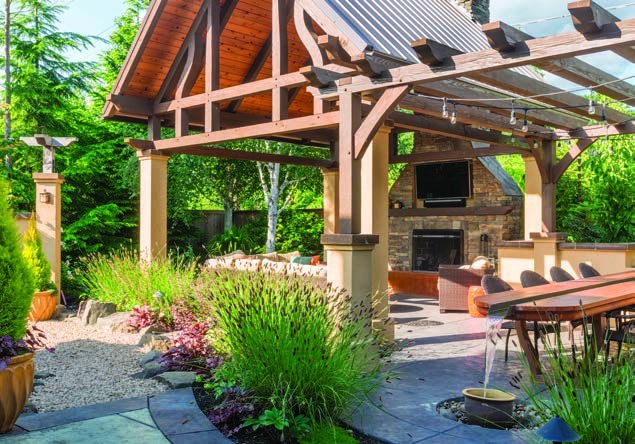 Having a party or even just a few friends over isn't what it used to be. The kitchen is no longer a  required go-to spot to relax and sip on a drink or two. By extending the living area into the backyard,  you and your friends can sit back and enjoy the hot summer day underneath a shaded structure.  
 "This is one way you can kind of drag people outside. You can expand that, what we call the heart of the house," says Bill Wilson of Amazing Decks. "You only can do that with shade, make it feel like an easy transition from that kitchen area like outside." When it comes to selecting your backyard shading items, the options are endless and it can become overwhelming. But with the help of professionals having abilities to tailor the project toward your taste and home, the job becomes less stressful and more exciting.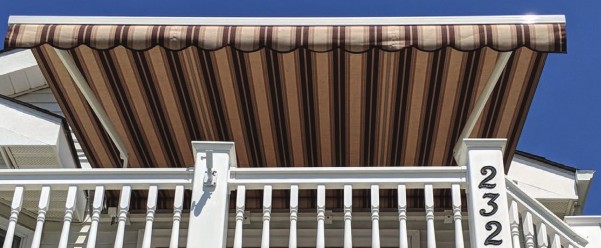 ENDLESS OPTIONS   
The first step to building a shaded area is deciding which accessory works best with your home. Permanent structures include pergolas, pavilions or gazebos and other roof arrangements suited for all weather conditions while removable structures such as umbrellas, shade sails, window awnings and removable canopies can be stowed away after the season.  
 "When we look at designing a project … the first and best option is to use some kind of permanent shading option so that establishes a completely different type of space," says Wilson. Sean McAleer from Deck Remodelers is building more pergolas with louvered roofs that have motorized rafters. The rafters can be adjusted on an angle dependent on the sun or closed completely when it rains. "We can tailor them to the architecture of the house," says McAleer. "We've done them on 100-year-old brick houses. … We've done a lot of historic homes and a lot of modern homes and everything in between."
Russ DiBella of RJ Custom Awning agrees with McAleer that having a larger shading structure is convenient. "One of the more frequently heard comments from our customers is how they invested a lot of time, effort and money into their new deck or patio only to discover they're unable to use it as often as they'd like because it gets too hot."
 "The options are pretty much endless as far as what people can do," says Peter Zook at Stoltzfus Structures who also suggests permanent structures such as pavilions. "We use a very good product that's a Sunbrella canopy where you can put it on your pergola or say on one side of your pavilion … you can put that curtain down and that way you're shielded from the sun."
A BACKYARD NECESSI TY  
Merely putting a deck or patio in the backyard won't spruce up your space or make it livable. McAleer says huge decks are great for parties, but when it comes to relaxing, you still want to utilize the space. McAleer rarely puts up a deck or patio without some sort of shading item.
 "Homeowners typically look for outdoor shading solutions when they have a deck or patio that is exposed to long periods of sun throughout the summer," DiBella says. "They typically find that huddling under an umbrella isn't very enjoyable nor does it work very well as the sun crosses the sky."
Permanent shading items can open up the space you have and still keep it cozy year round. McAleer adds that having a permanent roof structure allows the homeowner to grill outside throughout the year. "We're doing a lot of motorized screens so that roof structure in the back now turns into a screened-in room when you want it," he says.
 "You can book reservations for dinner on your deck a week in advance and if it rains, [it] doesn't matter," McAleer says regarding louvered pergolas. "When you're sitting on the deck on a rainy day in the fall with a blanket and a book and watching the water drip off the trees, it's just awesome."
Installation is pretty easy especially if you have an idea of what you want before starting the project. "It's kind of something that's quick and easy to set up," says Jake Fisher of B&L Woodworking. "It's something that's not attached to a house typically, although we do attach some pavilions and pergolas to houses at times. Most times they're just a freestanding structure."
For those with big backyards, a pergola—which doesn't have a standard roof—catches the guests' attention and becomes the go-to spot. A pergola with vines or climbing plants really adds an aesthetically appealing landscape to your backyard.  
 "It's a family area where you can hang out and then also it enhances [the] look of your property," Zook says. "It does add value to your property as well."   
ACCESSORI ES ON THE RISE
The last thing you want to be stressed about is maintaining your outdoor structure. One trend in outdoor shading involves a lot of low-maintenance care by staying serviceable year round, says Wilson.
A walkout deck is another emerging scheme Wilson sees often where there's shading—and an entertainment space—below the deck. The area has the ability to stay dry when it rains because of a rain system installation.
Bringing the living room outside is a huge trend this summer because it's not just about being under the shade. When there's a space under a roof structure, you can now add a TV, a fireplace, a fan and couches.
 "What we're trying to do is we want this space to be an extension  of the heart of the house, of the kitchen area where everybody hangs out. If it's a sunny day, no one's gonna use it," says Wilson. "If they don't have a comfortable place to sit, no matter how much you love or hate the sun, you need a place to hang out that is completely shaded."
Many companies that build shade structures can also outfit your backyard with storage solutions, such as sheds. But these aren't just any plain shed; they practically resemble your own house.  
People are spending more on customized structures that can match their house with custom paint, custom vinyl siding and metal roofing, says Zook. "A lot more people are getting the extras or custom vinyl siding."
Made to fit anything you may need to store—from landscaping equipment to outdoor furniture and pool accessories—these structures can be worked into the current layout of your yard without seeming out of place.    
RESOURCES
Amazing Decks
Ambler, Pa. and Flemington, N.J.
(800) 220-3275
AnotherAmazingDeck.com
B&L Woodworking
Princeton, N.J.
(609) 924-4479
BLWoodwork.com
Deck Remodelers
Sparta, N.J.
(973) 729-2125
DeckRemodelers.com
RJ Custom Awning Co., LLC
Sicklerville, N.J.
(888) 675-2760
RJAwning.com
Stoltzfus Structures
Atglen, Pa.
(610) 595-4724
MySheds.com
Image courtesy of RJ Custom Awning
Published (and copyrighted) in House & Home, Volume 19, Issue 1 (July/August 2018). 
For more info on House & Home magazine, click here. 
To subscribe to House & Home magazine, click here. 
To advertise in House & Home magazine, call 610-272-3120.