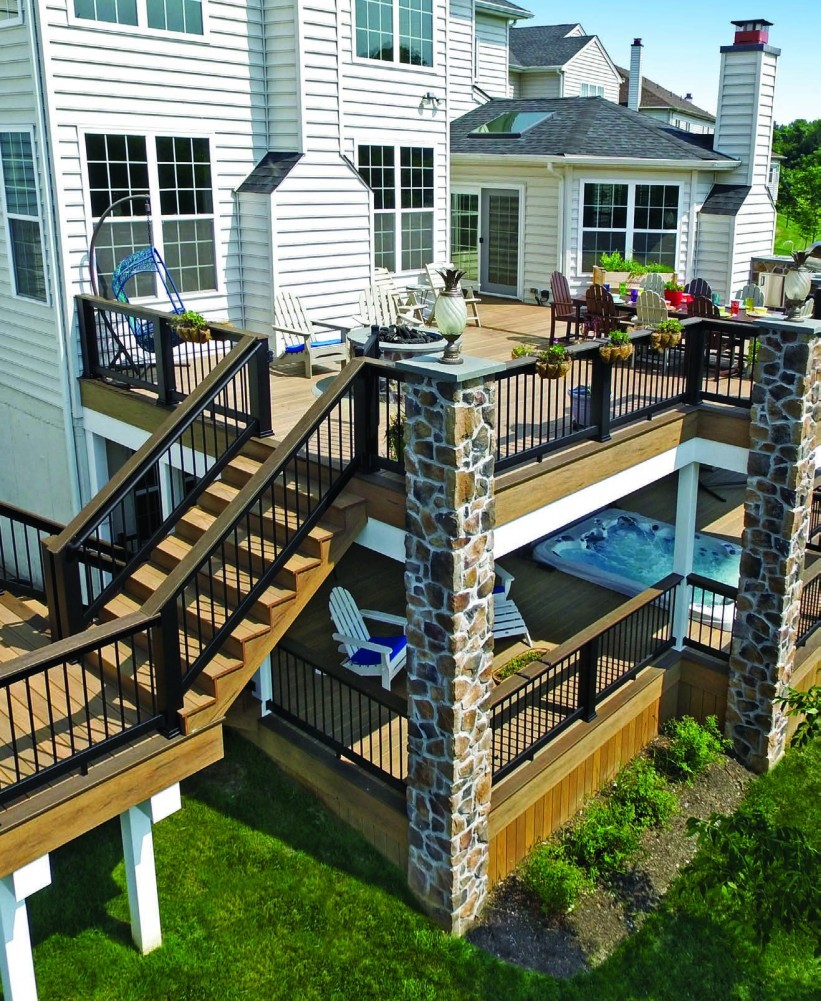 By Matt Cosentino
A STUNNING DECK with as many amenities as the homeowner desires is often the focal point of an outdoor living space. But what if it's an older deck that has started to lose its aesthetic appeal, or worse has become unsafe for families to congregate on?
If that is the case, the good news is that an older wood deck can easily be updated with maintenance-free materials such as composite or PVC boards. Sometimes, the frame is sound enough or perhaps just needs minor repairs and new boards can be placed on top; other times it makes more sense to tear everything down and start all over again.
House & Home spoke to several decking experts in the area to find out what signs of wear and tear to look for in an older deck and whether it is time to replace it. For those homeowners without a deck who would love to enhance their outdoor space, we also learned what goes into the planning stages in regards to location, materials and colors.
SPRING CHECKUP
With the weather starting to warm up and people anxious to get outside, now is a good opportunity to have an older wood deck power-washed by a professional, or more importantly, checked for safety hazards.
Juan Cardona of Archadeck of Chester County offers an affordable inspection service and will even examine a deck he has built free of charge. He believes there are certain important areas to focus on.
 "Especially if the deck is old, they should be doing a safety inspection every once in a while and spring is certainly a good time to do it," he says. "Are there any parts under the deck, if it's visible, that are rotting? Are there any boards that are rotting? Is the railing wobbly, or nice and firm? Is any part of the deck sinking, maybe a footing? That usually happens during the winter. So those are the visible inspections they should be doing."
Dave Lyons from Archadeck of Delaware agrees that it is key to have a good look at the deck's foundation.
 "Ideally, you need to be able to get under the deck to look at the joists," he says. "So you're looking for any kind of water damage or rotting or cracking or splitting in the wood, that kind of thing."
While homeowners can do their own visual inspections, the knowledge of an experienced professional can prove invaluable.
 "One of the first things I look for is to just walk across the deck and see if it feels solid," says Omar Stoltzfus of Deck Craft Plus. "After so many years of doing this, you kind of get a feel for whether a deck is solid or not. Are the boards solid or are they starting to rot?
 "Another thing I look for is the foundation. A lot of older decks have wood going into the ground, instead of concrete on the ground level and the wood going into that. So if you can get a little shovel or even stick your fingers down beside the post, you only have to go a few inches down to tell if that post is solid."
UPDATING AN OLDER DECK
Homeowners with an older wood deck often find that the color is fading and does not look as sharp. Perhaps they are also tired of the upkeep required and prefer a low-maintenance product.
In those cases, the wood boards can be converted to composite or vinyl on top of the existing framing, as long as the foundation passes the inspection.
 "We do that all the time," Cardona says. "Most of the work I do is actually converting old decks into new. Very often, you can reuse the structure underneath if it's not in bad shape. Even if you have to make some repairs, you can still usually reuse at least a portion of it."
Lyons adds that the low-maintenance materials do not come cheap, but in the long run will pay off.
 "It's definitely doable," he says. "It just depends on how old the deck is. Usually, the structure is in pretty good shape and a few minor repairs can fix the problem. Then you just redeck it with some type of composite decking.
 "But price can be a factor. For instance, if you had a wood deck that cost $10,000, the same deck in composite would be $14,000 or $15,000. But to keep up on a wood deck you really should be doing maintenance on it every year. So the maintenance-free deck quickly pays for itself."
Bill Lecorchick Sr. of Legends Home Improvements cautions that even if the structure is fine now, it may make sense to replace everything all at once. That way you won't have to tear down the brand-new boards in five or 10 years when the foundation starts to crack.
 "Generally when people call me for resurfacing, they're just looking to get rid of the splintery boards and put down new low-maintenance decking, and replace the railings the same way," he says. "I check the subframe, and it's usually in good shape if they built it with a permit. But the decision they have to make is, if the deck is 25 years old, do they want to put new boards on top of a 25-year-old subframe?"
For that reason, Mike Jerminski of Get Decked is one expert who will not install new decking on top of an older frame.
 "I … am totally against replacing just the wood decking with composite decking," he says. "While it sounds like an affordable way to restore the beauty of an old deck, it is a very expensive Band-Aid. Joists and support posts on the underside of an older deck have aged and weathered and once you pull off the old decking there will be thousands of nail and screw holes on top of the joists that have lost strength and a secure fastening area. New framing supports need to be installed for a strong and secure fastening system for the new decking. So in [my] personal opinion the frame of an older deck needs to be replaced for a long-lasting decking application."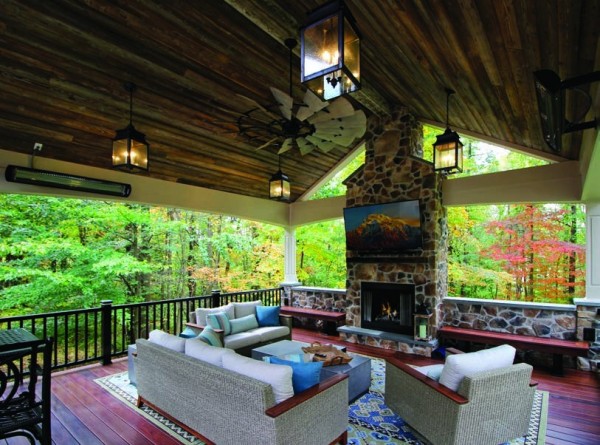 HAVE A GOOD PLAN IN PLACE
Whether a homeowner is having an old deck replaced or a brand-new deck installed, the best course of action is to discuss exactly what they want to use the space for and consider the features they may want to include.
 "I would say it's definitely a give and take with the customer," says Brad Sensenich of Keystone Custom Decks. "We can present all the ideas in the world, but if they are unable to relay the style they're into or what they need the space to do for them as far as uses, it never becomes a personal project for them.
 "So our goal is to sit down with them, talk through their needs and wants and get to know their family a little bit. If they have young children, do we need to watch out for certain things for safety, like gates? … With so [many different options], it's important for us to get to know the customer and hear their ideas and thoughts for the space, and then take that and mold it and hopefully come up with something that blows them away."
Jerminski stresses the importance in determining  the deck's dimensions during the planning phase.
 "Choosing the perfect size of your new deck should also be in proportion with the home and its yard," he says. "If your home is a 20-foot-wide rancher the deck should not exceed those dimensions. But on the other side if the backyard wall is 50 feet in length, do not install a 12-foot-wide deck—it will look like a postage stamp."
 "Of course you want to make sure a deck looks like it belongs on the house, size wise," agrees Stoltzfus. "But a bigger thing is, what are you using this deck for? Do you want to grill on it? Do you just want a small table and a couple of chairs? Do you want to host parties on it? The layout of the deck as far as the flow of traffic is also important. Say you have a pool in the backyard; you want to make sure people don't have to walk around the deck to get up the stairs or walk through the table and chairs to get into the house. You want to conveniently get from one point to another without tripping over each other."
As for materials, most homeowners are choosing low-maintenance products from manufacturers like Trex, Azek and TimberTech over wood. One of the main draws is that these products usually only require semi-regular cleaning.
 "It's super simple," Sensenich says. "On their website, Trex states pretty clearly that the only thing they recommend to clean it with is Dawn dish soap. So you get your garden hose, a brush and some soap and just scrub it down once or twice a year to keep dirt accumulation off it. Other than that it's pretty much good to go. The same technique would work with TimberTech as well, but they also have a couple other cleaners they have tested that don't harm the surface at all."
CHOOSI NG THE RIGHT COLORS
While most experts agree that the major manufacturers are close in product performance, they  are constantly coming out with new colors and textures. Some homeowners might think about choosing a deck color that matches the siding of the house, but Lecorchick advises against it.
 "It's best to go complementary," he says. "You're not going to match your siding, because the decking and siding are designed by different manufacturers and they're using different plastics. The houses are generally a pastel in color, like cream or light blue or white. The decks get pretty vibrant in color; they can make a statement. So you want to find something that works the best together."
Sensenich also think it makes sense to contrast the decking color with the house, although  he leaves the decision up to the customer.
 "Usually on our decks, we do what we call a picture frame, which is a border around the perimeter, and we also like to suggest doing a contrasting color for the decking as well," he says. "So say the main portion of your deck is a lighter color, then we would have a darker color for the border, or vice versa. But you definitely want to stay in the same color family. If the house is brown or tan, you probably don't want to go throwing grays up against it."
Lyons likes the look of a two-toned deck, with the main part in a lighter color and then a darker color as an accent, for a border or even a parting board in the middle of the deck.
 "Part of that is for design and part of it is getting the most [for your money]," he explains. "The composite boards are expensive, so if you're buying a 20-foot board you want to use all 20 feet; you don't want to cut off 18 inches and throw it away. So sometimes, de- pending on the shape of the deck, it makes sense to add a parting board down the middle of the deck and that allows you to have fewer seams."
Lecorchick also warns that certain colors become too hot to touch.
 "I suggest you stay away from the dark colors in the southern and western exposures," he says. "Go as light as you can accept, because the darker the color the more heat it absorbs. It really  doesn't reflect heat; it's not a window, it's not cement. It absorbs the heat so you can't walk on it barefooted."
OTHER AMENITIES
The amount of special features for a deck are really only limited by the homeowner's budget. Outdoor kitchens and fire pits continue to be very popular, and a shade structure can take the space to the next level.
 "If the deck is in a real sunny spot—if you're facing south or west—and you don't have tree cover, you're probably going to find the deck unusable during the daytime in the dead of summer," Cardona says. "It's just way too hot. So putting some kind of shade, whether it's a regular roof, a pergola or a gazebo, is going to give you a lot more usability out of the deck."
Sensenich adds that an experienced designer can help with the best location for the amenities on a deck.
 "Some of it comes down to logical positioning," he says. "If you're going to put a shade structure like a roof on the deck, it makes sense to make that accessible from the entry door. So if you're going out there and it's bad weather, you don't have to cross 10 or 15 feet of open deck to reach coverage. That is most commonly  one of the biggest things that plays into it, the entrance into and out of the home.
 "As far as kitchens go, they can be versatile, but it's a good idea to have them located next to the inside kitchen. You're most likely going to have some inside prep as well and that way you're not hiking across the property and realizing you forgot the ketchup or something."
No matter what selections the homeowner makes, when the project is completed it can make a drastic impact on the yard. And the right professional can help the project run as smoothly as possible.
 "Everyone wants a deck, but they don't know how to get what they want with the deck," Lecorchick says. "Unless they show us a picture, we have to help them get there. Through templates and asking the right questions, we can help make it a very enjoyable experience, from the design until the finished product."
 "It amazes me every time," Stoltzfus adds. "When I go back and see the finished product, it makes a world of difference.
RESOURCES
Archadeck of Chester County
West Chester, Pa. | (610) 696-3340
Chester-County.Archadeck.com
Archadeck of Delaware
Newark, Del. | (302) 455-2426
Delaware.Archadeck.com
Deck Craft Plus
Honey Brook, Pa. | (610) 273-3317
DeckCraftPlus.com
Deck Remodelers
Serving North and Central N.J.
(973) 729-2125
DeckRemodelers.com
Get Decked
Downingtown, Pa. | (610) 948-1625
GetDeckedInc.com
Keystone Custom Decks
New Holland, Pa. | (717) 355-0592
KeystoneCustomDecks.com
Legends Home Improvements
East Brunswick, N.J. | (732) 955-6321
LegendsBuilt.com
Photographs courtesy of Keystone Custom Decks
Published (and copyrighted) in House & Home, Volume 18, Issue 9 (March 2018). 
For more info on House & Home magazine, click here. 
To subscribe to House & Home magazine, click here. 
To advertise in House & Home magazine, call 610-272-3120.