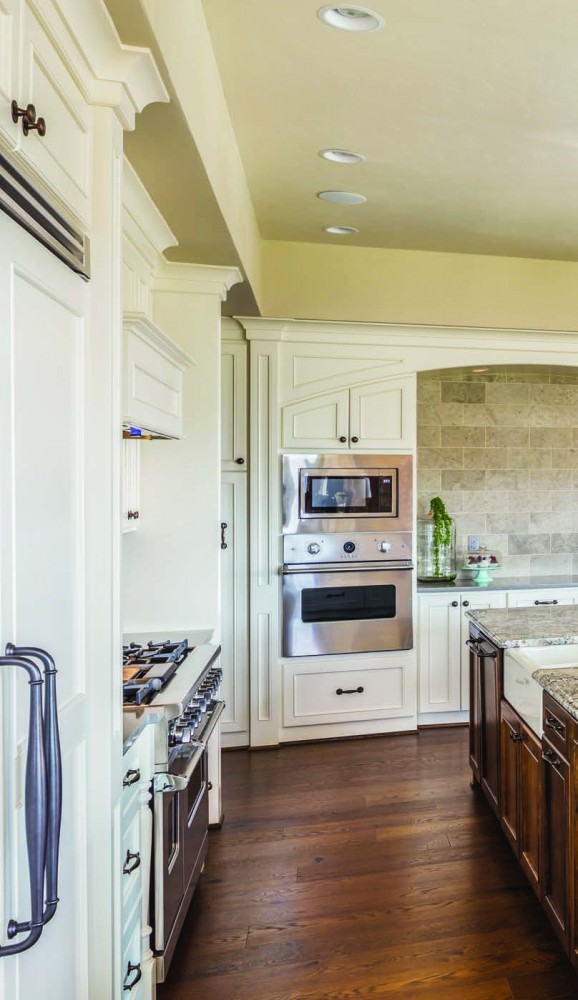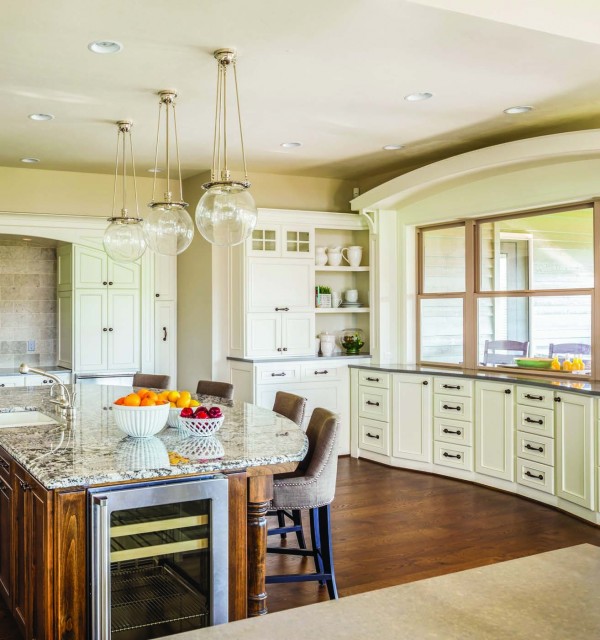 With the kitchen being the heart of the home, a kitchen renovation is important. That may be why homeowners are looking for something beyond the ordinary and the average. They want a truly high-end kitchen with unique elements that make  it one-of-a-kind. With so much information  being focused on the most popular choices, they might be finding it challenging to "dream big" and come up with ideas that are unique. That's why we asked several of the area's top kitchen designers  to share some of their greatest kitchen renovation ideas with us— for the homeowner who truly wants to "wow."
David Cerami, certified kitchen and bath designer and president of HomeTech Renovations, says that while "anyone can have a typical kitchen" he often has clients who are looking for something truly unique—and truly their own. "Creativity is generally limited by budget, and that's an important point to  make as you start dreaming about those big ideas," he says. "There's nothing wrong with budget—everyone has one. But for the sake  of dreaming big, let's take the handcuffs off budget for the purposes of this article and think about those grand ideas that you might not have realized are even an option."  
Dazzling Countertops
Countertops are a great place to start dreaming of your new kitchen. While granite has been the countertop material of choice for many years,  it's not your only option. There are many ways to get creative and to choose high-end materials that will make your countertops truly unique. These may range from exotic hardwoods to exotic natural stones.
"There are a significant number of countertop options available to choose from but several that stand out and will escalate your renovation  from common to luxurious,"  adds Mike Werner, sales manager for AAA Hellenic Marble. "Some materials that raise the bar to breathtaking include exotic natural  stone quartzites such as Taj Mahal and Macaubus. Along with quartzite, elite marbles include Calacatta, Dolce Vita and Danby, which have been known to impress the masses."
Werner says that choosing a natural stone material has been proven time and time again to create distinguished and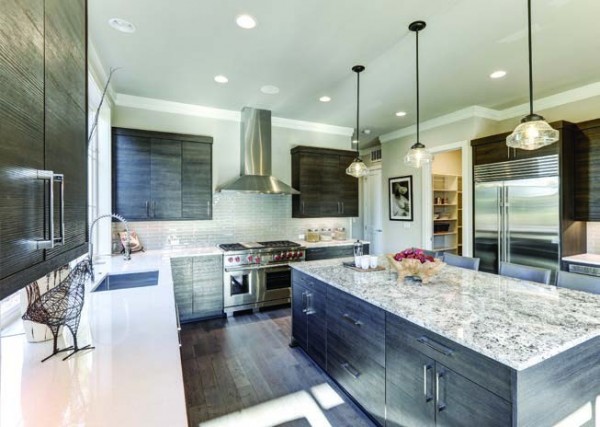 elegant appeal.
 "The beauty of natural stone has the ability to enhance any project due to the qualities of variation and depth that are not prevalent in alternative countertop options," he says. "These materials do  require a bit more care to ensure that your investment is properly protected but the result will be truly luxurious."  
Of course, you can think outside of the box and choose a material  that isn't stone, says Andy Madsen, president of Madsen Kitchen & Bath.
 "Another unique option is a stainless-steel countertop," says Madsen. "If you're going for a very modern and industrial look, that could make a unique addition."  
Exotic woods can also be used for countertops and can look truly stunning. But John Bowling, kitchen and bath designer for Ace Plumbing, Heating, & Electrical Supplies, adds a word of caution that they can easily be scratched.
 "Wood looks absolutely gorgeous—until you use it and add a bunch  of scratches," he warns. "If you're someone who does a lot of cooking and aren't just using your countertops as showpieces, you have to still be practical. Natural stone won't be nearly as high maintenance." 
Custom Cabinetry
Choosing custom cabinetry with a unique material is the best way to upgrade to a higher-end choice that will truly make your kitchen spectacular.  
 "If you want to add a touch of elegance and warmth to the interiors of your cabinetry, then walnut  wood could be a beautiful upgrade," says Natalie Moyer, sales and design associate with Dilworth's Custom Design. "On the cabinetry exteriors, exotic woods like curly maple or eucalyptus are available options." 
Cerami adds that exotic hardwoods  or even metal cabinetry could be incredibly unique.
"Homeowners might also consider  hand-built hardware which can look incredibly beautiful," Cerami  says. "But it really comes down to personal preferences. Metal cabinetry might look really contemporary and stunning in a modern kitchen but could feel odd or out-of-place in the wrong setting. This is where it's so important to work with a designer who can really home in on your preferences. We can do some incredibly unique things—like finding industrial hardware from an old factory or using reclaimed wood. Sometimes mixing antiques  and reclaimed elements with modern ones can be incredibly interesting—but to the right person. Not everyone is going to like that look."  
Steve Matteo, co-owner and sales manager of Matteo Family Kitchens and Flooring, says cabinets with a high-gloss finish are something he has been doing in a lot of high-end  kitchens. "These looks get away from the standard and add visual intrigue," he says.
Moyer also suggests "a hidden baking station" as a unique option for the homeowner who loves to bake but doesn't need their supplies on display all of the time. "Custom cabinetry can allow you to create a space that has ample counter room and all the ingredients behind hidden doors with mixer already plugged in ready to go," she says.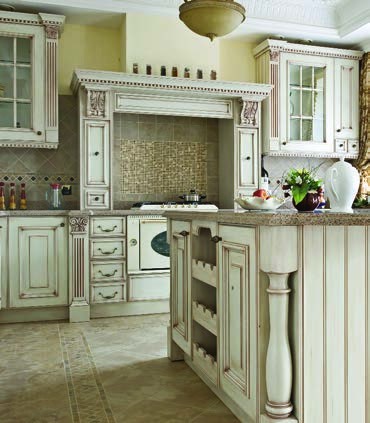 Additional Touches
In addition to kitchen countertops and cabinetry, you might also consider other add-ons that will make your kitchen more usable and customized for you.
 "Some homeowners like the idea of adding extra seating in the kitchen—even seats that can pull out from a deep drawer," Madsen says. "Mom or Dad can be cooking while the child sits right there and reads to them or just hangs out. The idea is to add custom touches that make the kitchen what you want it to be."  
Madsen says that in the spirit of making a kitchen more functional,  there's no question that they're doing "bigger sinks" than ever before. The small sinks of yesteryear simply aren't practical for washing those big pots and appliances.
Lighting is another important addition that you can't forget to add, says Cerami. He says if the lighting is not excellent, the rest of the kitchen is going to look subpar.
Moyer agrees.
 "Toe space lighting and above cabinet lighting are ways to brighten a space while making it unique," she suggests. "Lighting fixtures are another place to let your imagination soar. There are many options including custom fixtures to make your space one-of-a-kind." 
 "Lighting can feel like those extra touches that take the kitchen to a whole new level," adds Bowling. "We're also doing a lot of undercabinet lighting."  
In terms of being highly functional and also practical, Bowling adds that "pop-up receptacles" are a great alternative to having your trash can sitting out in the open.  "
You push a button and the receptacle pops up—allowing you to avoid taking up valuable floor or wall space or to have an unnecessary eyesore," he explains. "It's a convenience thing— but  the modern and high-end kitchen is all about convenience."  
There's one way to add something no one else will have, says Matteo.  "We can take your favorite  family photo, from a vacation  or a portrait, that you want to save and we can apply that to tile and place it in your home in the backsplash or another area," he says. "It's really unique."
Choosing a "Smart" Kitchen  
Another way to take your kitchen from ordinary to extraordinary is by incorporating technology. Moyer says that there are many options to make your kitchen "tech savvy."
 "Smart homes use Alexa to keep the lights on a mood setting or for listening to your favorite music," says Matteo, "and we are seeing smart appliances being used to create a grocery list or preheat an oven remotely."
Moyer says Wolf, Sub Zero and Miele are among some of the leaders when it comes to smart appliances. "You no longer need to go to culinary school to whip up a gourmet masterpiece. Some appliance brands even offer in-home demonstrations for your newly installed appliances or facilities to visit to test the models before  purchasing. Two ovens, steam drawers, microwave drawers, ice makers and beverage or wine refrigerators are among the appliances to be considered when designing your dream kitchen."  
Finding a Guide for your Dreams
When dreaming big, Cerami says to keep in mind that it can be helpful to work with a designer. "If you're looking for more ideas—ways that you can really make your kitchen customized for you—then you should consider a design firm," he says. "Ideas are basically a key reason why people hire a design firm for their kitchen. Ideas are fostered through creative minds and through working closely with the homeowners' wants and needs. It's my job to provide homeowners with ideas that they may never have thought of—but also to work with their ideas.  By working together, we can create a kitchen that is truly unique."  
RESOURCES
AAA Hellenic Marble
West Chester, Pa.
(610) 344-7700
AAAMarble.com 
Ace Kitchen & Bath
Vineland, Somers Point, Wildwood and Williamstown, N.J.
(856) 692-9374
TeamAce.com 
Dilworth's Custom Design
Phoenixville, Pa.
(610) 917-9119
DilworthsCustomDesign.com 
HomeTech Renovations
Fort Washington, Pa.
(215) 646-7477
HTRenovations.com
Madsen Kitchen & Bath
Broomall, Pa.
(610) 356-4800
MadsenInc.com
Matteo Family Kitchens and Flooring, Inc.
Woodstown, N.J.
(856) 769-2490
MatteoKitchens.com 
Published (and copyrighted) in House & Home, Volume 19, Issue 6 (December 2018). 
For more info on House & Home magazine, click here. 
To subscribe to House & Home magazine, click here. 
To advertise in House & Home magazine, call 610-272-3120.