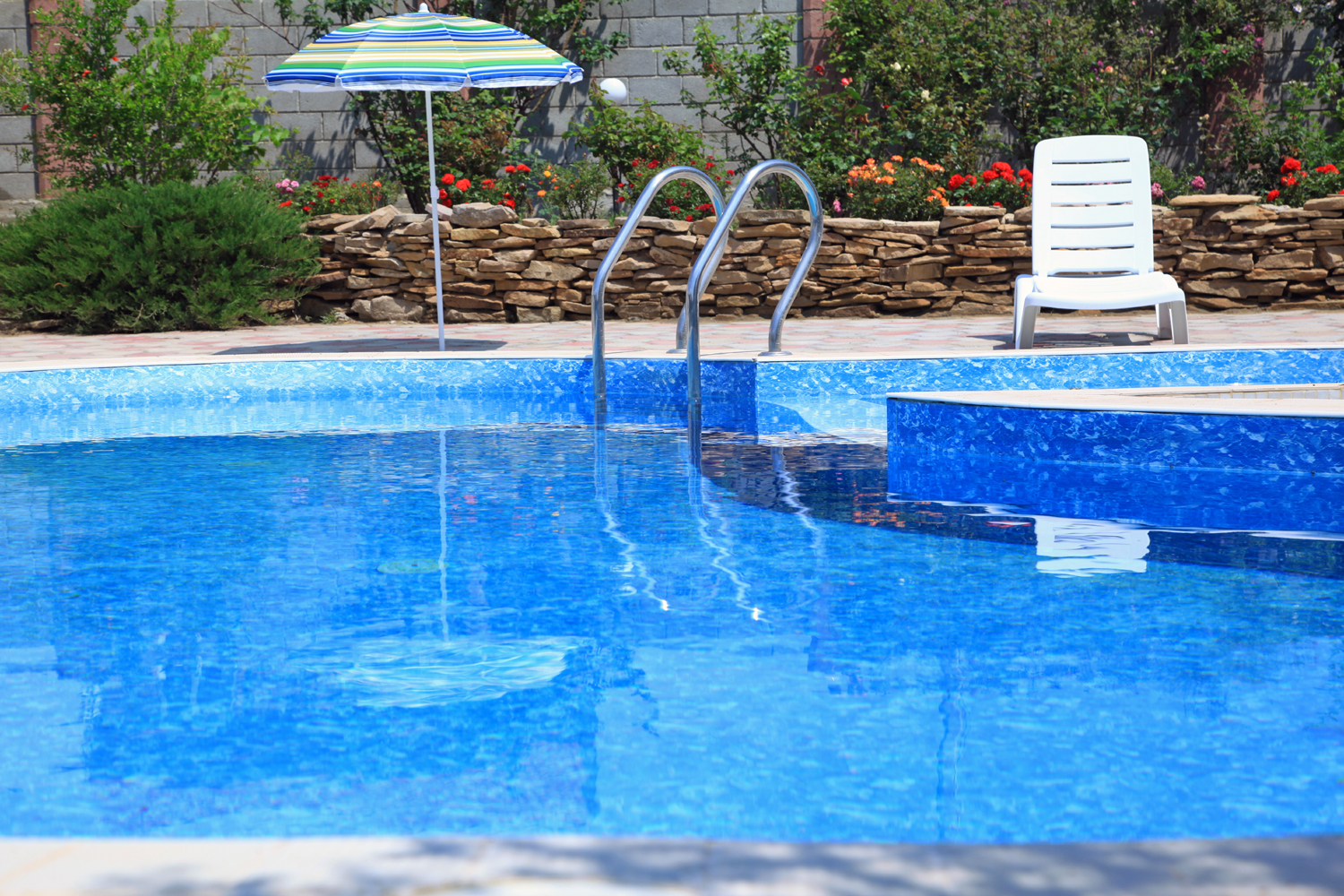 It's almost pool time, but before you go for a dip, there's work to be done. From cleaning to balancing the water chemicals, one missed step could delay that first swim. We asked local experts what homeowners need to make the process perfect.
Important first steps
Opening your pool correctly requires a professional, says Dominic DiCesare of Blue Haven Pools, Northeast. "[They] know the best way to pump off all water from the cover, wash it to remove muck and debris, and can inspect the cover for holes, tears, rips and damage from freezing," he says. "Homeowners, be smart when choosing the company to do the work," says Walter Beyer, president/owner of Stardust Pools & Spas. You want certified pool operators, such as members of the National Pool and Spa Institute. "Some guys just peel the cover back and fill it with water. Don't let them just throw chlorine in and leave. Make sure it's a legitimate company. Call the Better Business Bureau to see how long they've been in business," he says.
A professional ensures nothing is missed—little things like removing the winterizing plugs; re-assembling the pool equipment; re-installing accessories (diving boards, handrails, ladders); and priming and starting the pump, checking for leaks and proper function, says Sean Meyers, co-owner of DS Pool Service.
Mike Stachel Jr. of Mt. Lake Pool & Patio says, "Prime the pump to remove all air in the system. Then [properly] super chlorinate the pool. Backwash the pool filter as needed, and in two/three days, test the water balance and adjust as necessary."
Set the first vacuuming to "waste" so as not to send debris into your nice clean filter, says Ryan Clay, service manager and service technician of Sahara Pools. "It'll waste some water but will make cleaning the rest of the pool a lot easier," he says.
"Look for leaks, damage and bearing noises," says Bryan Hull, partner/owner of Del Val Pools & Spas. "For vinyl pools, make sure the lining is in its track. For concrete pools, look for calcification or plaster." He adds that saltwater pools open the same way as non-salt, with cleaning and equipment testing.
Jennifer Holinsky, service manager for Anthony & Sylvan Pools, says they use a 33-point opening checklist, which includes setting timers to run the system for 48 hours straight before making them live for 8 to 12 hours a day.
Swim-Mor's two-trip opening process adds items, says Craig Sharkey, retail manager. In addition to cover cleaning and removal, plug removal, shock treatment, adding a clarifier for finer debris and installing the automatic cleaner if one is used, "The second trip is to clean off the coping/tile, then manually vacuum the pool. The skimmer, cleaner bag, pump hair and lint basket and filter are cleaned out of collected debris," he says.
Some of these tasks are things a typical homeowner is not interested in spending their valuable weekends off doing.
What not to miss
During opening, make sure all equipment is checked for optimum function and that replacement isn't needed, says Sharkey. "Popular additions that go a long way are heat pumps—an extremely efficient way to derive heat from the existing atmosphere; specialty sanitizing systems like a combination UV and ozone sanitizer; and clear or LED lights that create the perfect atmosphere for almost any occasion."
Meyers says, while inspecting for pool damage, also look for rodent damage to the heater or filter. "Rodents can cause significant heater damage that can result in unsafe conditions," he says.
Some issues might just sound like they aren't right. "Make sure the motor sounds normal, bearings are not starting to fail, there are no leaks at the filter system and the pressure in the filter tank is in the appropriate range," says Clay. "Equipment always seems to fail at the worst possible time, so ask: Is the filter pump screaming? Is the filter gushing water out of your waste line? Are you out of propane?"
Look at your safety cover, says Holinsky. "A cover could have holes or rips because of heavy water, snow, tree limbs falling, etc." Additionally, check the water balance. "The pool water has sat all winter, it's not circulating and that has allowed conditions such as scale or calcium issues." A balanced pool also helps protect the integrity of the surface of the swimming pool, she says.
"For concrete pools, inspect the expansion joint between the coping and concrete decking. Look for tiles flinging off," says Hull. Also check metal and stainless steel equipment, he says. "Bad water can break down metal. The ideal pH range is 7.2-7.6. That's not too acidic and not too alkaline. Everything has a balance."
With so much to know, Beyer's company is even taking pool education a step further—offering classes for new pool owners.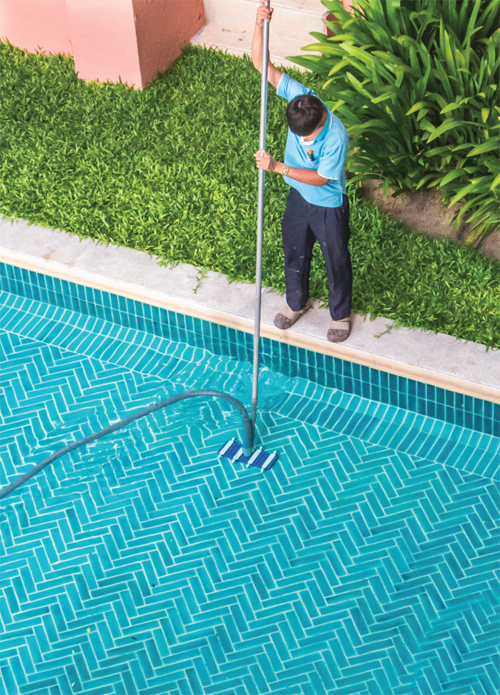 Keeping it clean
If you must clean your pool yourself, Sharkey suggests the Polaris 280, which "prowls the bottom and sides of the pool using Venturi suction to pull debris and small toys … and circulate the water." This is preferable to the old method of attaching a bulky hose with a 16-foot-long pole to a heavy vacuum head to collect the debris in the pump basket, which then had to be cleaned out. A clean free-flowing filter pulls out very fine microparticles that can cloud water, he adds.
Large debris can be removed prior to vacuuming to prevent the vacuum from clogging. An independent vacuum system reduces strain on the pool equipment, says Meyers. Brush all walls and floors toward main drains, skim the pool surface for debris, empty skimmer baskets and pool cleaner bags, refill chlorinators, backwash the filter if necessary, test pool water, and vacuum waste if needed, says Stachel.
Professionals recommend pools be vacuumed once or twice weekly or [use an] autovac every other day, says Hull. The most common area they see homeowners doing damage to their own pool is in water balancing.
"Water chemistry is crucial," says DiCesare. "Be street smart. Understand what you're doing and your pool. Talk to a professional," he says.
"Years ago nobody checked water," says Beyer. Now professionals find calcium hardness, phosphates and iron in the water. "The water wasn't safe. It was only clear due to the acidity," he says.
Taking short cuts can also cause more problems, says Meyers. "Putting chlorine tablets in skimmers is very damaging to plumbing and equipment," so if you want to use chlorine tablets, he recommends a separate chlorinator to add it to the water.
One misstep in water balance can ruin the swimming experience. "[The] pH alkalinity is super important since it can lead to earaches, red eye and swimmer's ear. Many companies offer free weekly digital water testing," says Hull.
Also, he warns people to stop using bleach and baking soda. "It's not proper balancing. It's not healthy water," he says.
New technology
There have been amazing advances in pool maintenance. Sharkey points to the Renaissance UV/Ozonator System, which reduces sanitizer and keeps water sparkling. "We also use mineral purification systems that enhance very low levels of chlorine to properly sanitize but also remain comfortable for even the most sensitive of skins," he says.
Meyers says chlorine generators ("salt systems") cut down on daily/weekly pool maintenance. "There are also systems that can monitor pH as well as chlorine and dose the pool accordingly, such as the Pentair Intellichem," he says.
Technology has allowed testing strips to become more accurate, says Clay. "They used to be more of a guessing game with chemical levels, but now the colors are easier to read and the results are more accurate."
The residential pool business is light years away from what it was a decade ago, moving toward the smart automation like other areas of the home.
"Customers can run their entire pool—heater, lights, spa, cleaner, etc.—with their phone or tablet," says Holinksy. "Customers can purchase pool cleaners that [work] by a remote control."
It's a whole new pooling paradigm.
RESOURCES
Anthony & Sylvan Pools
Locations in Pa., N.J. and Del.
(877) 729-7946
AnthonySylvan.com
Blue Haven Pools, Northeast Inc.
Exton, Pa.
(610) 363-8007
BlueHavenPoolsNe.com
Del Val Pools & Spas
Elmer, Mantua & Turnersville, N.J.
(856) 629-2999
DelValPoolsAndSpas.com
DS Pool Service, Inc.
Royersford, Pa.
(610) 948-2000
DSPoolService.com
Mt. Lake Pool & Patio
Doylestown, Pa.
(215) 309-8664
MtLakePool.com
Sahara Pools
Lebanon, N.J.
(908) 236-POOL (7665)
SaharaPools.com
Stardust Pools & Spas
East Brunswick, N.J.
(732) 254-3330
Stardust-Pools.com
Swim-Mor Pools
Mount Ephraim, N.J.
(856) 270-6571
SwimMor.com
Published (and copyrighted) in House & Home, Volume 17, Issue 9 (April, 2017).
For more info on House & Home magazine, click here.
To subscribe to House & Home magazine, click here.
To advertise in House & Home magazine, call 610-272-3120.