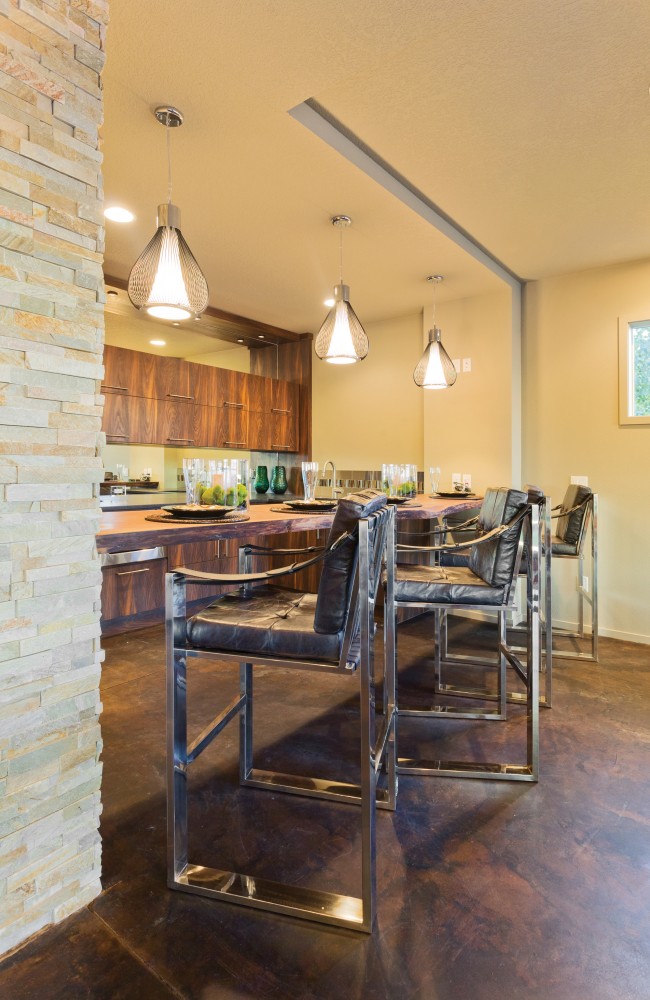 Finishing a basement is one of those projects that can have a great return on investment. But a finished basement also adds a lot of personal value by both increasing your space and making your home more comfortable. It's almost always cheaper than building an addition and can provide you with quality living space.
"Finishing a basement is very popular today because it is the cheapest way to add a lot of square footage of living space to your home," says Pete Westera, owner of Basement Systems USA. "That is why you can get a better return on investment by finishing your basement as opposed to an addition or even another home improvement project. However, the basement must be odorless, waterproofed and have no mold. If any of those things exist, it will
actually devalue your house."
Waterproofing
Since mold and water damage can actually decrease your home's value, it's critical that your basement is dry before having any remodeling work done. Water damage can quickly become incredibly costly, warns Herb Fry, owner of Main Line Waterproofing. In fact, if a basement needs to be repaired due to flooding it can easily be three times the cost of what it would have been to just invest in waterproofing, Fry says.
"It's one of those things where it's better to be safe than sorry," he continues. "Even if you've never had a water problem, it doesn't mean that you won't in the future. If you're going to invest in having a basement refinished, you should also invest in having it waterproofed."
Waterproofing is simply a level of protection for your property. "Home ownership, for practically everyone, is the most expensive purchase we make, and if we are considering improvements—like finishing a basement—we should make sure that the basement is dry," says Mike Daly, owner and lead waterproofing specialist with BAM Waterproofing. "If the basement is not dry, it is likely that it has never been properly waterproofed."
Dann Connelly, owner of ValueDry, says that all foundations eventually leak. A basement that is dry now does not mean it will be dry forever.
"Because concrete draws moisture in, you need to have a vapor barrier before you put in walls," Connelly says. "The biggest risk we see is not capturing moisture properly so that it becomes trapped behind drywall or drop ceilings, which then leads to mold."
Mike Brindisi, president of Brindisi Builders, agrees that even the slightest water problem can set a catastrophe in motion.

"Moisture is drawn to building materials and drywall absorbs it very quickly," Brindisi says. "Water can really wreak havoc on a finished basement."
Fortunately, alternates to drywall do exist. Tom Meier, owner of Basement Living Systems, recommends forgoing drywall entirely since it is the perfect environment for mold growth. Basement Living Systems installs a Dual Density Acousti-Soft Wall System that is mold, mildew and moisture resistant. The fabric-covered acoustic walls are durable and easy to clean.

"Basements tend to get a musty smell which nobody likes," Meier says. "But we install a wall system that is breathable and therefore won't trap moisture."
Generating ideas
For a long time homeowners were breaking up their basements into designated spaces—media rooms, kitchens or gyms, for instance. Westera says that family rooms, gyms, extra bedrooms, bars, in-law suites and home theaters are still popular finished spaces. But many homeowners just want one, large multi-purpose space.
"No matter what you choose, your home will be transformed with a finished space," Westera adds.
Regardless of the basement style you prefer, Brindisi suggests coming up with some ideas prior to meeting with the contractor.
"Analyze what your need is for the basement and try to separate that from your 'wants,'" Brindisi says. "That's particularly important to do if you're on a budget. Put more thought into what you really need out of the space, that way you can create a space that is affordable but still meets those needs."
In addition to your needs, you will also run into some requirements when it comes to finishing a basement. Connelly advises looking into regulations for your municipality about egress requirements. He says that most states require two means of egress when making a basement living space. Egress windows have come a long way and can be much more than just a way out of the basement. They can actually be quite beautiful and bring other benefits.
"Now that the International Residential Code requires larger windows for easier escape in emergencies, we have come to realize that larger windows can have a huge effect on enhancing basements," says Samuel B. King, owner of Vinyl Window Wells, LLC. "Allowing in more natural light and ventilation are two key benefits. They can also be created to grow small plants and herbs and have a very aesthetically pleasing design."
King adds that by installing an egress system in your basement, you can also list it as a living space, which increases the value of the home at the time of resale.
A final consideration
As you do begin the process of finishing a basement, Meier stresses the importance of finding a qualified contractor to do the job. A basement can be a large and costly investment so finding the right person for the job is critical.
"My suggestion is to ask contractors how many basements they've done, what their Better Business Bureau rating is, and whether they can provide you with referrals," he says. "You want to do more than a Google search for a good company. Do a little investigating and make sure you have someone fit for the job."
RESOURCES
BAM Waterproofing, LLC
Doylestown, Pa.
(215) 716-3727
BAMWaterproofing.com
Basement Living Systems
Cherry Hill, N.J.
(800) 979-0916
WowBasements.com
Basement Systems USA
(800) 768-6745
BasementSystemsUSA.com
Brindisi Builders
Marlton, N.J.
(877) 284-5353
BrindisiBuilders.com
Main Line Waterproofing
Ardmore, Pa.
(610) 642-4444
MainLineWaterproofing.com
ValueDry
Servicing the Delaware Valley
(866) 328-2583
ValueDry.com
Vinyl Window Wells, LLC
Gordonville, Pa.
(877) 295-3947
LightWell.us