Bringing your Backsplash to Life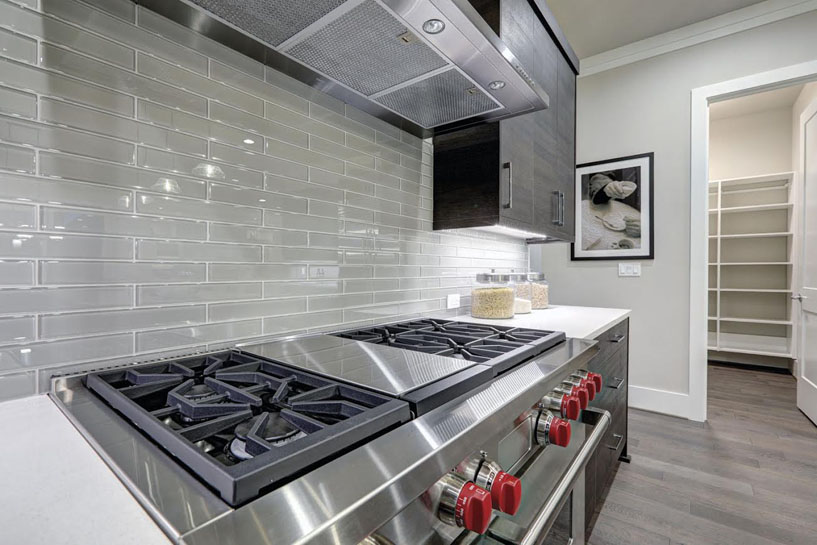 A BACKSPLASH is one way to bring visual interest into your kitchen. Maybe it's the final piece of a kitchen remodel, or your current backsplash is dated and dingy. House & Home spoke with some local experts to get some insight into what this project involves and what options are available to today's homeowners.
To start, don't underestimate the impact that a well-designed backsplash can have on the overall space. "It may look like the small part of the kitchen remodeling, but tile backsplash can change the whole look of the kitchen," explains Tuba Menekse, sales associate for Keystone Granite & Tile.
And while remodeling an entire kitchen is a lengthy process, a revamped backsplash can be completed in a relatively short amount of time once the layout has been finalized. "The length of time to start and finish is two days as the first day is the preparation, layout and tile installation, leaving the second day to pull the outlets forward flush with the tile, grout and caulk," says Steve Matteo, owner of Matteo Family Kitchens & Flooring. "Some simpler tile backsplashes can be completed in a single day with the appropriate mortars to set the tile."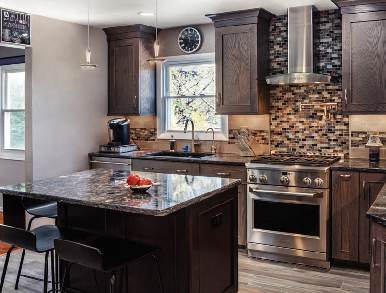 CHOOSING THE DESIGN
Where many homeowners get stymied, though, is in the design phase. With so many decisions to be made, the backsplash can get lost in the shuffle.
Colonial Marble CEO James Freeman warns, don't let this be an afterthought. "[Homeowners] think about their cabinets, countertops, flooring. … And the backsplash becomes the last thing that crosses their mind, which could be a challenge because if they have budget constraints, they end up making sacrifices in that part of the process as opposed to being able to make the decisions exactly the way they want."
So, starting with a clear vision from the get-go can help to prevent design fatigue. "Get inspiration. … Go online and find a style that you like and work with that. It's important to find some items and some pictures that you love and work around those times to make a dream space," says Alyssa Griet, designer for Luxury Bath and Kitchens.
The important thing to remember here is that there is no wrong way to design this element. Dolores Sonia, vice president of kitchen and baths for Bellari Design says, "The priority and how the decision is made is very personal to each customer. Some customers are very style-minded, some are very function driven and some just want the best enhancement for the overall feeling of the space and really go for it."
However, you do want the kitchen to have a cohesive look and feel. Nicole Cummings, designer for HomeTech Renovations says, "It really depends on what else is going on in the space, how to design it really depends on the countertop material. Is it really busy? Is it softer stone where there is not a lot of movement? That's something that needs to be thought about before the backsplash."
"You certainly don't want to do something that's too busy because it's very rare that the backsplash is the focal point compared to a beautiful countertop," says Mike Werner, sales associate with AAA Hellenic Marble. "You don't want to do something so busy that you can't distinguish between the two areas or have a fight in the colors."
Griet agrees, "The countertops are a crucial part of the design process and depending on their style and preference it can work really well with the space or be an amazing focal point." If there's any chance of changing your countertop choice, hold off on the backsplash until it's definite.
"Tile should be picked out after the countertop selection is made, suggests Dianna Burkindine, sales associate for Keystone Granite. "What we recommend to our customers is to keep their tile selection plain if they have a colorful, busy pattern as a countertop to balance out the look."
MATERIALS MATTER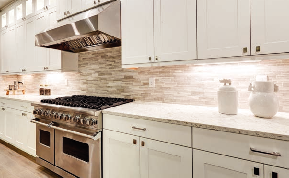 While our experts urge caution, that's not to say you can't think outside the box. Today's homeowners have almost limitless options in terms of materials. "We use a good amount of natural stones for backsplashes— travertine, Mexican stone, real marble and slate," says Matteo, though he adds their caveats. "These natural stones are porous materials and need to be sealed prior to grouting and the homeowner will need to apply sealer at various times of the year to keep up the new appearance."
Lucie Kzelian, vice president at Imperial Marble & Granite, says a lot of people are going with the glass varieties. "We still do travertine, natural stone or tumbled marble tiles, but we've been seeing a lot of glass tiles, either glass mixed with colors like in mosaics or 3- by-6 or 3-by-12 pattern with one color in a brick lay," she notes. "We can do the whole back of the stove wall with glass framed with pencil to make it look like a painting."
Freeman says mixing materials continues to be on trend. "We're still seeing a lot of glass mosaics and accent strips. We also sell a lot of copper and metallic pieces. It's really relative to the customer. We do see a lot of natural stone [as well as] accent strips being placed in the middle and inserted throughout."
However, big pieces can make a big impact. "We're doing a lot of slabs behind the range," Cummings says. "You're able to have an accent without making it feel like you are trying to cram something in. It really draws attention to that space." Slabs can come in the form of granite, marble, metals, even wood.
Don't count ceramic tiles out just yet, though. Werner says ceramic and porcelain are still pretty popular. "Porcelain is nice because there is zero care and maintenance because it's not porous like natural stone. So, you can get the natural stone look with zero care and maintenance," he says.
Sonia says there are many advances in texture and size that allow for new and different patterns. "There's a lot of laser cut work with water jet cutting of tiles so then you can mix components like a marble with wood. It's cut with a laser jet and inserted," she explains.
Be conscious of existing challenges in your home when making these selections as well. Subway tile is still extremely popular, but can pose some challenges, especially in an older home. "If the wall isn't flat and you're doing a larger format tile, it's harder to make that surface look completely flush. The grout lines even everything out, so usually on a backsplash you want a tighter grout joint and it makes things a little bit difficult to do," says Cummings. "Usually, with a smaller tile you have a little more forgiveness there."
In the end, many choices will be dictated by budget. "We can create the Taj Mahal, but if it's not affordable, it's a waste of time. We have to make sure that the concept, design, flow and materials are fitting with the budget. There's no way to know that until they start going down the road," says Sonia. "That all goes back to having a professional. We know where we can get the most bang for the investment buck."
RESOURCES

AAA Hellenic Marble
West Chester, Pa. | (610) 344-7700 
AAAMarble.com 
Bellari Design, A Division of Somerville Aluminum
Branchburg, N.J. | (908) 895-4646
BellariDesign.com
Colonial Marble & Granite
King of Prussia, Pa. | (610) 994-2222
Philadelphia | (215) 732-7800
Wilmington, Del. | (302) 947-3000
ColonialMarble.net
HomeTech Renovations
Fort Washington, Pa.
(215) 646-7477
HomeTechRenovations.com
Imperial Marble & Granite
Essington, Pa. | (610) 521-0130
IMGStone.net
Luxury Bath & Kitchens
Horsham, Pa. | (215) 675-5000
LuxuryBathAndKitchens.com
Keystone Granite & Tile
Huntingdon Valley, Pa.
(215) 392-6052
Lancaster, Pa. | (717) 394-4972
New Castle, Del. | 302) 544-9420
Keystone-Granite.com
Matteo Family Kitchens & Flooring, Inc.
Woodstown, N.J.
(856) 769-2490
MatteoKitchens.com
Published (and copyrighted) in House & Home, Volume 17, Issue 12 (June, 2017).
For more info on House & Home magazine, click here.
To subscribe to House & Home magazine, click here.
To advertise in House & Home magazine, call 610-272-3120.