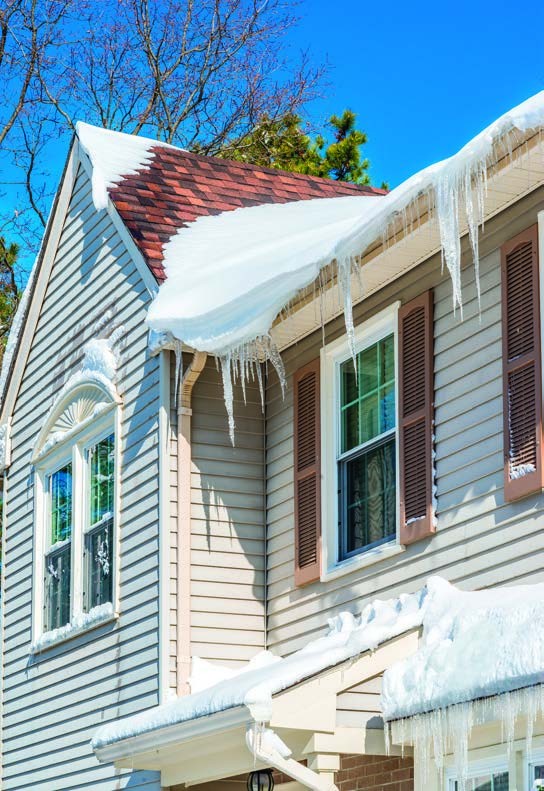 IN THE MONTHS TO COME, weather will become unpredictable,temperatures will plummet and your home  will need some serious protection. Do you know what  parts of your house should be checked, repaired and winterized?  Here's  a  hint  …  most  of  it. 
 "Your home's exterior is an essential part in protecting  your home from harsh winter weather," explains Adam  Parnes, marketing manager for Global Home Improvement.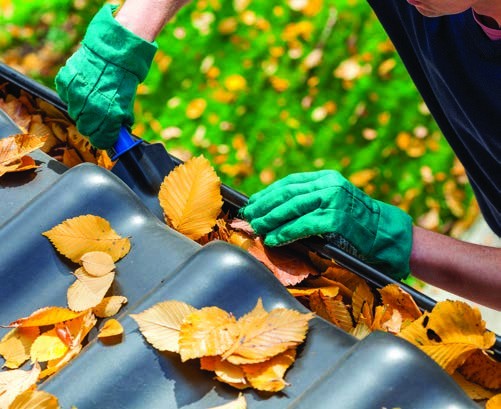 "This includes roofing, siding, windows and gutters."  If you don't pay attention now, the results could be  catastrophic, says Carl Rost, general manager of Bachman's  Roofing, Building and Remodeling. "[You're looking at]  high energy bills, condensation issues, ice damming issues,  and storm damage," he says. "[All of this] is possible." 
WILL IT SURVIVE ANOTHER SEASON? 
Professionals should inspect key areas carefully. "Check your insulation in your attic, check your ventilation on your roof system and make sure all windows and doors are sealed," Rost says.
Matt Esh, CEO and general manager of E&E Siding, says it's a good idea to get a roof inspection before winter. "Make sure your roof is prepared for snow.  Check for missing or loose tiles, nails popped up, that all your shingles are in place. But also make sure your attic is well insulated. If it isn't, it can be way too hot in the summer and too cold in the winter. There are products for the roof called reflective insulation. It acts like an underlayment,  reflecting the heat back inside the house."
As for roofing, the most important  thing is to make sure your gutters are free from debris since clogged gutters can freeze and lead to ice damming along the roof line. "As always, it's also better to replace an old roof before you have leaks. Waiting an additional six months to a year to replace your roof won't save you much money as compared to the cost of a potential leak," says Parnes. 
Esh agrees, saying damage from clogged or backed-up gutters  can be huge. "They hold onto ice and snow. Then a warm roof melts the lower level of the ice, the water gets under shingles or siding through soffits and ridge vents, and then it refreezes, creating damage you don't even know is there. Gutters must be free and flowing," he says.
 "When preparing for the winter months, it is always important  to repair any siding damage that may have occurred during hurricane season," says James Russo, owner of Lawrenceville Home Improvement. "Siding should be secured, covering its designated location entirely  without any exposed portion. Furthermore, the house wrap or insulation accompanying the siding needs to be secured and covered as well."
Kristin Gardner, general manager for Renewal by Andersen of Greater  Philadelphia, says, "Visually inspect each window and door on both the  inside and outside. Look for gaps or cracks around the frame of the windows as well as at the bottom and top tracks of the patio door. Feel for drafts and examine the condition of the weather stripping." 
 "If your windows are made of wood, vinyl, or a wood/vinyl composite, the changing temperatures  of the seasons may have expanded and contracted the window, compromising the fit. The result may be draftiness or leakage," says Russo. If you detect drafts, your window fit may be compromised. "Some simple caulking may fix the problem. But, depending on the severity of the air leakage, it may be time  to replace your windows. An honest contractor can help you make this determination. Consider fiberglass windows to avoid this problem in the future," he says.
If you think it might be time to replace your windows or patio doors, get a diagnosis from an expert, says Gardner. "It's like a free window checkup. [The company  will] assess your current windows and patio doors, show you where you may be losing energy,"  and explain the cost, she says. Renewal by Andersen offers a free Thermal Draft Detector Test, where they go into every room of your home with infrared thermometers to identify areas of energy loss. "Replacing just a few of your worst windows can have a major impact on your home's energy efficiency and comfort level—helping to maintain one temperature throughout your home," she says, adding that her company offers  "SmartSun" glass, which is 49 percent more energy efficient in winter than dual-pane glass.
The older the product, the less likely a quick-fix will work. "We recommend changing out any windows  or doors from the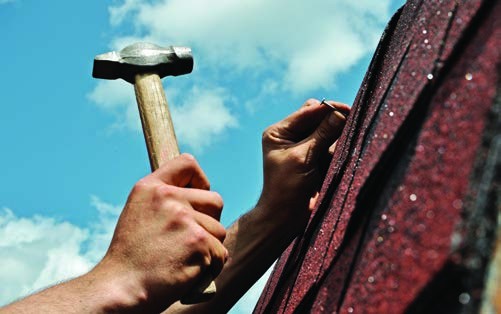 builder as they are of the lowest quality and will not insulate the home properly," begins John Lomonaco, president of Lomonaco's Iron Concepts & Home Décor. "Any window  or door that is 10 or more years old should be replaced with energy-efficient windows and doors. All the entry doors, garage doors and windows [you buy should be fully insulated for maximum  energy efficiency]. By replacing  all your drafty windows and doors, you will help your heating and air conditioning bills every month," he says.
THE COST OF NEGLECT
If you neglect to do this needed work, winter is when you'll feel the pain the most, says Gardner. "Chances are you'll have rooms in your home that just won't retain the heat no matter how high you turn up your thermostat. Some people have entire rooms in their home that they can't use because they're just too cold in winter. Windows that have lost their energy efficiency will contribute  to high monthly heating costs," she says.
Sometimes it's the things you can't see that are the most worrisome,  says Russo. "If older or damaged siding allows for moisture to penetrate the structure of the  home, you can end up with mold or rotting wood. The same is true for older windows that have had compromised fits. The worst-case scenario is that your window will rot out and literally fall out of your house (we have seen this happen)," he says.
 "Costly water damage is always  a problem," says Parnes. "Most of the leaks and storm damage actually don't occur during  the heavy snow but rather afterwards when all that snow starts to melt. It creates a snow  river on your roof and along your gutters. And unfortunately, clearing snow off your roof can be dangerous so it is always  recommended to keep your roofing, siding and gutters up to date."
RESOURCES
Bachman's Roofing, Building & Remodeling
Wernersville, Pa.
(610) 678-8004
BachmansRoofing.com
E&E Siding, LLC
Gap, Pa.
(717) 442-4814
EESidingLLC.com
Global Home Improvement
Serving Pa. and N.J.
(866) 735-1121
GlobalHomeInc.com
Lawrenceville Home Improvement Center
Lawrenceville, N.J.
(609) 882-6709        
LawrencevilleHomeImp.com
Lomonaco's Iron Concepts & Home Décor, LLC
Sewell, N.J.
(856) 740-1071
LICIron.com
Renewal by Andersen of Greater Philadelphia
Serving Pa., N.J. and Del.
(877) 779-1393
SmartWindowChoice.com
Published (and copyrighted) in House & Home, Volume 19, Issue 3 (September 2018). 
For more info on House & Home magazine, click here. 
To subscribe to House & Home magazine, click here. 
To advertise in House & Home magazine, call 610-272-3120.