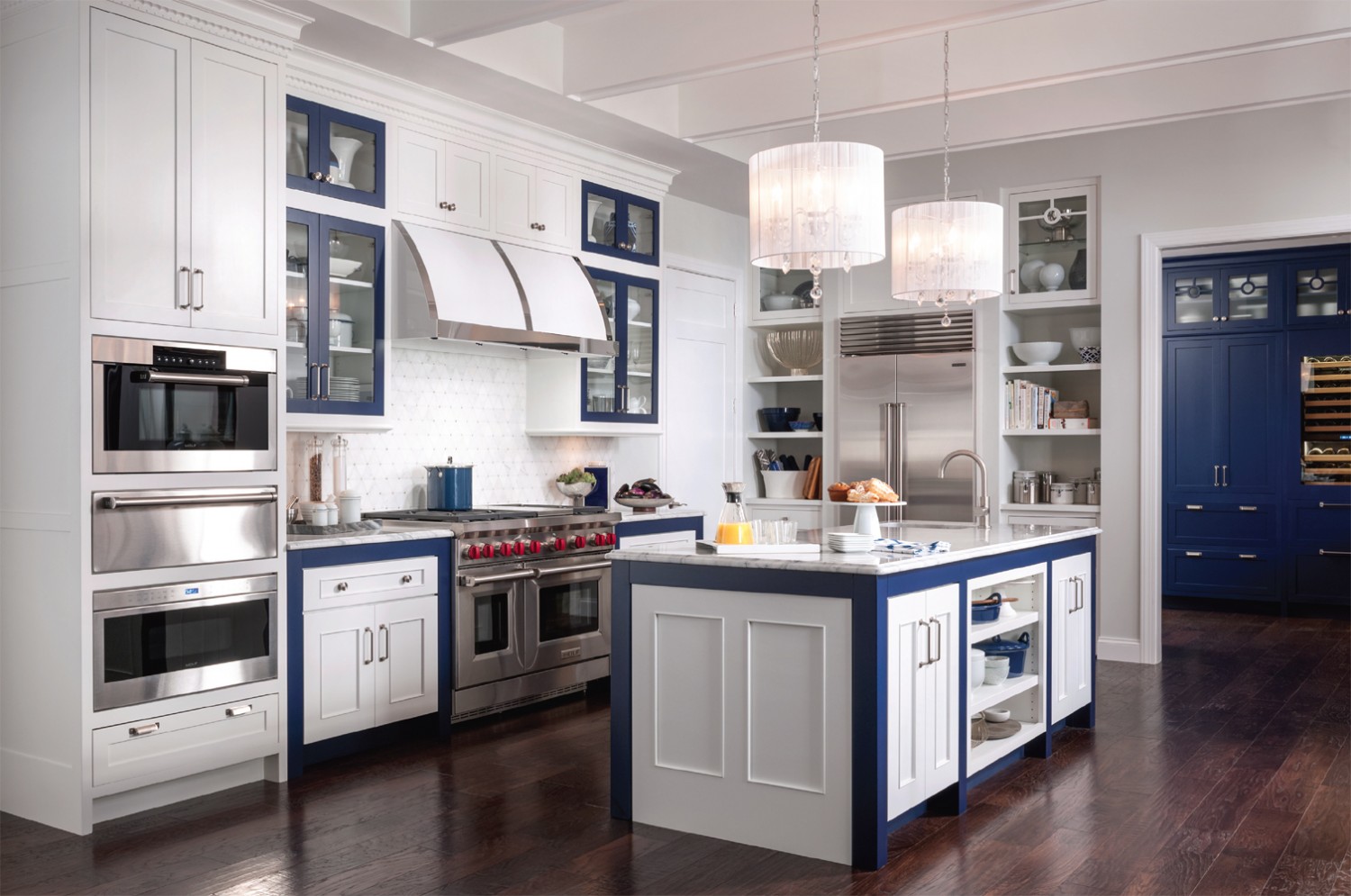 Colored cabinetry has been called "a trend to watch for," by sources like HOUZZ and HGTV. With kitchens serving as the heart of the home, homeowners are looking for ways to truly make their space unique when family and friends come to visit—and they are finding the solution with colored cabinetry. Color is an excellent way to customize a space and truly make it one's own. Though neutral tones remain popular, many homeowners are experimenting with bold choices.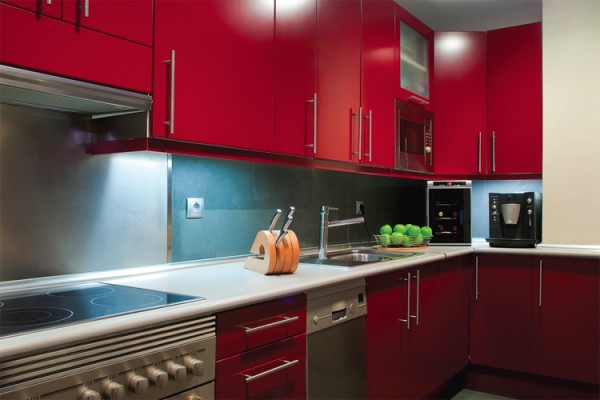 SHADES OF GRAY—AND BEYOND
While there are still many homeowners doing wood stains, the painted cabinetry look has really exploded. Neutral tones remain some of the most popular choices when it comes to painted cabinetry as it's a "safe" look. But some homeowners are getting bold.
"One of the main reasons people are staying with paint as opposed to stains is that there has been a transition from earth tones to cooler tones and typically you're able to achieve that better with paint," says Daryl Holcomb, general manager of Holcomb Cabinetry. "White is still the most common color but a whole spectrum of gray shades has become increasingly popular."
"Gray is the new white," adds Linda Pera, CKD, CEO of Today's Kitchens & Baths. "We're getting a lot of requests for gray. We're also seeing homeowners want a more eclectic kitchen with pops of bold color. They might do a white kitchen but incorporate some bright cobalt blue. Solid colors are very in vogue today, whereas stain is becoming more traditional."
Elaine Messer, design sales specialist with KOL Kitchen & Bath, is also seeing more interest in painted cabinetry. She believes the trend is being driven by the fact that more homeowners are viewing cabinetry as a display piece—much like furniture. She too, is seeing a big trend toward gray colors.
However, beyond gray, a whole gamut of interesting color have made their way into cabinetry design. Dave Dilworth, head of sales and design with Dilworth's Custom Design, says that soft shades of blue and green are particularly popular right now. Even bolder choices such as navy or red have been seen—and make a statement.
David Stimmel, owner and chief designer of Stimmel Consulting Group, says that if a client chooses a color other than white, it's typically "bone" or gray.
"We do also find that blue is a popular color and every room could always use a splash of red," he adds. "However, currently the neutral gray tones remain the most popular."
PLAYING IT SAFE
Though more homeowners are experimenting with color, plenty are still opting for the white cabinetry look that has been popular for so long. White is a timeless color, says Anthony Rizzo, owner of N-Hance Wood Renewal. It's one of those colors where you really can't go wrong. Ten years down the road, it's still going to be in style.
"If you do end up putting your house on the market, it's nice not to have to re-do the cabinetry," Rizzo says. "White cabinetry is going to appeal to a much broader market."
"If homeowners want to go bold, they may want to consider limiting it to one area—such as an island," Holcomb adds. "You may have the kitchen in one tone and the island in a bold accent color. People do invest a lot of money into their kitchens and they want to do something that makes it unique and customizes it to them. A bold accent color choice is one way to do that without doing the entire kitchen in a bold color."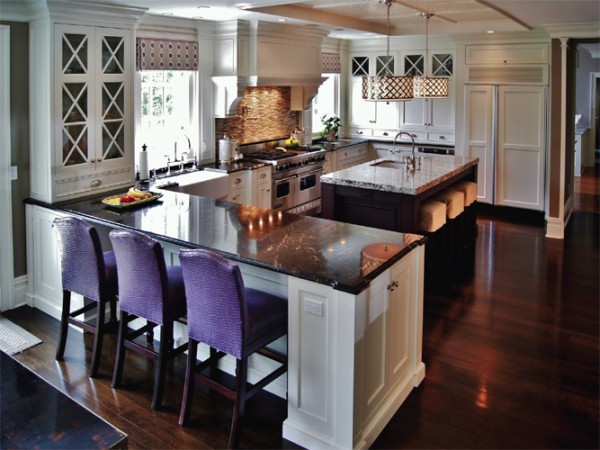 A contrasting kitchen also makes for a unique look without going over-the-top. Paul McDonald, owner of Royal Cabinet Company, says he has seen some homeowners choose a rich color such as a chocolate brown for the painted cabinetry of their island. McDonald says that if homeowners choose a darker island, they should go with lighter cabinetry, and a lighter countertop. This contrast look is very aesthetically appealing and draws the eye to the island as a focal point.
While not everyone is ready to make the leap with their kitchen, Dilworth says a good place to start may be the bathroom—which he adds is not "center stage" like the kitchen. Homeowners can experiment with colors that they like by adding a splash of bold color to the bathroom cabinetry. If they like it—they may try accenting the kitchen by doing colored cabinetry on an island.
STOP AND THINK
While colored cabinetry is a popular trend right now, the cabinetry experts we spoke with all reiterated that it's important you're making the decision for the right reasons. Choose colored cabinetry because it's something you love—not just because it's a trend.
Gil Benizri, owner of The Custom Spot, says that cabinetry is a big investment and "not something you can simply toss out when you're tired of it." Therefore, he urges homeowners to put careful thought into their decision.
"In the end, there are no hard and fast rules—it really comes down to personal preference," Benizri says. "But I would be careful that you're not just jumping on board of a trend unless you're certain it's something you could live with for the long haul Cabinetry is an investment that homeowners should plan to enjoy for years to come."
RESOURCES
Dilworth's Custom Design Inc.
Phoenixville, Pa.
(610) 917-9119
DilworthsCustomDesign.com
Holcomb Cabinetry
Claymont, Del.
(302) 478-5000
HolcombCabinetry.com
N-Hance Wood Renewal
Succasunna, N.J.
(973) 252-9663
NHance.com/Morris
KOL Kitchen & Bath
Cherry Hill, N.J.
(856) 857-1430
KOLKitchenBath.com
Royal Cabinet Company Inc.
Hillsborough, N.J.
(908) 203-8000
RoyalCabinet.com
Stimmel Consulting Group Inc.
Ambler, Pa.
(215) 542-0772
StimmelDesign.com
The Custom Spot
Warminster, Pa.
(215) 394-5891
TheCustomSpot.com
Today's Kitchens & Baths
Newtown, Pa.
(215) 968-8801
TodaysKitchens.com
Published (and copyrighted) in House & Home, Volume 17, Issue 3 (September 2016).
For more info on House & Home magazine, click here.
To subscribe to House & Home magazine, click here.
To advertise in House & Home magazine, call 610-272-3120.