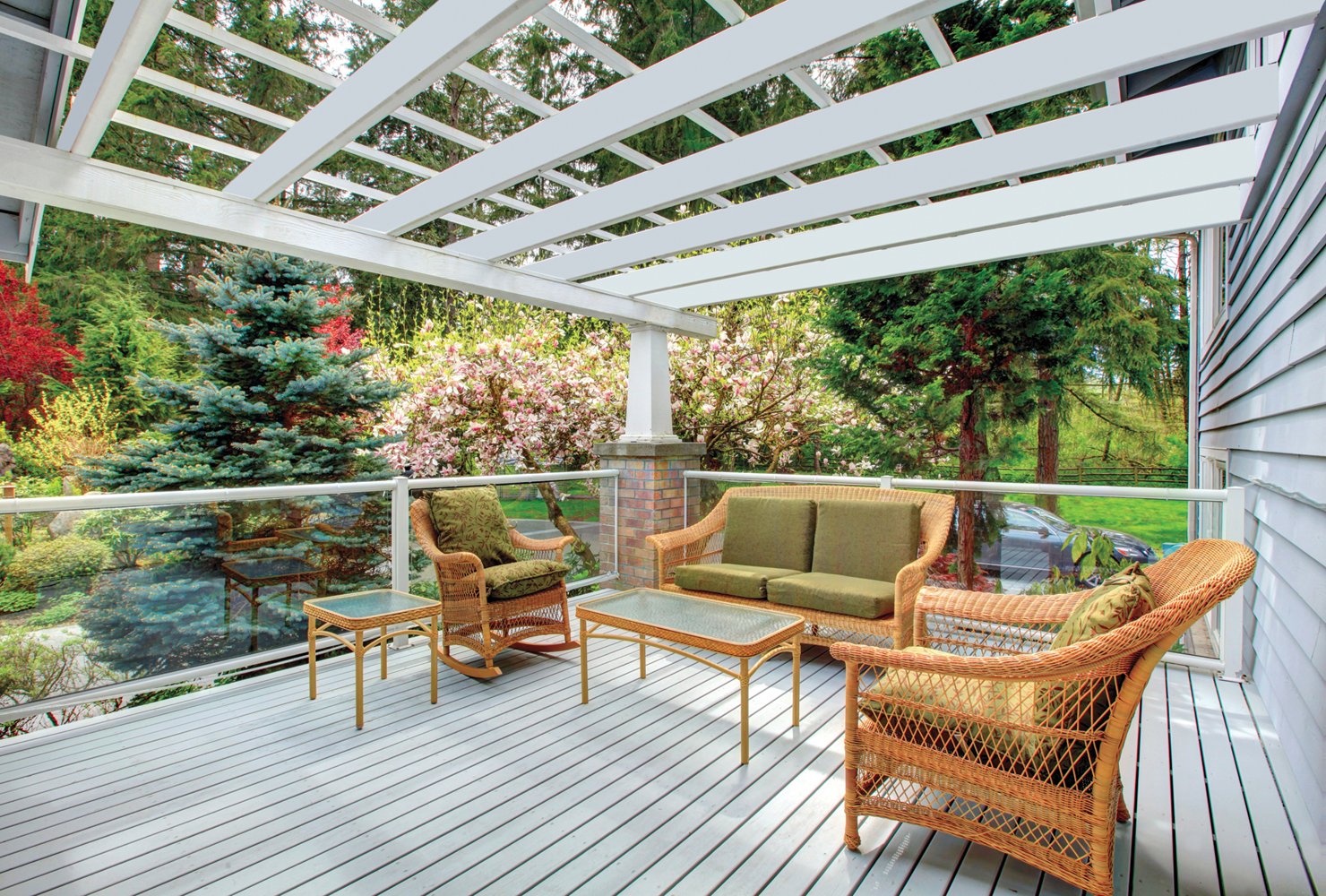 Many of us dream of a magnificent deck, overseeing our spectacularly appointed backyard, giving us the calm meditation spot we need, our escape from the everyday. But to get there, we have some work to do and some education we desperately need.
First steps
"People want to figure out what to do with their backyard," says Juan Cardona, owner of Archadeck—West Chester. "They want to enhance visibility and a deck or patio. But they have to think about budget and space ... what [they] can handle. You also want a deck that is in sync with the house, one that is visually appealing and fits in with the architecture."
When thinking about extending your deck, much comes into play. "Design the deck so that it meets your size needs, fits your house and is within your budget," says Randy McHenry, owner of McHenry Deck Builders. "[Look at] multiple designs to make sure you get one that accomplishes those goals."
When Andrew Mowery, lead designer with Amazing Decks, meets with clients, he discusses immediate plans but also potential ways to complete their entire outdoor space. "People look at their backyard as a 'getaway' they can enjoy every day. I like to design all the aspects they're looking for in this space so that it's properly planned out for future projects, not just the first phase," he says.
"Most people don't under- stand what a deck costs. It's a large purchase so I feel they need to really understand it all," says Brett Wolvin of Great American Deck Builder. For example, one of the biggest things he's educating people about is the difference between composite and PVC deck products. "There are significant differences, so you want to get information about what works for you," he says.
Things to think about
There is much to consider, says Cardona. "Do you have a large or small backyard? Do you want to use the area for big parties or occasional get-togethers? Do you just grill or do you want an outdoor kitchen? Shade is a major problem, so are you in a wooded area or would you want a pergola, gazebo or an open or screened-in porch?" he asks. "It comes down to your preferences."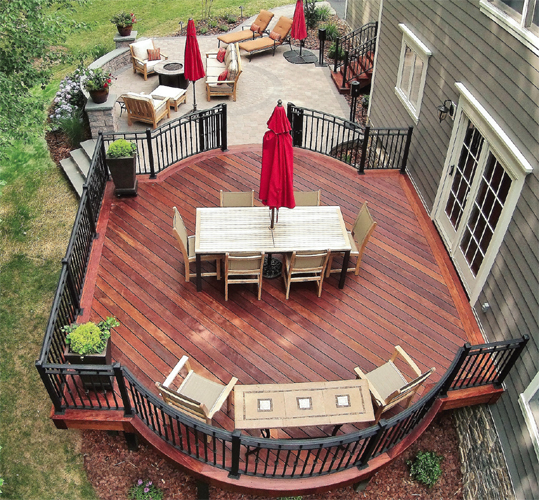 Ask yourself questions, says Sean McAleer of Deck Re- modelers. "How many people are in the family? Are the kids older or younger? Do you spend lots of time on the deck, just hanging outside? Do you entertain a lot? Do you need a full kitchen or maybe an island? Do you want barstools to keep the cook included in the fun?" Just make sure you can have an area for the family but also areas that blend. "People don't want to be separated, so it has to flow," he says.
Really think things through, says Ryan Glick, sales/design team member and office manager at Keystone Custom Decks. "Be sure to ask: How much is the project going to cost? How long is this product going to last? How long has your company been in business?" Avoid the potential of asking a company to return because you decide to add something you initially thought wouldn't be necessary, like when Keystone Custom Decks dealt with a client of an already-built deck who said it was too hot to use the deck. "We had to remove materials we already installed, and install a roof over an existing deck. Take the time to do it right and think about all the factors that may affect you in the future," he says.
Consider the work the deck will ask of you, says Robert Lascelle, president of My Deck. "Are the materials you're using low maintenance? Today, people don't want wooden deck structures because of maintenance and ongoing expense." However, they are interested in a shade-giving structure for relief from the intense summer sun. These can include pergolas, sail shades and roof structures that blend in naturally with the home."Our clients want more than just a deck. They are looking for an entire outdoor living area," he says.
This is why consulting with an experienced decking company makes all the difference.
"[Always rely] on your design professional to help guide you through what materials will be best suited to fit your needs and longevity," says Mowery. "Prioritize the needs of what should be done first and what can be done at a later date." He says township costs vary, so keep a cushion in your budget, as well as for architect fees, electrical and plumbing. This is why having a designer to guide you through this process is so important, he says.
Carol and Mike Jerminski of Get Decked say it's crucial to go for quality. "We polish our trade, use handpicked materials, install the finest decking available on the decking market and ... upgrade railings to a solid plastic system, which is far stronger than hollow plastics," says Mike Jerminski. "It simply boils down to whether your deck is important to both you and your house or 'just a deck.'"
"Sometimes people come to realize that what they want doesn't work for their house," says Wolvin. "The deck design is dictated by the house. I remind them that doorways come into play. I talk about the functionality of the deck," he says. "I talk about building to the dimensions of standard-size planks to maximize their money, about low-maintenance products. [If they want] wood because it costs less, I remind them it's expensive to stain and seal [and when they] sell the property to a family with children who won't want to do the work, it will become a liability."
Following the codes
Modern decks are being built to strict standards that older decks just don't meet.
If you already have an existing deck, "re-decking" is a way to save money on replacing just the decking and rails to give it a facelift. But heed this warning: "This process is a fraction of the cost of a new deck," says Carol Jerminski. The problem, she says, is that an old deck can be weathered and deteriorated, built under old building codes, [with] inferior flashings, and will have old nail or screw holes in the joists—not a good foundation to attach new product to.
Today's decks use upgraded flashings, stricter house attachments, tighter spans for framing joists to provide stronger decks. There are also different options in shadings and privacy walls, lighting, new deck slate panels for grills, and much more, says Mike Jerminski.
Also, most townships don't require permits for re-decking, leaving homeowners uncovered if there is a problem.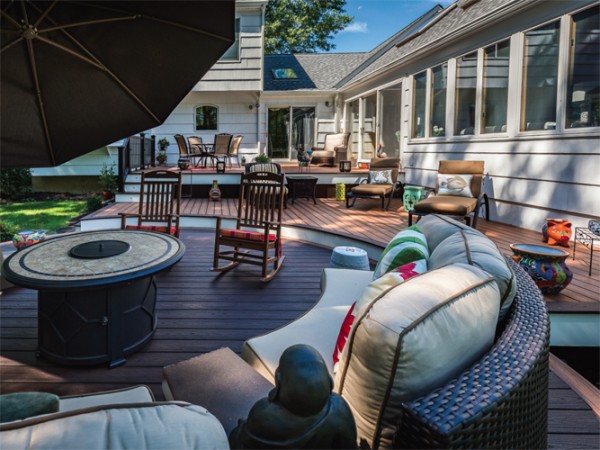 Glick says to be aware that townships are getting strict. "It is nearly impossible to catch everything your specific township is going to require right away. Each township is different and may require something your contractor never expected. We try to create a running tally of specific requirements different townships require so we [know] them in the design phase," he says.
The bureaucratic process of installing a deck can also take a lot longer than most homeowners expect. "There are setback lines, township codes, permit processes, homeowners association, township approval, approved zoning application, building application and more. It could take 2 1⁄2 months just to get approval," Wolvin says.
New pathways
One innovative new option Lascelle likes is steel framing. "We currently build all of our decks using steel because a wood frame is subject to too much movement and will ultimately cause issues with a composite deck," he says. "Helical piers are a different type footing system that replaces a traditional footing. There are many benefits to using a helical pier, the main one being you never have to worry about settling because they are engineered to hold an exact amount of weight predetermined by architectural plans."
Decking professionals make sure to keep up on the latest technology to improve how decks are built.
"There are constantly new and great features that are coming out from different companies," says Glick. "We have spent quite a bit of time this winter researching and designing different water and fire features on our projects; they are a great way to create a wonderful background sound of rushing water or can quickly become a focal point that will make your project stand out among the rest," he says.
There are many options for customization, too—lighting, pergolas, roof enclosures, outdoor kitchens, hot tubs, etc. The options can be overwhelming, so allow your designer to create an outdoor space that's best for you. "There are no right or wrong answers but try to make sure the deck complements the size and style of the home, and adds value," McHenry says.
Mowery has become fond of products like Trex Transcend. Low-maintenance and able to look fresh even after years exposed to zero degree temperatures to blazing summer sun, Trex doesn't fade, as opposed to many other products, he says. It can also be used for curves and round elements in the deck.
"There are so many new things out there," says McAleer. "We do decks with a lot of curves. We use Zori, ipe Brazilian hardwood. There are new kitchen products, fire features, heaters, hardscapes and many ways to extend time on your deck without enclosing it. We love the Equinox louvered roof and how it can cover such a large area from sun, rain and snow. It gives you a 10-month deck." He also sees more exterior tiles, stone and true craftwork being done, as well as grass walls and Phantom retractable screens that are controlled by the flick of a switch. "There's a lot of fun, edgy stuff going on," he says.
RESOURCES
Amazing Decks
Ambler, Pa.
(215) 654-1886
AnotherAmazingDeck.com
Archadeck—Chester County
West Chester, Pa.
(610) 696-3340
Chester-County.Archadeck.com
Deck Remodelers
Sparta, N.J.
(973) 729-2125
DeckRemodelers.com
Get Decked, Inc.
Chester County, Pa. | (610) 948-1625
New Castle County, Del. | (302) 897-0302
GetDeckedInc.com
Great American Deck Builder
Williamstown, N.J.
(856) 292-8404
NJDeckBuilder.com
Keystone Custom Decks
New Holland, Pa.
(717) 355-0592
KeystoneCustomDecks.com
McHenry Deck Builders, LLC
Spring City, Pa.
(484) 369-1261
McHenryDecks.com
MyDeck, LLC
Flemington, N.J.
(908) 713-1000
MyDeck.com
Second photo courtesy of Deck Remodelers
Third photo courtesy of My Deck LLC
Published (and copyrighted) in House & Home, Volume 17, Issue 9 (March, 2017).
For more info on House & Home magazine, click here.
To subscribe to House & Home magazine, click here.
To advertise in House & Home magazine, call 610-272-3120.