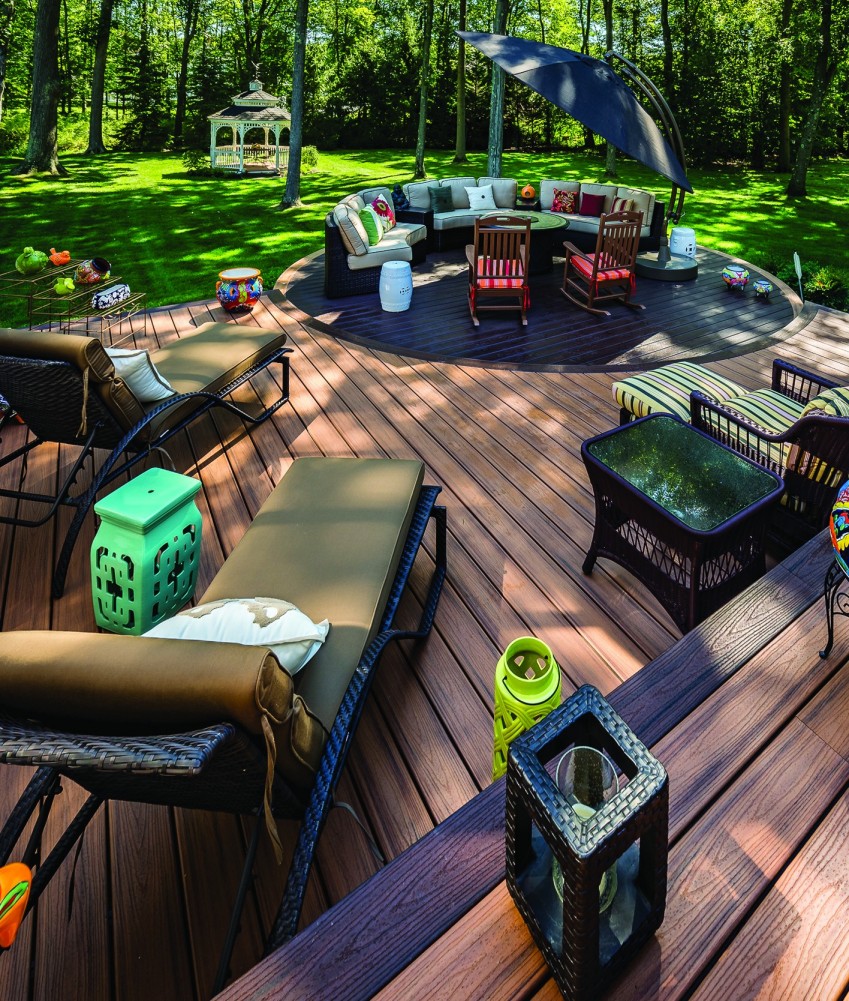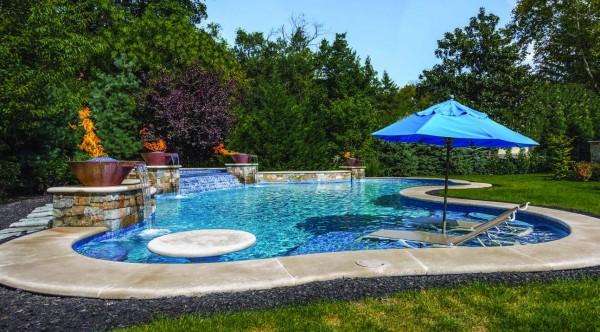 It may be hard to think about the summer months while we're in the middle of winter and cold temperatures, but now is the time to start thinking about sprucing up your outdoor living area so it's ready by Memorial Day. Whether it's starting from scratch or adding certain elements and features to make the space  the oasis you've always imagined, House & Home asked local experts how they help their clients choose what's best for  their space and discussed the best products, designs and latest trends to make your backyard the talk of the town.  
Q: I want to build an outdoor living space in my backyard. Where should I begin? And how can the space incorporate  entertaining guests?
 "Begin with thinking of how you want to entertain and what features you want to accomplish to meet your goal. Then choose the contractor that has a lot of experience with producing the outdoor living space you desire. This time of year is certainly the best time to start planning because it takes a while to get a deck or living space project going, including design-making choices and even the permit process. If you're looking to have the project complete for use in the springtime or summer, now is the best time to start getting your ducks in line. For outdoor kitchens, incorporating high-end appliances such as Fire Magic and Twin Eagle will enhance their outdoor kitchen greatly, also adding textures like stone veneer to the exterior and also adding a natural stone countertop. The deck design should flow as to incorporate everybody that will be at the party and prevent separation. About 70 percent of the decks we build incorporate some sort of curving features. They are added to enhance outdoor living spaces like fire pits and gathering areas.  It's all about the curve appeal."
Robert Lascelle, owner | My Deck, LLC | Flemington, N.J.
 (908) 713-1000 | MyDeck.com 
Q: I want a stylish, yet functional outdoor space, but am on a tight budget. What do you recommend?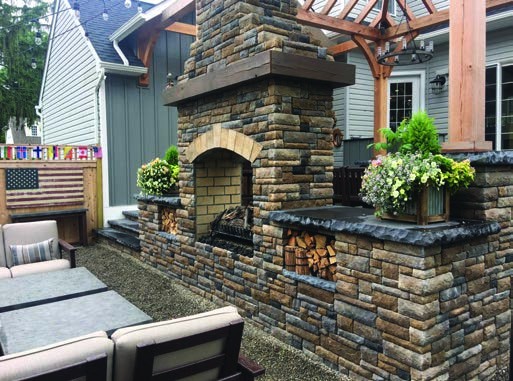 "For many homeowners, budget is borderline a fourletter word, but you shouldn't be afraid to discuss budget with your contractor/designer. If you've properly vetted your list of contractors, feel free to let them know the budget you are working with and ask them to maximize the value and space they can construct for you. Give them a wish list and a 'must have' list. Even without a budget range, an experienced designer should be able to tell you during the initial consultation a range of cost for each component of your build. Budgets are like fingerprints—we all have them and they are all different."
Steve Compton, general manager, CKC Landscaping Inc.
West Chester, Pa. | (610) 436-1810 | CKCLandscapingInc.com  
Q:  What are some features you offer   to add to a pool, and what are the latest trends?
 "Some of the features include a natural rock waterfall and a raised wall with stone veneer and one or multiple sheer-descent cascade waterfalls that produce a clear arc of water with a wide range of water effects that can easily be adjusted to suit any mood. The biggest addition that has been a must on pools the last several years is sun shelves. The pools from when we were kids were all about having a diving board and a deep end that was way too deep. Today's pools are more focused on working into the overall landscape of the backyard and the enjoyment of relaxing and lounging by the pool. Sun shelves are the quintessence of relaxing at the pool. They are shallow areas that are completely customizable to the size and shape you want. Whether you sit under the umbrella in a chair relaxing by yourself with a drink or [are] just keeping an eye on the kids, you are able to be in the pool while not having to fully submerge yourself."
Mike McCool, general manager, Swim-Mor Pools & Spas
 (856) 270-6571
 (609) 755-3046
 (732) 422-5314
SwimMor.com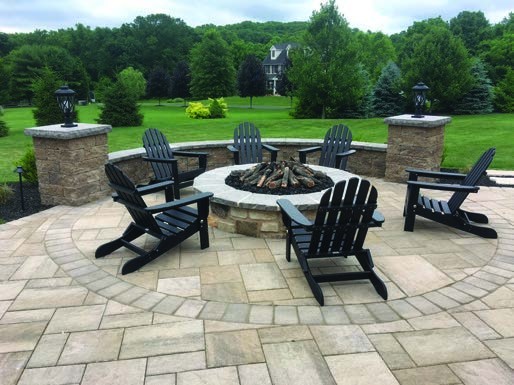 Q: What stonework would you recommend for my outdoor living space?
 "We like to take into account the architectural style of the house. Stones that are indigenous to the region will look more natural, but there are always exceptions. Natural stone over manmade stone is a very strong trend in the high-end market, but natural stone can be affordable, too. Additionally, regional stone with a full color range is easier to maintain. Monochromatic, perfect looking stones are often more susceptible  to aging."
Jeff Woehr, natural stone division manager, NJ Gravel and Sand Co.
Wall Township, N.J.
 (732) 938-5252
NJGravelSand.com 
Q: What are the latest trends for outdoor living spaces?
 "Most people are asking for some type of outdoor fire feature and outdoor kitchen feature, and the ability to have those spaces covered by a roof with outdoor heaters so they can utilize it almost year-round. By having them connected to your home, you're able to walk out the door and your outdoor space almost feels like an indoor space. The fire feature is important because a living room is so much cozier with a fireplace. We also try to incorporate a water element to add tranquility to the space."
Keith Frederick, owner,  Environmental Landscape Associates, Inc.
Doylestown, Pa.
 (800) 352-9252
ELAOutdoorLiving.com  
Q: My current pool area is in poor shape with no color or texture and looks bland. What do you recommend to improve it?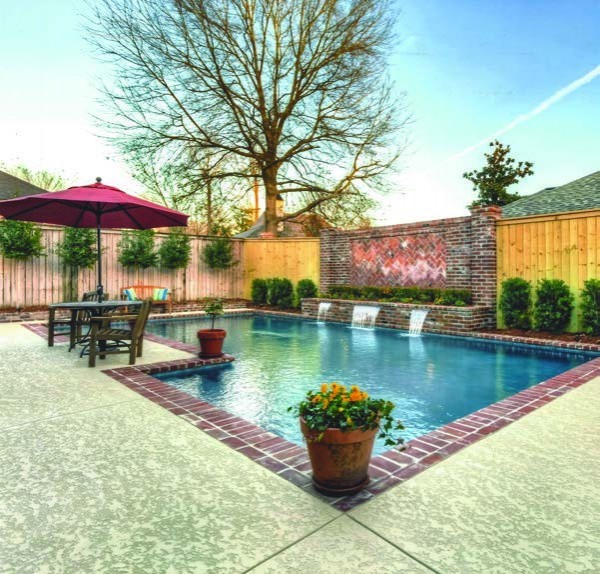 "Most people think it's a necessity to replace the concrete to look attractive, but that's not the case. Ninety-five percent of the time, the concrete is structurally sound. It doesn't need to be removed or replaced; it just needs to be renovated. We recommend concrete overlay; we put down decorative aggregate that goes down in five layers. It can be made anywhere from a textured finish with unlimited colors, to tile and stone. We help design it and take everything into consideration in someone's backyard. This is not a temporary or short-term solution. It's maintenance free, does not get hot, is slip-resistant and a very important feature around a pool deck—and it lasts. You can easily get 15 to 20 years of life out of this surface."
Mike Foreman, president and CEO, SunDek
Serving New Jersey and Pa.
 (610) 624-4309
SunDekOfPa.com 
Published (and copyrighted) in House & Home, Volume 19, Issue 6 (December 2018). 
For more info on House & Home magazine, click here. 
To subscribe to House & Home magazine, click here. 
To advertise in House & Home magazine, call 610-272-3120.