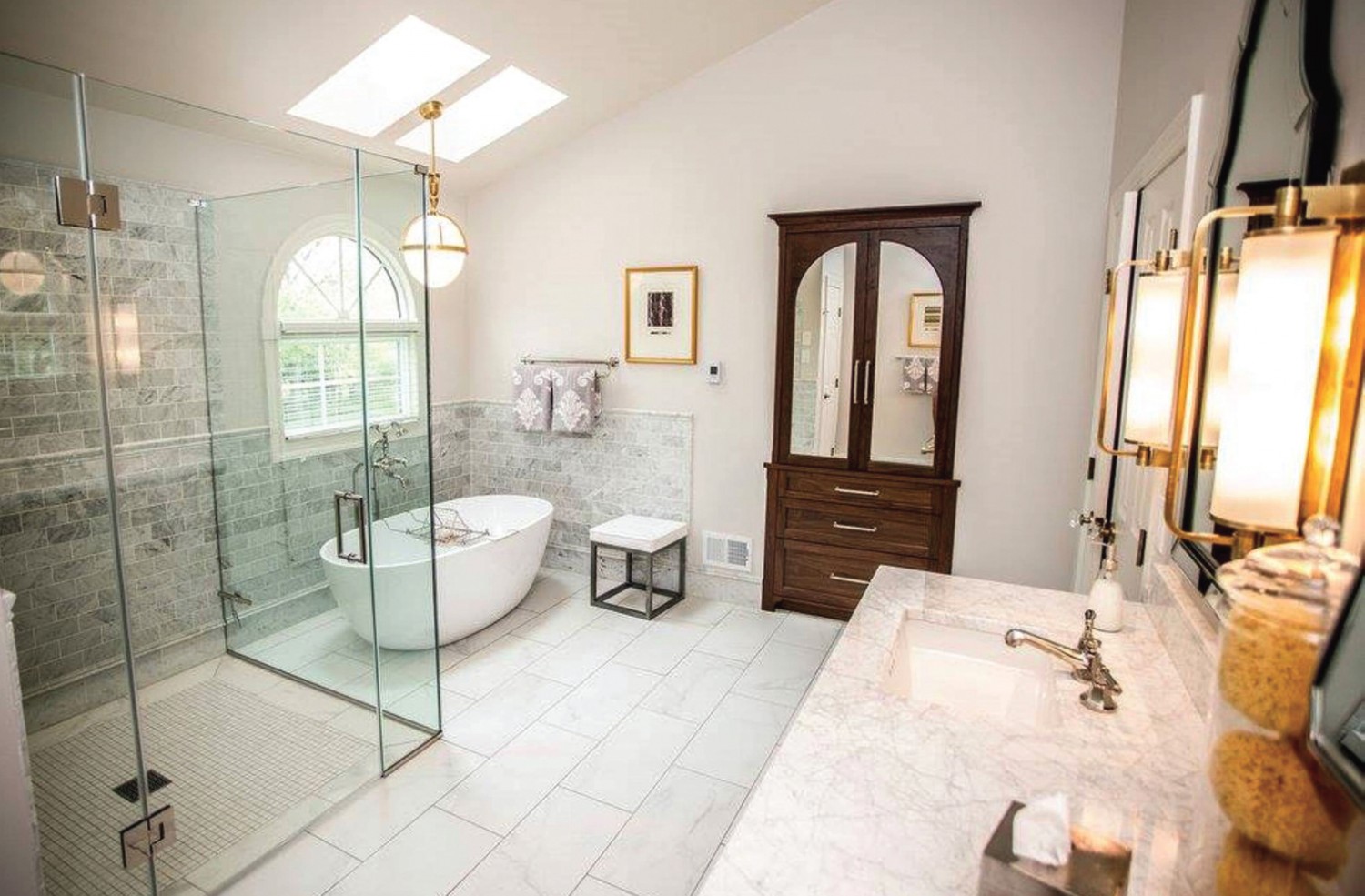 When it comes to owning your own home, it often feels like there's always a project looming on the horizon. With the completion of one venture, another one always seems to pop up, and so the progression goes. This fact especially holds true after spending a few years—or even merely months—in a home and realizing that it's missing something, like a second or third bathroom.
The problem lies in the fact that while some of these projects can be completed fairly easily, many of them become more involved than expected—an additional bathroom included.
"While adding an additional bathroom might seem like a good idea, it really does need some professional review and survey," says HomeTech Renovations President David Cerami, CKBR. "You want to make sure it is feasible to put a bathroom in the area you have designated."
Experts do admit adding a second or third bathroom is a wise investment for homeowners on a variety of levels, from convenience to added home value, but there are a number of considerations to be addressed before the project can be completed. These considerations include the location of existing plumbing, the space required for the addition, the allowed budget and the amount of time the homeowner would like to invest in the project.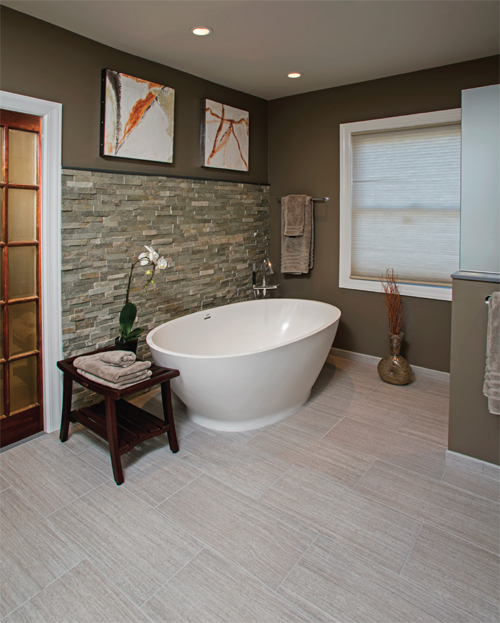 PLUMBING
While adding a bathroom may seem like one of the easier home renovation projects, the details that go into it make it more complex, says Christopher Fontana, owner of Magnolia Home Remodeling Group. And you'd be hard-pressed to find another home remodeler that would disagree.
"Plumbing lines will dictate the location and cost involved," he says. "You have to take into consideration where you want to add it and understand that above a kitchen or another bathroom is an ideal spot."
These locations are ideal because there's already waste lines in that area of the home. If the bathroom is desired in an area of the home where there is no existing plumbing, there is more planning involved and the price of the project can go up considerably.
"Drain lines are usually the thing that takes the most time and effort to figure out," says BKZ Contractors owner Brian Zeldes, CR. "If the average hall bathroom is $15,000 to $20,000 to renovate, obviously you have to add to that if you have to figure out additional plumbing."
Even if there is existing plumbing, the age of the plumbing should be considered, Cerami notes. If the project is being considered for an older home, its aging infrastructure, and whether or not you trust adding onto it, can be a factor.
SPACE
Adding bathrooms to finished basements are some of the most popular projects our experts have seen these days. And while it may seem as though adding a bathroom in the basement would be easiest, American Home Remodeling President Vic Fiore says sometimes it takes more planning than you would expect.
"When you have a finished basement that you're adding to, it might be more difficult because you have to open up floors and ceilings [to get the plumbing lines in]," he says.
Plumbing aside, the issue of egress, or the ability to exit the basement, will also need to be addressed, says Doug Mottershead, CKBD, a designer with McHales. "If you're leaning toward making the basement more of a living space as opposed to a place to store things, then you have to consider what might happen if there is a fire and having a way to get out," he says. "So that adds to the decision process."
If the basement is out of the question, converting a closet or smaller bedroom into a bathroom is always an option, but keep in mind when you're adding something like a bathroom to a space that wasn't originally intended for that use, you may run into problems, notes Tim Pesce, owner of Beco Kitchens and Bathrooms.
"You can look into space that's not usable or hasn't been maximized, and we can make a lot of those ideas happen, but you can run into height restrictions and other complications," he says. "That's where dealing with a design professional goes a long, long way with hitting those hurdles and identifying them early so they can be planned for and taken into account."
While bathroom size varies, most experts agree that roughly a 5-foot by 7-foot space is enough to fit at least a toilet, vanity and tub. Freedom General Contracting President Stephen Turbyfill does point out, however, that "if the space is too tight to use conventional footprints, there are many options on the market as well as custom units to save on space and still achieve a similar end result."
Of course, being open-minded and willing to give up space for an additional bathroom is also necessary, says Fontana.
"With older homes or homes that have been renovated, we have to be creative with finding a space that makes sense," he says. "You can eliminate a closet or get rid of a spare bedroom so that you can have a master bathroom, but no one wants to give up that space. You have to realize it's a trade-off. You won't have as much closet space but you have a bathroom."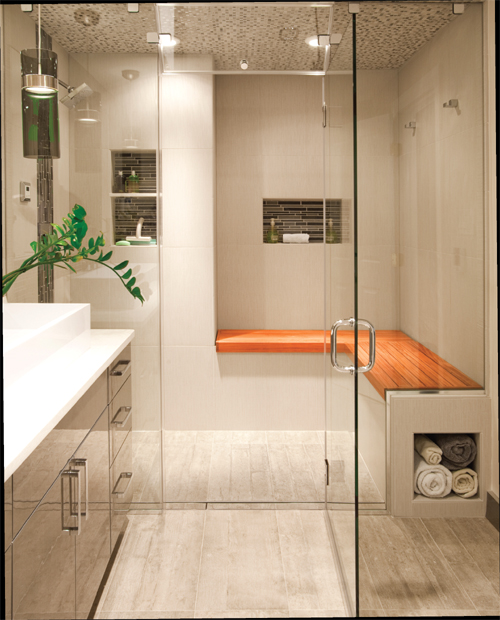 BUDGET
As with most home improvement projects, the allotted budget for the project can dictate whether or not adding an additional bathroom is feasible. "Develop a comprehensive plan and budget," says Lew Merryfield, managing partner of Merryfield Construction Group. "Knowing what you can and are willing to spend on a project is a huge start."
If the desired bathroom is not near existing waste lines, the cost alone to accommodate the new lines could determine whether or not the project is feasible, says Mike Reisbord, vice president of Diamond Kitchen and Bath.
"Most people have a budget, and if it's going to cost $25,000 to run a sewer line, that's more than most people can afford," he says. "If it can be done at a reasonable price, then do it, but it has to be scoped out and you need to have an expert look at it."
Zeldes agrees.
"If someone thinks a bathroom project is going to be $15,000 and it's going to cost $25,000, there's a big cost difference in that," he says.
But by getting creative with unused spaces to add your bathroom, you're making a smart investment, says Daryl Holcomb, general manager of Holcomb Cabinetry.
"When you can go to areas you don't use much and make them functional, you create value not just for yourself but others going forward," he says, noting that if you look at the homes around you and they have more bathrooms than you do, "adding a bathroom will also create value in that respect."
TIME
The amount of time you're willing to put into the project, as well as how long you're planning to stay in your home are two considerations that also must be factored in. Fiore suggests a typical addition might take three to four weeks, but "inspections take the most time because you're at the mercy of the building departments," so additions may not be as easy as something like a remodel.
Additionally, Holcomb suggests that if you're not going to be in the home for more than five years, you might not want to put as much money into the project.
"If you're going to be there more than five years, you're going to start doing things for yourself, and adding features for things you might recoup—like a more expensive tile," he says. "If you were just flipping a house, you might use an inexpensive field tile. But if you're going to stay there, you want it to fit into a common theme and tie into the rest of your house."
Of course, you want to be sure you're adding the bathroom for the right reasons, Turbyfill says.
"[Adding a bathroom] does make a home more desirable for resale, but what is your real goal—making your home nicer for you and your family or the next person living there?" he asks.
If the additional bathroom is being added for a specific reason—say, for an in-law suite—Pesce says considerations should be made for down the road as well. "There are things you're not going to need now, but down the road you might," he says. "If it's for the in-laws, you want to be sure to take the proper planning to make sure that it's handicapped accessible if necessary." If there's one thing that is obvious about adding a bathroom, it's that if you can make it happen, it's a worthwhile investment, Merryfield says.
"Yes, a new bathroom brings added convenience for your family and will prove to be a valuable asset should you decide to sell your home," he says. "Depending on the size of your family and the number of existing bathrooms in your house, adding a new bathroom may be one of the best home improvement decisions you'll make."
Just understand the project is not for the faint of heart, adds Mottershead.
"It involves complete plumbing rough-ins, new electrical lines. … You're combining every possible trade in one spot," he says, which can lead to complications if you're working with someone who is not familiar with the codes of each profession.
"Be very wary and careful about who you talk to," Reisbord concludes. "You want to work with someone who really knows what they're doing because when it's not done perfectly, it's not going to work, and you're going to have a nightmare on your hands."
RESOURCES
American Home Remodeling
Irvington, N.J.
(973) 374-6700
AmericanHomeRemodeling.com
Beco Kitchens and Bathrooms
Morrisville, Pa.
(215) 295-7123
Beco-Designs.com
BKZ Contractors
Warminster, Pa.
(215) 957-1626
BKZContractors.com
Diamond Kitchen and Bath
Feasterville-Trevose, Pa.
(215) 752-4400
DiamondKB.com
Freedom General Contracting, Inc.
Doylestown, Pa.
(215) 794-0326
FreedomGCI.com
Holcomb Cabinetry
Claymont, Del.
(302) 478-5000
HolcombCabinetry.com
HomeTech Renovations
Fort Washington, Pa.
(215) 646-7477
HTRenovations.com
Magnolia Home Remodeling Group
Union, N.J.
(855) 624-6655
MagnoliaHomeRemodeling.com
Merryfield Construction Group, LLC
Runnemede, N.J.
(888) 612-5450
MerryfieldCG.com
McHales, Inc.
Levittown, Pa.
(215) 488-7306
McHales.net
First photo courtesy of Freedom General Contracting, Inc.
Second and third photos courtesy of HomeTech Renovations
Published (and copyrighted) in House & Home, Volume 17, Issue 9 (April, 2017).
For more info on House & Home magazine, click here.
To subscribe to House & Home magazine, click here.
To advertise in House & Home magazine, call 610-272-3120.