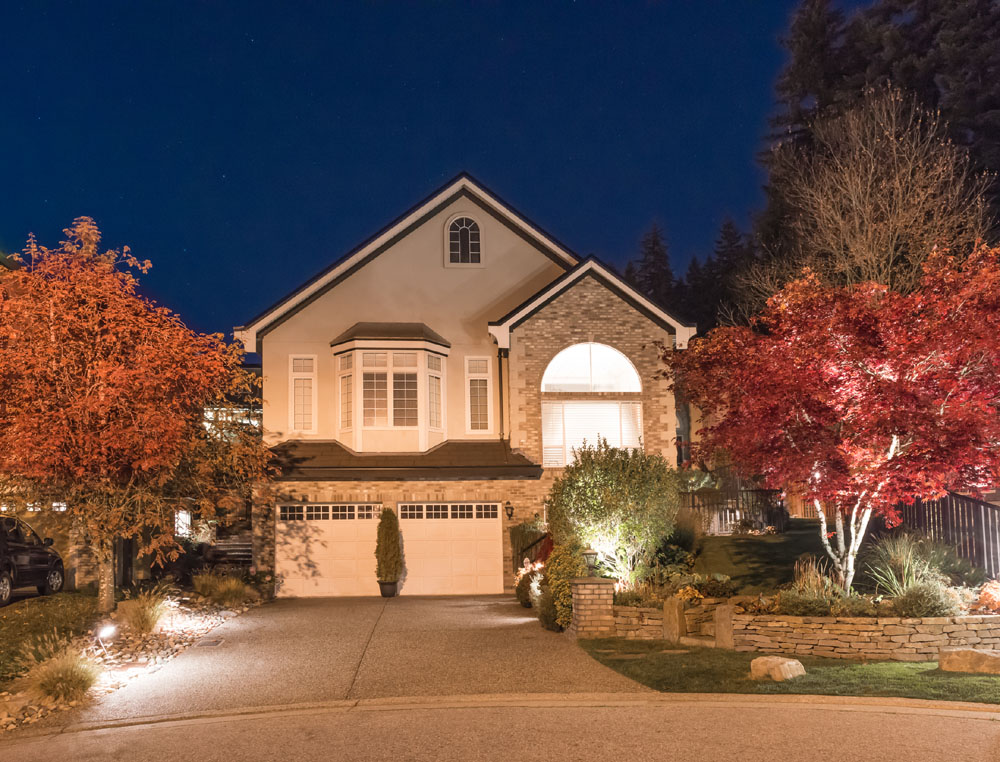 There's no reason to abandon your great outdoors when the sun goes down. By utilizing different lighting elements, your home and property can take on a whole new look and the use of it can be extended way into the nighttime hours. We spoke with experts in the field who helped shed a little light on what this can do for your home.
MULTIPLE PURPOSES
Outdoor lighting serves many purposes, from aesthetics to security.
"[Exterior lighting] can add security around the outside of the home as well as light hard-to-navigate pathways or walks at night," says Ed Swietanski, designer/sales manager with Gill's Landscaping. "It can be used to create an aesthetically pleasing ambiance to a patio or pool area, and it can add an elegant aspect that will make your landscape come to life after the sun goes down."
Certain elements of lighting can accomplish both goals.
"The basics of night lighting are the fixtures, low-voltage wire and a timer/transformer that will convert to low voltage and control when the lights turn off and on," says Swietanski. "Well lights, spotlights and bullets are typically used to up-light an individual tree or garden feature, and could also be used to accent a particular architectural feature on the house itself. Downlights or path lights are typically used to create 'stepping stones' of light and will help navigate you through the space." Wash or floodlights are used to light specific areas, but not focus on one particular item.
"Everyone is concerned with security, although that might not be the initial reason they get lighting," says Wes Carver, owner of Wes Carver Electric. "People want aesthetics, such as adding curb appeal and enhancing the property. They also consider functionality, as in 'I have a nice property and I need good lighting. I have dark steps and don't want to fall.'"
"With low-volt ambient, [you can have] illumination to continue afternoon celebrations well past sunset and into the night ... safely," says Diane Marrazzo, design and sales, business partner for Marrazzo's North River. "You can easily walk along the path or use steps, and multi-set timers allow you to set lighting systems at variable times to ward off possible intruders, making your home safer in the evenings."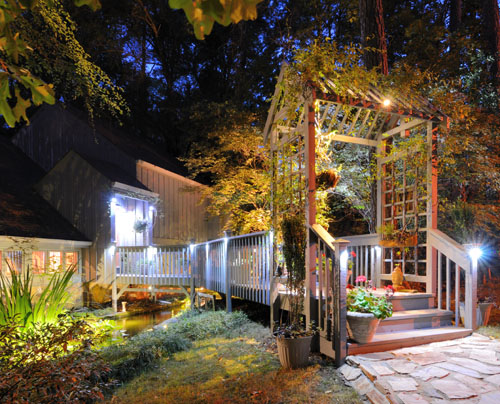 Architectural and landscape lighting enhance your landscape by focusing on shapes, elements, and colors of its features, says Scott Mallon, president/owner of Creative Landscape Lighting. "Illuminating a home and its architectural features can make your home more inviting. Dramatically up-lighting a specimen tree, wash-lighting a mass planting or rock wall, or even down-lighting a sitting area can make a home more comfortable and perhaps ease some fears where areas of darkness may have prevented you from exploring in the evening," he says.
"Outdoor lighting—especially landscape lighting—can add drama and ambience to the exterior of your home," says Kelly Conte, vice president at Lamp & Shade Works. "You can use blue lenses on your accent lighting to enhance the green foliage on your trees and shrubs. Other lenses are also available to create special effects."
THE RULES OF LIGHTING
When it comes to rules, there are none, says Swietanski. "Each project can be customized to the homeowner's particular taste." For example, LED lighting "has created more options, from the typical bright blue/white look, to LED components that are almost indistinguishable from standard incandescent bulbs." LED lights produce the same amount of light as incandescent but do so using far less energy. They also use smaller transformers and lighter gauge wires than incandescent systems need.
"People want no-maintenance lighting," says Carver. "They don't want to have to change bulbs. That's why everything out is LED. Once they're installed, it should be a long time before you have to worry about them." The old lighting was problematic. Bulbs burned out often and could start fires when covered with mulch, he says. \
Conte believes layering creates the best-looking finished product.
"As with all lighting, it is best to layer your lighting," she says. "Using path lights to add light to your flowerbeds with up-lighting on trees adds drama to your landscape. In addition to lighting your shrubs and trees, highlighting stone walls and the corners of the home creates a beautiful image. When using LED, opt for a lower color temperature to keep the lighting warm and inviting."
Professionals are able to pinpoint areas where lighting will have the most impact.
"When we plan for accent lighting of a home, we look for the dark corners and give them light," says Marrazzo. "We look for landscape specimens to uplift with smaller well lights or down-lights set up in the tree. And of course, our path fixtures offer such a range in style and illumination." When it comes to how much light is the right amount, Marrazzo says, "Think soft. Think quiet. Think less. You do want to avoid a 'runway-like' appearance."
She says to highlight textures of the home's façade; identify entry point; create depth from uplifting the trees out back; create safety by highlighting the front entry of busy and wooded roadways.
For really special elements, there are plenty of options, explains Mallon. "Graze effect is usually used to illuminate a home's façade and architectural elements," he says. A silhouette effect is achieved when placing a light in front of a flat surface (a wall) or behind an object (a statue or an interesting looking tree), yielding a dramatic look. Shadowing is when you illuminate an object and cast a shadow on whatever you would like. Hardscaping and deck lighting is when you use a specific feature to highlight an area like a wall or steps, deck post and railings.
TECHNOLOGY MATTERS
As with everything else, outdoor lighting is also advancing with new technology making it more efficient and easier to control.
"Lighting can be controlled by everything from a standard analog timer, photocells, and some manufacturers offer 'smart' timers that can be controlled by a mobile device," says Swietanski.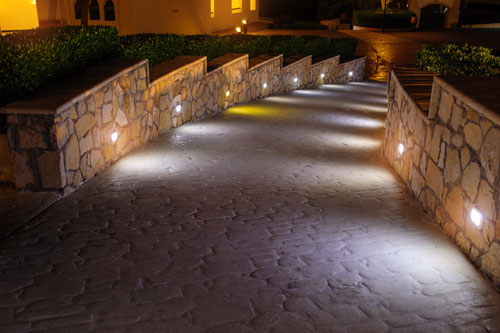 Mallon says there are remote controls that break down areas into zones, switched outlets to control lights from a switch inside your home and smart home modules to control your lights from your computer or phone.
Carver also reminds us to take into consideration house lighting. "There are lights inside the house, garage, entrances, for example. You can connect them all with your smartphone, and be in control of changing the way everything looks. You can even easily control the lights in your water fountain," he says. Still, even with the changes, Carver feels much of what has made outdoor lighting great has stood the test of time. "We are using the same lighting principles that have guided us for 15 years. I think, if it isn't broken, don't fix it."
If you plan to add more lighting features in the future, Marrazzo says to seek "the suggestions of a professional for a long lasting low-volt LED landscape lighting plan that will allow you to add at a later date should you want to without increasing the size of the transformer." She says LEDs provide strong lumen intensity while running cooler, lasting longer and looking better.
Mallon's suggestion is that, before planning your lighting, make sure many questions are answered. Where do you sit? Do you have a favorite tree? Do you have children that play outdoors at night? Is there a swing set? Do you have pets? Do you entertain often? Is there a pond, a pool, hot tub or other areas of entertainment? Do you want to keep things subtle or do you want to focus in on a specific area and make that more prevalent? "It's this attention to detail that can really make your lighting stand apart from the others," he says.
RESOURCES
Creative Landscape Lighting
Bridgewater, N.J.
(908) 722-6866
DesignWithLights.com
Gill's Landscaping
Mullica Hill, N.J.
(609) 685-0031
GillsLandscaping.com
Lamp & Shade Works
Sewell, N.J.
(856) 401-1007
LampAndShadeWorks.com
Marrazzo's North River
Wycombe, Pa.
(215) 598-1412
MarrazzosNorthRiver.com
Wes Carver Electric
Lansdale, Pa.
(215) 855-3340
WesCarverElectric.com
Published (and copyrighted) in House & Home, Volume 17, Issue 1 (July/August, 2016).
For more info on House & Home magazine, click here.
To subscribe to House & Home magazine, click here.
To advertise in House & Home magazine, call 610-272-3120.