Falling in Love with the Season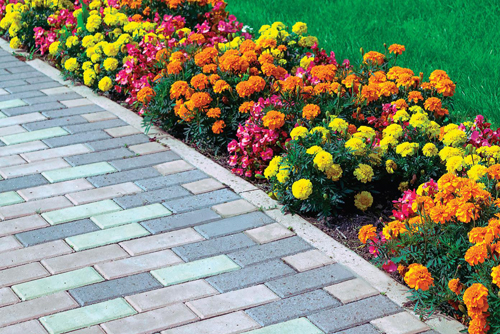 WITH THE AUTUMNAL EQUINOX nearing our corner on Sept. 22, we are in more ways than not, fortunate enough to live in a region that bides us additional time to enjoy the remnants of seasonably warm temperatures and an array of golden, orange and red hues. While it's important to relish in all of the beauty fall has to offer its eager spectators, fall is also arguably one of the best times to begin planning for new projects to be enjoyed for the following spring and summer seasons.
FALL FOLIAGE
"Fall is an excellent time to install new plantings, because the cooler temperatures are easier on new plants and with the soil still being warm, the roots will still grow until the ground freezes," says Nick Nykorczuk, president of Creative Pavers. "Fall also tends to have more rainfall and lesser periods of drought, so you are receiving Mother Nature's help with getting your plantings established."
Nykorczuk also mentions fall is the ideal time to not only begin considering and planting the long anticipated fall foliage such as mums, pansies and even kale, but is prime time to begin considering spring bulbs you want added to your new or existing landscape— preferably in September or October.
"Typically by the beginning of October you want to plant your daffodils and snowdrops so they are set for an early spring bloom," he adds. "Flowers such as tulips can be planted later in the fall up until the first frost, since they tend to bloom later in the spring."
Other popular foliage to be considered and potentially integrated into your existing or soon-to-be vibrant outdoor oasis is the blue mist shrub and the common witch hazel, according to Michael Pasquarello, a degreed landscape architect at Elite Landscaping. He says the longevity and vibrancy of each plant provide tastefully added interest and appeal to your space.
"The blue mist shrub provides powder blue flowers into early fall with silvery green foliage," he says. "The common witch hazel has fringed yellow, fragrant flowers, which last from October to December, also with a vibrant golden leaf color."
"Chinese loropetalum is a great small flowering shrub, as well as purple pixie," adds Chris Bianciella, principal at K&C Land Design and Construction. "Both will stay low at 2 feet and do well in cooler temperatures. They're excellent for adding pops of color to your garden. ... Balloon flowers, sweet alyssum, celosia, caryopteris, tall shrubs and fall crocuses are also plants to consider."
When planning your next landscaping project, Bountiful Acres owner David Flack mentions the significance of choosing your next round of plants and foliage wisely, to maximize the most out of your gardens for the upcoming season.
"Whenever we're doing a landscaping project, we consider what season we're planting in," he explains. "It's important to consider seasonal colors, too. You can fill in some more of your prominent [garden] spaces with seasonal colors through mums, pansies—and even an unexpected find, ornamental peppers." Beginning your next landscaping project requires some thorough planning, which Flack says is paramount in designing meaningful gardens.
"We approach our landscaping projects as a process, where we develop some conceptual ideas, present them to the homeowner and get feedback from them," he explains. "We also during this time get to find out how they plan on using their outdoor space. It's good to know this information ahead of time so we can plan accordingly, and so we can construct a design that fits their lifestyle and budget."
PLANNING FOR NEXT SUMMER
Similarly to planting, immediate fall planning can also include your next hardscaping project. Whether you're seeking to install a new deck or design an intricately beautiful stone patio, fall is the time to begin preparing and executing future seasonal plans. According to Steve Compton, owner of CKC Landscaping, designing, planning, permitting and installation can render to be 8-12-week process. The earlier you begin planning, the earlier you can reap the benefits of your outdoor space.
"Even a small, simple patio or deck can take a few weeks for approval and product selection, and you have to factor in an additional week for installation," he says. "The bottom line—now is the time to start planning for next year, so that we can start building during the late winter and early spring, and have you enjoying your outdoor living space by the time the warmer spring days start rolling in."
Aside from enjoyment and preparation, Nykorczuk says fall is the quintessential time for planning a backyard hardscaping project, primarily because of the relaxation the season itself brings. He also says many times homeowners prefer fall—and even winter—for planning their next project, as the construction process does not pose a hindrance to a homeowner's daily routine.
"Fall is much more relaxed, versus during the spring season when a homeowner's mind is focused on simply having the project completed in time for the summer season," he says. "With having more time to plan the space, it will ultimately give the homeowner the best possible outcome with the finished product."
For Diane Marrazzo, co-owner of Marrazzo's North River Landscape, Hardscape & Rain Water Harvesting, planning for spring projects now allots for ample time to develop a design and a budget with a reputable landscaping company, without the time crunch.
"Planning now gives plenty of time for design and budget concerns, and interviewing with reputable landscape companies capable of staying within your budget will bring your dream project to fruition," she says. "Perhaps there is a void in your yard that could take on more color, or height—or on the reverse—be reduced and lawn reclaimed. It's about how you can make your home property more fun, beautiful and relaxing."
EXTENDING THE OUTDOOR LIVING SEASON
Compton mentions lighting as another immediate project necessary for utilizing your outdoor space particularly during the fall season. With shorter days on the horizon, having ample outdoor lighting is beneficial for more than simply aesthetics.
"As you and your family start getting home from work, school and sports practice, it gets darker much sooner," Compton states. "Outdoor lighting adds not only an immediate boost of curb appeal, but adds safety and security at your home. For a fairly minimal investment, we can design and install a classy low-voltage lighting system that highlights the architectural and landscaped features of your home, all while providing safety and security for your children and spouse arriving home after dark."
The demand for a hardscaped outdoor space that can extend well beyond summer's offerings and into the autumnal temperatures and early winter season is more in demand than ever before. Current hardscaping trends among homeowners include the addition of outdoor fire pits for added warmth, hot tubs, wood-framed pavilions and even outdoor televisions and couches.
"Fire pits not only keep everybody warm, but fire actually adds movement to your space," Flack states. "So if you have a couple of friends over and you're all sitting around the fire pit, you've got the fire moving as well as the nice warmth that it gives off. It's great in creating an entertaining and relaxing atmosphere." Nykorczuk also says he and his team at Creative Pavers see an influx of these projects among homeowners, in an attempt to create a seamless transition from indoors to out.
"With schedules becoming more and more hectic, a major trend in today's world is creating a complete outdoor living space that gives the same feel and flow as the inside of a home," Nykorczuk explains. "Homeowners today want to create multiple areas to entertain, complete with an outdoor kitchen, fireplace with a covered roof or pergola for a 'formal' dining area, and a separate destination to fit in a fire pit or spa. Mixing in the proper amount of shrubbery and lighting is more important than ever to finish off the resortlike feel of the space.
"With all of these components put together, the cost can get very high," he continues, "so it becomes important in our region to plan something that can extend the number of months of use well into the cooler times of the year."
Fortunately for homeowners, Flack says hardscaping projects utilizing pavers and stones have an extensive list of benefits, from generating a pristine backyard aesthetic, to requiring little upkeep and their durability.
"The maintenance required on natural stone products is far less as opposed to a wooden deck or something in that category," he notes. "There's a great majority of choices of materials and colors available to homeowners as well that they can choose from."
Whether you're preparing your garden's soil for fresh seasonal foliage or paving the way for the addition of a natural stone fire pit, there is always some level of preventative maintenance needed to sustain each and every project's longevity, in addition to the beauty of your home.
"It's important to make sure landscape beds are weeded, most shrubbery is cut back and manicured, perennials are thinned and possibly transplanted or shared, and mulch is added and re-distributed to blanket the root systems of landscape," Marrazzo states. "Having a tidy landscape will allow for spring growth to move forward freely from any previous years decay. … It can be quite rewarding to watch your garden grow."
"The key is to have a system or program in place so that your investments are maintained and protected properly," Compton continues. "We have fall programs to clean and when appropriate, properly seal hardscapes of all types to prepare them for winter. Typically this work is completed in one day or less, and only needs to be done every three to five years. As always, we can handle this for you before the weather turns for the winter."
RESOURCES
Bountiful Acres
Holicong, Pa.
(215) 794-7043
BountifulAcres.com
CKC Landscaping
West Chester, Pa.
(610) 436-1810
CKCLandscapingInc.com
Creative Pavers Inc.
West Deptford, N.J
(856) 848-7400
CreativePaversInc.com
Elite Landscaping
Berlin, N.J.
(856) 753-1944
EliteLandscaping.com
K&C Land Design and Construction
Union, N.J.
(908) 769-7283
KAndCLandDesign.com
Marrazzo's North River Landscape, Hardscape & Rain Water Harvesting, Inc.
Wycombe, Pa.
(215) 598-1412
MarrazzosNorthRiver.com
Published (and copyrighted) in House & Home, Volume 18, Issue 3 (September, 2017). 
For more info on House & Home magazine, click here. 
To subscribe to House & Home magazine, click here. 
To advertise in House & Home magazine, call 610-272-3120.