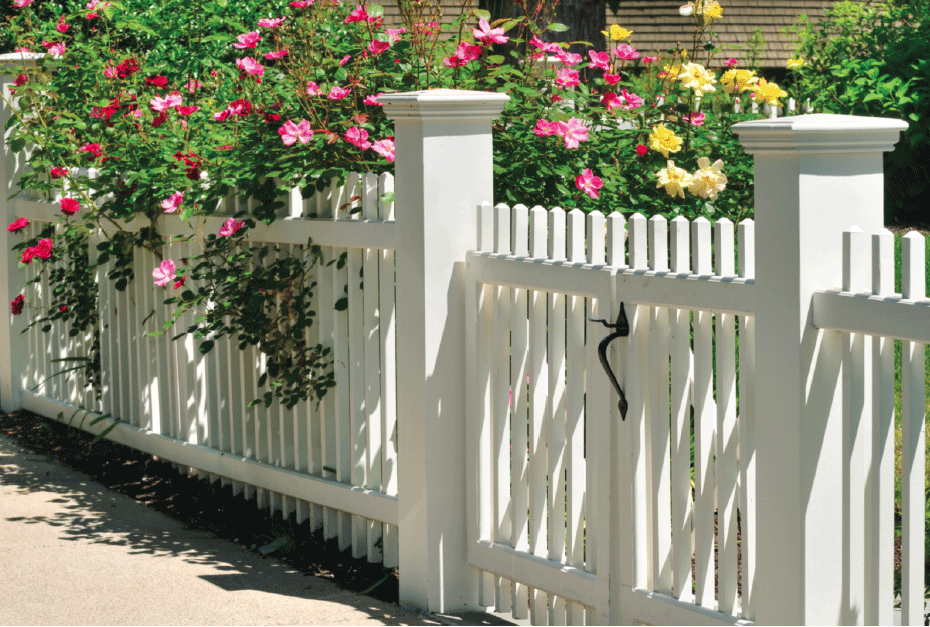 With the summer months upon us, it's high time to get outside and enjoy the enviable backyard space you've created— whether it's your outdoor kitchen or pool. Yet, with your space out in the open, you'll want to keep it protected and secluded using a fence that's suited for both your needs and your home's architectural aesthetic.
In fact, the market today has taken a stylish turn on this outdoor amenity, giving homeowners a vibrant range of styles to choose from—whether it's traditional wood, wrought iron, or the most popular options, vinyl or aluminum.
While many would consider a fence the anchor to one's home, it brings order to the space you've invested in and choosing a style is tantamount to selecting the facade of your home. It's something people will notice at first glance and it's something that will give the outdoors added privacy.
In need of a fence
To start, experts all agree that the need of a fence should first be specified by the homeowner. Mike Patterson, sales manager at Fence-Max, breaks down that decision by categorizing the needs into four categories: pools, privacy, decoration or containment.
"[Homeowners] want to look at a need, where they have a need for privacy, if they [need] a pool fence, are they looking for just a decorative [fence] or more containing for children and pets?" asks Patterson. "You've got to look at your needs and ... once you've narrowed that down, we can find the right fence for the homeowner."
In order to match the type of fence with your specific need, Chris Flake, general manager of National Fence Systems, outlines which style is best suited for privacy, containment, pool or decoration. "If you want privacy, typically you will look at vinyl or wood," he explains. "If you are looking for security, chain link and ornamental steel are most common. If you have a pool, by law you are required to get a pool code-approved fence, which meets specific rail and picket spacing, height requirements and gate hardware criteria.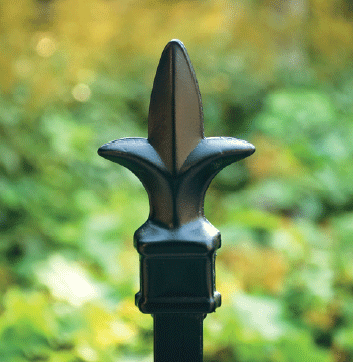 "If you're just looking for aesthetics you really have to match the property with the product that best makes it stand out," Flake adds. "Equally important is finding a reputable partner that is going to install the product properly and be there when you have questions or issues arise. ... Also, it is important to check your local building codes so you know what is legally allowable."
Moreover, Burger Fence Company's sales manager Mike Liguori advises homeowners to consider the longevity of their property. "[We ask] how long are they planning on staying in the property? If they upgrade from wood to vinyl the cost may be a little bit more. But you do not have to worry about replacing it down the road, along with offering more value to your home," Liguori says.
Pricing factors
Naturally, a budget is another realistic aspect to consider. In terms of budget-friendly options, split-rail, chain link, spruce wood and basic vinyl fencing run the gamut in affordability. Yet, with low-cost fencing, there's a catch—especially when it comes to spruce fencing. According to Flake, "Spruce stockade is affordable but it is low quality. The home centers (big box) retailers will reel you in with low prices, but most of the products that are low-priced on the shelf items are also low quality. Not every fence is equal."
The lifespan of spruce varies, but typically begins to decline after five years—and that's dependent on whether the fencing has been treated with a stain or sealer. "If you want it to stay new looking and if you want it to last longer than its natural expectancy, you want to seal or stain it," explains Patterson. "There's different species of wood that's used, primarily spruce, which is about a 12-15-year fence and then you've got cedar, which is a 25-or-moreyear fence."
For fencing styles on the more expensive side, experts agree high-end wood or fencing like vinyl and aluminum that have been textured and treated to have a wood-look color and feel, will be the ones with a hefty price tag. As Chris Demato, owner of Rock Bottom Landscaping & Fencing, explains, "Wood and vinyl fencing styles such as tongue and groove cedar-style fences can be the most expensive wood styles. The vinyl styles with reinforced framework can [also] be the most expensive vinyl options."
Amos Kauffman, marketing director of Superior Plastic Products, echoes Demato, adding, "It [also] depends on the colors as well. The darker colors are more expensive than white due to the staining process. [Depending] on the type of fence, typically aluminum is quite a bit less expensive than what vinyl would be."
Upkeep
Along with deciding on a budget and matching it with the property's need, experts also emphasize the importance of considering the maintenance a fence may or may not need—regardless of style.
For vinyl and aluminum, professionals agree they require no maintenance (unless of course, a good power wash is needed on occasion) and the same goes for ornamental metal. As for wood fencing, a stain and sealer would extend their lifespan.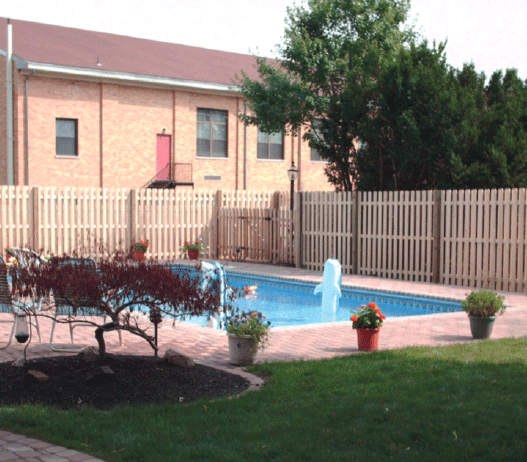 Kelsey Gilinger, the office manager at Montco Fence & Superior Structure, explains that the best time to stain a red cedar fence is a year after installation and again, two and half years later. "You should get at least 25 years from it," she adds.
Of course, there are additives like UV inhibitors and solar guards that can be applied to fencing like vinyl and metal, in order to protect against harmful sun rays. However, the sun isn't the only factor homeowners should be aware of when it comes to Mother Nature.
"Heavy winds can be damaging to a fence and another new factor feature that we have is a GlideLock technology," Patterson explains. "The actual fence locks into itself so it's not fragile and flimsy; it's going to be able to withstand heavier winds. It's a tongue and groove system that actually snaps into place."
Trendy fencing
Aside from the purpose a fence supplies, it also serves as stylistic aspect to complement the aesthetic of a home.
Nowadays, vinyl is seeing a lot more color options as manufacturers are producing fencing that comes in shades ranging from a dark chestnut, black and ones that mimic wood—but it's with a hefty price tag.
"Different color and textured vinyl colors are making their way into the market. There have been several products on the market for years but have been cost prohibited," explains Liguori, adding, "With new manufacturing technology and just simply getting better at their craft, as these products become more competitive, you will see more and more homeowners moving away from white and tan vinyl."
While all these updates offer variety to the customer, the one thing Gilinger warns is the darker the fence, the faster it will fade in the sun. "It doesn't last long," she argues. However, dark-colored fences are also treated with weatherization protectants to maintain a longer life in the sun. "It is a different formula and a more experienced formula," explains Kauffman. "That's why it's more expensive, but it also has the proper ratio to minimize the fading problems."
Gilinger, however, still advises homeowners to tap into neutrals—like tans and off-whites—as a color option when it comes to vinyl or aluminum fencing. "I think a lot of people want their fencing to blend into their yard so they don't really want it to pop out too much and [neutrals] actually help out a lot because it goes with everything."
This idea of blending a fence with a home is another factor to consider, to which Gilinger suggests considering the home's aesthetic when choosing a fence. If your home has more of a contemporary look, she votes aluminum fencing. "If you have a stone house or brick or stucco siding, then aluminum is a very nice, classy touch," adding more modern homes do well with wrought iron as it's "more sleek." Lastly, if the home's siding is vinyl, she suggests sticking to a vinyl fence for continuity.
For a more stately look, homeowners can choose ornamental metal to mimic a picket-style fence. "I've seen it in Europe for years, the wrought iron, metal look is just a classic look that will never go away," recommends Patterson.
As for the classics, some experts continue to vouch for wood-style fencing, which is the most eco-friendly option on the market, but it has changed in the past few years. Demato explains manufacturers have since moved away from the standard stockade-style fencing and are now getting creative with fresh, new looks—like scalloped or arched framework—which can give a property a more modern look.
With so many options available, it's easy to get lost in the pickets of choosing a fence best suited for your home. Ultimately, experts like Flake suggest customers work with a reliable professional. "If you find a reputable, long-term fence company, they should be willing and able to fully explain the various fence options, issues/opportunities with each option and discuss the product that will best suit your need."
RESOURCES
Burger Fence Company
Barnsboro, N.J
(856) 468-2300
BurgerFence.com
FenceMax
Newfield, N.J.
Hainesport, N.J
(609) 914-0004
FenceMaxNJ.com
Montco Fence & Superior Structures
Limerick, Pa.
Bechtelsville, Pa.
(610) 287-7190
MontcoFence.com
National Fence Systems
Avenel, N.J.
(800) 211-2444
NationalFenceSystems.com
Rock Bottom Landscaping & Fencing
Belle Mead, N.J.
(732) 873-6780
RockBottomLandscaping.net
Superior Plastic Products
New Holland, Pa.
(800) 633-7093
SuperiorPlasticProducts.com
Photograph courtesy of National Fence Systems
Published (and copyrighted) in House & Home, Volume 16, Issue 10 (April, 2016).
For more info on House & Home magazine, click here.
To subscribe to House & Home magazine, click here.
To advertise in House & Home magazine, call 610-272-3120.