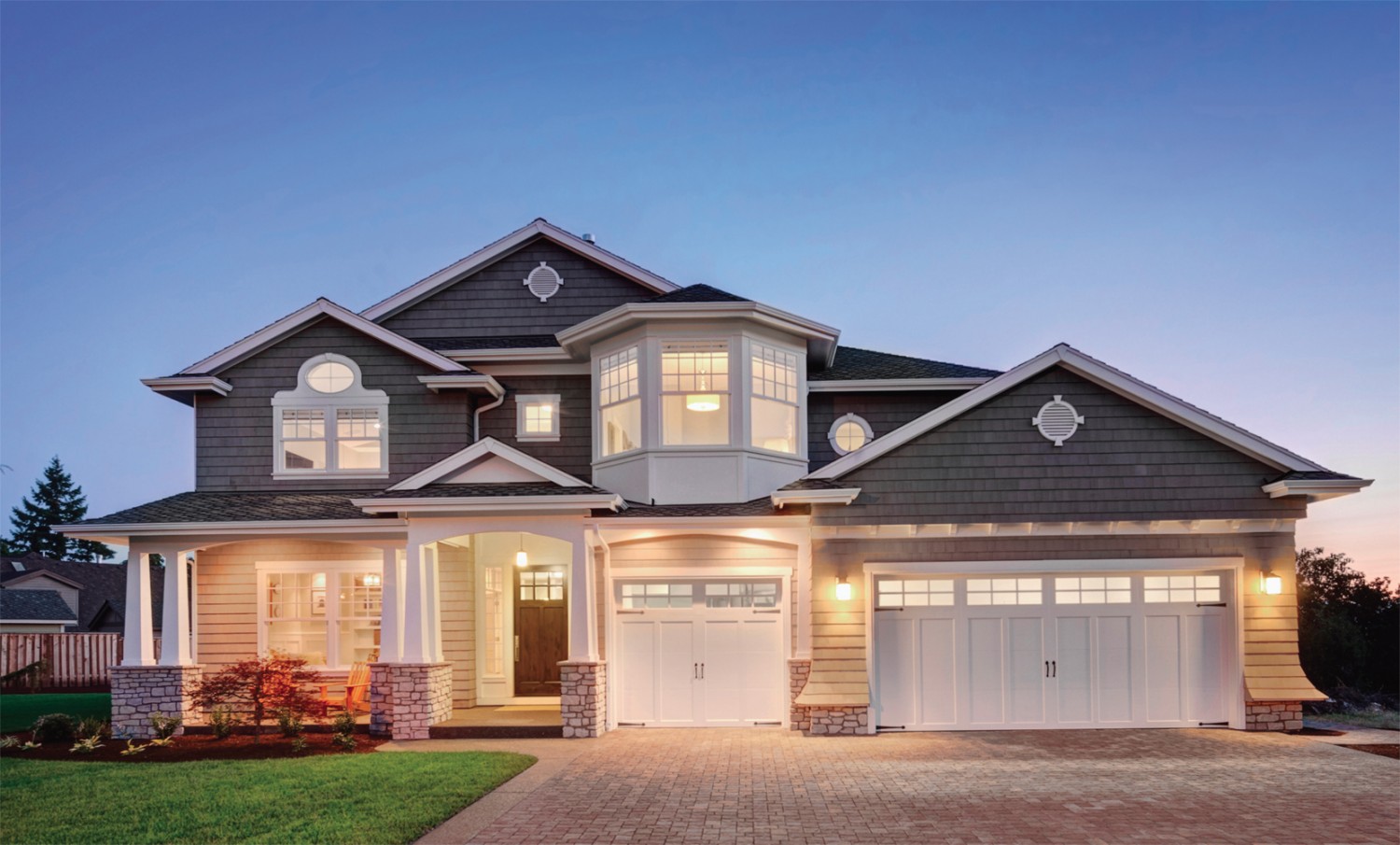 Winter weather can wreak havoc on the exterior elements of your home. Strong winds, fluctuating temperatures, snow and freezing rain may accelerate the aging process and even cause serious problems that need to be addressed as spring approaches. House & Home spoke with local experts in the field to find out what options are available to homeowners today when it comes time for repairs and replacements.
ROOFING
As temperatures start to tick up and you're able to spend more time outdoors, you may notice problems around the outside of your property. "A lot of the common issues are flashing problems; chimneys are deteriorating and need to be brick-pointed or touched up, the occasional missing shingle [or] siding that's partly come off and the homeowner doesn't notice," says Abe Brooks, owner of A. Brooks Construction.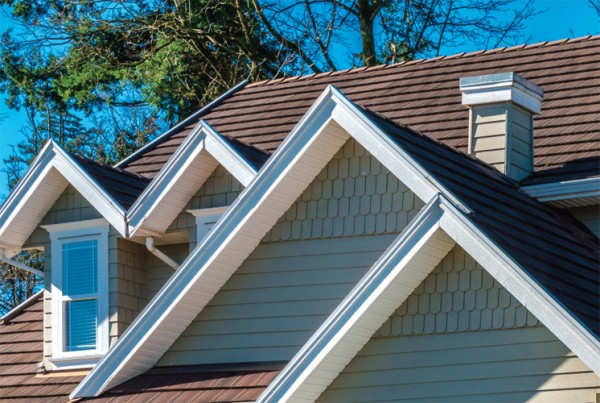 Asphalt shingle roofs have been prevalent in our area for the last few decades and are designed to last 20-30 years, meaning many homes will need to replace them soon, explains Michael Esh, manager at E&E Siding.
"[Some] of the main reasons for roof replacement is that the shingles have worn out, there might be some shingles that are missing or they are wearing down or the flashing is starting to deteriorate, causing leak potential and it's time for an upgrade," Esh says.
Josh Boesen, owner of Brandywine Exteriors, says there have been tremendous upgrades in roofing products through recent years. Boesen says that Owens Corning is their most popular selling roofing system. The biggest benefit of which is the accompanying 50-year labor and material warranty. "With the advance in products, these new roofs have a life expectancy of 50 years. ... You do not have to worry about replacing the roof on your home again," he explains. That can certainly be great for your peace of mind and the home's resale value as well.
One of the most popular roofing materials that American Home Remodelers installs is the GAF Timberline asphalt shingle, according to President Vic Fiore.
Esh echoes that, saying, "It's a very high-quality shingle and we have had very good results with it. It will last roughly 30 years."
But don't forget what's underneath the roof. Brooks says, "One of the main things we're doing is insulating the attic when we put the roof on. ... For homes with low slope roofs, we're also insulating that above the roof deck and then putting a white, reflective membrane down." The added layer of insulation will help your house retain heat in the winter and keep it outside in the summer, which translates into energy savings.
STUCCO REMEDIATION AND SIDING
In terms of siding, Esh says a common request right now is stucco remediation. "There's a tremendous amount of problems on the average stucco home because of the lack of flashing and proper treatment around windows and doors. So there's a lot of rot and mold happening behind the stucco," he says.
Harth Builders' owner Greg Harth agrees. "Stucco is meant to have a 100-year lifespan, but unfortunately, homes that were built in the last 20-25 years all had the perfect storm of problems and more often than not, we would suggest not replacing it with stucco," he says.
Luckily, today's homeowners have many new options from which to choose.
Esh says insulated vinyl siding has a really good aesthetic look. The insulation is glued to the back of the siding to provide a very rigid panel. "You won't see waves and buckles or anything like that, which is fairly normal with a vinyl siding," he explains. "And it looks very close to an old wood look, which is what people want. They don't want it to look like siding. It provides great curb appeal and adds value to the home."
Fiber cement siding is being used on more homes in this region as well.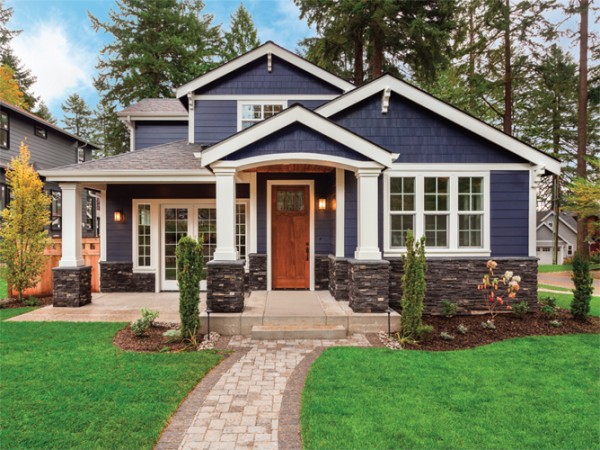 "We're working with a lot of clients on exterior options that include a natural quarry cut stone and James Hardie [fiber cement] siding or even Celect," says Harth. "It's a maintenance-free vinyl option that adds a gorgeous look to your home."
Brooks adds that with fiber cement siding you don't have to worry about hail damage or the wind blowing it out like you would with vinyl or aluminum. "It's a much stronger product for high wind areas," he says.
Another new trend is vinyl cedar shake siding, says Boesen. "[It] comes in a variety of different colors and gives your home the classic look of cedar with the durability of vinyl siding and is completely maintenance free."
For a classic, stone-front look, Dave Richards, project manager at Chapman Windows Doors & Siding says they are now offering a faux stone. "[It] actually looks like real stone, but is 
installed like a siding product and not masonry," he says. "This is also a more cost-effective way to get the stone look on your home."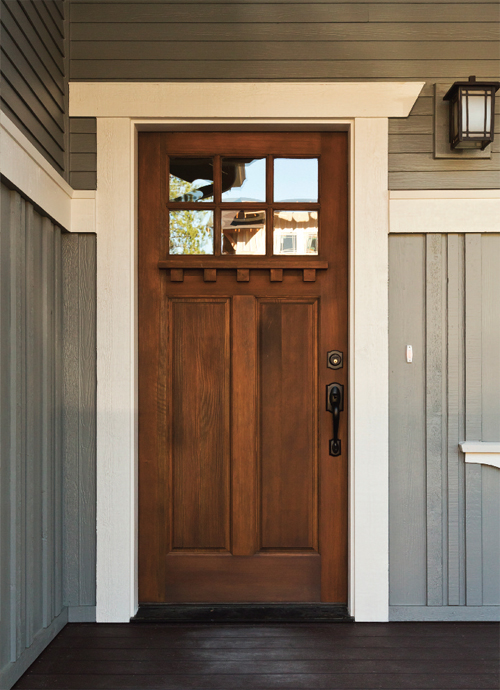 WINDOWS AND DOORS
When it comes to windows, Art Shepski, sales consultant at Chapman, says manufacturers continue to improve the thermal performance (energy efficiency) of their products by offering additional LowE packages for the glass. Improvements in the frame and overall construction of the window itself can also contribute to the energy efficiency.
These advancements make total replacement beneficial. "There can be a significant upgrade in replacing older windows and doors with insulated, double-paned glass," says Esh.
Shepski says this is also true for many of the entry door manufacturers. "Energy Star-rated and fiberglass doors have been increasing in popularity. Installation of new windows and doors will certainly enhance the home's curb appeal and value," he says.
But it's important to remember that any improvements you make are only as good as the work itself. "Although the ... products themselves have improved, it is probably more important that the product is properly installed with the correct flashing, etc.," says Shepski. "The most energy-efficient product, if improperly installed, will not perform the way it is intended."
"When you [hire] the right people, you can pretty much do anything, that's the key," Fiore concludes.
RESOURCES
A. Brooks Construction Inc./Kanga Roof
Bristol, Pa.
(215) 752-6145
ABrooksConstruction.com
American Home Remodeling
Irvington and Parsippany, N.J.
(800) 944-5541
AmericanHomeRemodeling.com
Brandywine Exteriors
Wilmington, Del.
(302) 746-7137
BrandywineExteriors.com
Chapman Windows Doors & Siding
West Chester, Pa.
(610) 431-8980
ChapmanWindowsDoors.com
E&E Siding
Gap, Pa.
(717) 442-4814
EESidingLLC.com
Harth Builders
Springhouse, Pa.
(215) 527-7300
HarthBuilders.com
Published (and copyrighted) in House & Home, Volume 17, Issue 7 (February, 2017).
For more info on House & Home magazine, click here.
To subscribe to House & Home magazine, click here.
To advertise in House & Home magazine, call 610-272-3120.