Harvesting a Fresh Landscape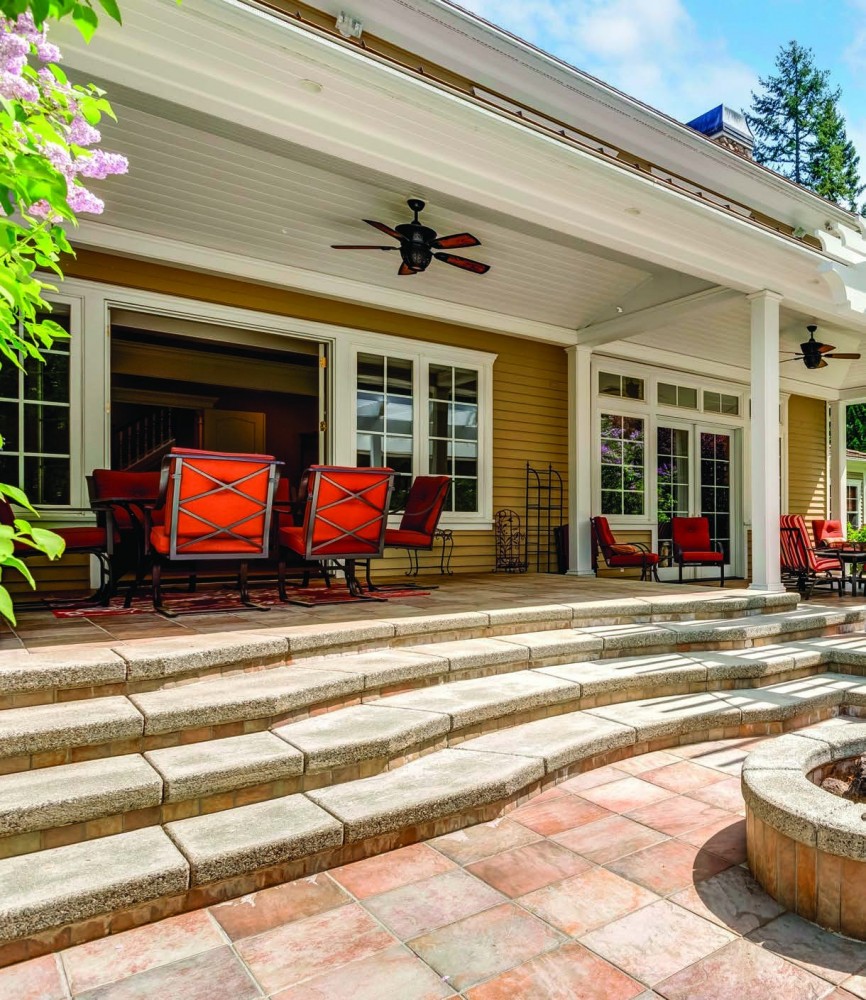 As the famous Benjamin Franklin saying goes, don't put off until tomorrow what you can do today. In terms of what that means for outdoor home renovation projects— stop pushing them off. While a lot of homeowners associate springtime as the best time to do landscaping projects, the truth is that fall is just as much a time to enjoy being outdoors and have projects completed. If you have an outdoor project that you have in mind, don't feel as though you have to put it off until the new year. The autumn months can be a great time to get that project underway. 
THE BENEFITS OF MILD TEMPERATURES
Actually, Steven Masullo, landscape design consultant for McNaughton's Landscape, says that fall is probably the best time for landscaping. He   says that the slightly cooler temperatures and less-intense watering requirements make it a great time to install plant material and allow it to get established.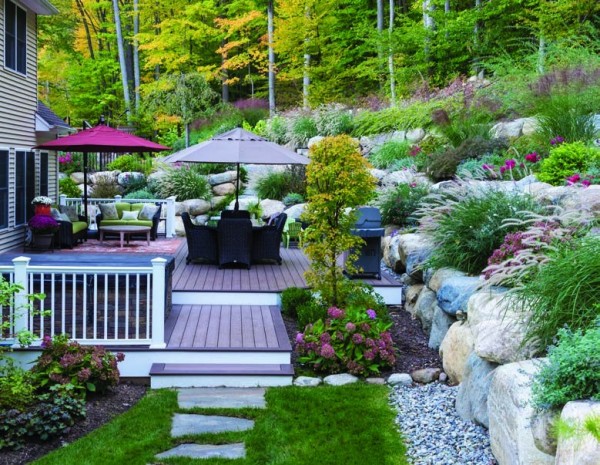 "Plants have plenty of time to establish themselves before the winter comes if planted in early fall," Masullo says. "It's an optimal time to think about a landscaping project."  
 "Fall is a great time for all types of landscaping projects—especially planting," agrees Ed Swietanski,  sales manager at Gill's Landscaping. "The warm days and cool nights are optimal for plant growth. You will typically see better plant performance in the first year when you do fall planting."  Despite the fact that fall is a great time for planting, it has been a long-held misconception that landscaping should be held off until spring, says Rich Cording Sr.,  owner and founder of CLC Landscape Design.
 "I have been fighting this misperception for 30 years now," he admits. "But the truth is, it has been horticulturally proven by universities like Rutgers and Cornell that the optimum time to plant is in the fall—specifically, October. There have been studies that have shown that plants grow deeper roots when installed at this time of year. The cooler temperatures stimulate growth and young plants don't have to deal with the heat stress associated with the summer. When you plant in the spring, there isn't much time until it gets hot."
Gina Villante, landscape designer and project manager for C.M. Jones, says fall is ideal for small landscaped areas or even touch-up projects.
"Any landscape project is good to do in the fall, as long as you leave adequate time for plants to begin to establish before winter temperatures hit," she says. "I would not suggest starting a large landscape project in mid-November if you know it's going to take weeks." 
It's also worth mentioning that fall can be a great time for landscaping simply because homeowners are home more and have more time  to devote to their project ideas, adds Michael Pasquarello, degreed landscape architect with Elite Landscaping.  
 "Once September rolls around, vacations are done and kids are back in school," he says. "Life gets back to a  normal and regimented schedule. As a result, attention is once again directed to home renovation projects." 
HARDSCAPING ELEMENTS
Of course, fall doesn't just have to be about plantings; the landscape and hardscape experts we spoke with also cited fall as being a great time for hardscaping. Swietanski says that Gill's gets a lot of requests for patios and fire pits during the autumn months.  
 "Customers are looking to extend their outdoor living space usage as late into the year as possible," he says.  
In terms of the most popular fall projects, there is definitely a big emphasis on fire features as fall temperatures set in.
 "While fire pits and fireplaces are popular year-round, come fall, those requests seem to peak," says Pasquarello. "As the nights get cooler and darker earlier,  it is human nature to want to be near the warmth of a blazing fire in the fall."  
Masullo agrees. He says that homeowners are "looking to extend their available time outside."
 "With a fire feature you can stay outside even as it gets darker and colder," he says. "That makes a fire feature a valuable investment in your outdoor living area since it allows you to spend more time there." 
Masullo says that homeowners should know that hardscaping projects can be done for a good portion of the calendar year. Only when the ground is frozen solid do hardscaping projects really need to be held off.  
 "We've been having more mild winters lately and it may not even be freezing until January or February," Masullo says. "The window to  work on hardscaping is often larger than homeowners realize."  
Mike Foreman, owner and president of Sundek of PA and Garden State Sundek, which is a decorative concrete overlay company, says that it's quite common for homeowners to think they have to wait until spring once Labor Day rolls around to start a big project. But he says that any time you can get a project done in the fall, you benefit by getting to enjoy it come spring. And even if you can't get your project started in the fall, it's a great time to call your contractor. While Foreman says that he generally does residential pools between March and October, he says it's ideal for customers to call him now, even if they don't plan to get started until spring.   
 "If you wait until April or May to call up a contractor, you risk winding up on a wait list and that just pushes your project out further," he says. "Don't wait until 2019. You might be unpleasantly surprised when you call that contractor in April or May and they're already booked out until July." L 
Cording agrees that getting on the schedule early is vital. "Something like a pool build takes a lot of time," he adds. "There is the design phase, permitting and other steps that need to be taken prior  to the actual construction. My advice is always to get the ball rolling as early as possible."  
Jarrod Nyce of Nyce Crete and Landis Block & Concrete  says that the fall is also a good time to clean and seal your outdoor spaces or possibly make some basic fixes. After a summer of rain, it is quite possible you have hardscaped materials that need to be repaired or cleaned. Nyce says that after spending all summer  enjoying your outdoor space, changes that you might want to make are fresh in your mind.
 "Now is the time for improvement," he says. "Maybe you want to add another feature or even expand the area. This is a great time to get these jobs done. People who have loved their  outdoor living spaces want more of them."
ADDING VALUE
In the end, whenever you ultimately  choose to complete your outdoor project, the fact is, it's going to add value. Outdoor projects are vital when it comes to curb appeal says Pasquarello.
 "The landscape and hardscape features of the home are what set the tone for someone's first impression," he explains. "Typically, the rule of thumb is to  invest 10 percent of your home's value into outdoor spaces to see an increased return of between 15 to 20 percent on average for resale. Homes with professionally landscaped and maintained grounds have also been known to sell much faster than equivalent homes that are 'exteriorly challenged.'"
 "Curb appeal always adds value," says Villante. "Homeowners  like to have outdoor spaces like patios and entertainment  areas. We all prefer the house with a backyard and an outdoor living space—not the house with just grass." Bottom  line? Try to get as much checked off your list as you can.
 "By the end of the season, people are normally checking some projects off their list even if they save their larger projects for the spring," she says. "Get what you can done now so that you have more time to enjoy it!"
RESOURCES
CLC Landscape Design
Ringwood, N.J.
(973) 839-6026
CLCDesign.com
C.M. Jones, Inc.
Exton, Pa.
(610) 644-7224
CMJonesInc.com
Elite Landscaping
Berlin, N.J.
(856) 753-1944
(800) 582-6598
EliteLandscaping.com
Gill's Landscaping
Mullica Hill, N.J.
(856) 223-9770
GillsLandscaping.com
McNaughton's Landscape
Cherry Hill, N.J.
(856) 429-6745
McNaughtonsGardens.com
Nyce Crete and Landis Block & Concrete
Souderton, Pa.
(215) 723-5506
LandisBC.com
Sundek of PA and Garden State Sundek
(888) 491-2200
SundekOfPa.com
GardenStateSundek.com
Images courtesy of CLC Landscape Design and McNaughton's Landscape.
Published (and copyrighted) in House & Home, Volume 19, Issue 3 (September 2018). 
For more info on House & Home magazine, click here. 
To subscribe to House & Home magazine, click here. 
To advertise in House & Home magazine, call 610-272-3120.