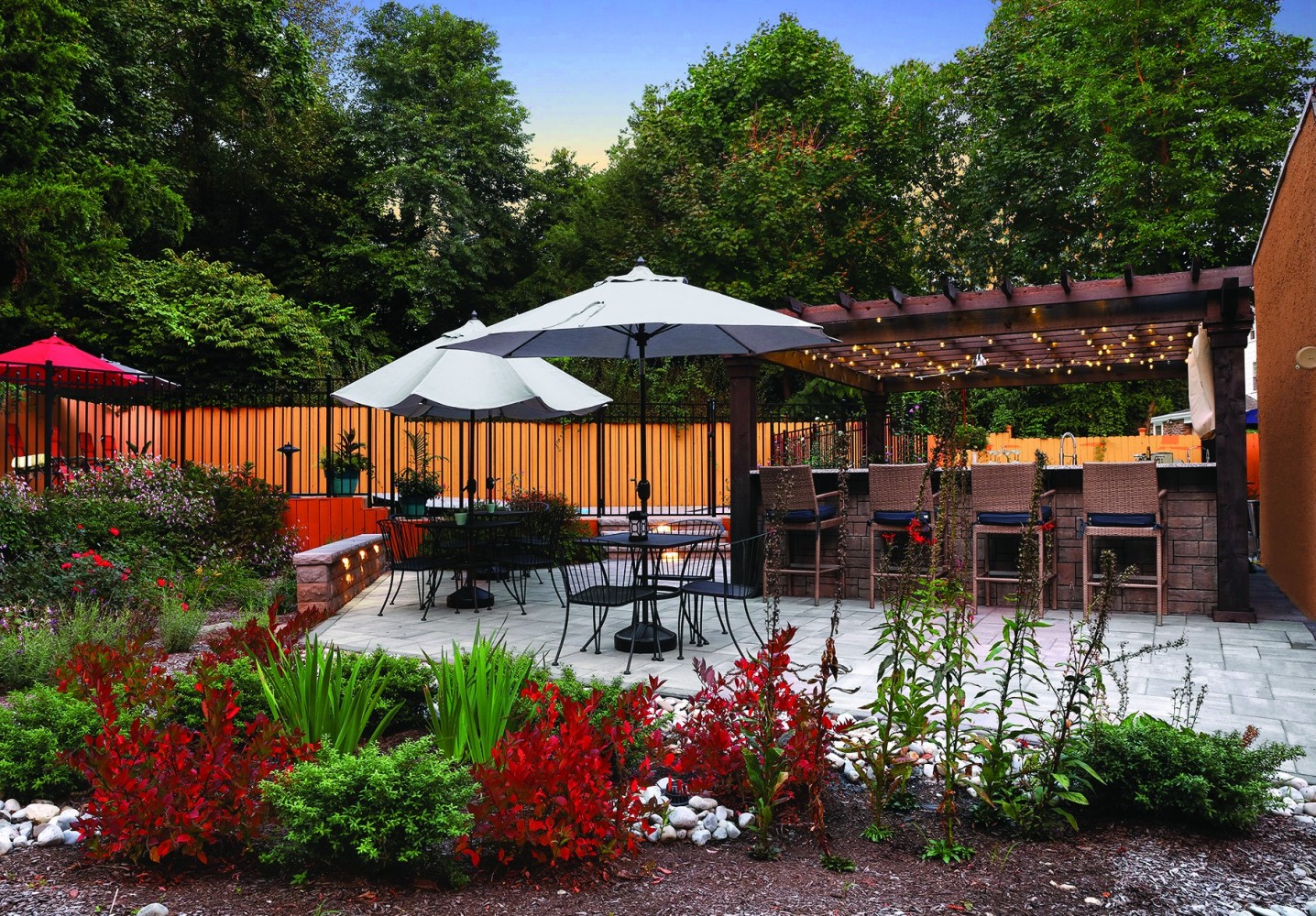 What exists on your property is more than just beautiful plants, an attractive patio and a well-built home. In truth, it is the culmination  of these features and much more, a representation of your vision, an expression of who you are and the place where you spend the most  important days of your life. Combining everything to make your property yours will forever change the life you've built for yourself.  
THE NEW CLASSIC  
"The core principles of landscape design can be  broken into two groups," says Jason Dicorcia of Leafy Green Landscaping. One group creates the "feel" or overall  ambience of a property through proportion, transition and unity, and the other group is more concerned with the property's  direct visuals or the eye movement it encourages via rhythm/repetition, balance and focalization. "We use the basic elements of landscape design— color, form, line, scale and texture—to translate those principles into  the landscape surrounding a home," he says. "When the principles are combined with the elements the right way, you get a landscape that is pleasing to the eye and just right."   
In landscape design, it's important for there to be both lush natural  elements and solid surfaces. "[Effective] landscape desig ns tie in the natural beauty of plant life [with] durable and lasting hard surfaces, outdoor structures, water and fire [features] using shape, texture, form, grouping and repetition to create a space that extends the living  space beyond the home," says Cameron Kennedy, designer at GroundTec.
It begins with examining the area around the home. Becky Turpin, landscape designer and landscape division leader at Turpin Landscape Design/Build, says her first concern is scale and proportion, which includes terrain, conditions, architecture and potential  structure and design plans such as hardscaping, water features, lighting and sound. A landscape overhaul of an existing space is a great idea, as is finding out if the homeowner wants to work in the garden or prefers a low-maintenance landscape.
Of course, the home itself should also come away looking even better. "Any well-designed landscape should complement a home's architectural exterior elements,"  says Michael Pasquarello, degreed landscape architect/sales at Elite  Landscaping. "The growth habit and structure of selected plantings  should seamlessly highlight or soften foundation corners, window lines, accents and entry points."
RECOMMENDED FEATURES
Plants, water features, walkways, lighting and more are landscape features that can be used in whatever ways they best suit and serve the homeowners' style and budget, says Dicorcia. "Plants need to do more than just look right, though. They need to fit into the environment in such a way that they will flourish, remain appealing throughout their life, and not grow out of their space. They also need to be able to thrive in the environmental canvas, or the soil that is naturally present."
"[We]  recognize that each client's job is unique and vital to fulfilling a homeowner's needs," says Brian Gill, owner of Gill's Landscaping. "There are many ways to add to the beauty of a home's landscape. Whether it be interlocking pavers or stamped concrete, a homeowner can enjoy many patterns and textures that will enhance their property."
Hardscapes can create areas for outdoor gatherings and dining,  says Kennedy. "Sloping areas can become usable spaces [through] retaining walls and steps, and many designs utilize separate spaces or outdoor rooms for various uses."
Landscape design creates an experience, using elements and accents to keep the dynamic moving and appeal to the senses, says Pasquarello. "Water features not only achieve an aesthetic  focal point but also drown out surrounding ambient  noise. Lighting creates an added dynamic to the landscape by extending its appreciation well after the sun has gone down. Highlighting and shadowing of landscape features can cause a space to have a totally different  feel at night than the day," he says.
Gill says curves are much more pleasing to the eye than straight lines. "Unless you have a formal, geometric garden, incorporate curves as much as you can in your landscape design," he suggests. "A series of easy, colorful plants including mums, pansies, spiraea and purple smokebush make these kinds of areas a knockout. It's another great  example of how foliage color and texture can be just as pretty as flowers."
Homeowners are likely not well-versed in the best plants or hardscaping materials to use in their design, but fortunately  our experts have a few favorites to recommend.
For plants, Dicorcia says blooming shrubs, such as azaleas  and rhododendrons, never seem to go out of style, and neither do evergreens like arborvitae,  junipers and boxwoods, which can be kept clipped into various shapes.
"Many of our clients prefer  smooth surfaces opposed to textured, and patios are being created with larger slabs and lighter colors with contrasting borders to give a more open feel yet [clearly] defined spaces," says Kennedy.
Natural materials such as bluestone and fieldstone in contemporary masonry design concepts  are very popular, says Pasquarello. "There are also many manufacturers that have introduced concrete options of these natural materials, simulating them very well."    
"Pavers, like Techo-Bloc or EP  Henry have great value," says Gill. But he reminds homeowners that they need to find a landscaper who can create the cuts, designs and craftsmanship that will transform your home.
"The  trend is reconnecting with nature by enjoying all that your outdoor space can offer," says Turpin. "Get outside, away from electronics and soak up the sunshine or moonlight and stars. Listen to the water to help you unwind and gaze at the beauty of the landscape that has been created just for you to experience and share with family and friends."
RESOURCES
Elite Landscaping
Berlin, N.J.
(856) 753-1944
EliteLandscaping.com 
Gill's Landscaping
Mullica Hill, N.J.
(856) 223-9770
GillsLandscaping.com 
GroundTec, Inc.
Hatfield, Pa.
(215) 322-7669
GroundTecInc.com 
Leafy Green Landscaping
Buena Vista, N.J.
(856) 692-8373
LeafyGreenLandscape.com 
Turpin Landscape Design/Build
Coatesville, Pa.
(610) 380-1119
TurpinLandscapeDesign.com
Image courtesy of GroundTec, Inc. 
Published (and copyrighted) in House & Home, Volume 19, Issue 6 (December 2018). 
For more info on House & Home magazine, click here. 
To subscribe to House & Home magazine, click here. 
To advertise in House & Home magazine, call 610-272-3120.