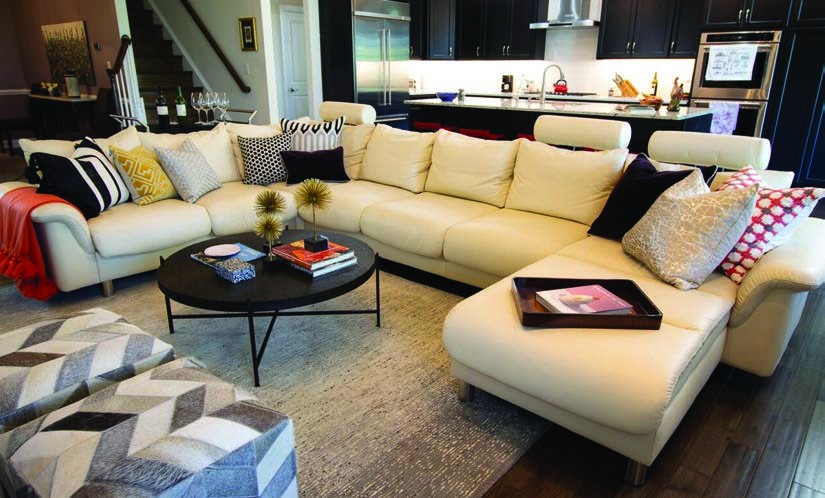 After awhile, most homeowners need a reset, a recharge, a remaking of their home. It might be a massive undertaking or it could be something more subtle, ushering in ideas of changes to come. There are countless ways to refresh your home, bringing new life and more enjoyment to your day to day. Before you know it, the home you've lived in may become a place you've never been … and may never want to leave.
REASONS FOR A REFRESH
There are definitely a multitude of reasons why people want a refresh, says Debbie Hall, owner of Designer Draperies & Innovation. "There may be a wedding, a holiday party or some special event. Maybe the mother-in-law is coming to town. Maybe their look is out of date. Maybe they've had renovations done and need to finish other spaces off."
Sometimes, there's no other reason than wanting something new. "People get tired of what they have. They've been living with it a long time, or trends change, or their parents gave them these things and they can now afford their own style, or the kids have moved out so now they want a look that represents them," says Cindy Philo, manager/designer at Blue Raccoon Home Furnishings.
Homeowners might also feel inspired by watching home re modeling shows. "Thank you to the DIY channels and Chip and Joanna Gaines with their home remodeling shows (along with many more)," says Steve Matteo, VP of Matteo Family Kitchens & Flooring. "We see from these shows that with a new color change, removing the carpet for hardwood or maybe artwork  with an inspirational saying on a focal wall can create a completely different feel for you in the home you have lived in for some time."
Professionals get to the root of the reasons for refreshing the home by asking several questions.  
 "When customers start off, we ask questions," says Hall. "Are there any pieces you want to keep? Are you keeping your sofa, the carpet? What type of feel do you want to have: casual, formal, light and airy, farmhouse chic? What is the focal point? Is it the fireplace? What are you going to do for fabrics, colors?"
Once they know what area of the home the customer is interested in refreshing, Matteo says a home  consult is in order. "[We need] to see the space and ask what they are looking to achieve—simple updating or a complete change, etc. We take field measurements of the room and will do a design."
It may even be smart to refresh one room at a time. "We try to direct people to pick a room they use the most and focus on that. Once they see how that goes, then they can decide what's next," says Philo.  
Bobby Huber, sales manager/ buyer for Oskar Huber Furniture, says getting ideas from the homeowners  themselves is also important. "Maybe there is a life event that has triggered the need to shop for furniture. This could be buying a new house, a growing family, downsizing, etc. We want to know who the decision-makers are, what the budget is  for the project, who will be using the space and how they want the space to function. Once we have some of these answered, we can give clients homework. We tell clients to pick up shelter magazines. Go on Pinterest and create a board. Anything will help us identify their style. Then the fun begins," he says.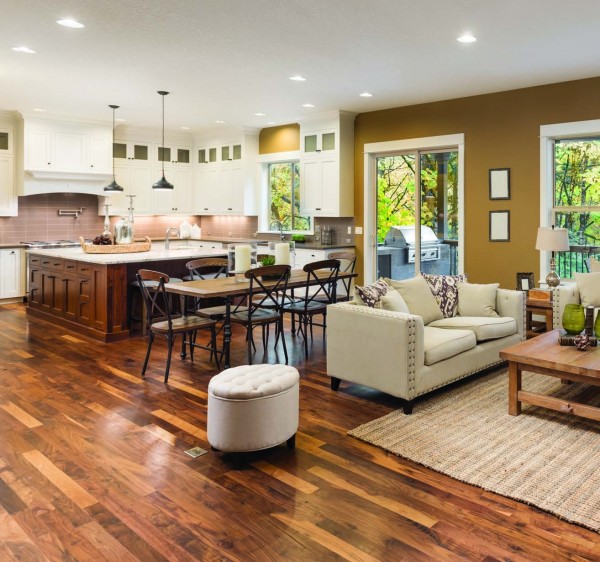 DESIGN DECISIONS
Updating can be a big undertaking or a quick project. "It can be as simple as picking out new artwork  or as extensive as a  complete makeover," says Huber. "Painting a room can completely change the style without doing anything more. New furniture is also one of the best ways to achieve a new look. Furniture and a well-designed room are meant to tell the clients' story—how they want to live, what their passions are."
Hall warns against painting before other design elements have been chosen. "One mistake people make is painting a room first," she says. "If you do that, you might be off by one shade. You're much more limited if you're trying to find fabrics and furniture or carpet colors to match your paint. But if you start with the sofa, you can then change the pillows, window treatments, artwork and then the color of the wall. Or you can try something easy like lamps and light fixtures. Maybe look at crown molding, wainscoting, or coffered ceilings. These can make a huge impact. For something bigger, change the size and style of windows or doors, change the wallpaper or renovate the bathroom and kitchen."
Homeowners may ask what the latest trends are, but they can come and go. "Trends depend on what's on TV," says Hall, "and these change. Everything has been light and airy, but now people are into cool grays. There is a lot going on with stone and tile work, wood feature walls and drapery panels."
Some trends may even be too much for the space. "Trends are great to inspire, but sometimes they can be out there," says Philo. She suggests you look at them for overall guidance and inspiration. "You can take a trend (maybe through a pillow or rug) and bring it into your home that way."
Matteo says some of the newest looks he suggests include updating hardware or knobs by using satin nickel or oil-rubbed bronze, or change a Formica countertop to granite or quartz. "Kitchen tile backsplashes are still the rage in the industry for the most bang for your buck without replacing the entire cabinetry  areas," he says. "We are removing the foyer tile, kitchen vinyl floor and living room carpet to make one cohesive floor. We see the trend mainly being done in hardwood but we also do a large quantity of waterproof vinyl plank, which is great for wear and tear from pets and young children."
It is often helpful to visit a showroom to see styles in person. "The reason people come to our store is that they do not know what the current trends are and are not able to see them from a free shop-athome  mobile franchise as their selections are limited," says Bob Silver, owner of Blinds Shade & Shutter Factory.
Pace yourself, says Hall. "If you update one room a year, the house won't look dated. And if you put this in your budget, it'll never seem like a surprise expense."  
RESOURCES
Blinds Shade & Shutter Factory
Warrington, Pa. | (215) 491-4400
BlindsShadeAndShutterFactory.com
Blue Raccoon Home Furnishings
Lambertville, N.J. | (609) 397-5500
BlueRaccoon.com
Designer Draperies & Innovation, LLC
Hainesport, N.J. | (609) 702-1261
DesignerDraperies.net 
Matteo Family Kitchens & Flooring
Woodstown, N.J. | (856) 769-2490
MatteoKitchens.com
Oskar Huber Furniture
Southampton, Pa.
Long Beach Island, N.J.
(215) 355-4800
OskarHuber.com
Select photography courtesy of Oskar Huber Furniture  
Published (and copyrighted) in House & Home, Volume 19, Issue 5 (November/December 2018). 
For more info on House & Home magazine, click here. 
To subscribe to House & Home magazine, click here. 
To advertise in House & Home magazine, call 610-272-3120.