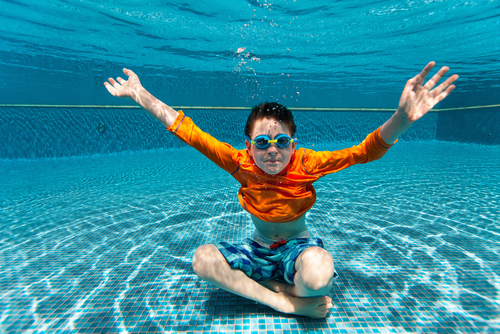 Here in the Northeast, the swimming season obviously doesn't last as long as it does in say, Florida or Arizona. The prime summer months are precious for pool owners, and they are not meant to be wasted on upgrades and repairs to equipment or the structure of the pool itself.
That's why spring is such a crucial time to handle any issues that need to be addressed. Homeowners should be thinking ahead to consider what changes they might want to make to their pool, and contacting their pool company to begin the process even before the weather turns.
"The sooner you schedule, the better," says Steve Fahs, owner of Country Club Pools. "If somebody is planning a graduation party or something, it's always good to open the pool at least two weeks in advance of that. If there are any issues, you want to solve them right away."
House & Home spoke to local experts about the most common pool improvements they see at this time of year, and ways to make an old pool look fresh again.
Equipment upgrades
Although there are several areas in which equipment can be updated, one that's often made during the opening of the pool is the addition of a new pool pump, either to replace a failing pump or because the homeowner is seeking better energy efficiency.
Whereas the standard, one-speed pumps operate at a constant speed to circulate pool water, the variable speed pumps available today automatically adjust their speed to fit each necessary task, leading to a more efficient system.
"A lot of our customers are getting into the energy-efficient pumps," says Matt Kochan of Great Valley Pool Service. "In the past they were stuck with one single-speed pump, but now they have the ability to ramp it up to a three horsepower pump, or slow things down and have it run slow and low, and that saves on electric in the long run. The motors are generally a lot quieter, so the neighbors appreciate that too."
"It's supposed to save up to 90 percent of your energy that a normal pump uses in the summer," adds Tracy Bond, also of Great Valley.
Amy Rullo of Premier Pool Renovations believes the variable speed pump is a good investment, even though the upfront cost is significantly more than a standard one-speed pump.
"The older style doesn't give your electric bill a break," she says. "The newer ones have a switch built in to help turn on and off as the demand increases. ... So it saves you money, and the return on investment is pretty quick. On the front side, you do pay a lot of money for a variable speed pump, but on the back side you do make that money back in one or two seasons.
"The other thing that's advantageous is that up to the end of 2016, I believe your local energy provider—for us it would be PECO—is offering a rebate for anybody who changes their pool equipment for more efficiency. So a lot of people are trying to do that, and in some cases it's a $150 [rebate]. So it defrays the cost of the pump."
Spring is also an ideal time to replace an aging filter, especially if a new pump is already being installed. And another popular change is converting to a saltwater pool, which eliminates the need for liquid chlorine in the pool.
"A lot of people are converting to salt generators just for the pure ease of it," Kochan says. "You don't have to go out and manually throw in chlorine. Since it's automated, you can accurately control how much chlorine is being generated and overall make the water more comfortable for swimming."
Extensive repairs
Sometimes the issues that arise at this time of year require more than just the purchase of a new piece of equipment for the pool. These changes have functional as well as aesthetic results.
"These winters take a toll on the pool," Dominic DiCesare of Blue Haven Pools says. "[When the ground freezes] you get movement in the decks, which push against the coping, which will cause the tile to pop off. So you'll open your pool and you'll have a half-dozen pieces of tile coming off. People just think they can repair the tile, but what happens is the coping actually gets lifted off the surface of the pool. So unless you address the coping, you're always going to have tile issues with the pool. So you really should look at the whole thing."
Kochan agrees that it makes sense to look at the big picture if you are considering a pool renovation.
"If your pool is 10-plus years old and the plaster is wearing away, you want to get your tile, your coping and your plaster all done at one time," he says. "If you're going to drain the pool, you might as well bite the bullet and get it all done. This way it all has the same starting point and it all ages gracefully together."
A renovation can have a drastic impact on an older pool, creating a more modern look.
"There are tons of options, from different textures on your deck to different textures in your pool, different tile colors, coping in flagstone or brick," Rullo says. "There are multiple ways to give your pool a facelift. Obviously, the bigger your budget, the more different things you can do to change its appearance."
Whereas an equipment change can be done in a matter of days, a project like a renovation or even installing a new liner in a liner pool takes more like several weeks, so good planning is important.
"If it's just tile and coping, it can be done in three days," Rullo says. "But if you're doing tile, coping, plaster and deck, it takes longer. So people really need to prepare for those things sooner rather than later if they want their pool ready for Memorial Day."
Automation and other options
Technological advances have made pool maintenance easier than ever before, experts say. The automated control systems available can help schedule and operate filtration cycles, heating, sanitizing and much more.
"That's getting big," Kochan says. "Everybody has a smartphone and the ability to get on the internet anywhere, so they like to be able to use that technology to turn their equipment on. They're not just stuck with a panel in their house; they can be on their way home and dial up their equipment with their phone. They can turn on their heater for the pool or put in spa mode so it's ready for when they get back."
The advantage of automated controls is that you can operate your pool basically from anywhere in the world.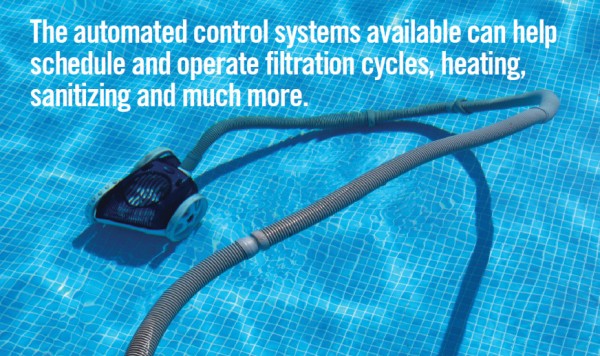 "The automation is totally upside down now," DiCesare says. "If you're on a flight back from Europe, you're going to be home in four hours and you want your pool and spa ready to go at a certain temperature, you can dial it up on your phone and it will do it for you."
With more and more homeowners seeking the resort-style experience in their own backyards, additions like waterfalls, laminar jets and elaborate slides are other possible projects that can be tackled in the spring, though they can get costly.
LED lighting is also popular and becoming more common in pools. "They have all different types of lights now," Fahs says. "They have LED lights, they're multi-colored and they light up the whole pool. Lights have come a long way since the incandescent bulb."
"There are a lot of technological advances coming out," Bond adds. "Pentair is supposed to release a new light that is a projector, so you can have your own images on the bottom of your pool.
"They also have more modernized hand rails and ladders now. So if people want a nicer look than the standard round tubing that's been in place for years and years, that's another possible upgrade."
Ready for summer
Whether the spring pool project is large or small, the professionals agree that it's best to take care of them as quickly as possible. If you wait for May to start making plans, odds are you won't get to enjoy your pool until well into the summer.
"Most people start opening their pool in April and it just gets busier and busier," Fahs says. "So you should start calling to get on the schedule in mid-March, and it's advisable to take a peek under the cover now. If there's an issue, you want to know about it. You don't want to take the cover off and find out you have a problem."
RESOURCES
Blue Haven Pools & Spas
Colmar, Pa.
(215) 996-0900
BlueHaven.com
Country Club Pools
Hatboro, Pa.
(215) 675-7550
CountryClubPools.com
Great Valley Pool Service
Frazer, Pa.
(610) 889-0711
GreatValleyPool.com
Premier Pool Renovations
Plymouth Meeting, Pa.
(610) 825-8808
PremierRenovations.com
Published (and copyrighted) in House & Home, Volume 16, Issue 9 (March, 2016).
For more info on House & Home magazine, click here.
To subscribe to House & Home magazine, click here.
To advertise in House & Home magazine, call 610-272-3120.