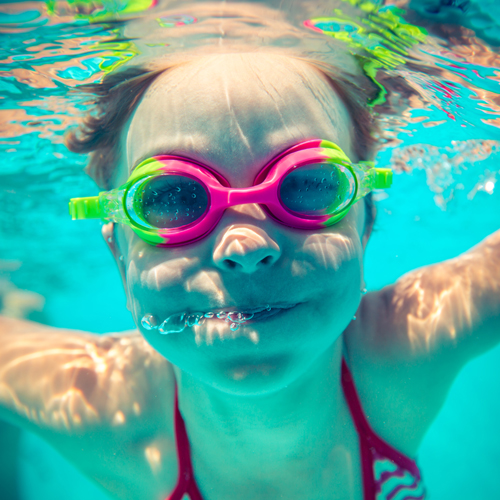 Pools were meant for families and friends, building memories and adding fun to summer. To support that, today's pools have seemingly endless features that engage all ages and interests. Basically, your pool needs to keep the whole gang happy—both in an entertaining way and a functional one as well.
"Pools are a very social thing; they're where people gather," says Charlie Jenkinson, operations manager at Rutgers Pools. "They keep families spending time together. People have picnics and parties, adults get together. Grownups like the social end. You'll have a picnic, and most of the adults end up in the spa. About 75 percent of people hang out in the shallow end to talk."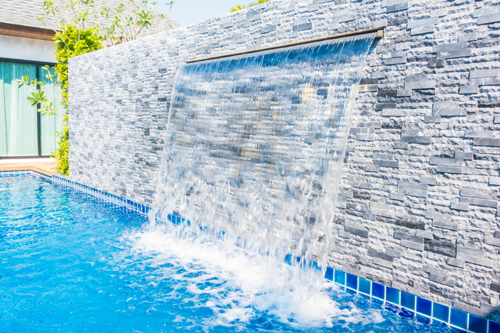 House & Home spoke with some professionals in the area who told us the most crowd-pleasing and life-extending features making a splash in today's pool designs.
Family friendly
Whether you have kids or not, there's no denying that being in a pool can make you feel like a kid again. Luckily, there are plenty of features that both kids and adults can enjoy equally.
So many additions add to the fun of having a pool. "There are sliding boards, sun ledges and diving boards," says Toni "The Pool Lady" Williamson, owner of The Pool Store.
"The sun shelf is one feature that both adults and kids love for different reasons," says Mike McCool, general manager of Swim-Mor Pools. "Kids can sit in the water and splash and play in shallow water, [while] adults can lounge in a chair on the sun shelf under the umbrella in the pool."
Bill Lee, general manager, Northeast, at Anthony & Sylvan Pools agrees. "Sun shelfs are popular. Having one depends on the size of the pool, of course. You can put a lounge chair on them and just relax in the water. They're shallow, so they're great for smaller kids," he says.
Slides were once a bit of an eyesore on pools, but they've made a comeback in recent years, says McCool. "They are not the old metal ladder and slide anymore. Now they create a large flow with up to 50 gallons a minute and are much more aesthetically pleasing than the slides we grew up with," he says. Slides can even be incorporated into the landscape around the pool to blend in.
Swim jets are another feature growing in popularity because of how they appeal to adults and kids. Swim jets can be installed in pools of any size, but are particularly appealing for smaller pools. The system works by pushing water through several jets located at shoulder and chest level, creating resistance. Many people use it for exercise benefits or even therapy. "The force of the water allows exercise without hurting joints," adds Dan Katzman, president of National Pools and Spas.
"Adults get the health benefit of having a water treadmill where you can either walk or swim in place against the current. Kids turn them on and now they can play against the current, boogie board across the pool, or any number of inventive ways [to play]," he says.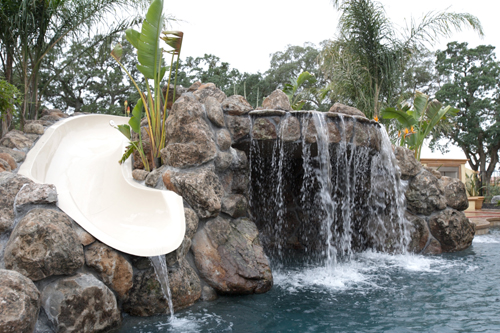 Besides the fun, active aspects of a pool, there are also relaxing elements to add, such as hot tubs and grottos with waterfalls. "There are waterfall features with a cove underneath to play in and fountains," says Jenkinson.
Depending on your backyard, you can also get swim-up bars, beach entry areas and vanishing edges. "These types of features [need] the right backyard, with certain backdrops and grades, to really get the full benefit of what they can be," says McCool.
Technology
Just as most people want the latest tablet or smartphone gadget, they also want the most current technology for their pools.
"Most clients are looking for all types of upgrade features. They want automation, the latest equipment and salt water is very popular," says Lee. "Salt chlorinators are a great way to sanitize your pool. They use regular table salt and keep the water at a minute salinity level to generate chlorine. They are very cost effective to run; and you save money in the long run, plus the water has a much softer feel."
"Salt water has been terrific," says Jenkinson. "It's 10 times cleaner than [old] filters. You don't need to add chlorine or anything, so you save money on chemicals. Plus, it feels silkier and the filters last 20-plus years."
Walter Beyer, president/owner of Stardust Pools, member of National Pool and Spa Institute, agrees that most people are embracing salt. "No chlorine or shocking. It's much more appealing because it's easy to maintain. It's a very simple process." But maybe the hottest things, to him, are heat pumps. "I highly recommend heat pumps. They are safe, not hot to the touch. And they are energy efficient, using one-sixth of the cost of gas powered motors," he says.
Experts we spoke to also mentioned LED lights, saying they add atmosphere and safety at night.
Lee likes LED lighting, saying it has indeed advanced dramatically. "LED has gotten much better," he says. "It's much brighter and you can have all sorts of colors. You can actually put on color shows. Plus, it's low voltage so there's a safety factor."
And for automation, touch-pads or hardwired remotes have evolved to hand-held Web-based systems.
"Pool technology increases every one to five years," says Jenkinson. "Today everyone is connected by smartphones. You can [use them to] bring temperatures up and turn lights on. The technology is far superior than 10 years ago."
Katzman agrees technology has a lot to offer. This includes "automatic pool cleaners and underwater lights," he says.
Between the technology and entertainment features, a pool remains a main attraction of the summer.
"I want my kids swimming in our pool. I like having all our parties here. [Neighborhood] kids can come to our house," Beyer says. "[With a pool], you have your own paradise in the backyard."
REOSURCES
Anthony & Sylvan Pools
Multiple locations in Pa. and N.J.
(855) 565-8254
AnthonySylvan.com
National Pools and Spas
Hillsborough, N.J.
Robbinsville, N.J.
(609) 448-3366
NationalPoolsAndSpas.com
Rutgers Pools LLC
Ringoes, N.J.
(800) 422-6008
Rutgersln.com
Stardust Pools
East Brunswick, N.J.
(732) 254-3330
Stardust-Pools.com
Swim-Mor Pools
Mt. Ephraim, N.J.
(856) 456-3332
SwimMor.com
The Pool Store
Washington Township, N.J.
Williamstown, N.J.
Sicklerville, N.J.
(856) 286-3300
ThePoolStore.com
Published (and copyrighted) in House & Home, Volume 16, Issue 11 (May, 2016).
For more info on House & Home magazine, click here.
To subscribe to House & Home magazine, click here.
To advertise in House & Home magazine, call 610-272-3120.