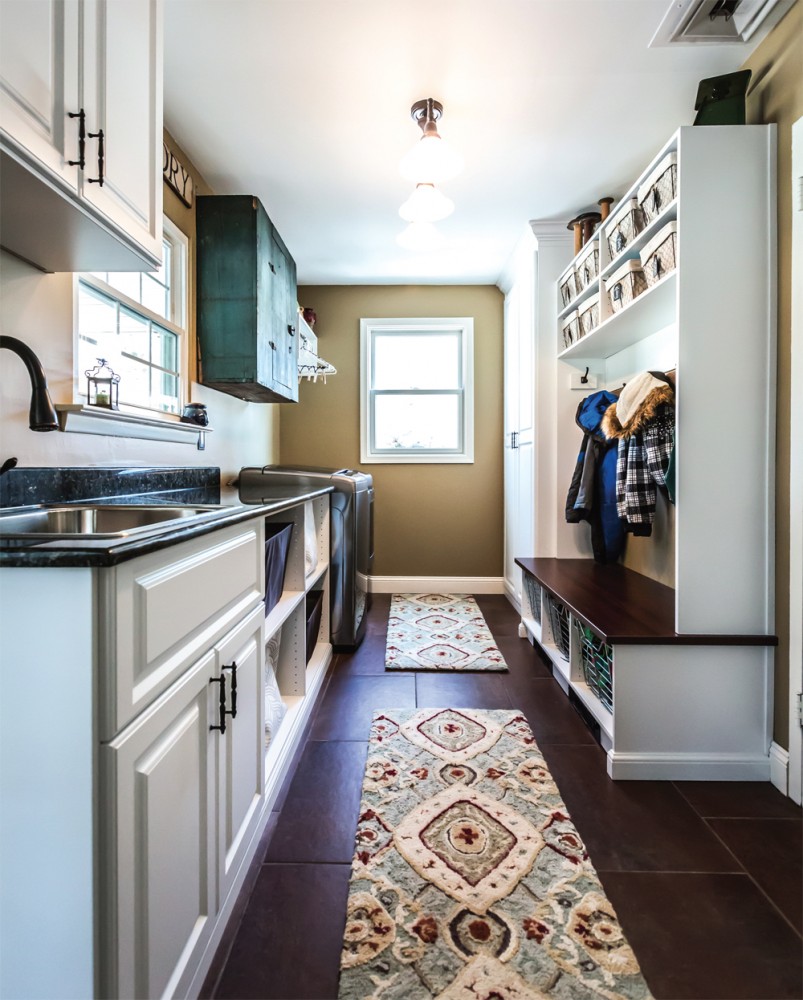 Getting out the door on time and with their sanity intact can be a daily challenge for families on the go, especially when young children are involved. Inevitably, someone is frantically searching the house for a coat or backpack, and the whole scene can get chaotic.
That's why more and more homeowners are utilizing mudrooms or other organized entryways to make life just a little bit easier.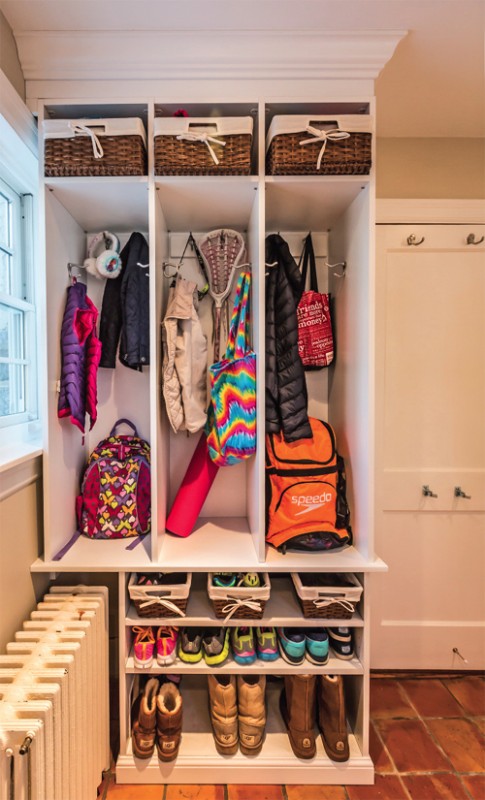 "One of the biggest benefits to a mudroom is the time you save when you're leaving in the morning and coming home at night," says Daniel Pascucci of Tailored Living of South Jersey. "People want something close to the front door or the garage door to organize their everyday items."
"It's a central place for the family to put things such as shoes, hats, socks and gloves," agrees Kymberly Morris of Closets by Design of Pennsylvania & Delaware. "It adds time to your day and makes it easier for you to get out the door.
"A buzzword for mudrooms right now is 'landing pad.' Kids come in after school, they take off their shoes and put them in a basket and hang up their coat. So the next morning, you're not running around looking for Tommy's coat or Susie's sweater. Everything is in one spot."
House & Home spoke to several experts in the area for tips on mudrooms, including the best spots in the house to have one, the leading storage options available and how they can be stylish as well as functional.
Location, location, location
Russell Tuckerman of Tuscan Sun Kitchens notes that in some parts of the country, designated mudrooms are common as a separate room at the main entrance. That's not necessarily true in our area, however.
"I think in a lot of New England homes, particularly in more rustic settings, people have an entryway where you can come in and take your boots off before you enter the house," he says. "There's a lot of snow and mud for a lot of the year there, so the main entrance usually has a good spot to get the coats off and the boots off. But [mudrooms] certainly are not in the front of the house here in the mid-Atlantic states."
Linda Kennedy of Closets Together says mudrooms are common with her clientele, but agrees that it is rare to see them in their own designated spaces.
"They are very popular, especially for families with kids, because kids have lots of stuff," she says. "Occasionally, there will be a house that's large enough to have a dedicated mudroom. But a lot of times, it's designed in combination with a laundry room, where there's a washer and dryer."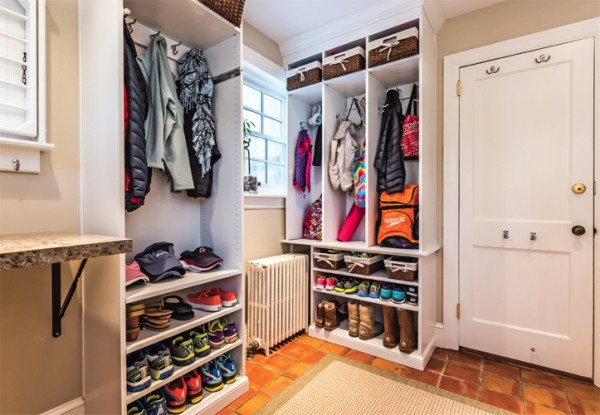 Another reason mudrooms aren't often found at the front of the house is that many homeowners reserve the front entrance for guests.
"Most people don't use their front door on a daily basis," says Eric Nili of California Closets-Cranbury. "They come in and out of the house through the garage. It's a place that people really want organized, so we offer cabinetry as a place to put coats, shoes, keys—anything you want to put down when you first come into the house."
The storage options and mudroom applications today can be made to fit any space, even underneath stairs or in a hallway. That is especially beneficial in an older home.
"Usually they're located right near the garage where people enter into the home," Nadine Holtz of Closets by Design of Northern New Jersey says. "However, I am working on a project right now and it is at the front entrance. We're going to put a bench and upper cabinetry there. It's an older home, that's where [the homeowners] enter and it seems to be a dumping ground. They've asked me to design it so they're able to store their shoes and have a place to hang coats, because there's no closet there."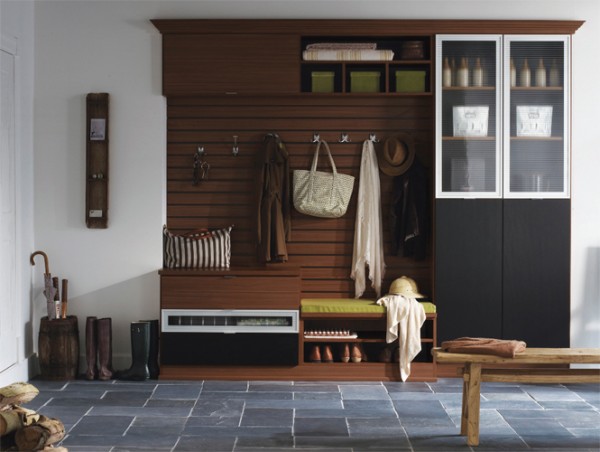 Plenty of possibilities
From hooks to shelves to storage bins, the experts we spoke with offered many options to utilize in a mudroom or organized entryway. It all comes down to the lifestyle of the homeowner.
"The beauty of our system is that everything is custom, so we really make it specifically for the customer's needs," Nili says. "For example, somebody may want their coats behind doors; somebody else might just want them on hooks so it's easier for kids to hang them up. Some people prefer a place for shoes; other people don't take their shoes off when they come in. In this area, we need places for our hats and gloves and scarves, so we may do drawers or baskets so everybody has a place for that. In terms of the specifics of the design, it's really customized."
The system is also built to fit the exact space the homeowner has available, whether that be a vertical or horizontal area.
"We use all the available space and then we look at the client's needs and tweak the general design so they get exactly what they need out of it," Pascucci says. "There's usually storage for shoes and a seating area, so we create a bench where they can sit down. Then you have storage for things like coats, book bags, phones and keys. We can even build in a charging station option. There are lots of different features that can hang off that one configuration."
Morris adds that some clients like to create a certain space for each one of the children.
"They can have baskets with each child's name on it, so they know exactly where their stuff goes," she explains. "Whether it's gloves, hats, shoes or boots, everybody knows exactly where everything is. So in the morning, they're not running around, they're not late, they can find what they need and get out the door."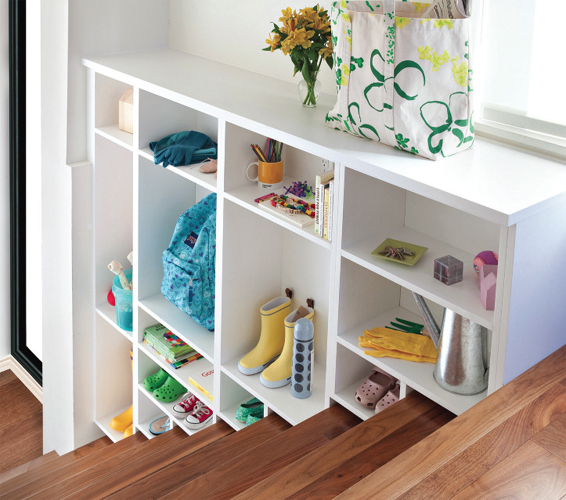 Still, while organized entries are especially useful for young
 children, their impact on adults should not go unnoticed. They can be used for everything from pool towels to sporting/gym equipment to lawn tools.
"When you think of [a mudroom] traditionally, you think of families that have a lot of children," Kennedy says. "But we've also done them for empty-nesters who have a hobby so they can keep all of their things together. Gardening is probably No. 1 on the list for empty-nesters to have things organized before they go out. That can include different shoes that they wear, a knee pad, gardening tools, a sun hat. So it's not just for families with kids."
Fitting the style of the home
While mudroom applications are first and foremost designed with functionality in mind, there's no rule that says they can't be aesthetically pleasing as well. Just as there are many options for storage, the same holds true for the selection of colors and materials.
"It used to be that we did a lot of mudrooms in white or off-white, but now we have such beautiful colors available," Nili says. "Our Lago material has a beautiful wood-grain texture to it and it looks and feels like real wood. We also bring in material from Italy; we have this Italian board called Tesoro that's absolutely gorgeous. Customers are doing more and more of that in their homes."
"We have the most current materials that blend in, so we're able to do something that will work well with your stained floors, your wall coverings and the cabinetry you have in the home," Holtz adds. "We can do something from ultra-modern to a traditional or transitional home design. We make an effort so everything flows and it looks like it belongs as far as the finishes and colors."
Although the main focus of Tuckerman's business remains kitchens, he explains that cabinetry is spreading to other sections of the house, including mudrooms.
"In my showroom I have good, better and best, and there's a huge variety of door styles, finishes and construction options," he says. "Everything that's available for the kitchen is available for the mudroom in terms of style and finish, so there's thousands of ways to do this. It can be traditional, transitional, contemporary, whatever the customer wants to do."
In the end, organization can be stylish as well as extremely helpful on an everyday basis.
"The decorative options are only limited by your imagination," Pascucci says. "We can put all different kinds of accessories and hardware on these. There is an incredible amount of options with respect to handles, poles and accessories. Some of the same accessories we use in the closet can be used in the mudroom, whether they be drawers or baskets or valet rods. There's quite a wide range of things you can do to truly personalize the space."
RESOURCES
California Closets
Cranbury, N.J.
(609) 655-1899
CaliforniaClosets.com
Closets By Design of Nor
thern New Jersey
Carlstadt, N.J.
(201) 964-9600
NorthNewJersey.ClosetsByDesign.com
Closets By Design of Pennsylvania & Delaware
Exton, Pa.
(610) 644-4143
Philadelphia.ClosetsByDesign.com
Closets Together
Malvern and North Wales, Pa.
(215) 531-7955
ClosetsTogether.com
Tailored Living of South Jersey
Marlton, N.J.
(856) 872-2918
TailoredLiving.com/Marlton
Tuscan Sun Kitchens
Vineland, N.J.
(856) 506-0543
TS-Kitchens.com
Second photo courtesy of Closets By Design of Pennsylvania and Delaware.
Third photo courtesy of California-Closets-Cranbury.
Last photo courtesy of California-Closets-Cranbury.
Published (and copyrighted) in House & Home, Volume 17, Issue 7 (Special Edition Spring 2017).
For more info on House & Home magazine, click here.
To subscribe to House & Home magazine, click here.
To advertise in House & Home magazine, call 610-272-3120.