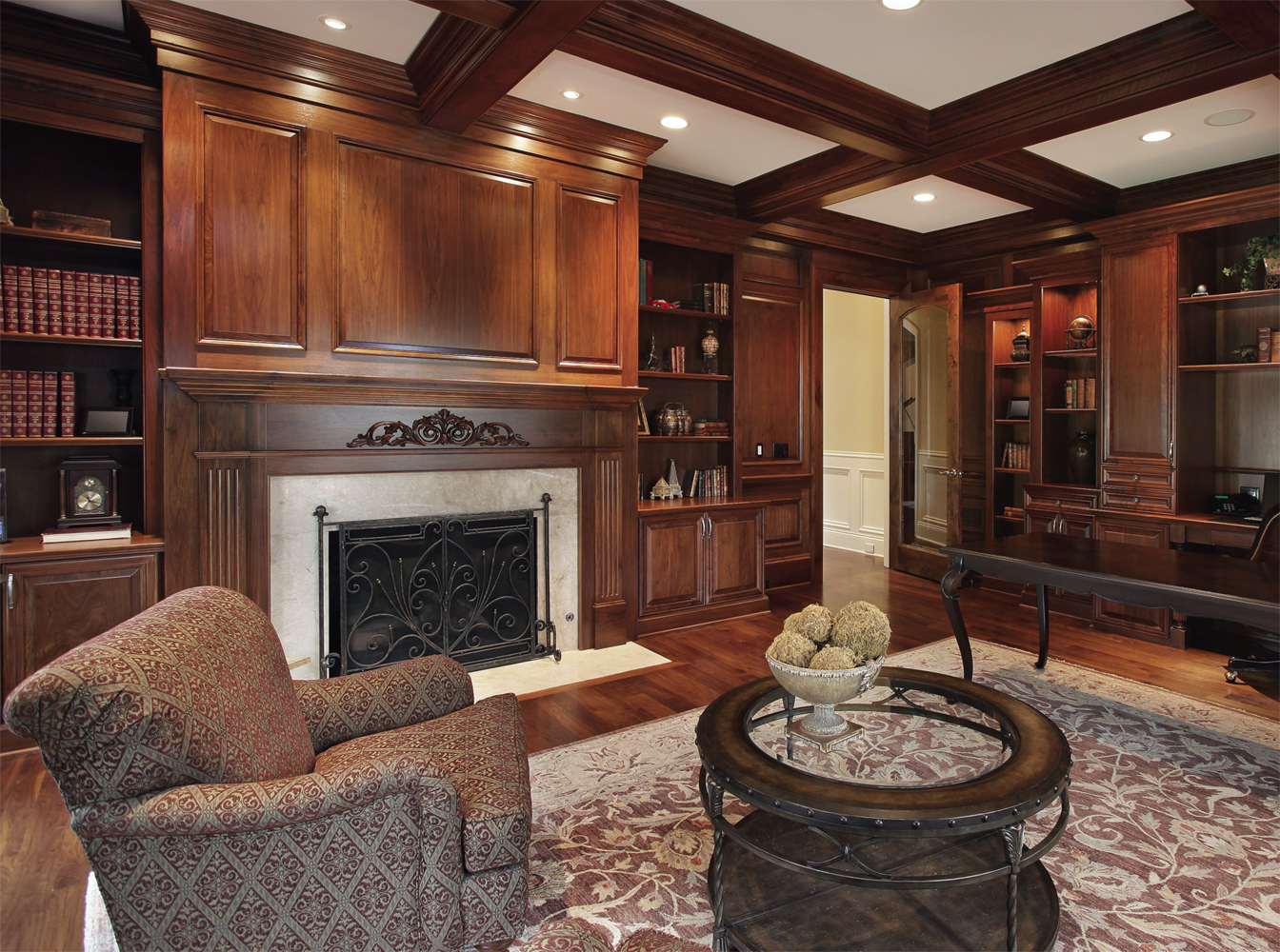 In an all-too-cookie-cutter world, sometimes we want to stand out. Maybe not in a big way where people stare and seem uncomfortable, but perhaps in a more subtle, though still original, fashion. In the realm of custom design, the highly skilled professional can transform the average desk, dresser or table into something unique. Handcrafted, custom pieces differentiate themselves from something pulled out of a box. Suddenly, your home is not quite so average anymore.
THE INTENT OF CUSTOM
Instead of being mass produced in a factory and sold to thousands of homes, custom furniture allows the owner to have something fitted to their vision and needs.
"When you get something custom made, you know it'll fit in the room," says Jim Cherubino of Distinctive Woodworking. But having that special piece or area can definitely do more. "Custom items add character and style. They stand out and people like that they are one of a kind," he says.
Monk's Home Improvements, co-owned by brothers Ty and Trevor Monk, creates and installs built-in pieces. "Each piece we create is made specifically for the home where it's being installed, and to meet the homeowner's needs," says Ty Monk. For example, they can build a fitted desk complete with wire and outlet cut-outs, configured for a left-handed user, he explains. "Unlike out-of-the-box options, built-ins fit perfectly in the space, maximizing the available area."
Custom items can connect to your home in other ways. The pieces can be designed to match up with existing trim and style of the home. "A built-in bookshelf installed with crown moulding and baseboard trim matches up to the rest of the room," says Trevor Monk, adding that most built-ins are made from solid wood, so they last a long time and can stand up to years of use. "Built-in pieces add value to your home by providing visual interest, character and practical solutions," he says.
Professionals in the custom woodworking industry also make sure a piece looks good and performs the function desired.
"Whenever we're installing semi-custom cabinets, adding valances, crown moulding or legs, we make it look more like a piece of furniture. We make it unique," says Brian Zeldes, president of BKZ Contractors. "In a room we might add a custom-built door or built-in bookcases. We did a project with an old barn door, but you can slide it over. It looks like a decorative barn door but it's functional," he says.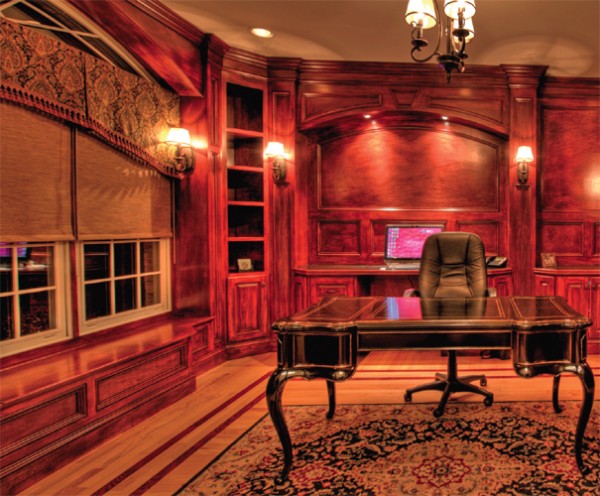 A VARIETY OF VARIETY
Custom-made furniture goes beyond a dining table or chair. There are many products that can be custom made, including built-in desks, trundle beds, bookshelves, mudroom/entryway storage cubbies and entertainment display wall units. "Mudroom/entryway cubbies are popular in our family-focused service area," says Ty Monk. "They are a great way to organize coats, bags and sports equipment for every family member."
Going to a retail store and finding a piece that will fit the exact dimensions of the space you have isn't easy.
"You can't just walk into a furniture store and find built- ins that will fit perfectly into any given space from floor to ceiling," says Mark Ollivier of Home Trimwork. "Factory-built furniture pieces that you purchase and carry through your front door serve a purpose, however they will never compare to the well thought-out build that is built onsite to fit the space perfectly," he says. "Every project we take on starts by giving special attention to design, ensuring that the end result will flow with its surroundings."

Some areas of the home lend themselves to custom work, says Zeldes.
"We do a lot of finished basements and customers want us to make the most out of the space. They might want to hide areas or make something different," says Zeldes. "Kitchens are (another popular area). They need a lot of design work. Islands are maybe the most customized piece. We use extra pieces of trim and other materials. We ask, 'Would this trim look better this way or that way?' Maybe it's the way it sits or the lighting. Even in bathrooms you want something special like floors or backsplashes. You're making some part of the job have a custom look."
For other custom-made products, Ollivier mentions built-in cabinetry, home offices, fireplace mantels and over mantels, entryway mouldings, columns and headers, multi-crown mouldings, window mouldings and wainscoting. "We incorporate many various types of moulding profiles into our designs so that each build complements the home's décor," he says. "Add crown moulding to the top of that built-in that continues through a room and you have an end result that looks like it was always meant to be."
COLLABORATION
How much can a customer collaborate with the woodworker to create a unique product? "As much as they'd like," explains Trevor Monk. "Sometimes customers come prepared with their Pinned or bookmarked ideas that they'd like us to replicate exactly. Other times, they rely on our guidance and ideas. They are always in charge of deciding the finish or paint color," he says.
Ollivier says it's important to spend many hours with each client, carefully detailing and explaining each facet of the project. "Once the project goes into production, the designers do a complete review of the project with the carpentry foreman so that the project flows seamlessly. Of course, there are times when changes or tweaks are requested by the homeowner once they see the build coming together," he says.
The experience of the designer will show as the project comes to fruition, especially if a client only has a vague idea.
"Customers come to me with ideas, then I help to refine them," says Cherubino. "Maybe they saw something online or in a magazine, so they know what they like. Then I do a sketch and ask them questions so we can work on it together. But even if they're not exactly sure what they want, I always tell people, think about what you want, the style or look," he says.
Flexibility on both sides of the table will lead to a better finished product everyone will be proud of.
"When you're building something, you want to put some customization, some style in it. You want to add creativity," says Zeldes. "Some clients like this, they give me freedom. Others are tight. Some are visual, and want everything on paper. Some need you to walk them through every step. Others let you do a lot. Most home- owners appreciate the opportunity to be part of the solution. They like to put in their own sig- nature. They're looking for some- thing different. Sometimes it's one item in a room, like an old door with glass in it. Or antique paint. If you're open to any suggestion, most of the people will love that," he says. "Remember, even if you're on a budget and have to do a cookie-cutter room, there's always some custom aspect that can be done."
RESOURCES
BKZ Contractors
Warminster, Pa.
(215) 957-1626
BKZContractors.com
Distinctive Woodworking
Lumberton, N.J.
(609) 714-8505
DistinctiveWoodwork.net
Home Trimwork
Huntingdon Valley, Pa.
(800) 888-4467
HomeTrimwork.com
Monk's Home Improvements
Morristown, N.J.
(973) 210-4825
MonksHomeImprovements.com
Published (and copyrighted) in House & Home, Volume 17, Issue 2 (November/December, 2016).
For more info on House & Home magazine, click here.
To subscribe to House & Home magazine, click here.
To advertise in House & Home magazine, call 610-272-3120.