Preparing for Winter's Woes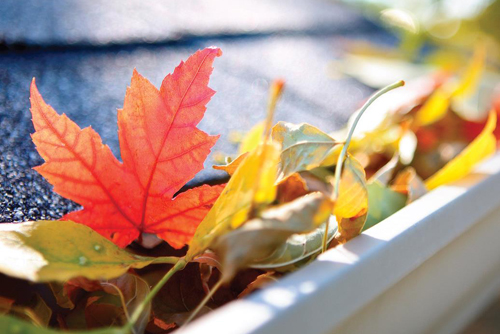 Though Labor Day may have just passed, it's not too early to start thinking about the hazards your home's exterior may face as the weather begins to cool down. Homeowners need to ensure their property is prepped for the elements in order to sustain the cold months ahead. We recently caught up with some of the region's professionals and asked them for their best tips on what needs to be done to get your home properly winterized.
"The best tips for winterizing your home start with preventative maintenance," says Adam Parnes of Global Home Improvement. "That means replacing roofing, siding, windows and gutters before they fail. The easiest thing to do is to give your home a visual inspection. Look for sagging gutters, curling roof shingles, condensation between windows or siding that is starting to show its age. From there, you can always call a professional for a repair service or a replacement."
Vic Fiore Sr., owner of American Home Remodeling, agrees that preventative maintenance is key. He suggests taking steps like caulking windows and doors and adding insulation to get your home winter ready.
"If you really want to effectively keep heat in your home, consider adding blown-in insulation," Fiore says. "You remove siding, blow-in the insulation and return the siding to your home. It's also a great idea to insulate your attic since, after all, heat does rise. That's another great way to keep the heat inside your home."
THINK AHEAD TO PREVENT PROBLEMS
By practicing preventative maintenance, Parnes says you can avoid a catastrophe. He says their team of professionals has seen all types of interior damage occur from neglected exteriors. So often, these disasters could have been prevented.
"We have received calls from wood damages as well as water damages to ceilings, walls and floors," Parnes adds. "In addition to winter causing serious roof leaks, it is also much harder to do repairs or replacements over the winter if there is two feet of snow on your roof. That is why it is smart to repair or replace now—before complete and total failure."
Let's take a closer look at some of the key areas of your home that should be considered as winter weather is upon us.
WINDOWS & DOORS
When it comes to your home's windows—or any piece of glass for that matter (whether it be a skylight or a door)—it's important to make sure it's a high energy-efficient piece, says Ned Scheffler, sales, of Chapman Windows, Doors and Siding. That's because high-efficiency glass will repel radiant heat. Most homes lose the majority of their heat through glass areas, but high-efficiency windows will prevent that, says Scheffler.
"That means your furnace won't run as often and you won't be wasting as much energy," he adds. "High-efficiency windows can repel as much as 50 percent of the heat back into the house. That equates to a cost savings."
Scheffler says that any window which is 20 years or older is most likely not high efficiency. Another warning sign that your windows need to be replaced is if you see moisture in between panes. Scheffler says that some homes also have single glass storm windows and that's not ideal to hold up to winter weather.
OUTDOOR CONCRETE AREAS
Whether it's your walkway or your driveway, your concrete areas outside get a lot of wear and tear in the winter. Protecting your concrete is more important than ever this year, with the imminent snow and ice forecast we're getting, says Gwen Kunkel, owner of New Castle Artisan. Driveways that have already shown signs of wear such as cracks or pitting are at the highest risk of further damage due to state roads being treated with salts.
"These salts are deposited onto your driveway as you pull in each day and they begin to eat away at the top coat of your concrete," Kunkel explains. "Concrete resurfacing based with specific polymer cement blend is a permanent fix to these issues. Along with fixing the problem, we also leave a beautiful, protected, varved surface that is complemented by a blend of colors that accent your home."
ROOFING
If your roof is in need of being replaced, now is the time to do it, urges Jeff Grimley, general manager of J. Cwanger. It's important to get the work done before winter brings on challenging weather that could wind up causing actual damage.
"Winter weather brings ice, which expands and can open small cracks in your roof and increase the likelihood of leaks," Grimley explains. "When water freezes in your clogged gutters, it can loosen the gutters, causing water to run behind them. Even worse, it might pull them right off the house."
That's why Grimley says it's also important to have gutters cleaned while it's still nice enough to get up on your roof for an inspection. He recommends having your roof inspected, gutters cleaned, all nail pops fixed and flashing and vent pipes sealed.
Grimley sums it up, adding, "This maintenance will prevent any issues during the winter and extend the life of your roof."
SIDING
The best thing to do before winter weather arrives is to perform a walk-around inspection of the home and its siding, says Joni Dawson, office administrator with Janville Roofing & Siding.
"You want to check for any openings that water could get behind," Dawson explains. "As you walk around the house, scan your siding for any warped or damaged sections."
Dawson says it's important to be prepared for rain and melting snow, which can get behind warped or damaged parts and cause mold. If you do have siding that is already partially popped off, Dawson says to look for mold behind it so that it can be remedied before it causes more problems.
"Make sure that everything is nailed down and you have no loose siding which could blow off during high winds," Dawson adds.
RESOURCES
American Home Remodeling
Irvington, N.J. | (973) 374-6700
AmericanHomeRemodeling.com
Chapman Windows, Doors and Siding
West Chester, Pa. | (610) 431-8898
ChapmanWindowsDoors.com
Global Home Improvement, Inc.
Feasterville, Pa. & Morristown, N.J. | (844) 315-5798
GlobalHomeInc.com
Janville Roofing & Siding
Lansdale, Pa. | (215) 368-5200
JanvilleRoofing.com
J. Cwanger, Inc.
Cherry Hill, N.J. | (856) 795-5480
JCwanger.com
New Castle Artisan
Turnersville, N.J. | (856) 725-3333
NewCastleArtisan.com
Published (and copyrighted) in House & Home, Volume 18, Issue 3 (September, 2017). 
For more info on House & Home magazine, click here. 
To subscribe to House & Home magazine, click here. 
To advertise in House & Home magazine, call 610-272-3120.