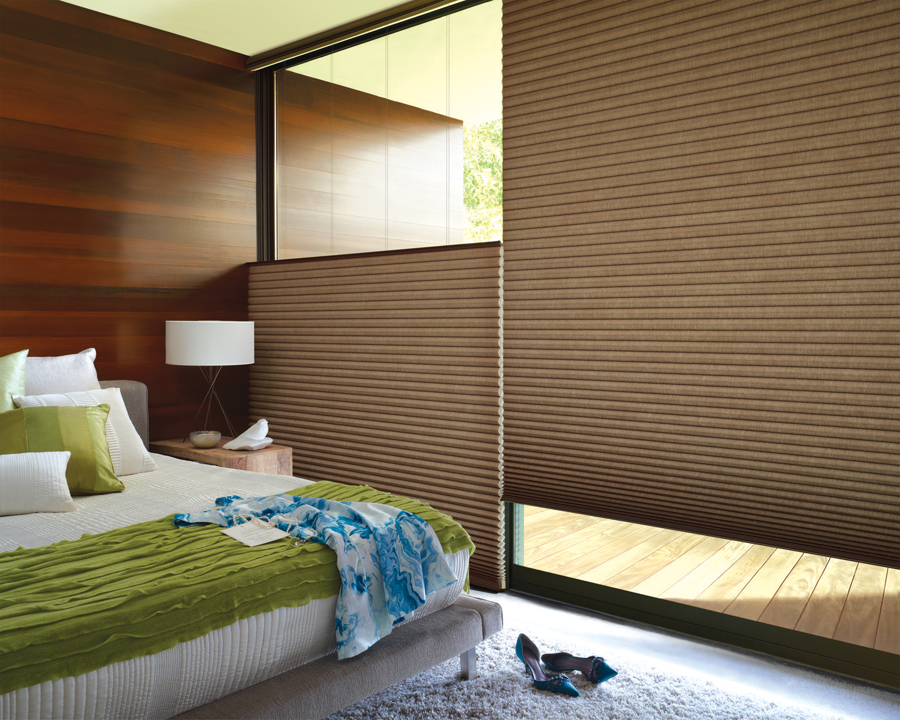 Windows add so much to a home, bringing in light and character, and they allow you to convey a sense of personality—as well as privacy—to a space. What works best for your home takes careful consideration of many factors, and the guidance of some very knowledgeable experts.
Finding what's best
Every homeowner has their own personal taste, which means the process for picking a window treatment should be explored with the appropriate design professional, who will often ask questions to move things along.

One of the primary aspects to consider is the use of the room. "The best treatment depends on the use of the room," says Bruce Heyman, owner of Metropolitan Window Fashions. "Do you need blackout shades for bedrooms? Anti-glare for the TV room? Durability for kitchen and family rooms? Making a design statement for living and great rooms? [A homeowner needs] options that will work with their needs, style and budget."

For LuAnn Nigara, of Window Works Window Treatments, "the first few things to consider ... are your budget, how much both light and privacy need to be controlled (for sleeping, TV viewing, etc.) and then finally your personal style. Once these have been established, we can go deeper into your specific needs," she says.

Robert W. Miller, owner/operator of ShutterTech Inc. agrees that the "right" type of window treatment depends on the homeowner's needs and personal preference. "Some homeowners come to us specifically wanting blinds [for example, but then may] see the many benefits of shutters." These include blocking frigid winter drafts, keeping harsh sunlight and heat out of the house during the summer, and helping to regulate the home's temperature by controlling airflow.

Michael Halphen, designer for Allure Window Treatments, says it's all about matching the client with the treatment. "Any type of window treatment can be used in any type of space ... it just has to be the right fit for that particular client. As soon as you speak with [a homeowner] for a few moments, you get a sense of what they are looking for, what they need, and which direction to go," he says.

Because there are so many styles available, a professional can help narrow down the options. "Often [homeowners will] call someone in the industry to find out what works best: light control, decorative aspects, blinds or shades? Do they want custom drapery, ready-made products? We get our direction from the client," says James Logan, owner and interior designer with Best Drapery & Interior Design Inc.

Ultimately, this is going to ensure you're happy with your decision. "The best thing a homeowner can do is hire a professional. This will prevent them from making costly mistakes," says Margie Booth, principal for At Home Designs. "[They] are experienced and trained to take all things into consideration. Scale, light control, color and functionality are all very important."

"They're coming to professionals who have relevant knowledge and experience so it's our job to show them what works," says Kimberley Slater, interior designer with Best Drapery & Design Inc.
Privacy concerns
With security always an important issue, window treatments need to protect private spaces. Halphen suggests making fabrics semi-opaque. "The fabric allows light through, but gives you complete privacy," he says.

There are several options which allow you to control light and privacy. "You could use sheer drapes to provide a bit of privacy without blocking the light and view. You could also use almost any louvered product from a wood blind to a shutter to a Hunter Douglas Pirouette, Silhouette or Luminette. All of these products give you the flexibility to control light and privacy at the same time," says Nigara.

Slater agrees. "The Hunter Douglas Silhouette is the best," she says. "Its slender fabric allows you to look out and no one sees in, except at night when all they see is your silhouette."

For bathrooms, Gary Cranmer, owner of Blind Outlet, LLC, says plantation shutters are very popular right now. "Their wide louvers [let homeowners] control light and privacy," he says. Also, "their materials are made to withstand high-moisture areas."

Shutters are great for bathrooms, when made from waterproof and moldproof materials, says Halphen. "To me, a clean, white shutter in a bathroom gives the space such a cozy feel [and] can still work to give you total privacy, and let tons of light through."

ShutterTech uses a painted synthetic poly shutter, which can withstand any moisture. "This is something that most interior shutters cannot [do]," adds Miller.
Another good choice for bathrooms, according to Booth, are top-down/bottom-up shades. "Shades that offer [these] features are great as well because they let the light in at the top but give privacy on the bottom half of the window."
What's hot?
Some of the looks you grew up with are gone. "Vertical blind treatments had their day; although my father still has his brown fabric verticals up from the '70s," admits Halphen. "What we do the most of these days are clean lined, flat-roller shades. Metal top housing, very sleek, and the fabric drops down from the top. No fabric pleat, no decoration, and a timeless look."

Today's trends are simple—with a hint of technology. "Heavy draperies, swags, jabots, tab curtains and gathered valances are not as popular today. People want a simple look letting in more light and opening up rooms," says Cranmer. "The hottest trend is motorization. Imagine a world where window treatments anticipate your needs and adjust themselves automatically, creating the perfect room and ambience, morning, noon and night," he says. "That's what Powerview Motorization from Hunter Douglas can do. You can control your shades with your smartphone or tablet from anywhere in the world."

Styles are not overly ornate, according to our experts. "We're not seeing Austrian shades or tassel trims. People like roman shades and drapery panels with decorative hardware, as well as linen and silk-like fashions," says Slater. "Also, traditional prints with updated colors and more intense colors with depth. Not flat, but luxurious."

However, Nigara says the trends do not always have to influence the homeowner. "I always tell my customers, 'Architectural Digest is not coming. If you love verticals or swags and cascades, then darn it, you should have them!'" She says the hottest trend now is a little "bling," such as metallic threads woven into the fabrics, and opalescent shimmers on shade materials and fabrics. "Roman shades and ripplefold drapes are both very popular now because of their versatility and their tailored look."

For shutters, Miller says bigger is better. "More homeowners are enjoying their views by going with a larger sized louvre for their shutters. Years ago, a 2 ½-inch louvre was the way to go but these days, homeowners are enhancing their views with 3 ½-inch and 4 ½-inch louvres, which you can see right through. The views are spectacular," he says.

Heyman sees straight drapery panels on decorative drapery hardware with rings as the over treatment, with Hunter Douglas Duette Honeycomb Shades and Silhouette Window Shadings as the under treatment. "[Trends include] straight cornices instead of intricate valances. I see vintage and embellished looks coming back in women's ready-to-wear clothing [and since] home fashions usually follow garment fashions, we look forward to selling more fabric and trim in the future."

For Logan, the development of textile technology is offering amazing opportunities. "Synthetic fibers are versatile and allow us to be creative. The use of linens and colors has taken off. Woven textured shades have gone up 300 percent. Hunter Douglas' battery-powered motorization offers apps that open your shades while you're away. The remote control looks like a decorative pebble. I can't wait to see what they can do," Logan says.

No matter which styles fit your home now, there will always be new ways to make your windows interesting. "It's exciting to see shifts in people's styles, what looks people want to go for, and to think ahead 20 years and wonder how the landscape of design and fabric and window treatments will shape itself," says Halphen. "You learn something new every day, and [there] seems like an endless number of ways to treat a window. That's what keeps it fun."
RESOURCES
Allure Window Treatments
Philadelphia, Pa.
(215) 463-0440
AllureWT.com
At Home Designs
Hockessin, Del.
(302) 239-1520
AtHomeDesigns.com
Best Drapery & Interior Design Inc.
Cherry Hill, N.J.
(856) 429-2242
BestDraperyAndDesign.com
Blind Outlet, LLC
Douglassville, Pa.
(800) 452-3372
BlindOutlet.org
Metropolitan Window Fashions
North Plainfield, N.J.
(877) 722-1100
WindowFashions.com
ShutterTech Inc.
West Chester, Pa.
(800) 272-9934
ShutterTech.com
Window Works Window Treatments
Livingston, N.J.
(800) 505-5860
WindowWorks-NJ.com