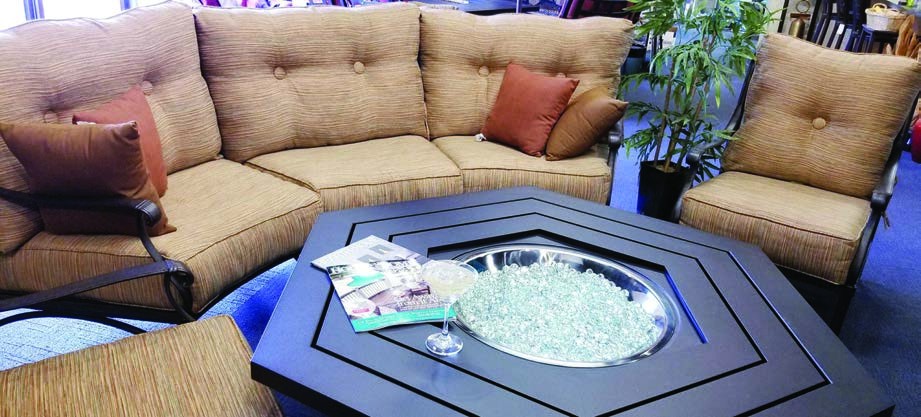 It is no secret that outdoor living has really taken off in the last decade, with many homeowners choosing to make a significant investment in maintenance-free decks or beautiful patios made from natural or manufactured stone.
In the quest to bring the indoor living room to the outside, one aspect that must not be overlooked is comfortable and functional furniture. Like the perfect tie to complete a man's suit or the sparkling jewelry to bring together a woman's ensemble, the right furniture is the finishing touch to a relaxing outdoor space.
"Furniture is critical outdoors just like it is in- side your house," says Charles Hessler of Barlow Tyrie Outdoor Furniture. "[The space is] referred to as the outdoor room. If  you're  going to put quality dining room fur- niture and a nice gourmet kitchen inside, you want your lifestyle to carry on outside. A lot of people are doing outdoor  kitchens now, nice out- door furniture and fire pits, and that's all part  of the lifestyle, if you can afford it."
House & Home spoke to local experts about the latest trends in outdoor furniture, the best mate- rials for aesthetic and durability reasons and the other accessories that  can be used to  enliven an outdoor living space.
Finding your comfort zone
Unlike the old days when a simple table and chairs would suffice on a patio, most people prefer separate sitting areas with comfortable op- tions, such as deep seating chairs or couches. This space can be uti- lized for entertaining or just loung- ing around on a normal night.
"People  are  spending  hours in their outdoor space, whether it be a loggia or deck or covered porch,  so they  want  comfort," says Jay Stong of Salter's Fireplace
& Artisan Shop. "We don't sell nearly the amount of dining that we used to; most people want the deep seating pieces because they're looking for hours of comfort that they can enjoy around their fire- place or fire pit."
Ken Reilly of Pelican Ski Pool and Patio agrees that homeowners are putting more thought into their outside furniture and are looking to recreate what they have inside.
"Cushion furniture has become a really big part of our business, especially sectionals," he says. "It used to be sling furniture was all the rage along with glass-top tables, but those have kind of be- come passé. … Just like sitting on the  couch  inside and  watching TV with the family, they want to do the exact same thing outside and have that comfort."
Robby Young of Ambler Fire- place & Patio cautions that these kinds  of  pieces will cost  more than what can be found at a big box store, but it is worth the investment if the homeowners want to get the most out of the space. "If they want the same level
of comfort  as they do in their living room, they will, of course, pay  more  for  that  cozy deep cushion set," Young says. "With each customer it varies though, based on their [time spent out- doors], how they entertain, how elaborate  the  outdoor  space is and how much space they have to work with."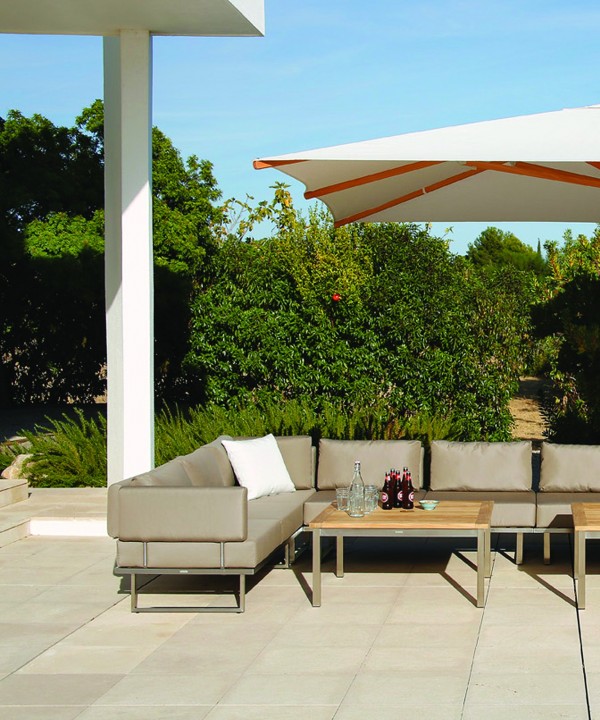 Choosing the right materials
There are plenty of options  to choose from in furniture materials that can fit any homeowner's budget and taste. From the low maintenance and affordability of aluminum and plastic to the dura- bility of wrought iron and steel and the traditional look of wicker and wood, it seems there is some- thing for everyone.
"Aluminum is the best material," says Kevin Aylward of Ulti- mate Patios. "It has a lighter weight, it conducts paint well and it lends itself to many shapes and extrusions. Aluminum also works well with other outdoor materials."
Stuart Weiss of Viking Casual Furniture is a proponent of teak for several reasons.
"Teak is always good for outdoor  furniture  because it's im- pervious to rot and insects and it always holds up,"  he says. "It will turn gray but it lasts forever, which is why they use it in the marine environment like on boats. We sell teak dining, teak seating and teak benches for your garden area or porch. Down at the Shore it always looks good on the bay or the ocean."
Ipe, a dense hardwood  typically found in Brazil and other parts of South America, has been used to great effect in decking applications. It has made its way to outdoor furniture as well.
"Even more popular than teak is ipe," Stong says. "It is a denser, harder  wood than teak, forested in a lot of the same areas that teak is, but it actually has a beautiful, deeper brown tone in the wood.  It's what  they made the Atlantic City Boardwalk out of when they redid it."
Young recommends  several choices that  will stand  up  to weather elements in this area.
"The marine-grade polymer is a perennial good seller by Telescope Casual,"  he says. "With both deep seating and sling, the frame holds up incredibly well and is heavier, if [used] in windy areas. It has actually been used on the decks of yachts for decades. Extruded and cast aluminum have been the most popular for over 20 years now, as [they do] not  rust.  As far  as fabrics go, Sunbrella is the fabric of choice and is most requested amongst our customers."
Other trends and accessories Several experts we spoke to believe that  dining  areas  are  no longer the focal point of an out- door living space.
"Instead of trying to squeeze in dining and also a couple of other chairs, people are putting more of an investment into conversation pieces, or what we call chat  pieces," Stong says. "The tables are higher than  a coffee table but lower than a dining table and they can actually pull their deep seating around that to eat and also enjoy hours of time sitting out there. We still sell dining, but there's nothing cool or exciting or different about where people eat."
For other homeowners, the dining aspect is still very important and if they are going to designate a certain area for sharing meals, the trend is for larger sets.
"People who buy into our product range often have two or three houses and they like to entertain," Hessler says. "When they entertain, it's not just having another couple over; it's having five or six couples over. So we do sell quite a few large and extended  dining tables that seat 12, 14 or 16 people."
Whether it's a dining or seating  area, shade protection is vital. Reilly says cantilevered umbrellas that can be tilted to cover various parts of the deck or patio are in demand, and Stong has had great success with a rolling umbrella base from Oasis that can be shifted to various  parts of the space for sun or rain protection.
A backyard can also be a great place for homeowners to express their creative side, so bold colors are often the choice for furniture.
 "People are using brighter colors like aquas," Weiss says. "The browns are going away and the brighter colors are popular.  People are also accenting the furniture with throw pillows and candles and candelabras and outdoor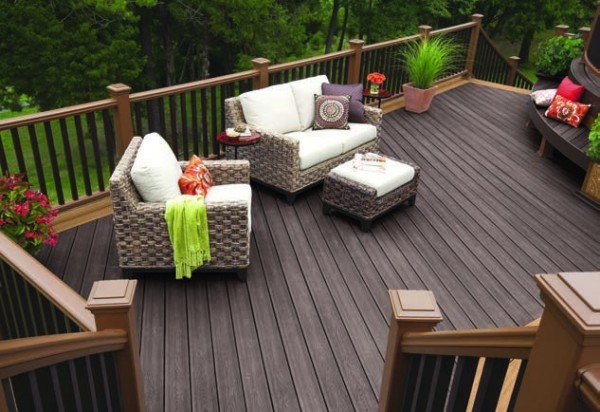 lanterns."
Poufs are an interesting way to add color as well, and homeowners appreciate the flexibility of the product as it can be used as a chair, table or ottoman. "We carry poufs and they're very popular," Reilly says. "They are a specialized item. Someone has to have the room on their deck or patio for them. We find that they are very popular at the Jersey Shore. … Our customers  are always looking for unique things like that."
In the end, anything that adds the homeowner's personality and makes the outdoor living space feel like the inside is worth consideration.
 "Pillows are great because you can change the color story year after year without a huge investment," Aylward says.
 "Rugs, fire pits, outdoor kitchens and lighting are also very important components in extending the home to the outdoor room."
RESOURCES
Ambler Fireplace & Patio
Bucks and Montgomery County, Pa.
(215) 643-5100
AmblerFireplace.com 
Barlow Tyrie Outdoor Furniture
Moorestown, N.J.
(856) 273-7878
BTUSAStore.com
Pelican Ski Pool and Patio
Morris Plains, N.J.
(973) 267-0964
PelicanShops.com
Salter's Fireplace & Artisan Shop
Eagleville, Pa.
(610) 631-9372
Hatfield, Pa.
(215) 362-2443
SaltersFireplace.com
Sequoia Supply
Hatfield, Pa.
(866) 650-DECK
SequoiaSupply.com
Ultimate Patios
West Chester, Pa.
(610) 430-2171
UltimatePatios.com 
Viking Casual Furniture
Serving N.J., Pa. and Shore areas
(856) 486-1880
VikingCasual.com
Photography courtesy of Trex; Ambler Fireplace & Patio; and Barlow Tyrie Outdoor Furniture.
Published (and copyrighted) in House & Home, Volume 18, Issue 11 (May 2018). 
For more info on House & Home magazine, click here. 
To subscribe to House & Home magazine, click here. 
To advertise in House & Home magazine, call 610-272-3120.