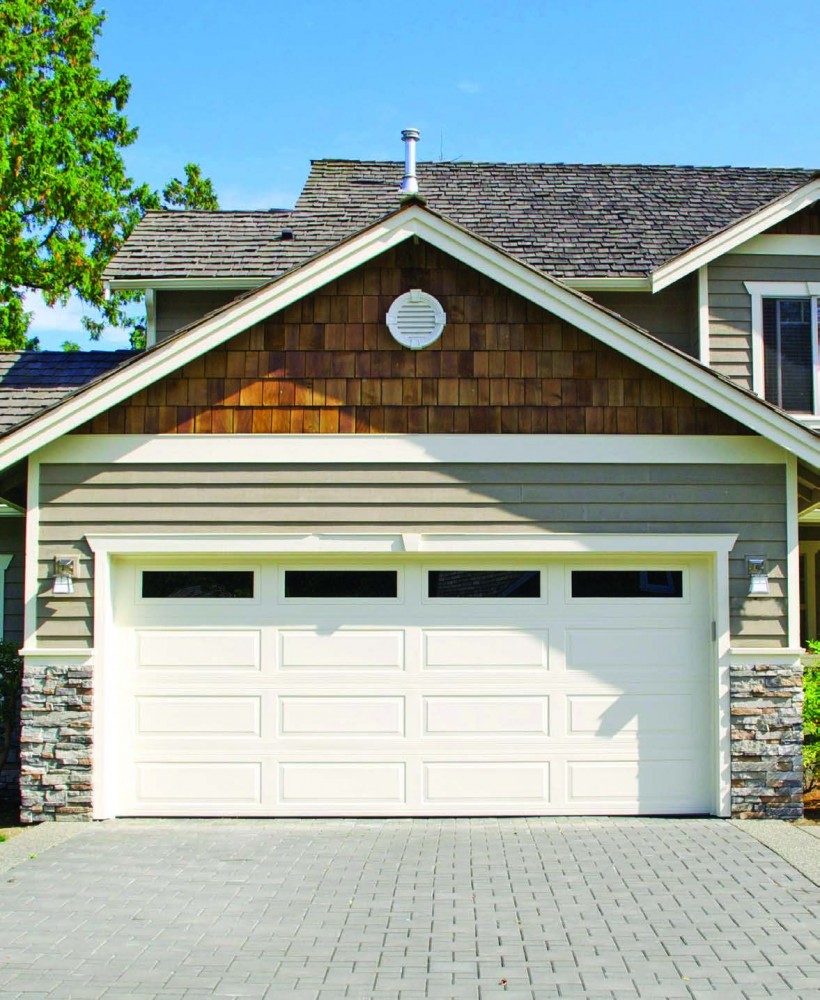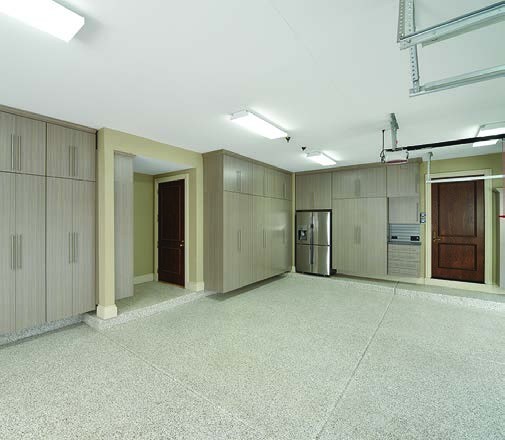 Summer is here and that may mean a whole new life for your garage. After months of being a catch-all for everything, these months provide the opportunity to clean the space out and then reimagine how to use it. From needing  easy access to pool accessories and sports equipment,  to getting off-season items out of the way, to sprucing up this entrance into your home, garage organization  will make life easier by reducing mess and maximizing this often underused space.   
INTENTIONS FOR THE SPACE
One of the first steps for any organization project is to decide how this space will be used in its new form.
 "Most people have a disaster in their garage," says Joe Fay, owner/president of Encore Garage of New Jersey. He says that even with shelves and cabinets you can still have a messy garage, so you have to think of aesthetics,  functionality and purpose. "When I first meet the client, I ask them about their family, the sports, activities and the way they use the garage and want to use it. They need to tell me their budget so I know where they're at financially. It helps me give them an honest design," he says.
Professionals in this industry may ask a lot of questions, but only with the goal of creating the best garage design for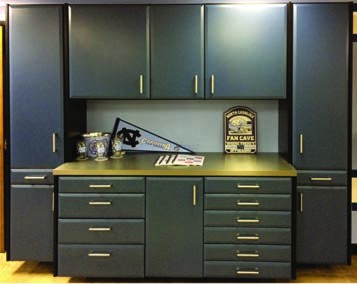 each individual.
 "Garages mean different things to different people, so the first step is finding out what the garage means to the client," says Les Hutton, owner and general manager of GarageTek of North and Central New Jersey. "Do you want your car inside? Is it for kids' stuff? Do you use it as an exit and entrance for the house? Are you planning to stay in the house for a while or are you selling it? Who lives in the house—is it an extended family, for instance? Are the kids going away to school so you won't be using it the same way, or maybe they're coming back from school and you'll need the room. What's your motivation for having work done on this space? How can it enhance your lifestyle?"  
But before any work can begin, some responsibility rests on the homeowner to clear the clutter.
Eric Wheary, president of Closets & Cabinetry by Closet City, says to open the garage door and let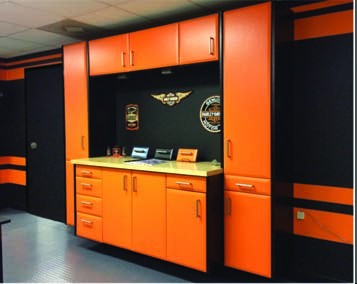 it all flow out into the driveway. "Seriously, pull it all out. You need to determine what is 'good and useful' and what is 'just in-case.' Keep the good and useful, donate or toss the rest," he says.  
This helps ensure the items going back into the garage are not taking up valuable space.
 "Homeowners have the hardest job—they have to empty the garage," says Paul Greskovich, owner/president of Garage Craft Interiors.  "They have two chances—when they empty the garage and when they bring everything back in. When they're ready to bring things back in, they're ready to take a serious look at everything. When you redo your garage, you want to make sure you use the space right."
ORGANIZATION IS CRUCIAL
Garages can contain items of all sizes, from bikes and lawn mowers to soccer balls and tennis rackets. Figuring out the storage solutions to tuck it all away—or keep it accessible—will contribute to the overall organization and success of the project.
Utilizing the vertical space in a garage is one of the first tips from the pros. From craft wall to slatwall to overhead storage products that allow you to crank things up and away from the walls and floors,  the options are creative and various.  
For larger and seasonal items, Fay suggests overhead racks. "That way, things are up and out of the way, so you don't have to carry it up and down the stairs to the basement. You can put them over garage doors. That is dead space," he says. He also suggests gridwall and slatwall organizers that allow you to switch things out depending on when you'll need them. "If things have a place, people usually put them back there. But that part is up to the homeowner. That is a job they need to do," he says.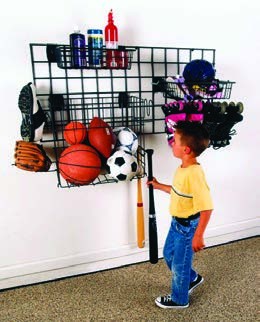 For sports equipment, there are many solutions, says Hutton. "If you have [several] bikes but still want the car in the garage, you can use racks and hoists, chaining the bikes up. It's not one-size-fits-all. Personal preferences come into play." He says unlike other systems that are "fixed," his system is on a flexible platform so you can move things from wall to wall. "Multiple options work with a variety of space. We offer alternatives  customers may not know about."
Cabinetry can keep things out of sight, immediately making clutter disappear, and countertops can provide a useful working space or place to set down packages on your way inside the house.  "I suggest they put cabinets on the back wall. It's the focal point," says Fay. "You can have countertops if you're handy or to have by the door for packages and keys.  
Wheary suggests custom designs, maybe even a mechanic or gardening bench. "Design specific  cabinetry, i.e., a gardening bench with a stainless work top or recessed tray to contain dirt and moisture," he says.  
Flooring is another consideration.  A stained concrete foundation  will take away from the newfound aesthetics of the garage. Epoxy floor systems or concrete treatments can provide durability and make the surface slip-resistant, and easier to clean. "[Floors come in] a wide variety of colors. It's important you like it since it's there for as long as you use the garage," Fay says.
An organized garage is also a safer garage, says Hutton.
 "The truth is, if it's cluttered, messy and unsafe, it's a problem. It can be an eyesore or a distraction," says Hutton. "I have this nightmare where a garage is cluttered and a kid falls and has to get stitches. There are a lot of potentially dangerous Hous eMagaz i ne. com things in the garage. People often comingle foods and poisons, toys and sharp objects. How do you make it safe and comfortable?" Hutton says it's good to know where you want things to be so you can tailor the type of storage that best meets your needs. He also reminds that life is not static. "Kids grow up, so a hallmark of our system is its adaptability. We have products that can work with different needs," he says.
Once everything is neatly in its place, the garage can take on new uses you never considered. "Ever plan a party only to find Mother Nature isn't going to cooperate? An organized garage can also be used as an 'overflow entertainment room,'" says Wheary. Between modern floor coatings  that make the garage look more like a room and storage systems that can incorporate anything from a mini-fridge to a flat screen TV to a stereo, you can transform your garage into a fun, functional space. 
 "The garage can look like a minefield, full of debris all over. But redoing the garage is about using items that complement each other, so the looks fit with each other. And after you do a garage project, you don't want it cluttered.  You become aware of what's in there," says Greskovich. "And another thing that people don't always think of is that when you decide to sell the house, you more than get your money back on a clean, finished garage. It really helps you separate your house from the pack."
RESOURCES
Closets & Cabinetry by Closet City
Montgomeryville and Hatfield, Pa. (soon to be moving to Harleysville, Pa.)
(215) 855-4400
ClosetCity.com
EncoreGarage of NJ
Serving North Jersey, Central Jersey and the Jersey Shore
(732) 409-7707
EncoreGarageNJ.com
Garage Craft Interiors
Bucks County, Pa.
(800) 997-9769
GarageCraftInteriors.com
GarageTek of North and Central Jersey
Stirling, N.J.
(908) 580-0077
GarageTek.com/north-central-jersey
Images courtesy of EncoreGarage and Closet City
Published (and copyrighted) in House & Home, Volume 18, Issue 11 (May 2018). 
For more info on House & Home magazine, click here. 
To subscribe to House & Home magazine, click here. 
To advertise in House & Home magazine, call 610-272-3120.