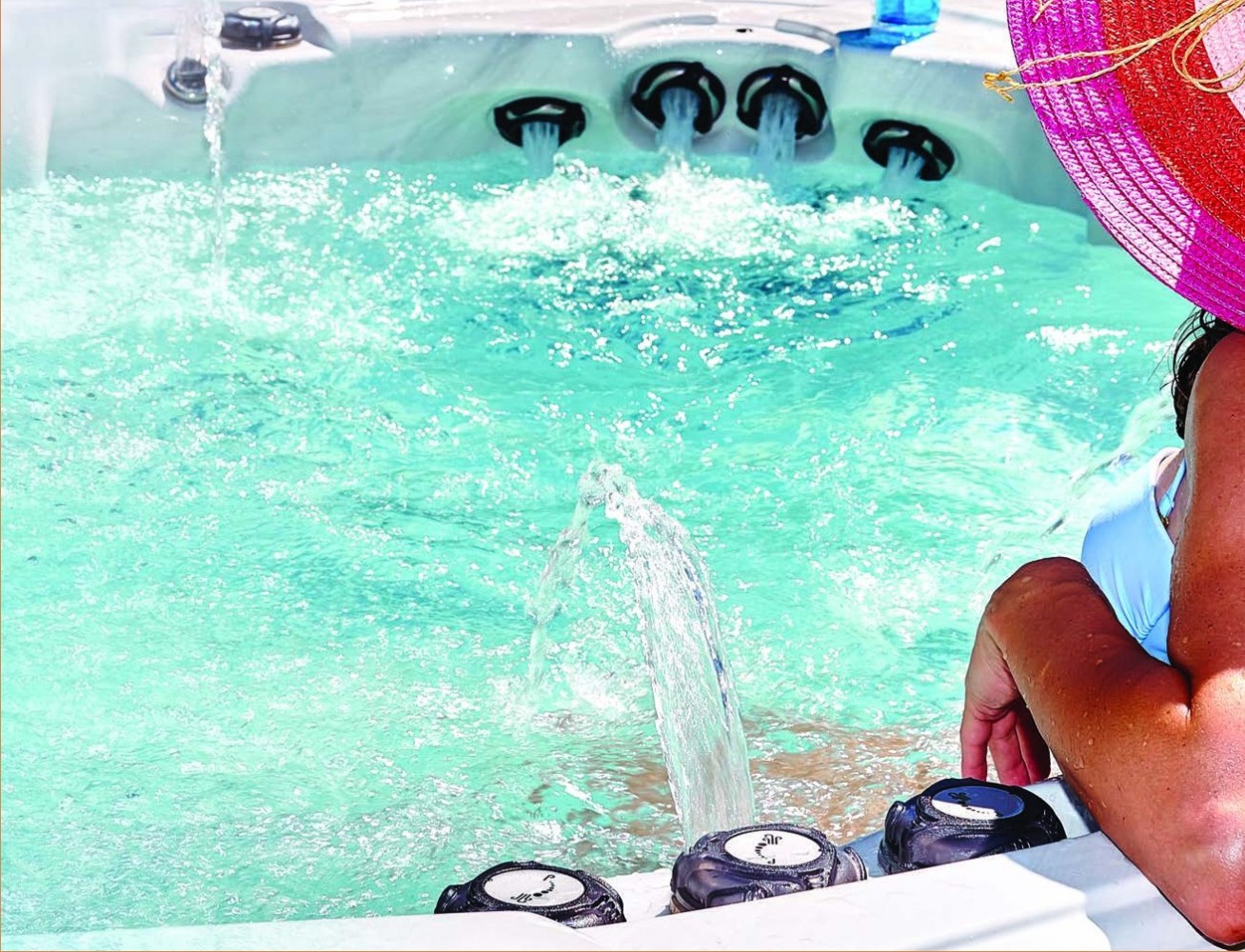 Having a Shore home has its perks, including being so close to the water, but it's not always a perfect day to take a dip. And more than likely, there is not much space for a swimming pool at your home either.   
For these reasons and more, many homeowners opt for adding a port able spa or hot tub to their deck or backyard area. More than just a place to relax and soak in the warm water, hot tubs provide a place f or the whole family to gather and enjoy themselves.   
And, today, with all that's available on the market including built-in LED Color-changing lights and beautiful water features, your hot tub  will not just fit your home, but become the centerpiece of your backyard or deck.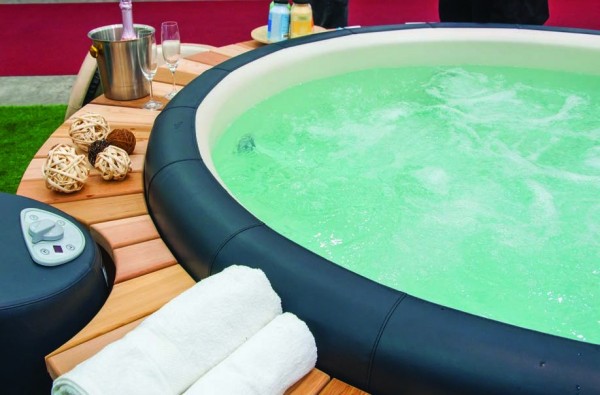 HOT SOAK BENEFITS  
On top of the attractiveness of adding  a  hot  tub  to  your  backyard setup, the holistic benefits of regularly being able to immerse yourself in the spa's warm waters are immense. "Hot tubs are generally good for people who have arthritis," Ken Hollingsworth, manager at Pelican Swim & Ski Center, says. "They're good for sore muscles. They're good for relaxing and stress relief." Ally Povlosky, manager for LBI Hot Spring Portable Spas, agrees and adds that many customers buy the tubs for leisure and spending time with their kids.
 "It's great family time," she says. "Most people get them for either family time or for medical uses." Hot tubs are also preferable to pools in that they can fit into small spaces and are less of a commitment, both with daily maintenance and overall cost.    
 "A hot tub i s way less maintenance than a swimming pool," Hollingsworth says, "because it's a very small body of water."
CHLORINE OR SALT WATER
The buzziest and newest feature in the portable spa industry is the saltwater  purification system, which nixes the need for having chlorine and chemical-laden waters.   
"Saltwater purification is a way to soften the water, so that the water feels gentler on your skin," Hollingsworth says. "Salt- water tends to have zero smell [and] you don't have all the chemicals. So, overall, it's a better water experience."    
Although  saltwater purification  systems are becoming more popular, freshwater systems that use chlorine as a disinfectant  are still widely used and are a safe and sensible choice for people who may not want to pay the upfront costs of a saltwater system. But, as always, monitoring the chlorine level of your portable spa is essential because too little chlorine will allow bacteria to grow, while  too much chlorine can make the water uninhabitable.
 "If the chlorine level is way too high, your eyes will burn [and] it will bleach out your bathing suit," Povlosky says.
Saltwater purification systems require their own attention.       
Depending on how many people are using the tub at one time, you need to adjust the settings of the system to make sure the water is being cleaned properly.       
Daily  and weekly maintenance of saltwater and chlorine systems differ.      
"With  the freshwater system, you add in two tablespoons [of  chlorine] once or twice a week and then shock it on a daily basis," Povlosky says. "And then with the saltwater system, you just want to maintain  your saltwater level and your user level, and it pretty  much balances itself."
Long-term maintenance of a saltwater system requires you drain your tub once or twice a year. For the freshwater system, you should drain the tub every four months.  
Portable spa professionals like Hollingsworth and Povlosky say they expect the industry to continue to move toward being more saltwater dominated.
 "It's relatively new in the industry," Hollingsworth says. "But it seems to be where the industry is headed."
LIGHTS AND AESTHETICS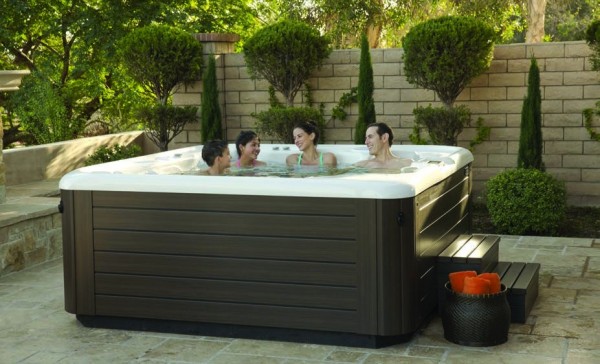 Nowadays, it's rare that you can buy a hot tub without it at least having one LED light.  
 "They all have lighting systems," Povlosky says. "They change all different colors and you can also dim them."   
As you move up in price, modern  portable spas on the market will have more and more lighting features including twinkling lights that change color and therefore alter the water's hue. Hollingsworth suggests people buy a tub that is not dark in color if they want to get the full water-color changing effects of the lights.
Some portable spas even offer enough lighting that the space in and around the tub is bright enough to be used safely at night. Although, some extra lights strung around your deck or backyard can certainly add a jot more radiance and ambiance to the whole area. Most tubs also have cascading waterfalls and water jets, making them almost like decorative fountains.
A choice way to incorporate a portable spa into your backyard is to actually embed it into your deck. Mike Brindisi of Brindisi  Builders is often contracted to do just this.  
 "If it's exterior, people like to have them just dropped into the deck," Brindisi, says. "So you just walk into the hot tub as the unit is below the walking surface."
 Dropping a tub into your deck is a tricky endeavor, so you should consult with a contractor before having this done.
If setting a portable spa below your deck is not an option, annexing a surround bar might be a suitable alternative. Surround bars are built to fit around the top of your hot  tub and allow people in the tub to place their drinks just outside the water. Meanwhile, others can sit around the counter on stools, engage with those in the tub and watch the glinting of the water.
Ultimately, a spa is a nice addition  that can extend the enjoyment of a Shore home beyond the summer  months and encourages further relaxation.
RESOURCES
Brindisi Builders
Marlton & Brigantine, N.J.
(856) 985-6219
BrindisiBuilders.com
 LBI Hot Spring
Portable Spas
Ship Bottom & Point Pleasant, N.J.
(609) 361-0221
LBIHotSpringSpas.com
 Pelican Swim & Ski Center
Whitehouse, N.J.
(908) 534-2534
PelicanShops.com
Select imagery courtesy of LBI Hot Spring Portable Spas 
Published (and copyrighted) in House & Home, Volume 19, Issue 6 (December 2018). 
For more info on House & Home magazine, click here. 
To subscribe to House & Home magazine, click here. 
To advertise in House & Home magazine, call 610-272-3120.