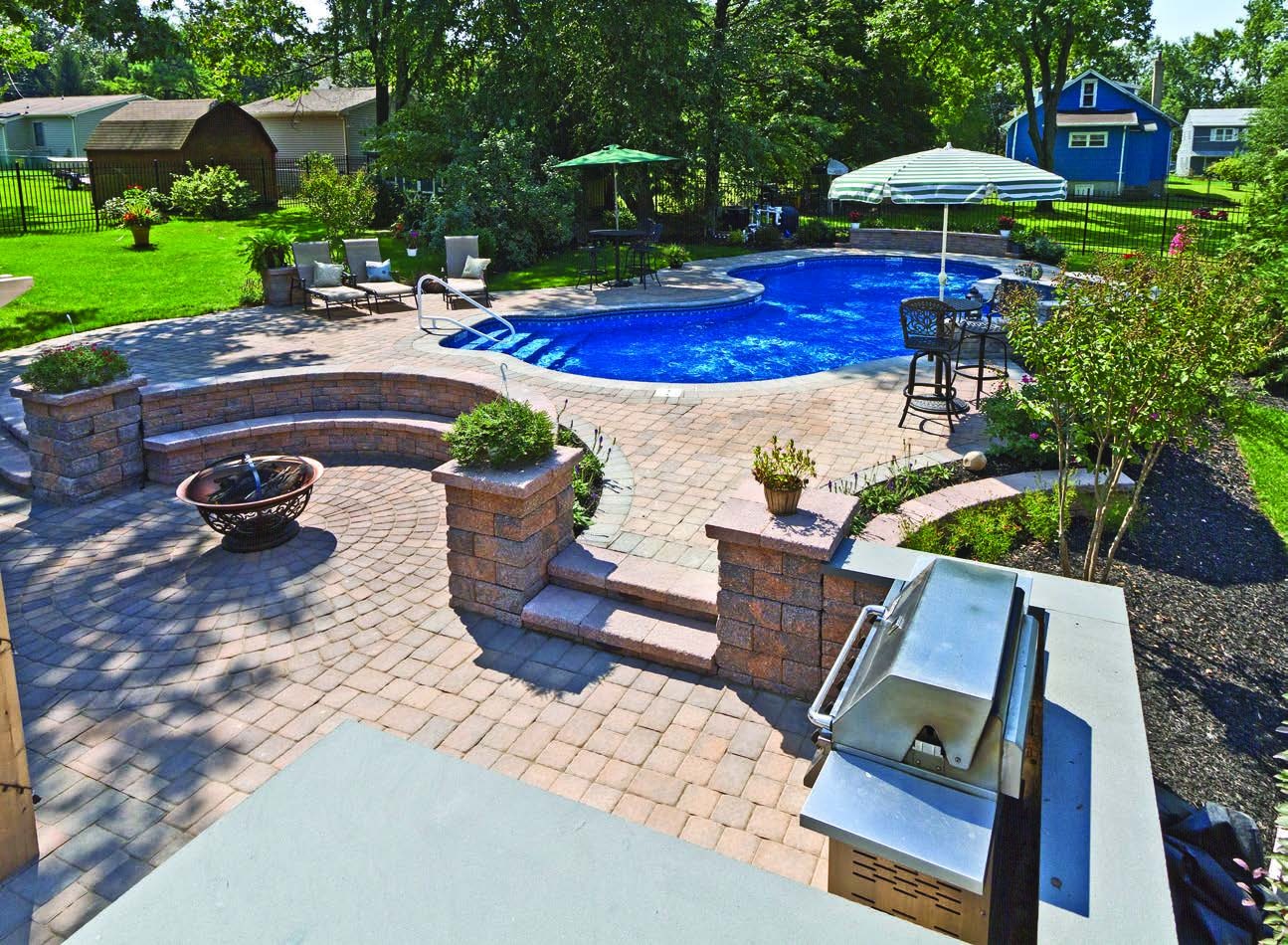 By Josephine Cusumano
As the frost season comes to an end and the snow melts away, our landscapes are starting to look a little greener this month. Yet, after every winter season, our outdoor  spaces need a little extra attention in preparation for the warmer weather. With that comes a spring refresh from everything including lawn work, shrubs and trees, perennials and borders— not to mention those pavers.
Just in time for spring, House & Home spoke with local experts spanning the landscaping and hardscaping sector for a much needed  checklist homeowners should consider, as well as advice and what mistakes they need to avoid this season.  
LAWN CARE   
First and foremost, each expert advises that homeowners should rake their lawns, as a means to remove debris—branches, leaves and pine needles—while also promoting rhizomes to open up and promote new growth. "By raking it out, you're stimulating the rhizomes and getting them growing again," explains Richard Cording, owner of CLC Landscape Design and  licensed landscape architect and certified horticulturist. "If you wanted to take that a step further, you could also thatch."  
Through thatching, it would also allow for the soil to accept new seed, as explained by Michael Pasquarello, degreed landscape architect at Elite Landscaping. "Peat moss should also be used to fill in any bare spots to give seed the extra growing medium needed to germinate."
Aerating is another method that should be applied to the lawn checklist. "We suggest aerating and overseeding the lawn in the fall. That way the seed is already plugged into the ground, and come spring time, the seed will start to germinate and help fill out the lawn and eliminate weeds," says Gina Villante, landscape designer/ project manager at C.M. Jones. "We always suggest that if you want a lush, full lawn, you sign up for a full turf treatment service. A few treatments here and there will not get the results needed. There has to be consistency and continual treatments as it takes time to achieve a healthy lawn."  
As far as keeping a lawn healthy for the season, experts agree that lime plays a vital role in the process. According to Cording, it sweetens the soil to allow for more grass growth and for better fertilizer absorption.  
 "Lime is the first application most lawns will receive to balance  out the acidity present," adds Pasquarello. "Also, a quickrelease, balanced fertilizer should also  be applied to draw the lawn out of dormancy and provide  an early spring green-up. Pre-emergent crabgrass control needs to be introduced to turf areas before the soil temperature reaches a consistent 50 to 55 degrees."  
It's also worth noting homeowners need to pay close attention  to the weather, as March can often vary from spring-like temperatures to snow storms. "You do not want to push plant growth by fertilizing too soon if the nights are still cold. The plant material will get shocked and not really know what time of the year it is," says Villante.
Once temperatures stay consistent for five to six days, that's when experts suggest to begin fertilizing. "As a rule of thumb, you  can start thinking about seeding your lawn in late March," says Andrew Savinson, owner of Creative Landscapes.
SHRUBS AND PLANTS
When it comes to pruning shrubs and plants, experts advise homeowners to properly prune any dead branches, so as not to introduce disease in a plant, in addition to shaping flowers. However, homeowners should also pay close to attention they don't over-prune the set flower buds, so as to not reduce future blooms.  
 "Corrective pruning should be completed prior to deciduous plant material leafing out," says Pasquarello. "This makes it easier to visually see all branching habits. Ice, snow and winter winds can wreak havoc on landscape plantings and any broken or damaged branching should be removed."  
Villante adds, "Do any necessary  touch-up pruning on deciduous trees and shrubs while they are still dormant. You do not want to prune deciduous shrubs or trees when you start to see budding on them for spring, at that point it is too late and best to wait until a midsummer pruning. You would be pruning off all new growth on the plant which is the worst thing to do when the plants are 'waking up' in the spring from being dormant all winter.
 "Too much pruning at the wrong time of the year can stress the plant out," she adds. "I like to do a comparison when we get haircuts from a hair salon, if they cut too much off we get stressed and unhappy, plants are the same way when they are not pruned properly or at the right time of the year."
When it comes to planting new plants, such as perennials, it's best to wait until the end of March due to unexpected weather, which also promises a better selection. "It always has to be played by ear and what the upcoming weather temperatures and forecasts are going to be, but a rule of thumb when you are typically in the clear to start planting is starting at the end of March," explains Villante.
When it comes to existing flower beds, Cording adds now is the best time to edge, clean and remove any debris in order to make room for new things popping up in the upcoming season. "If you want to transplant the shrub or a tree, or if you  want to thin [out] your perennials and move them, we'll take an ornamental grass that's too big and we'll dig it up, divide it into four plants and move it," adds Cording in regards to transplanting. "You can actually spread plants around your yard."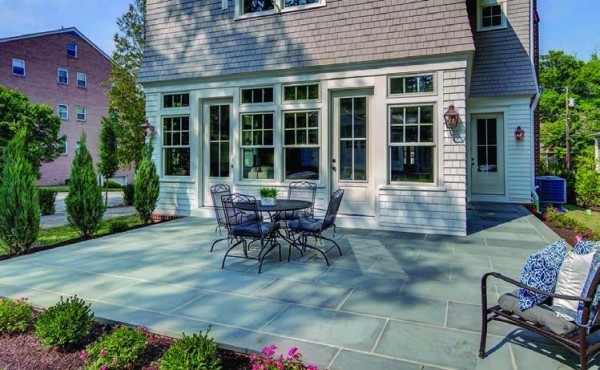 HARDSCAPING  
In comparison to the other aspects of a landscape refresh, hardscaping doesn't require as much maintenance—however, it does need some TLC.  
 "Hardscapes should be power washed, sealed, etc. at least every couple of years depending upon the location," explains Villante. "If a hardscape  is in a shady area that is susceptible to moss growth, this would require more upkeep in maintenance than a hardscape in a full sun location where moisture is not being held."  
While Nyce Crete and Landis Block & Concrete's Jarrod Nyce also suggests pressure washers and eco-friendly cleaners or even a brush and a sweep clean can help remove the grime that can gather amongst pavers, he adds, "After the area dries, a fresh polymeric joint filler will make the area look brand new. … Early spring is always a good time to start cleaning and getting ready for summer."  
Pasquarello warns to wait to do any cleaning and/or sealing until the "temperatures remain steadily above 50 degrees throughout  the day. Many sealers react adversely during the curing process to low temperatures," he notes. "The process consists of three steps: cleaning, sanding and sealing, which will enhance the beauty of your investment and make it last for many years to come."
Yet, it's crucial that a homeowner keeps an eye on their hardscapes over the winter—especially if it's a harsh one— and makes note of any damage or shifting, so come late winter, homeowners are able to contact an expert and plan to address them once the frost is over. "With having more time to plan the space, it will ultimately give the homeowner the best possible  outcome with the finished product," says Nick Nykorczuk of Creative Pavers.
 "Constructing in early spring is ideal from the perspective that most of the work can be done when it's less desirable to be outdoors so the construction process doesn't seem as much as a hindrance to a homeowner's daily routine when compared to constructing something when the weather is nicer in a few months."  
When it comes to pavers, retainer walls or patio damage, CKC Landscaping's Stephen Compton suggests to contact a professional now to get started on the restorative process. "A lot of times people see something that may have been a small issue around Halloween and … the snow, ice and rain over the winter has really made a small problem worse because a small problem only gets worse.
 "They don't stay status quo," he adds. "They just continue to get worse because of our climate in the [tri-state] area … you have to fix things and you have to fix them right as quickly as you possibly can."  
COMMON MISTAKES   
While no one is perfect when it comes to spring cleaning, experts have also shared some common mistakes homeowners can avoid—especially when it comes to the weather.
 "People make a common mistake of not watching the weather," explains Nyce. "A lot of our [hardscaping] products do not work in extreme weather. … Cold, hot, wind and rain can all affect application of many of our products. We understand that people have limited time for projects, but we want to make sure they only have to do it right the first time."  
Nykorczuk adds: "I would say to hold off on any major cleanup until the winter weather is definitely over for the year. Too often I see homeowners anxious to clean up and mulch everything as soon as we get a warm weather break in early March only to have more snow come afterwards causing them to have to retouch up things again."  
When the weather does cooperate,  experts give the green light to getting a headstart on Hous eMagaz i ne. com that checklist—however, Cording emphasizes that more is never better. "Don't put the mulch too thick—no more than 2-3 inches," he warns. "You don't want the mulch burying the stems of the trees and shrubs, so you don't want to have a lot of the mulch leaning up against the trunk."  
WORKING AHEAD  
While there are a slew of things on a landscaping checklist, it's also wise to plan ahead—and that includes contacting a landscape  design professional or an experienced hardscape company.
 "When you go outside, [make a] note to yourself where you want to make some improvements,"  says Savinson. "If you want to have a professional come in and do some plantings for you, call them in March. … You're going to get them to come out, look at it, figure things out and work out a plan for you so that it can be planted from late March and onwards.  "Try to call your professional four to six weeks ahead of when you want it done as opposed to the day before you want it done," he adds. "Think about things and contact someone earlier in the season, rather than later."
RESOURCES
CKC Landscaping, Inc.
West Chester, Pa.
(610) 436-1810
CKCLandscapingInc.com
CLC Landscape Design
Ringwood, N.J.
(973) 839-6026
CLCDesign.com
C.M. Jones, Inc.
Exton, Pa.
(610) 644-7224
CMJonesInc.com
Creative Landscapes, Inc.
Media, Pa.
(610) 644-9910                                                                                      
CreativeLandscapes.com
Creative Pavers, Inc.
Gibbstown, N.J.
(856) 848-7400
CreativePaversInc.com
Elite Landscaping
Berlin, N.J.
(856) 753-1944
EliteLandscaping.com
Nyce Crete and Landis Block & Concrete
Souderton, Pa.
(215) 723-5506
LandisBC.com
Photography courtesy of Creative Pavers, Inc. and C.M. Jones, Inc.
Published (and copyrighted) in House & Home, Volume 18, Issue 9 (March 2018). 
For more info on House & Home magazine, click here. 
To subscribe to House & Home magazine, click here. 
To advertise in House & Home magazine, call 610-272-3120.