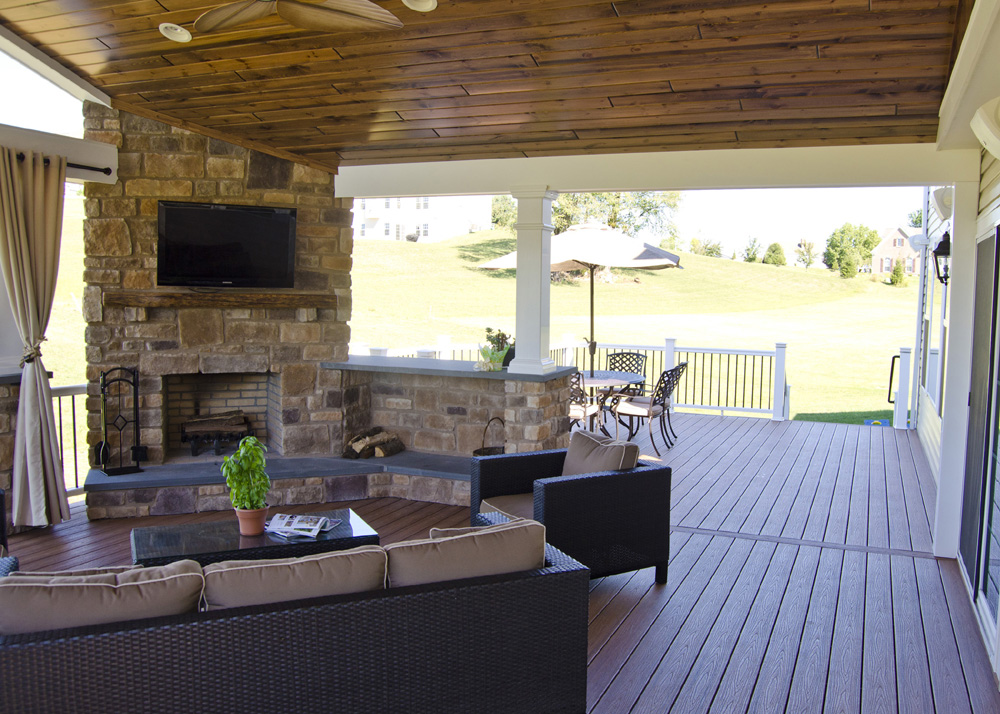 The grill is ready to be fired up, the coolers are fully stocked and your friends and family members are gathered in your beautiful outdoor living space for a summer barbecue. There's only one problem: It's a scorching July afternoon, and everybody would rather be sitting in the air-conditioned house.
This scene often plays out in our area during the summer months, but it doesn't have to. The addition of a shade option—such as a partial roof, pergola, retractable awning or stationary canopy—can make all the difference in the enjoyment of a deck or patio.
"There's definitely a shift to being outside more, and with shade options, it gives you a lot more time that you are able to be outside," says Tom Eby of Keystone Custom Decks. "About 60 or 70 percent of all the jobs we do now pretty much have a porch of some kind as part of the project. The push is to be outside and have it be more than just a deck, but an outdoor living space."
House & Home spoke with several experts in the area about the most popular shade options available and the pros and cons of each.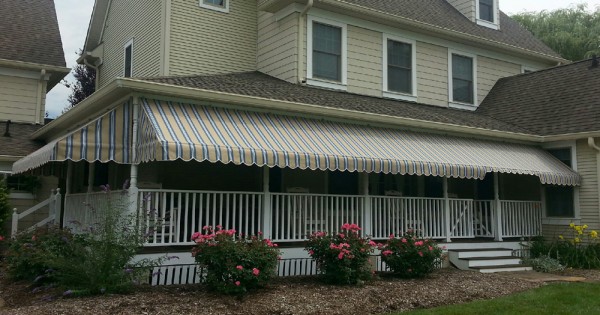 ROOF STRUCTURES
Building a permanent structure like a partial roof is certainly the most expensive option for adding shade. But if the budget and the architecture of the home call for it, it becomes an extension of the house and provides protection from the wind and rain as well as the sun.
"It's something that will always be there," Eby says. "You don't have to worry about closing it up. It keeps everything that's under it safe from the elements, more than an awning or even a pergola would. There are a lot of benefits on that end."
"A really big deck is great, but it's not great when it's raining out or it's 100 degrees," adds Sean McAleer, owner of Deck Remodelers. "The beautiful thing with a covered structure is that you can plan to have friends over on Friday or Saturday for dinner on the deck, and it doesn't matter if it's raining. You don't have to cancel your plans and get stuck inside."
Sal Gebbia of Weathercraft explains that the patio and deck covers his company installs stand up to the harshest weather. They can also be enclosed at a later time if the customer desires.
"They're all engineered for snow load and wind load," he says. "They have a built-in guttering system for rainwater. You can also get skylight panels built into the roof, and that's a nice option to have."
Daryle Ricco, owner of Ricco Building Group, points out another advantage of a permanent structure.
"A lot of times, depending on the house and which way it faces, you get the full sun in the afternoon and that leads to wear and tear on the exterior of your house and the decking," he says. "So in addition to creating shade and being able to enjoy your patio, [a covered structure] also protects your house."
With a partial roof, the outdoor space usually becomes like another living room, complete with all of the amenities you find inside.
"In most of the porches we do, we have recessed lights and ceiling fans," Eby says. "A big shift has been outdoor TVs—everybody seems to want a TV on their porch. … Fireplaces and other options also make it feel like an outdoor room."
Another feature for a roof structure that adds style to the space is a finished interior ceiling.
"We use an African hardwood and it's gorgeous," McAleer says. "That's pretty much our signature—we do that as a ceiling on most of the roof [structures] we put outside."
"The big one we use is a prefinished pine board [from] Synergy," Eby adds. "It basically looks like hardwood flooring and it sets the room apart from your traditional vinyl soffit or siding or even regular stained pine. Within the past year or two it's definitely gotten a lot more popular just because it elevates the look of the space.
"Skylights are big options too. It's kind of hit or miss depending on what the homeowner wants, but I love skylights. They add a ton of natural light and help keep the space open."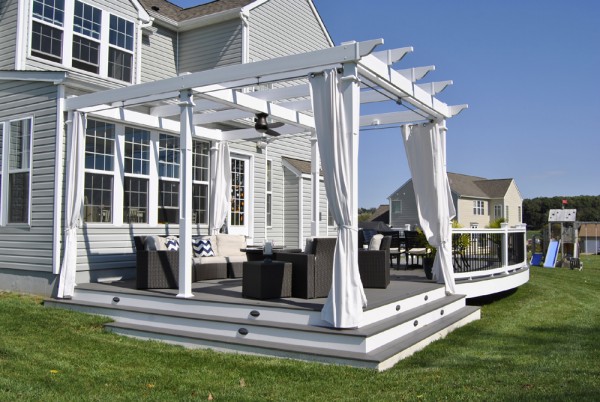 PERGOLAS
An alternative to a full roof structure is a pergola, which won't break the bank and also can create visual interest. That's especially true if the pergola incorporates vines running overtop the rafters or down the posts as well as other planters.
"Sometimes it's not possible to build a wood structure based on the house and the location," Ricco says. "So some people like that arbor, [pergola] look with vegetation growing around it. That kind of softens the look of the space too."
The downside to a traditional pergola is that it won't completely protect you from the sun or other weather elements, although there are ways around that.
"We've done a couple projects with a canopy that is on a retractable track system that you can slide all the way across," Eby says. "It's almost watertight, so if you wanted to be out there in the rain you kind of could be. It's not a roof or anything, but it does completely shade off the pergola if you want more shade than just the slats."
McAleer offers a louvered pergola from Equinox that is popular with his customers, although more costly than a traditional pergola. The pergola can stay opened completely to allow full sun and breeze into the space, or it can be closed with a remote control if the sun is beating down too hard or if it starts raining.
"We do the occasional regular pergola, but a lot more so we do motorized, louvered pergolas," McAleer says. "You have a key fob, you push a button and you can close certain sections, or you can close them all.
"With those pergolas we can put in ceiling fans, outdoor TVs, heaters in the ceiling, we put fireplaces under them. We do those all over the place; we even do them on rooftops in [Manhattan]. We just did one where they were putting a pool in on the roof and we did it next to the pool. On one side you can see the Empire State Building and you look the other way and you see the Freedom Tower."
AWNINGS AND CANOPIES
For a less expensive and more flexible shade solution, many homeowners today are going with a retractable awning or stationary canopy.
"They're very popular these days," says Jack Caparro of Caparro Awning Company. "We've seen quite a bit of interest in the last few years in these types of products. They extend your living space, protect your deck and furniture from UV rays and protect your interior curtains and floor coverings from UV rays."
Whereas a retractable awning is usually motorized and can be extended for shade at the push of a button, with a stationary canopy the covering usually goes up in the spring and stays there until the fall, when it's put away for the winter. Russ DiBella of RJ Custom Awning Company says the decision over which one is better usually comes down to whether the homeowner just wants occasional shade, or wants to create an outdoor living room.
"We always tell people to be clear about what they want to do on their deck or patio," he says. "Do you want to live under it or get a little bit of shade every so often? Living under it entails, with all of these nice outdoor setups, sofas and chairs with cushions and pillows, TVs, outdoor refrigerators. With the stationary, because it stays out all season long, it has a bit more protection on the left and right with the side panels that are called wings. You can set up a room for the season and really not have to do too much until the end of the season when the canopy comes down. Then you pack up all your furniture anyway."
The stationary canopy also provides more than just sun coverage.
"A very important detail to note is that the retractable is a sun or shade solution; they aren't designed to be used in wind in excess of 15 to 20 miles per hour or in rainy conditions or generally any inclement weather," DiBella says. "But a stationary canopy, because of the galvanized steel framing … they are designed to be used in wind and rain and everything else.
"We always say, under a stationary canopy if you're having a party the party can stay outside; if all you have is a retractable, the retractable has to come in and the party has to move inside in bad weather. We sell them both and we're happy to provide either, but we always want to be specific about the merits of each so the customer has a clear understanding of what they're getting."
Although there may be limitations with a retractable awning, Brian Gilling, owner of Canopy Erectors, believes it is the best shade option available.
"It's the only product that gives you on-demand sun protection," he says. "It's instant shade when you want it. It's versatile in that if it's a cloudy day and you want to have the open air, you can just push a button and the awning goes back in. The only downfall to a retractable is high wind, but most of the time if it's really, really windy, you're not going to be sitting out on your deck or patio anyway.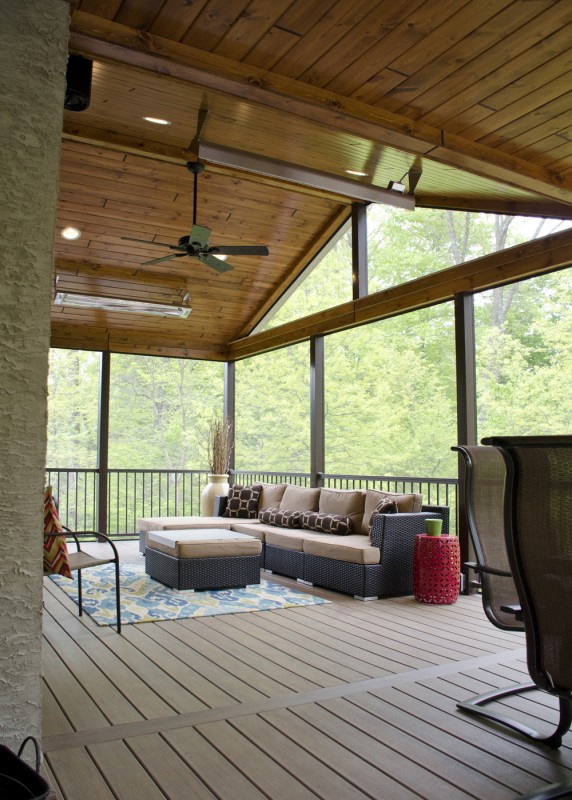 "It's more affordable than having a permanent addition built on or something more structural. A retractable, in my opinion, is the most flexible investment a homeowner can make for a deck or patio that is engulfed in sun."
Cecil Bond of Great Valley Awning agrees that customers love the convenience of retractable awnings.
Bond's company also offers a product called the Shadeside, which is like a shade wall and can accompany a retractable awning."I would say 96 percent of our sales are retractable awnings as opposed to stationary awnings," he says. "The reason is you can get shade and sun when you want it at the click of a button. With the stationary awning, when you take the awning down in the fall, you're left with a metal frame that stays up all year round and it's a little unattractive. Also, if you get some nice days in the late fall/early winter, you can't enjoy your deck because you've already taken the awning down. With the retractable, you can always put it back out. If it's Christmas and it's 80 degrees outside, you can go sit on your deck."
"Obviously, with a retractable awning if the sun is coming from the side, there's no way to protect yourself from the sun. So we have the side shade which is an additional accessory you can get," he says.
"We also have a smart drop which is a curtain that can come down from the front of the awning to provide additional shade and privacy when the awning is extended. That's a pretty good additional feature. All of the retractable awnings we carry come with a wind sensor as well, so if it gets real windy, they automatically retract to save themselves from getting damaged."
FINAL WORDS
From covered structures to pergolas to awnings, it seems there is a shade option to fit every lifestyle. It only makes sense to incorporate some type of covering when planning a backyard oasis, but it's never too late to add one to an existing patio or deck, either.
"[Homeowners often] throw a table up with an umbrella and they think they're going to be covered adequately, and they come to realize soon after that an umbrella doesn't do much," DiBella says. "So we do find ourselves more often than not coming in after the fact. They've had a deck or patio for years and they're just tired of the heat and they want to be able to use it more than they are. So they contact us and find that it makes a world of difference."
RESOURCES
Canopy Erectors
Glen Gardner, N.J.
(908) 537-7100
CanopyErectors.com
Caparro Awning Company
Birdsboro, Pa.
(610) 416-0604
CaparroAwning.com
Deck Remodelers
Sparta, N.J.
(973) 729-2125
DeckRemodelers.com
Great Valley Awning
Frazer, Pa.
(610) 889-3104
GreatValleyAwning.com
Keystone Custom Decks
New Holland, Pa.
(717) 355-0592
KeystoneCustomDecks.com
Ricco Building Group
Mechanicsville, Pa.
(215) 778-2655
RiccoBuilders.com
RJ Custom Awning Company
Sicklerville, N.J.
(856) 981-7095
RJAwning.com
Weathercraft
Emerson, N.J.
(800) 273-8666
WeathercraftMFG.com
Last photo courtesy of Keystone Custom Decks.
Published (and copyrighted) in House & Home, Volume 17, Issue 1 (July/August, 2016).
For more info on House & Home magazine, click here.
To subscribe to House & Home magazine, click here.
To advertise in House & Home magazine, call 610-272-3120.