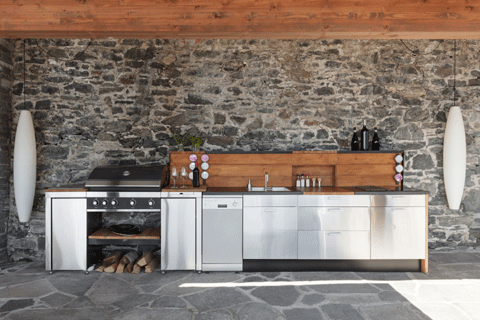 Summertime and the living is easy, right? With barbecues, pool parties and spending most of our time in the backyard during the hot months of the year, we find it's easier when we aren't running into the house for food and drinks.
To make our lives—and yours—easier, House & Home recently spoke with the experts when it comes to outdoor kitchens to find out just how convenient an outdoor kitchen can be and how it makes entertaining guests a breeze.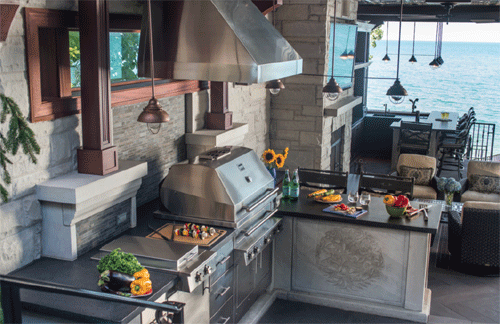 Designing and building the kitchen
The first step in adding your outdoor kitchen to the backyard is choosing the right location.
"Rule of thumb for placement is pretty much where [homeowners] want it and where will it work best when [they] are entertaining guests," says Sam Stoltzfus, owner/president of LanChester Grill & Hearth.
If a homeowner isn't necessarily looking for a full kitchen, Stoltzfus suggests homeowners keep the outdoor kitchen relatively close to access to the kitchen in the home so they don't have to do a lot of running back and forth for supplies, food, drinks and other necessities.
Once the location is agreed upon, the homeowner has to choose a shape for the kitchen. And the space must allow for prep, cooking, cleanup and entertaining.
"The first thing that I want to know is what do you want to do with it?" says Steve Compton, general manager at CKC Landscaping. "Depending on the appliances and the fixtures that the customer wants, that's going to dictate how I begin the design process, because certain things just need a certain amount of space in order to be functional."
Compton also asks his customers if they want to include bar-top seating that could range from four to 12 seats and if they want it on one side or on multiple sides. All of this plays into the layout shape of the outdoor kitchen, which Compton says could be a straight bar, an "L" shape or even a "U" shape that has been very popular with his customers.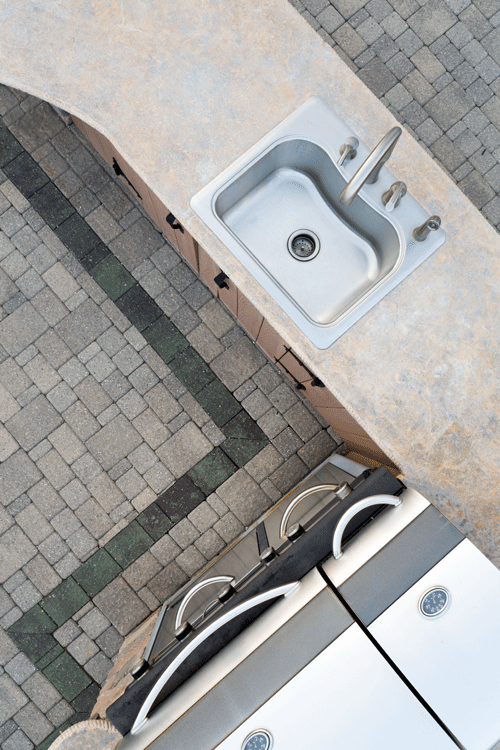 Thomas Paolino, president of Millenium Stone Works agrees that functionality plays a big role in planning the layout of the outdoor kitchen. "It's endless. Really whatever you dream, we can build. There is no limitation," says Paolino.
When it comes to the materials used to build the outdoor kitchen, the options seem to be endless.
"In the last couple of years we have been building kitchens out of marble and travertine instead of just regular stone," says Paolino.
"There's 3-foot fittings with block and mortar, so it can be built out of masonry block like the foundation on your house, for example," says Dave Busch, owner/president of Greenview Designs. "Or it could be built using a manmade wall product, so there are a lot of elements that go into the look they want."
And the material used for the countertop is the most important part of the puzzle.
"We always like finishing them off with a granite top. Some folks out there do natural stone tops and they are nice and good looking and everything, but you've got the grease from the grill, the ketchups and the mustards, lemons and limes, butter and all of that gets around the grill," says Busch. "I find the granite durable and relatively low maintenance to keep clean."
Essentials for the wow factor
When most people think outdoor cooking they are going to think of the main appliance: the grill. But other cooking sources and appliances can be added, like burners.
Jay Stong, owner of Salter's Fireplace Patio Grill says he asks his customers how many people they normally cook for, do they entertain guests often and what types of food they normally cook. "The more burners, the greater the amount of heat zones and food to cook at the same time," says Stong. "Again, we ask questions to help us recommend the right grill for our customer."
In addition to grills and burners, Stong recommends a storage drawer like many other experts do.
Stoltzfus recommends helpful items such as a trash containers and plenty of storage, whether it be drawers or doors to cabinets and a built-in ice chest or refrigerator.
Jason Turpin, owner of Turpin Landscaping says customers should also include a Big Green Egg grill—a grill, oven and smoker all-in-one—and a sink as essential items in their outdoor kitchens.
Will Evertz, president of Eastern Outdoor Furnishings says a pizza oven is an important addition to the outdoor kitchen. "The pizza oven isn't only for pizza, it bakes bread, cookies [and more]," says Evertz.
In addition, Evertz says they typically add water and fire features to give their outdoor kitchens that extra 'wow' factor.
"I think having an outdoor kitchen gives people the wow factor," says Evertz. "It's bringing the functionality of an indoor kitchen right outside the comfort of your home."
Just remember, while outdoor kitchens are great in the summer, there is always a chance of an unexpected thunderstorm throughout the season which makes the idea of having some sort of roof over the outdoor kitchen a great idea.
"Overhead structures are great and are designed specific to the site or project. They can be constructed using many different materials, (including wood, composite, PVC and stone, etc.)," says Sam Waddell, owner of SLS Landscaping. "They are great during hot sunny days and rainy days. Entire living spaces can be designed using an overhead structure."
"Creative additions using natural products like hand hewed wood beams to support a rooftop over the outdoor kitchen can really create the "wow" factor," says Turpin. But it's also about other details that friends and family will notice and enjoy. "Small details like attached barstool seats made from refurbished tractor seats also have a surprisingly big impact. Although it goes without saying, a large flat screen TV is always a hit."
But if some sort of covering to your outdoor kitchen isn't in your budget, Waddell says, "Open spaces are excellent as well and you can see and feel all of the surroundings."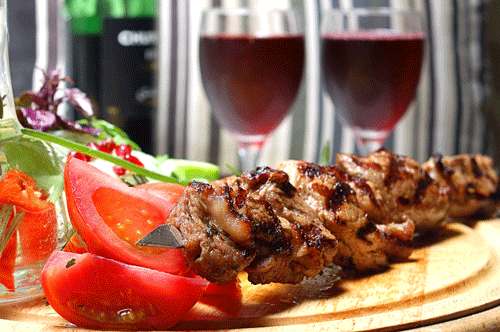 The benefit of having an outdoor kitchen is to let homeowners enjoy the party, whether it is just with family or a group of friends. Having a cooking station outside where the party is lively keeps the homeowners in the mix of the conversation and doesn't give them the feeling that they are missing out.
"Outdoor kitchens are a great feature for the patio and outdoor space," says Waddell. "It is an excellent way to bring the family and friends together outside and still have all of the amenities from the indoor kitchen."
RESOURCES
CKC Landscaping Inc.
West Chester, Pa. 
(610) 436-1810 
CKCLandscapingInc.com
Eastern Outdoor Furnishings
Totowa, N.J.
(973) 339-9579
EOFUS.com
Greenview Designs, LLC
Hopewell, N.J.
(609) 466-3080
GreenviewDesigns.com
LanChester Grill & Hearth
Gap, Pa.
(717) 442-8794
LanChesterGH.com
Millenium Stone Works
Colts Neck, N.J.
(732) 519-1112
MilleniumStoneWorks.com
Salter's Fireplace Patio Grill
Eagleville, Pa.
(610) 631-9372
SaltersFireplace.com
SLS Landscaping Inc.
Lumberton, N.J.
(609) 518-5263
SLSLandscape.com
Turpin Landscaping Inc.
Coatesville, Pa.
(610) 380-1119
TurpinLandscaping.com
Published (and copyrighted) in House & Home, Volume 16, Issue 12 (June, 2016).
For more info on House & Home magazine, click here.
To subscribe to House & Home magazine, click here.
To advertise in House & Home magazine, call 610-272-3120.