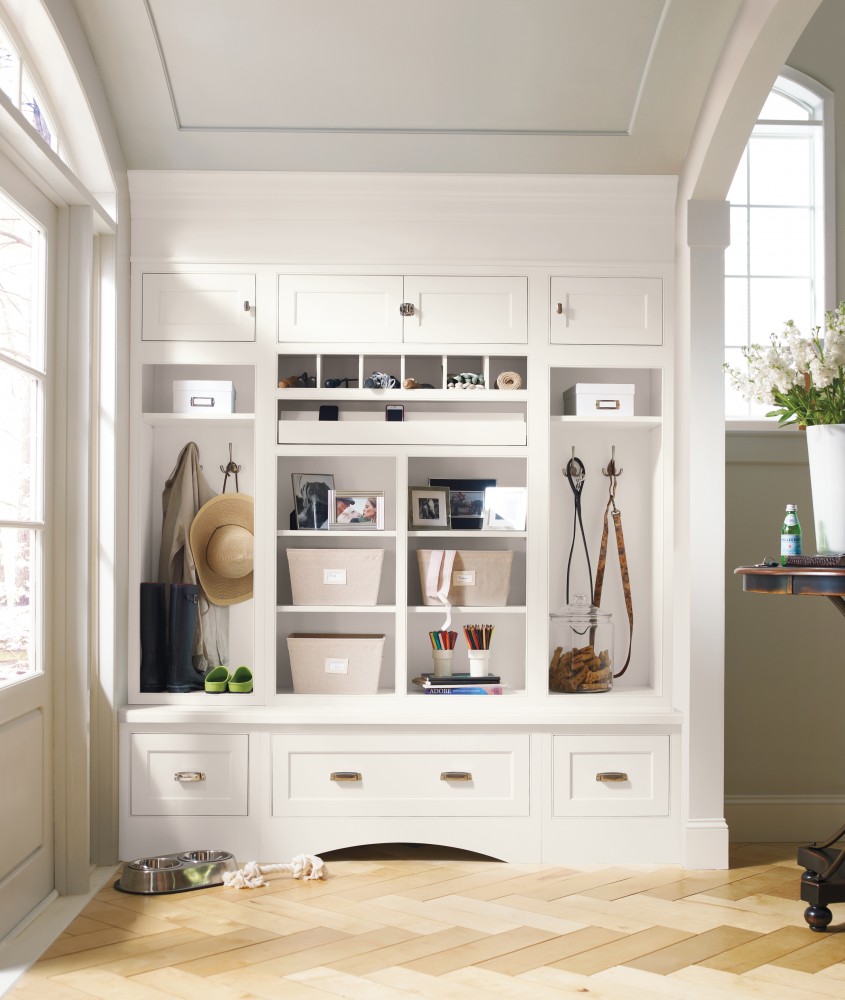 Cabinetry is no longer just an expected storage solution for the kitchen. Today, cabinets are used for everything from coordinating paperwork in the home office to organizing DVDs in an entertainment unit to storing kids' toys in the basement or playroom. Take into account the countless styles available today, from unexpected colors, materials, creative usage and twists on tradition, and you can easily transform your entire home with functional, beautiful cabinetry at its foundation.
Multiple uses
"Cabinets are useful in every room of the house," says Julie Howes, general manager of Bellacina Kitchen & Bath. "[In] libraries, as bedroom furniture, in bathrooms, even in outdoor kitchens." Howes also notes that because every kitchen these days has islands that are used not just as work spaces, but as eating areas, as well, homeowners have to rethink how cabinets fit their needs. "It's not traditional anymore," she says. "It's outside-of-the-box thinking. When customers keep an open mind, we can collaborate on wonderful ideas for the home."

In the kitchen, cabinets are often a supporting player.

"In kitchens, you have the triangle—the fridge, workstation and stove—[and] cabinets work around those three areas, supporting them with storage and
function," says Mike Hughes, operations manager of Kitchen Bath Studio. "Maybe you install a wine rack or have an open corner shelf. You add self-closing drawers and doors, and pop-out drawers so you can easily see everything. It's about diversity in cabinets."

In other areas of the home, some of the most in-demand projects that incorporate cabinets are those that aim to make a space more functional, such as laundry rooms or walk-in closets.

"Cabinets are being used to create custom vanities in bathrooms [and] in laundry rooms for functional storage space that looks
appealing," says Chenoa Edwards, lead designer with Elite Concepts. "They are also being used to organize dressing rooms and closet spaces."

Walt French, a kitchen designer at H.J. Opdyke Lumber Co., agrees. "In addition to kitchens and bathrooms, we are getting requests for cabinetry in laundry rooms, for entertainment areas, and increasingly now for master bedroom closets," he notes.

Other areas that cabinets are slowly making their way into include dry and wet bars, libraries, and mudrooms, as well as home offices and entertainment centers.

Other experts say placement of cabinets throughout the home really depends on the homeowners' needs. "We create cabinets that are used as file drawers and keyboard trays for offices, and we build pieces to work with specific TV sizes," says Abner Stoltzfus, owner of Sweet Water Woodworks. "Generally, we make cabinets that are specific to the homeowners' needs."
Trending aesthetics
Location aside, it's also important to keep current trends in mind when installing cabinets.

Greg Poszyler, owner of Dream Kitchen, estimates about 60 percent of the cabinets he's doing now are white. "However, there are between 200 and 300 different versions of white. Then there are glazes and cherry or maple," he says.

Joseph Edwards, another lead designer with Elite Concepts, sees gray continuing to gain traction in the market. "Painted wood cabinets are on trend with classic whites, and also gray [is] in high demand. We are also seeing semi-transparent stained cabinetry done with glazes that bring in the gray tones, giving a transitional feel to spaces," he says.

Howes also notes that painted cabinetry is very popular. "What was the old standard is not anymore," she says. "Gray and gray-brown finishes, as well as walnut are coming into vogue thanks to more attractive prices [by] using reclaimed wood [for a] a weathered look." She also suggests checking out websites like Pinterest and Houzz for inspiration. "There has been a complete rollover since [these sites began]. Now people can browse and pick out what they really want. There are hundreds of thousands of pictures, some with specifically drawn details and of all colors and styles. There are modern and traditional, personal and edgy. You can make a more beautiful and functional interior."
When it comes to deciding, there are no hard and fast rules; and Stoltzfus says some homeowners even mix materials, such as going with the painted look as well as cherry wood.

Hardware is another important consideration.

For hardware, people are giving high-gloss silver a second look, Stoltzfus says. "The basic plan for most people is more transitional and streamlined. Not bland or overly ornate, but with a little design."

Chenoa Edwards also notes the plethora of options when it comes to hardware. "We often pair classic white cabinetry with polished nickel. Crystal accents are also very popular. ... [T]he options are limitless," says Edwards. "Also trending are antique pewter and other precious metal tones, which work with a wide range of stained cabinets."
Return on investment
The benefits of incorporating cabinets throughout the home are more than just aesthetic, experts say.

"Beyond adding monetary value, adding cabinets can impact lifestyle by fostering organization in a home, while accentuating the architectural elements of a space," says Joseph Edwards. "Every homeowner is forever in the pursuit of additional storage space. Cabinetry can provide that space while adding a
finished, visually appealing quality to the home."

French agrees. "I'm finding that customers are changing or adding cabinetry to better their quality-of-life, rather than expecting a high return on investment," he says. "Our remodeling customers are looking for better layouts, more open spaces, better incorporation of the kitchen into the overall house plan and better quality accessories, such as 'Lazy Susans' and roll-outs."

Homeowners also want materials that will last, quality and craftsmanship, says Stoltzfus. "How it's made and the better the materials, the better the chance it'll hold up for a long time." He points to the increasing use of premium-quality MDF (medium density fiberboard) as a good choice, as it holds up better to humidity, and does not absorb water. "And because everyone is looking for more storage, custom-made cabinetry can give you exactly what you want, specifically fitting your home and built to your needs. Stock cabinetry can't do that," says Stoltzfus.

In the end, it's about making the product fit your specific needs. "What I think is important is that your local cabinetmaker is creating a custom-made, built-to-fit item for you," says Hughes. You don't change your needs to fit the item; the item is made to do what you want it to do. "[W]ell-built cabinets will add to your home and life for a long time." ­
RESOURCES
Bellacina Kitchen & Bath
Lawrenceville, N.J.
(609) 498-0442
Bellacina.com
Dream Kitchen Designs
Cranford, N.J.
(908) 272-2433
CranfordKitchens.com
Elite Concepts
New Milford, N.J.
(201) 261-6380
EliteConceptsUSA.com
H.J. Opdyke
Lumber Co. Inc.
Frenchtown, N.J.
(908) 996-2241
Opdyke.com
Kitchen Bath Studio
Manayunk, Pa.
(484) 868-9818
KitchenBathStudio.com
Sweet Water Woodworks
Narvon, Pa.
(610) 273-1270
SWWoodworksLLC.com